Photograph courtesy of Alexander Wang.
Alexander Wang Is the Elizabeth Taylor of Streetwear
Wang showed his first collection on a new schedule, with the kind of dazzling accessories keep his party girl customers happy.
Photograph courtesy of Alexander Wang.
Alexander Wang, who has the hair and brains of the smartest and most popular girl in school, is doing the smart and popular thing: showing in June (Collection 1) and December (Collection 2) instead of confusing you and me and everyone who's ever taken a diverting wander through Barneys with stuff like Spring happening in September and something in June about a "cruise." But his flowing mane streaming behind him as he bounds down the runway at the end of a blockbuster show is one of the most iconic parts of New York Fashion Week, and so at Sunday's Collection 1 show, he still gave us that, in a big rooftop show, upholstered in blazing white, with an unparalleled view of the Brooklyn Bridge. It's clear that Wang is on the right side of history, between the new schedule and his front row: the big celebrity in attendance was Pusha T, who's fresh off of a week of making Drake look like an absolute dweeb and then some, and in a knee-length Wang hoodie, gave the show a jolt of cool credibility that New York fashion shows rarely net.

The collection was advertised on the invitation with an Americana hologram of stars and stripes, with "alexanderwang" written in a kind of bow-chicka-wow-wow typeface. Wang said backstage that this collection was inspired by a family road trip, but before you lasso your copy of On the Road to sniff out references, know that Wang's was just a jaunt to Santa Barbara. Still, there were a number of hunky references to stuff you see on the side of the road when getting your kicks on Route 66: Oakley wraparound sunglasses (a collaboration!), some worker-style combat boots over tube socks, some slutty cut-offs, Carhartt-ish jackets with ritzy buckles, a Mercedes-esque car grill as a belt, and red bandanas tied around models' heads. Imagine tumbling around in the back of a pickup in a honky-tonk parking lot as somebody unbuckles your "ALEXANDER WANG" belt buckle! Take away the location and Donald Glover's "This Is America" playing on the speaker (I knowwww), and it looked like a really hot Guns N' Roses concert.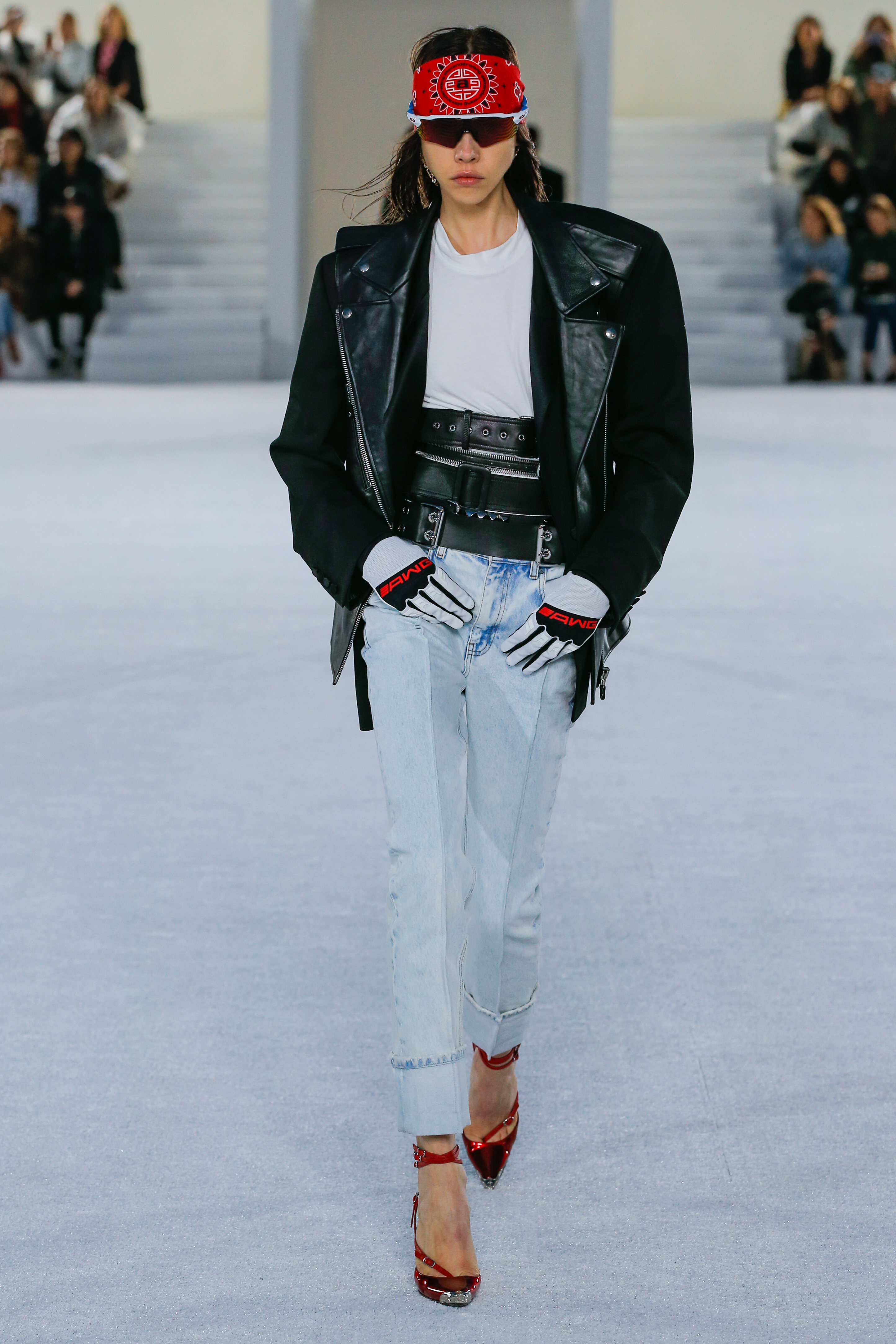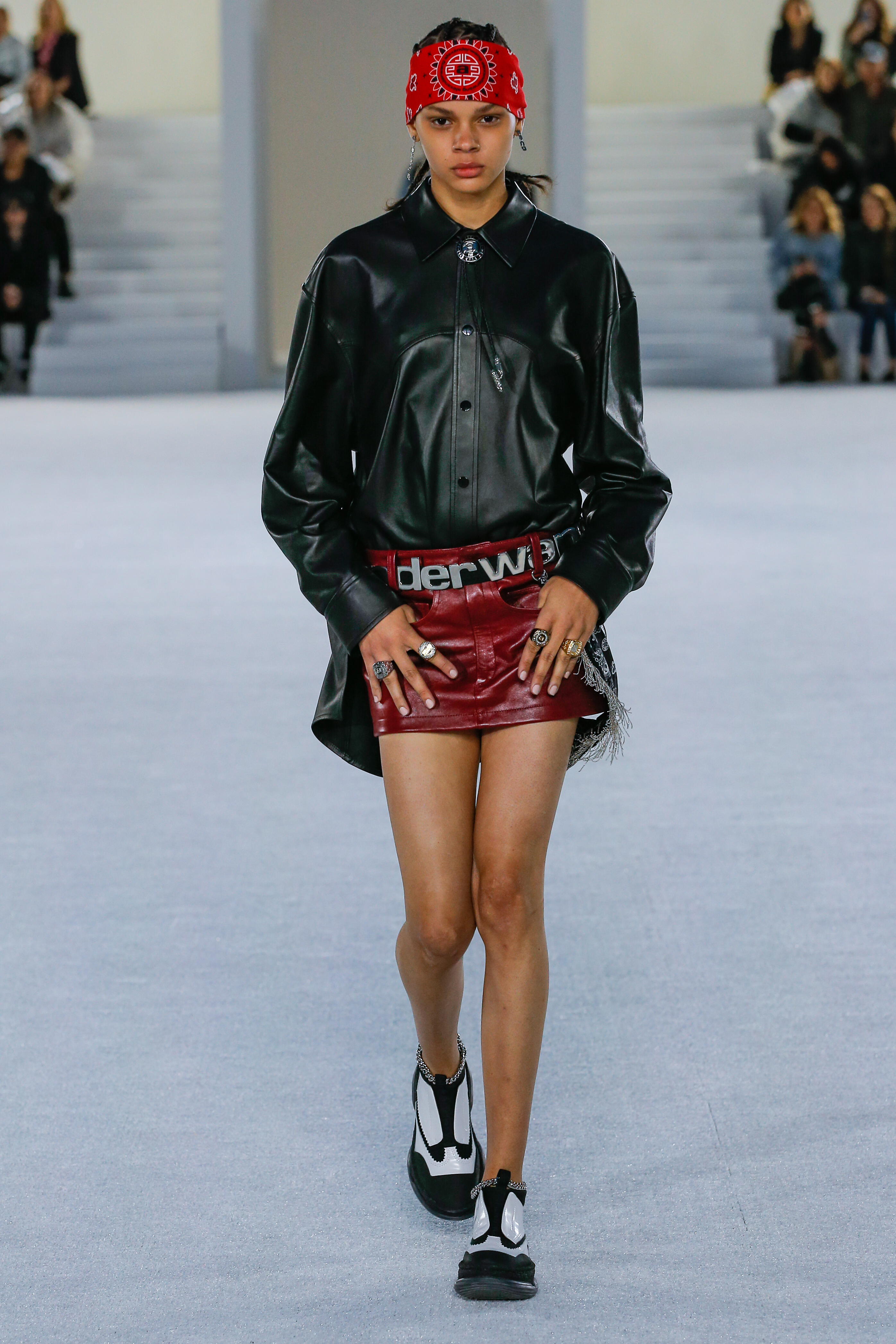 Over the past few weeks, big brands have been jetting editors and influencers to remote locations to see their resort collections, which makes Wang's hometown twang seem like more of a statement than he perhaps intends. Anything patriotic right now seems suspicious, but Wang is so lighthearted that it's hard to see an ulterior motive behind something like a pair of pajama pants with "CHINATOWN" in varsity script where "U MICHIGAN" might otherwise be. Regardless of whose schedule he's living on, Wang is really great at covering things in diamantés in a way that makes them compelling like the hook of a pop song: there were rhinestone "Thank You" shopping bags, studded envelopes, leis strung with flowers and crystals—he's like the Elizabeth Taylor of streetwear. Those are the kinds of things strangers ask you about at parties, which are the Wang customer's primary locale, so why not bling out a bandana or an old-timey lunchbox? As Ms. Taylor said in her iconic White Diamonds perfume commercial, as she plunks a pair of studs in the hands of a poker player: "These have always brought me luck!"