Uma freakin' Thurman, people!!! Photograph by Victor Boyka for Getty Images.
Uma Thurman Was Born To Play a Mid-Century Couture Model
Miu Miu stages a hotel slumber party with Thurman, Gwendolyn Christie, Naomi Campbell, and more.
Uma freakin' Thurman, people!!! Photograph by Victor Boyka for Getty Images.
On Saturday night, Miu Miu staged its Croisiere show as a lock-in at a historic Paris hotel—the kind of fashion show you imagine if everything you know about the industry is from Funny Face or Robert Altman's Pret-a-Porter, and you spend the rest of your time reading Françoise Sagan. Or maybe it was like a nineteenth-century English novel: you know, everyone goes to the country, and there's not much to do other than chase foxes, so they say, "Why don't we put on a play!"
Only this was a three-part fashion show extravaganza, put on in the lobby lounge of the Hotel Regina, which is so cinematic that a million movies have been filmed there (from a Sagan biopic to, like, The Bourne Identity), and whose interiors are a rich and rather insane combination of Victorian English, Louis XVI, and Beaux Arts. We sat on deep velvet cushions in the kind of sumptuous lounge that's perfect for the drink that kicks off an affair in a room upstairs (our seat place cards were even little Miu Miu keys—perfect to slip to the guy when it's go-time). Naomi Campbell, Gwendolyn Christie, Chloë Sevigny, Kate Bosworth, Georgia May Jagger, Langley Fox, Jamie King (returning to her roots!), and Uma-freaking-Thurman twirled and grinned and played mannequin, dahling, with the audience cheering them on. Thurman, who closed the show, took off her jacket and slung it over her arm and shoulder, smiling like "mid-century Paris Couture model" was the role of her life.
The Croisiere show is an off-season moment for Prada's little sister line to kick off its shoes and have a good time, with lots of celebrities and especially fun clothes (last year: neon mechanic jumpsuits as rompers at the Paris Automobile Club). Miu Miu has this special way of making really fun, cute clothing that isn't precious but weird—almost spunky in its insistence on rhinestones and sugary colors and feathers. Miu Miu is a Hollywood staple (they also put out a great series of short films by female directors, including Agnes Varda, Ava Duvernay, and Sevigny, called "Women's Tales") and this collection traded on that special relationship, with lots of marabou trimmings, and silk-chiffon chemises as dresses, and the sheer bathrobes I picture screen sirens wearing while charging into some evil director's office to demand more money. (There was a particularly cool pair of basic white hotel slippers inscribed with "Miu Miu Hotel Regina Croisiere," but trimmed with marabou, that fit that perfect merch-meets-designer sweet spot fashion people are so into right now.)
Once the show ended, the space blossomed serenely into a casual buffet dinner, with everyone greeting each other with summer camp-like warmth. Naomi Campbell clutched a Juul in a pristinely manicured hand as various men approached her to kiss both cheeks and tell her she was "perfect, perfect." Then she ascended to a perch with Chloe Sevigny—the former with her Juul, the latter with her cigarette—and they sipped tequila with a bunch of moony-eyed guys in black graphic t-shirts that said faux-provocative things like "LOS ANGELES GUN CLUB." A guy in a banana-print short suit and a blue rhinestone sweatband cornered a woman in Prada pajamas: "I SAW YOU IN MYKONOS," he hissed playfully, as a slight woman in tiny neon orange sunglasses and matching hair lingered just behind as his It-girl muscle. "I SAW YOU GO BEHIND THAT CHURCH!"
I know what you did last Croisiere!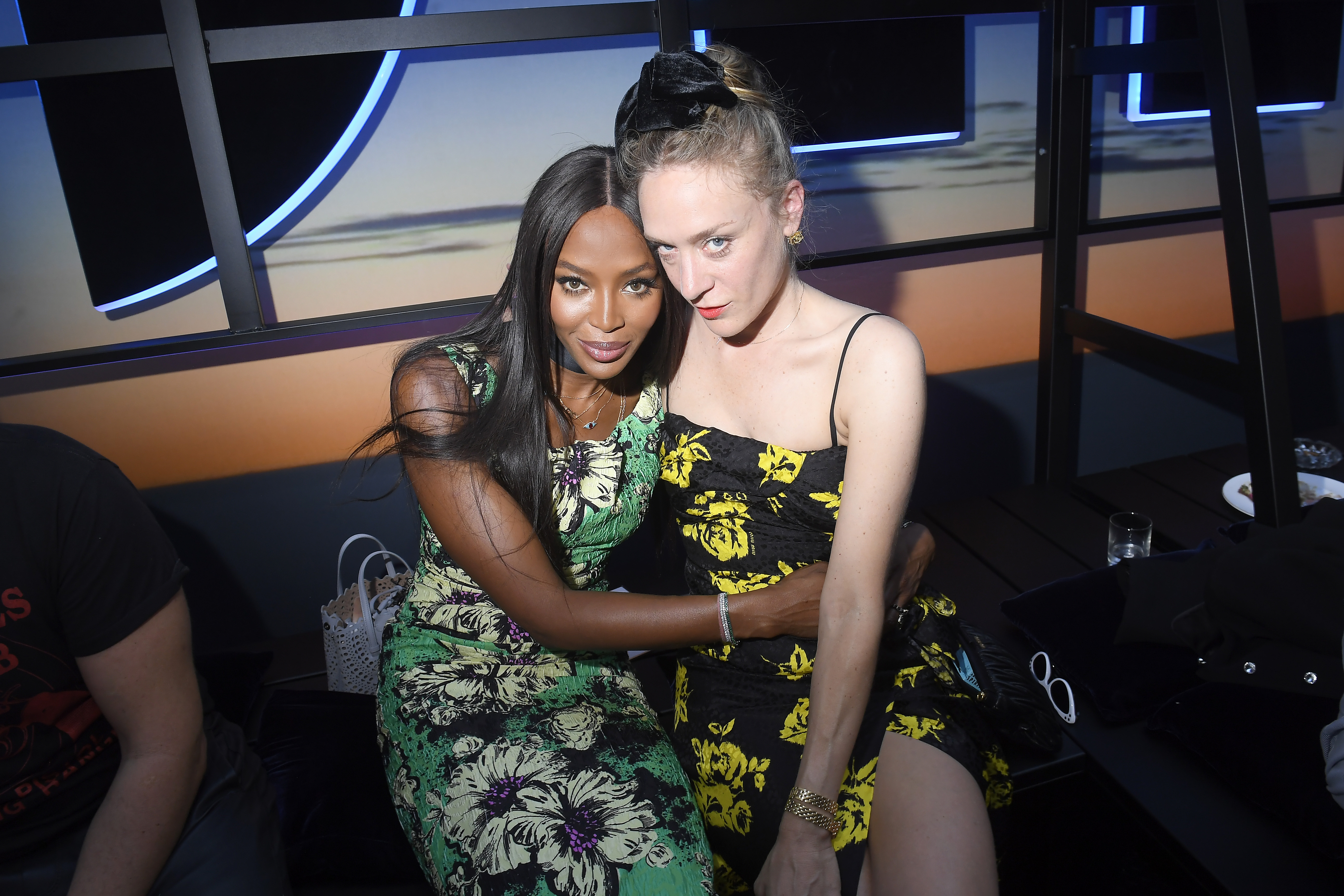 Other guests assembled into familiar clutches. All the digital revolutionaries (Susie Bubble, Tommy Ton, Philip Oh, et cetera) ate deep red cherries in a pale blue velvet room, and all the models (Minnie Wastie, Thais Borges, Alek Wek) ate risotto in a bedroom upholstered entirely in teal silk, just feet away from a giant taxidermied rabbit.
But the coolest posse of all was Mrs. Prada's—she took up a booth in the front room, and she and filmmaker Agnes Varda nestled themselves together. (Roman Polanski, interestingly, was also at the table.) How is it that Mrs. Prada manages to make things so fun, and cool, and glamorous, and feel-good, and (though the fashion industry so often feels like it stands for the opposite) brainy? A security team kept her closely guarded, but as I passed her on my way to get another plate of cherries, I heard her whisper to one of her dining companions: "Standards, standards, standards."