Photograph from Altered States, published by ANTHOLOGY EDITIONS. Courtesy of the publisher.
This Is the Ultimate Book on Sex, Drugs, and Rock 'n Roll
Julio Santo Domingo had a collection of over 50,000 pieces of memorabilia from Keith Richards's grapefruit to cocaine endorsed by Freud.
Photograph from Altered States, published by ANTHOLOGY EDITIONS. Courtesy of the publisher.
The late Julio Santo Domingo—businessman, French literature scholar, Beat enthusiast, and very bad-ass collector, as you're about to find out—had a great definition of coolness, according to his brother, Andres. "Coolness, he used to tell me, can be found almost everywhere if you look close enough," Andres writes. Luckily, Julio looked close enough, and very often: Andres's words appear at the beginning of a new book on Julio's collection of over 50,000 pieces of sex, drugs, and rock 'n roll memorabilia and ephemera, Altered States: The Library of Julio Santo Domingo, written by journalist Peter Watts and on sale today.
The collection speaks to Santo Domingo's dazzling circle of friends: there are photographs of him with Bono, Chuck Berry, and David Bowie; a collection of fan letters to Keith Moon ("Don't know what I'm doing writing to the drummer of the Who but I'm hoping to get even a short letter back. I think you guys are just too much."); and a shriveled grapefruit his friend Keith Richards used as "wrapping paper" for a ring he gifted to Ron Wood ("HAPPY BIRTHDAY RON," Richards scrawled across it).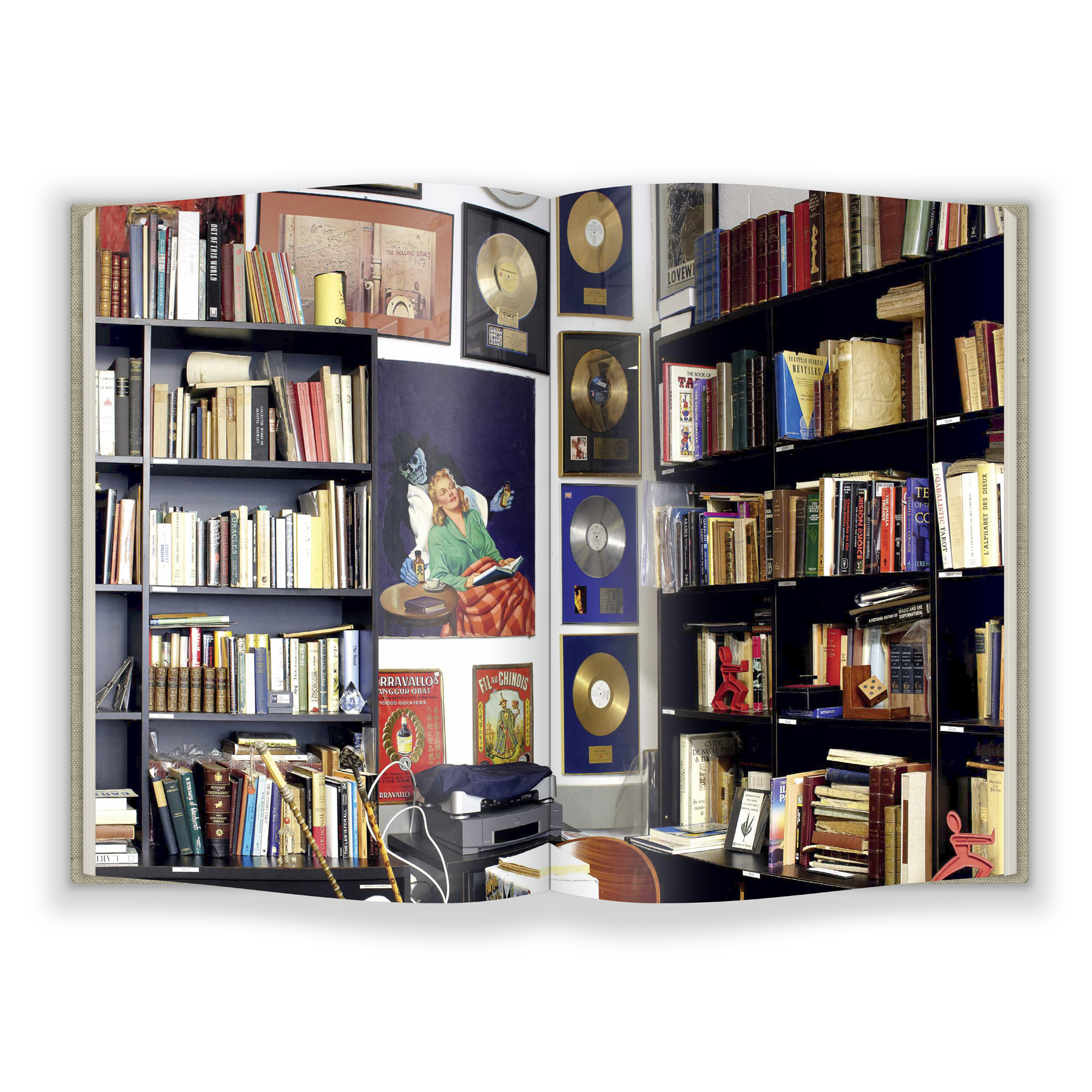 But it also reflects the depth and range of his curiosity, which included an emphasis on psychoactive drugs. "The bulk of the collection…explores drug use by individuals, and the influence such use and users had on their society, with emphasis on the 1800s and 1900s in America and France," writes Leslie A. Morris in the book's foreword (Morris is Curator of Modern Books and Manuscripts at Harvard University's Houghton Library, where the collection is now housed). (Most of the items included in the book and archive were kept in his physical library at his house in Geneva.) That includes an LSD blotter sheet decorated with a psychedelic portrait of Timothy Leary, the Pyrex lab equipment used to synthesize the first MDMA (the scientist responsible for it, Alexander Shulgin, rated MDMA's effects on his drug-rating scale as "no higher than a 'low-calorie martini,'" according to the book), and cocaine vials produced by Parke, Davis & Co. in the late 19th century. The book notes that Parke Davis paid Freud to endorse cocaine in 1885, and promoted that the drug would, in their words, "supply the place of food, make the coward brave, the silent eloquent and…render the sufferer insensitive to pain."
Writes Morris, "In scope and scale, the collection is quite simply, overwhelming." Herewith, a selection of images from the beautiful book.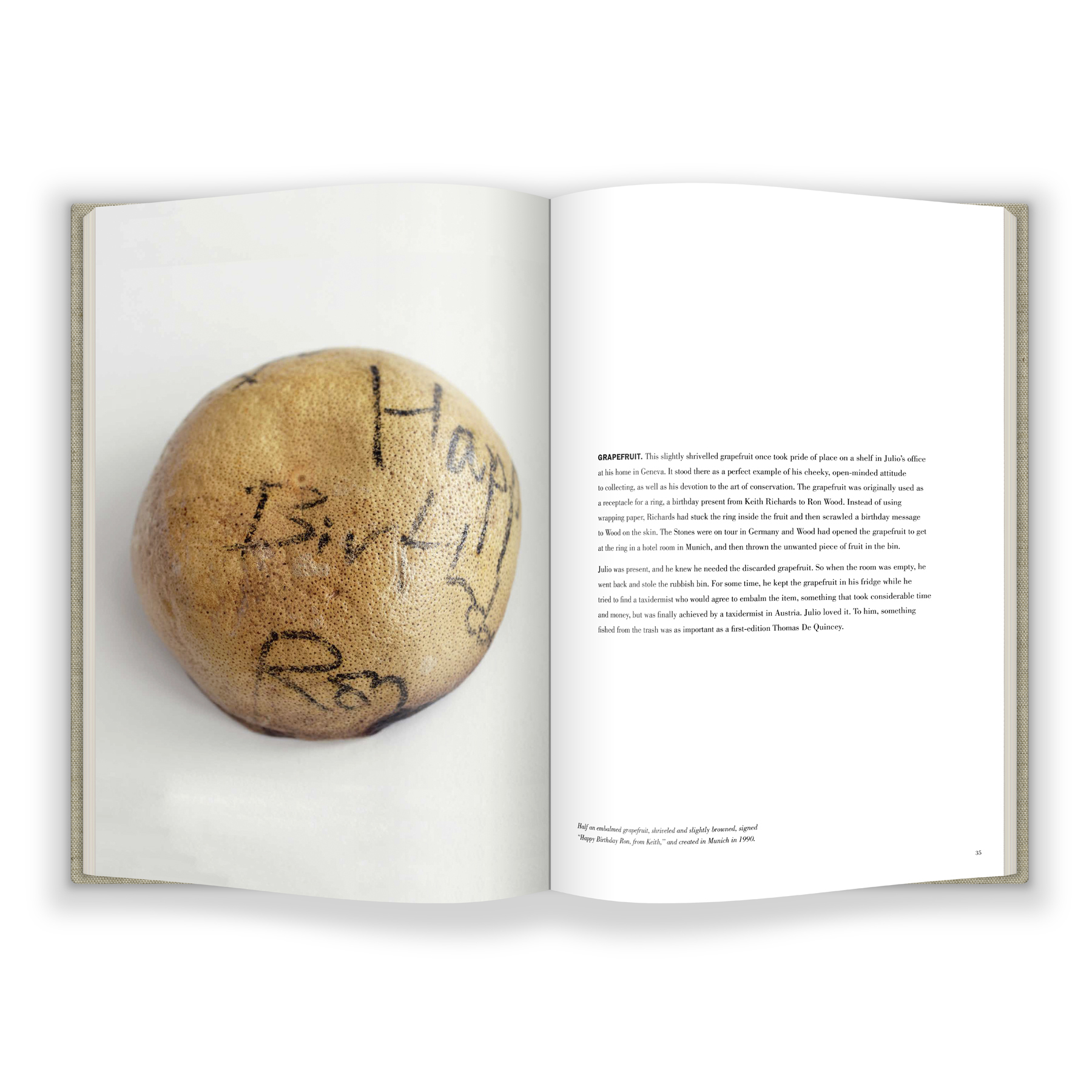 "The grapefruit was originally used as a receptacle for a ring, a birthday present from Keith Richards to Ron Wood," the caption reads. "Instead of using wrapping paper, Richards had stuck the ring inside the fruit and then scrawled a birthday message to Wood on the skin." Wood threw out the fruit, but Julio fished it out of the garbage and, after much searching, found a taxidermist in Austria to embalm it.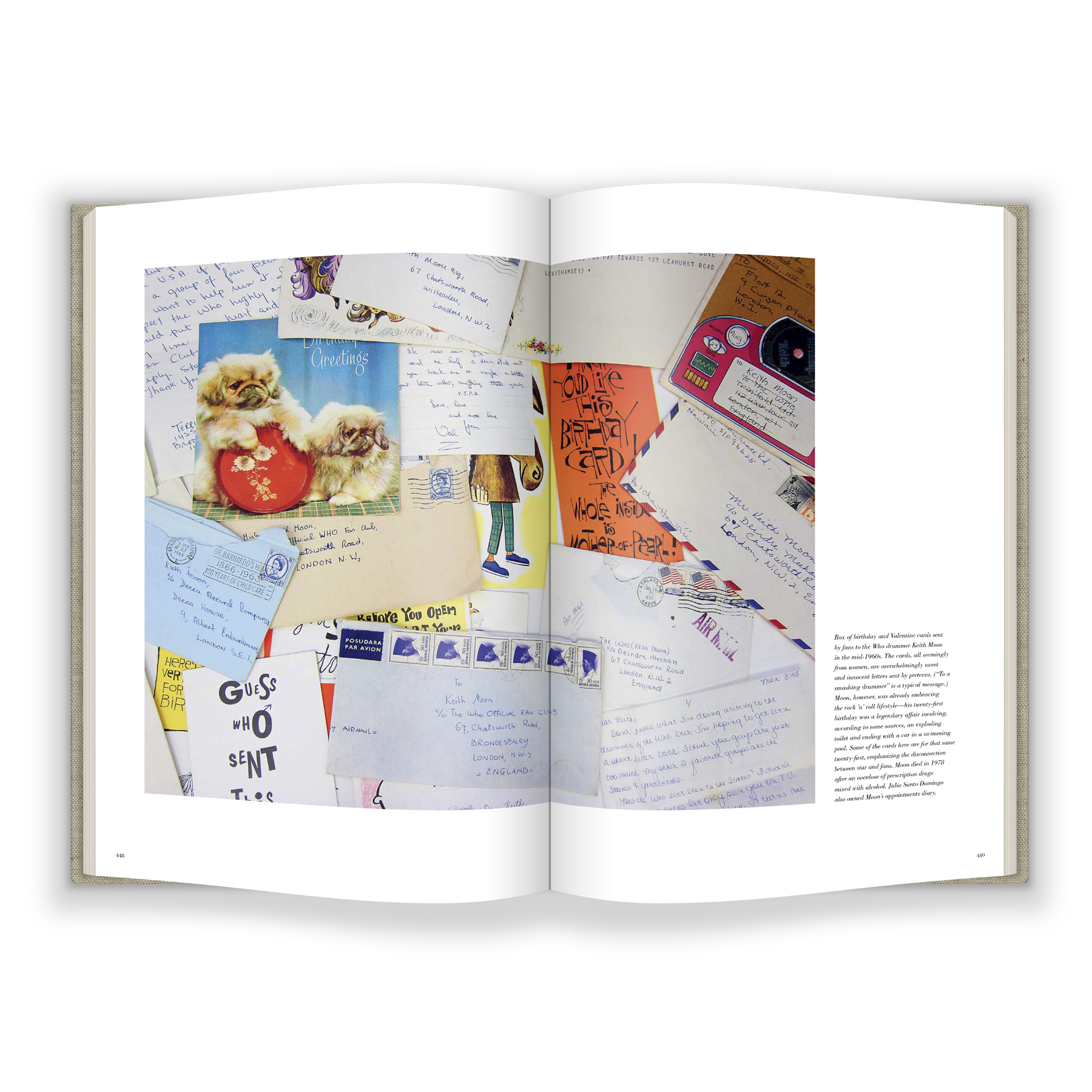 A box of birthday and Valentine's Day cards sent by fans to the Who drummer Keith Moon. The book notes, "The cards, all seemingly from women, are overwhelmingly sweet and innocent letters sent by preteens. ('To a smashing drummer' is a typical message.)"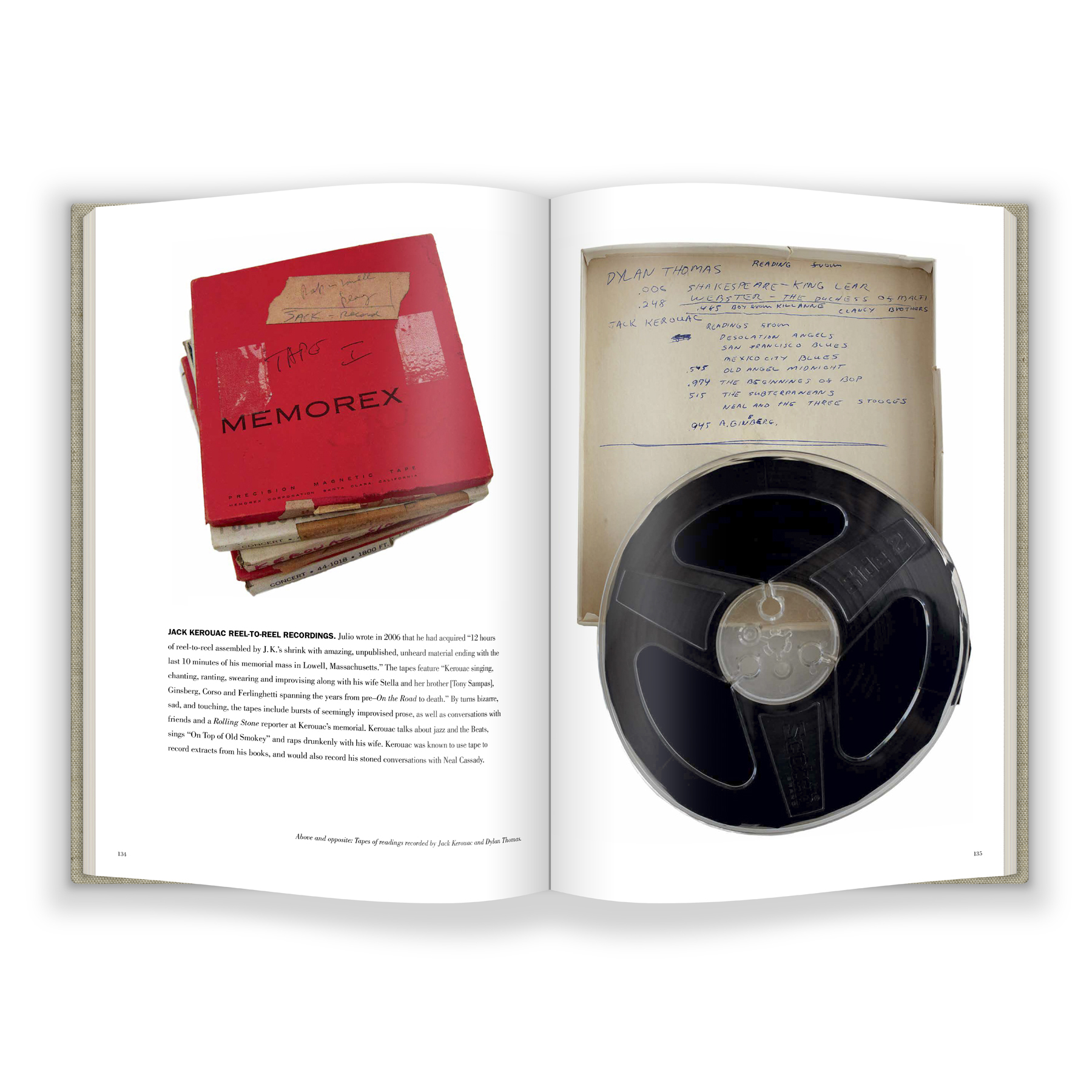 "Julio wrote in 2006 that he had acquired '12 hours of reel-to-reel assembled by [Jack Kerouac]'s shrink with amazing, unpublished, unheard material ending with the last 10 minutes of his memorial mass in Lowell, Massachusetts,'" the caption says. "Kerouac talks about jazz and the Beats, sings 'On Top of Old Smokey' and raps drunkenly with his wife."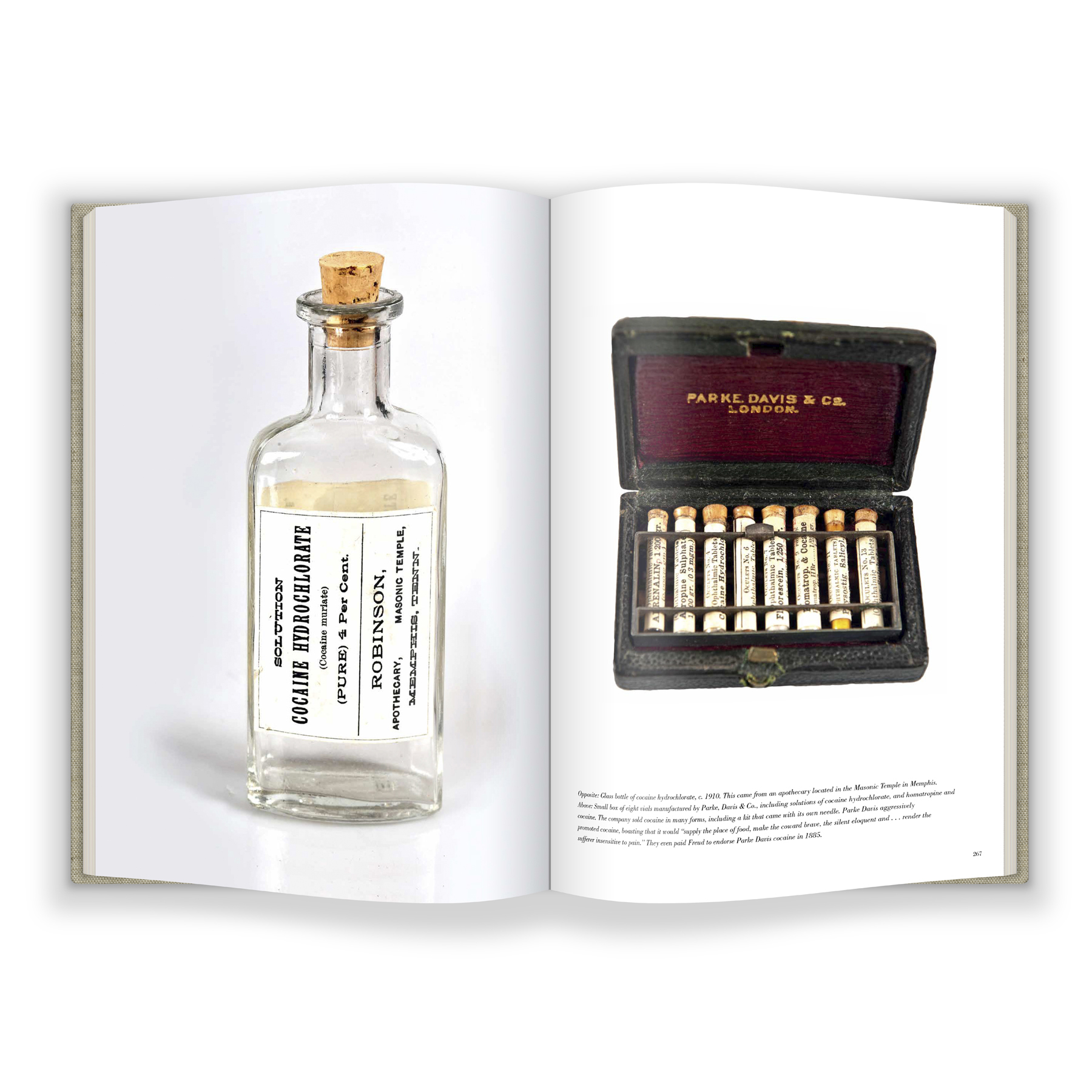 On the left: A glass bottle of cocaine hydrochlorate, c. 1910. Right: "A small box of eight vials manufactured by Parke, Davis & Co., including solutions of cocaine hydrochlorate, and homatropine and cocaine. The company sold cocaine in many forms, including a kit that came with its own needle. Parke Davis aggressively promoted cocaine, boasting that it would 'supply the place of food, make the coward brave, the silent eloquent and…render the sufferer insensitive to pain.' They even paid Freud to endorse Parke Davis Cocaine in 1885."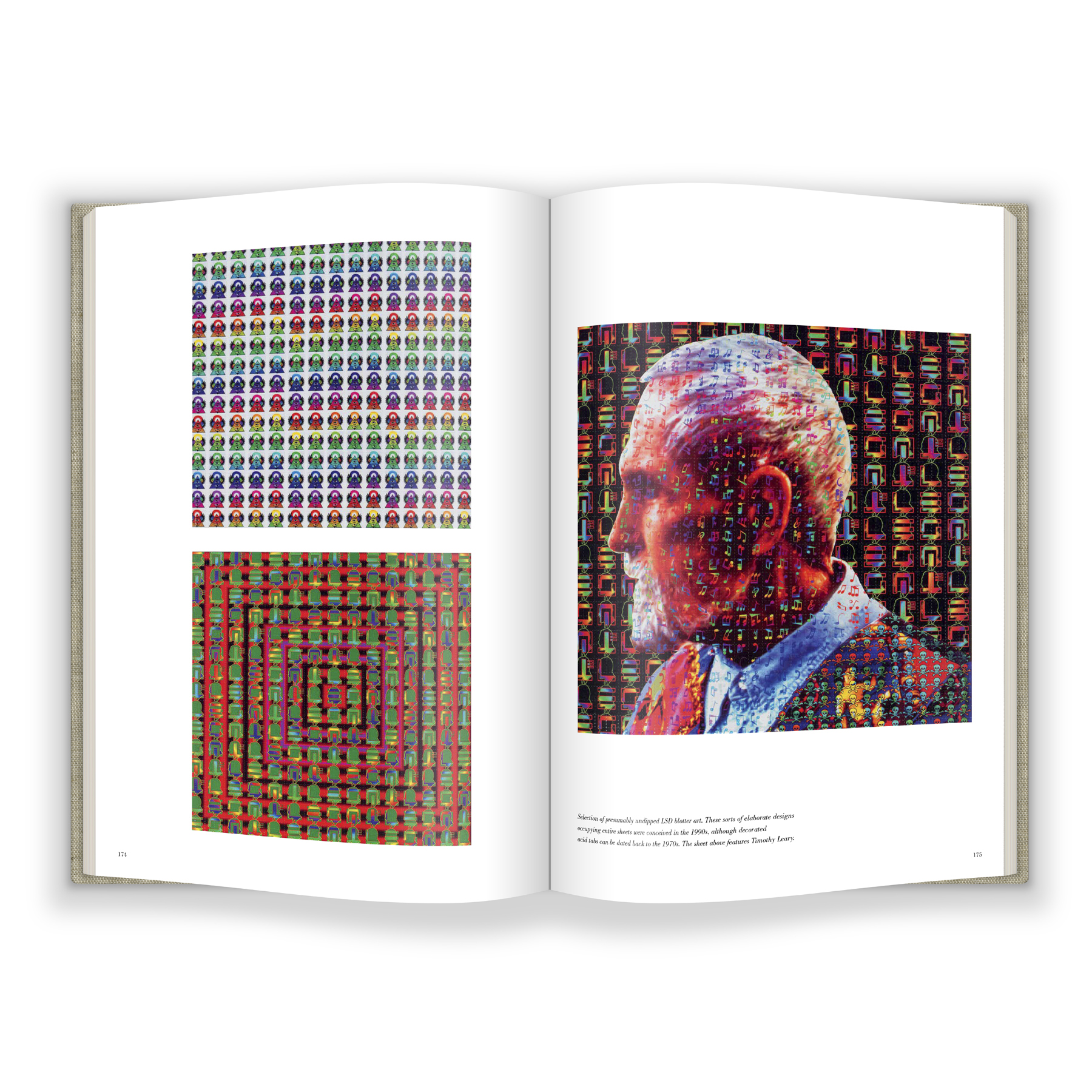 "Selection of presumably undipped LSD blotter art." The sheet on the right features a portrait of Timothy Leary.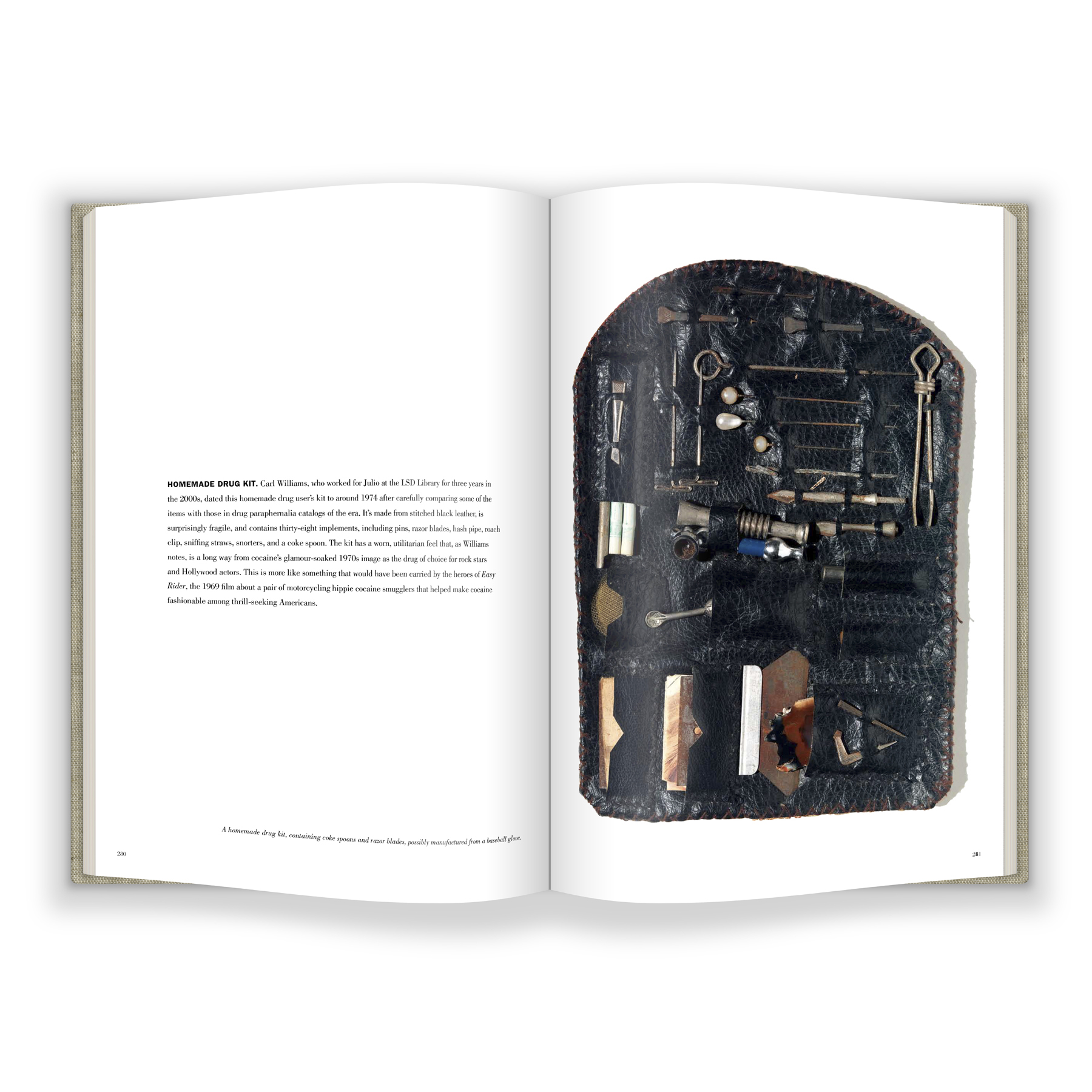 "Carl Williams, who worked for Julio at the LSD Library for three years in the 2000s, dated this homemade drug user's kit to around 1974 after carefully comparing some of the items with those in drug paraphernalia catalogs of the era. It's made from stitched black leather, is surprisingly fragile, and contains thirty-eight implements, including pins, razor blades, hash pipe, roach clip, sniffing straws, snorters, and a coke spoon. The kit has a worn, utilitarian feel that, as Williams notes, is a long way from cocaine's glamour-soaked 1970s image as the drug of choice for rock stars and Hollywood actors. This is more like something that would have been carried by the heroes of Easy Rider, the 1969 film about a pair of motorcycling hippie cocaine smugglers that helped make cocaine fashionable among thrill-seeking Americans."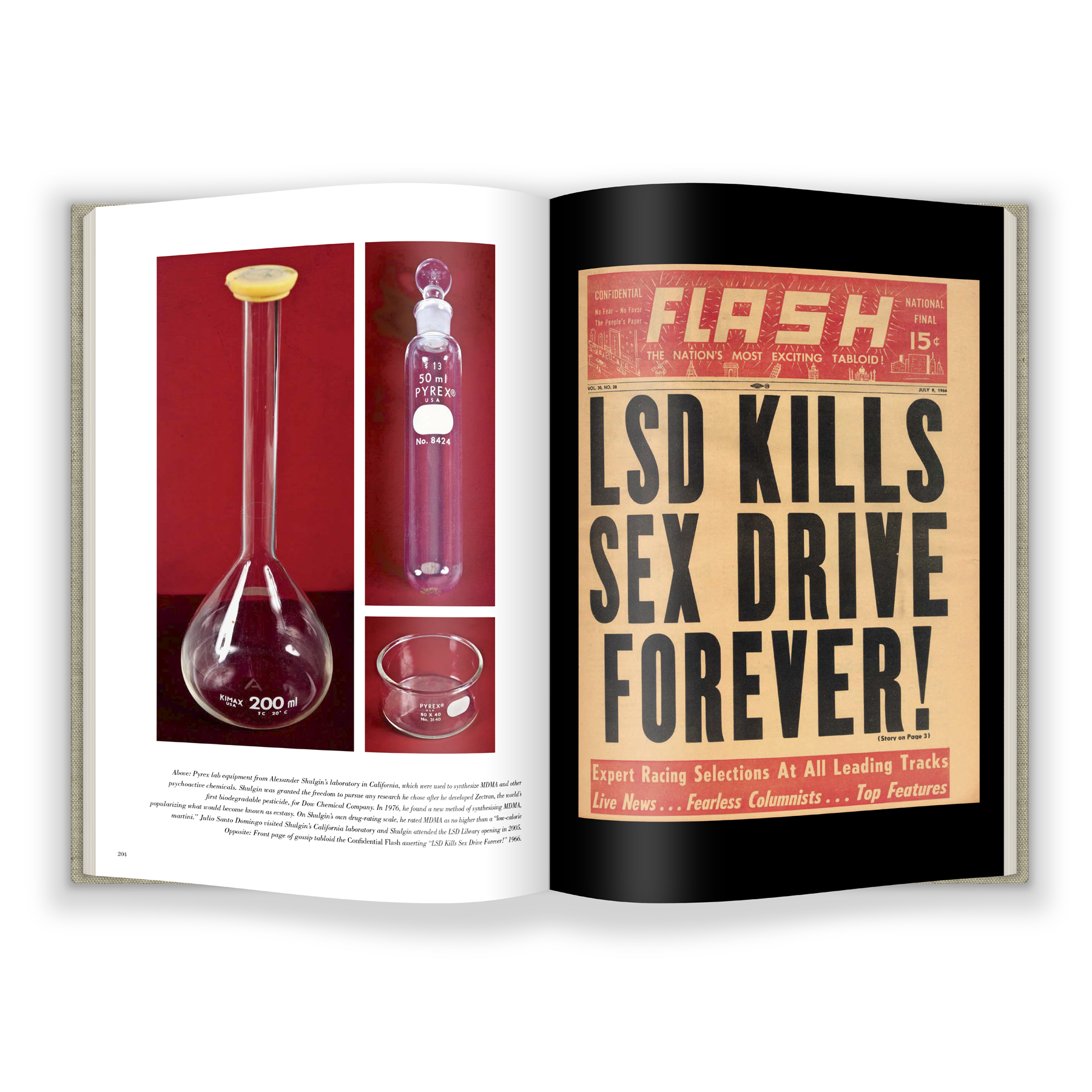 "Pyrex lab equipment from Alexander Shulgin's laboratory in California, which were used to synthesize MDMA and other psychoactive chemicals.... In 1976, he found a new method of synthesizing MDMA, popularizing what would become known as ecstasy. On Shulgin's own drug-rating scale, he rated MDMA as no higher than a 'low-calorie martini.'"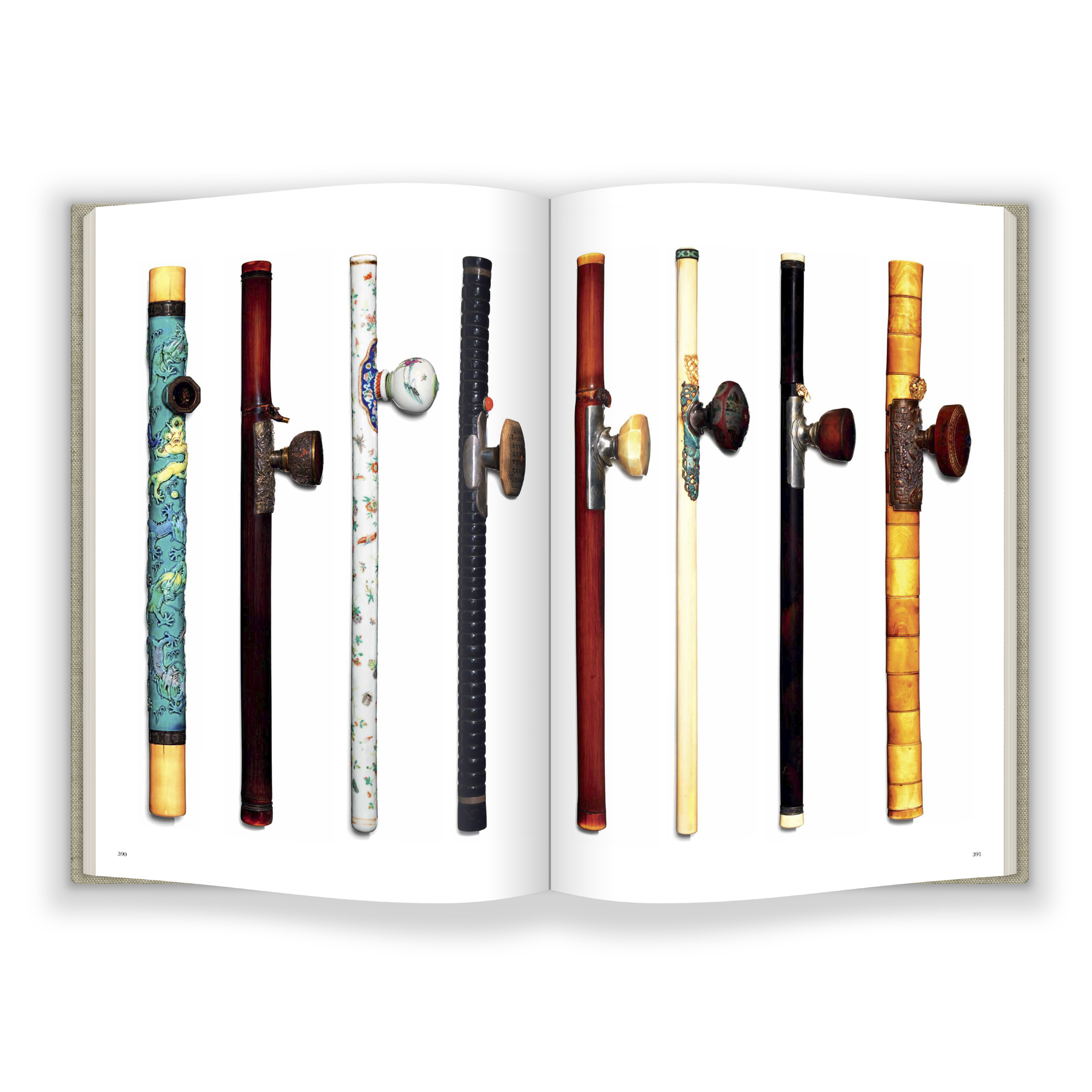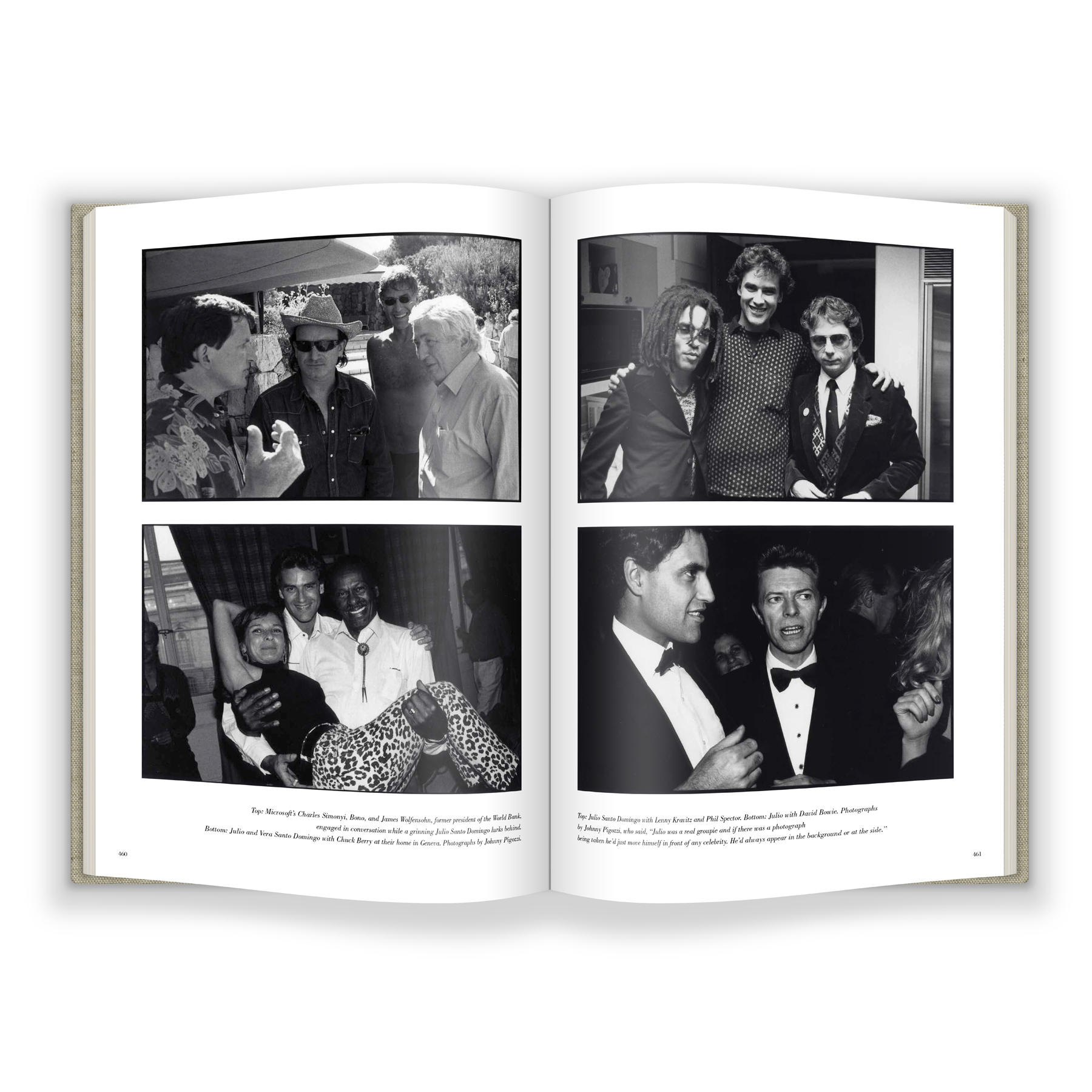 Various photographs of Julio Santo Domingo with friends, including Bono (top left), Chuck Berry (bottom left), and David Bowie (bottom right).