Kehinde Wiley, Fishermen Upon a Lee-shore, in Squally Weather (Zakary Antoine), 2017
Three Painters Confront a Troubled Europe
Three new exhibitions in London by artists of African descent have special resonance in a period of worrying extremism throughout Europe.
Kehinde Wiley, Fishermen Upon a Lee-shore, in Squally Weather (Zakary Antoine), 2017
In June 2016, British voters decided to leave the European Union, a highly divisive and controversial decision that's set in motion a complex, uncertain, and unprecedented set of political negotiations. The countless analyses of Brexit since the summer have pointed to a variety of originating factors including the disenchantment of Britain's working class in globalization, and the effects of deindustrialisation. But in Brexit's immediate wake, the backlash against immigration that underpinned the vote became clear; there was a 41% rise in reported racial hate crimes in the month following the vote.
Elsewhere in Europe, comparable stories have been playing out. On November 11, 2017, for example, a crowd of 60,000 marched through Warsaw to celebrate Poland's independence day, an annual event that's become a rallying point for far-right groups from throughout Europe. Banners reading "White Europe of Brotherly Nations" and "Europe Will Be White or Uninhabited" were held aloft, and there were ugly chants of "Pure Poland, White Poland!" It's even more horrifying that this outpouring of xenophobia seemed to have the tacit approval of Poland's government; interior minister Marius Blaszczak dubbed the gathering "a beautiful sight."

The far right is course on the rise across the continent. Entities such as Alternative for Germany, Austria's Freedom Party, and the Czech ANO Party have all upped their share of the vote. The Freedom Party, which advocates ending immigration and has neo-Nazi roots, won 27.4% of the Austrian vote. Germany has been rocked by the rise of Alternative for Germany, which harnessed anxiety about the recent influx of more than a million refugees under Angela Merkel's administration to push a nationalist and Islamophobic agenda, reminding many of the rise of Nazism. And while she didn't win office, Marie Le Pen's Front National achieved a one-third share of the vote in this year's French general election.
Several exhibitions currently on view in London respond to this unsettling trend, offering a lucid critique of European colonialism in Africa and the representation of people of color in Western art history. Kehinde Wiley's exhibition In Search of the Miraculous at Stephen Friedman Gallery is one. Wiley, who was tapped recently to paint Barack Obama's official portrait, shows nine new paintings alongside his first venture into multichannel video. And he's moved away from his established subjects, instead depicting figures staring out to sea or piloting small boats across perilous waters. These aren't didactic works, but nonetheless invoke media images of refugees en route to the southern coasts of Europe.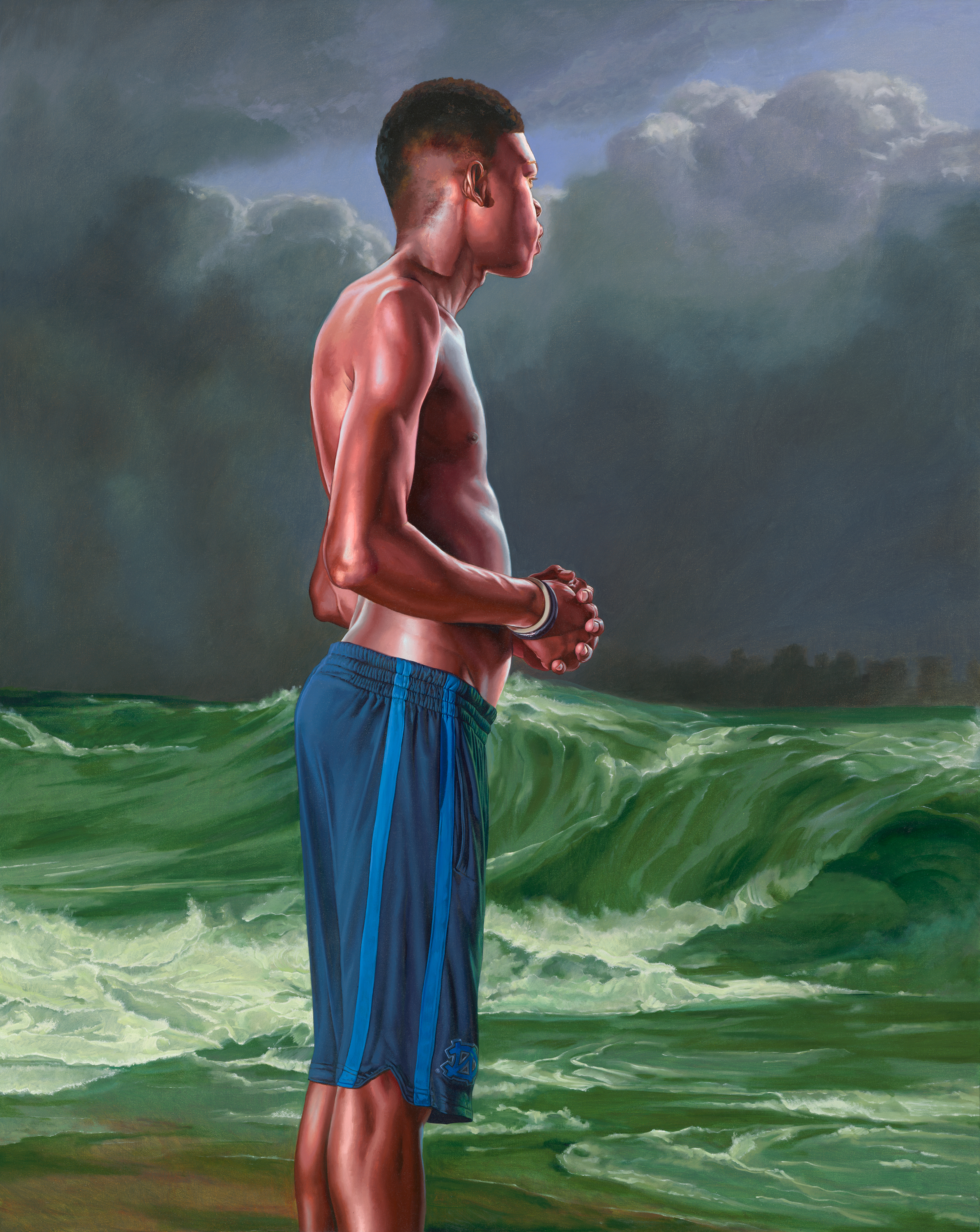 Like Wiley's previous works, his new paintings are consciously framed by art historical references. The show's title is a direct reference to Dutch conceptualist Bas Jan Ader's final work, during which he was lost at sea, and there are further allusions here to Winslow Homer, Hieronymus Bosch, and Turner. This strategy gives the subjects of Wiley's paintings—black men—a particular status and presence, by placing them in a visual framework that references the Western art-historical canon. This battle over the history of images has ongoing, real-world implications—several far-right participants in the Polish march carried banners depicting traditional Christian icons, implicitly linking them to the twisted ideal of a white-only Europe.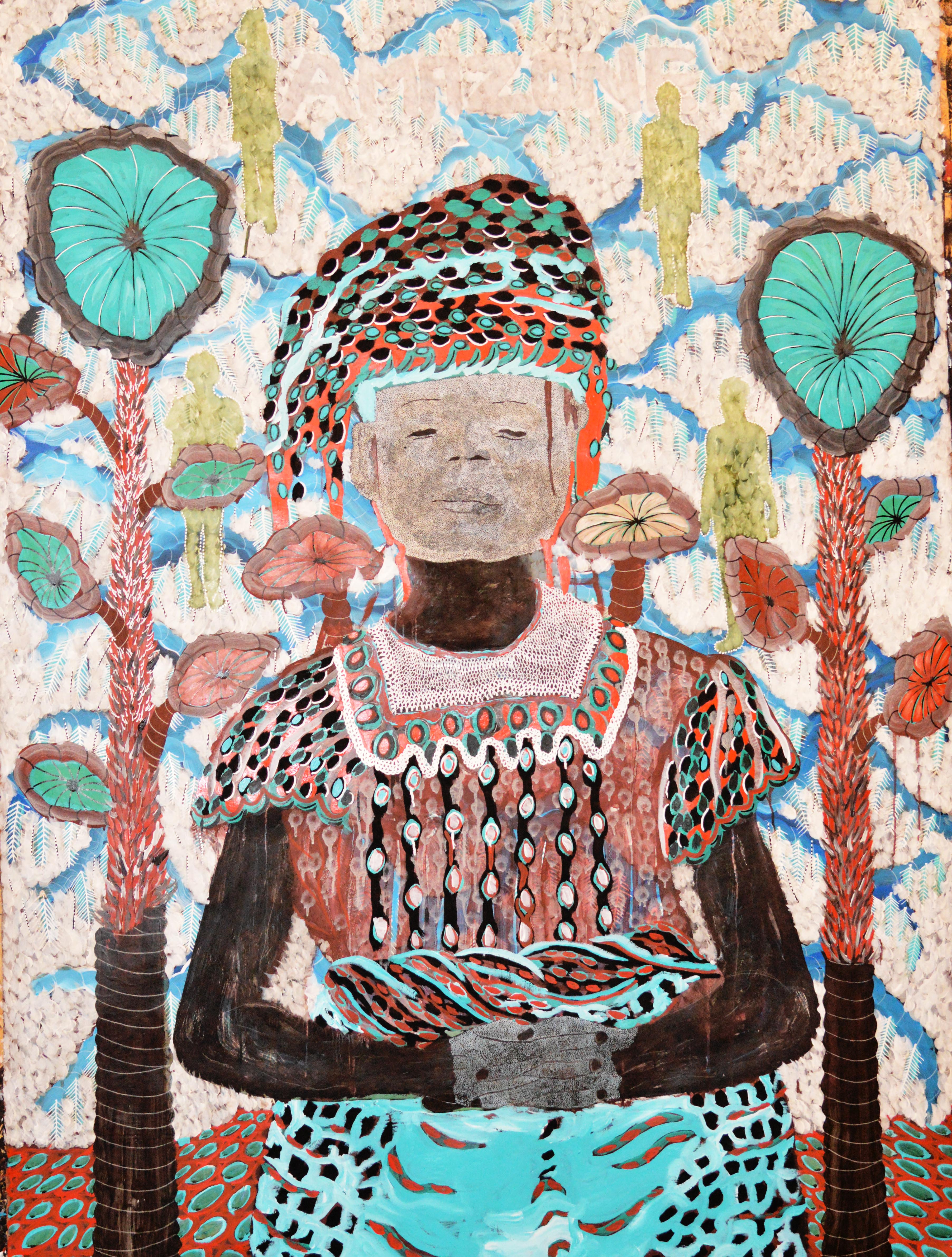 At Hales Gallery, Senegalese-born Omar Ba's Supernova is on view. Ba combines figurative and decorative elements to critique the violent legacy of European colonialism in Africa. His new series, however, is something of a departure, focusing as it does on bringing out the inherent pride of his subjects. Many of the paintings depict mothers and children against the artist's signature patterned grounds. Some are his relatives, others are drawn from photographs of colonial-era postcards, all are depicted in a way that elicits an atmosphere of grandeur.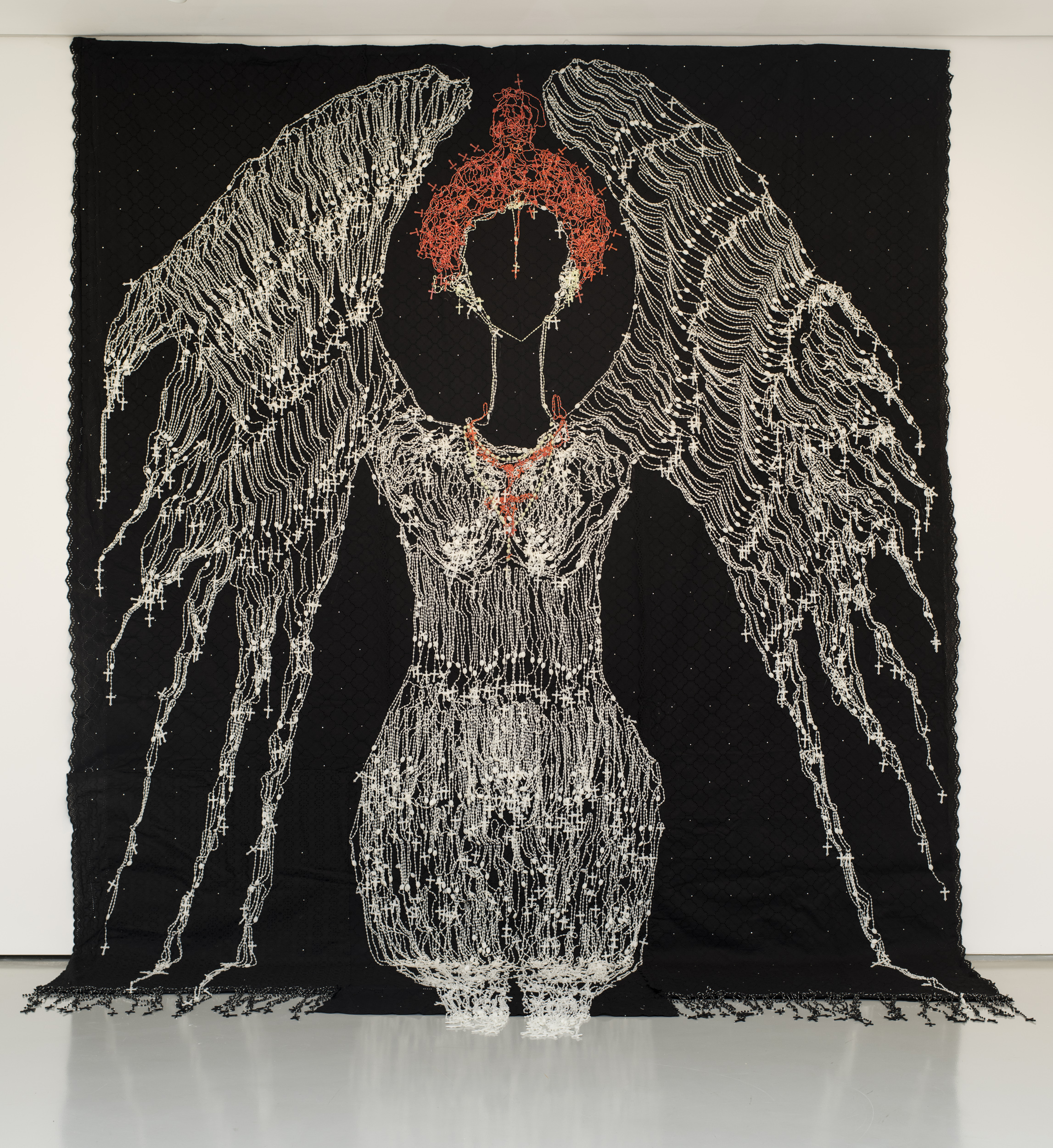 Victor Ehikhamenor's Tyburn Gallery show In the Kingdom of this World sees the artist, who was born in Edo State (the historic seat of the Benin Kingdom), expand on the work that he presented at the Nigerian Pavilion in the Venice Biennale. Ehikhamonor, like Wiley and Edo, aims to interrogate links between Africa and Europe; he sews rosaries onto his canvases while also making allusions to more specifically African traditions, and his elaborate forms and intricate patterns are woven together to produce images of both mythical and actual royalty. Above all, it's this imaginative gesture that links him to Wiley and Edo.
From a European perspective, the affirmation of cultural identities on display in these shows—and in others such as Arthur Jafa's A Series of Utterly Improbably, Yet Extraordinary Renditions at the Serpentine's Sackler Gallery this past summer—is important in London as it is anywhere in the world. There's a dangerous lack of strong political opposition to the rhetoric of the far right just now, and the contribution of artists is vital to broadening and enriching the context in which significant debate and action can occur. Edo, Ehikhamonor, and Wiley aren't interested in sloganeering, or in producing pre-digested protest art; instead they're asserting their presence and cultural sovereignty, and reminding us that the climate of xenophobia in Europe is nothing new.

Kehinde Wiley: In Search of the Miraculous is on view at Stephen Friedman Gallery, London, through January 27, 2018. Omer Ba: Supernova is on view at Hales Gallery, London, though December 9, 2017. Victor Ehikhamenor: In the Kingdom of this World is on view at Tyburn Gallery, London, though January 20, 2018.