Photograph by Kristy Sparrow for Getty Images.
Paris Fashion Week: At Y/Project, Uggs are the Coolest Shoes in the World
Their final collaboration with the Australian shoe brand just proved it.
Photograph by Kristy Sparrow for Getty Images.
A surefire high-fashion formula over the past several seasons has been to take something in the not ever category and give it a runway twist. These things are usually the kind banished from the realm of good taste, often from the Bush era, which was one of the most garish and least tasteful times in history: Crocs, logomania, Juicy Couture, and most recently and notably, Uggs. Generally, this has been a clever attention-grabbing gimmick in an industry driven by the need for an Instagram moment, but it's also been a canny provocation in what luxury consumers believe belongs in that category. With Virgil Abloh, for example, it's "luxury" because everyone wants it. With Demna Gvasalia, it's that he adds some element of exaggeration, like an outrageous platform, in the case of his Crocs, or bulging proportions, in the case of Balenciaga's Triple S "Dad shoe"—it's luxury because his stamp of design approval makes it so.

Y/Project, which did almost $6 million in sales last year but remains, at least in the United States, less than a household name, made a splash in January when it showed Uggs on its men's runway. The collaboration—the second part of which debuted at their Paris Fashion Week show on Thursday—is in a decidedly Gvasalian school of luxury goods: bet you didn't think an Ugg could be a slouchy stiletto boot, did ya? Y/Project designer Glenn Martens is obsessed with layers, both figurative—mixing off-duty Duke of Windsor rowing stripes and argyle with the kind of denim shorts seen only on groupies backstage at a Guns N' Roses concert—and literal—a silk robe appeared to be wearing two other silk robes. His style is unabashedly baroque: he loves the dense, overwrought shapes of 18th century clothing, and the dense, overwrought sounds of death metal.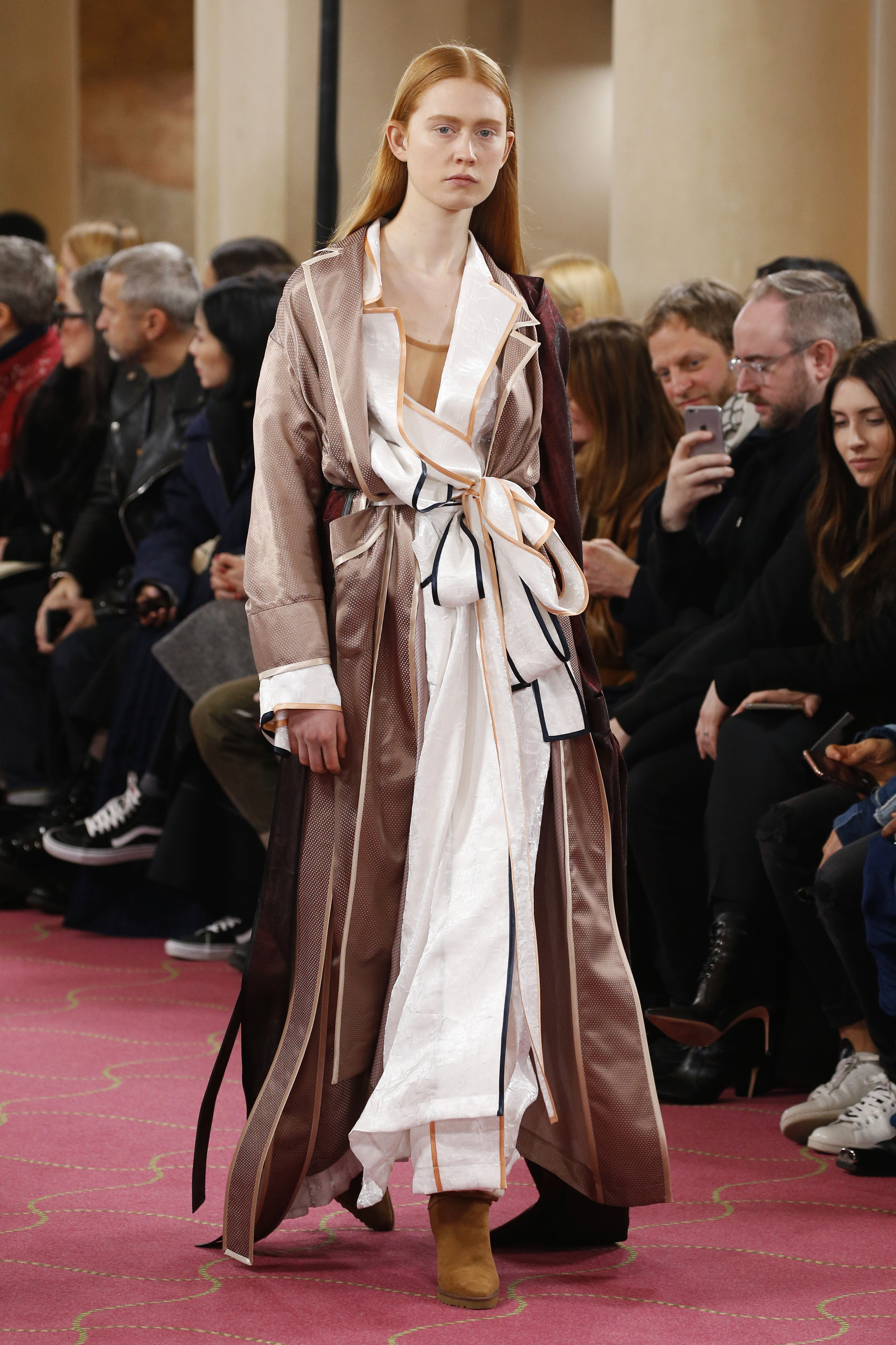 January's boots were the classic Ugg done as thigh-highs and, forgive me for inventing this term, crotch-highs; Martens said in a press release, "Putting on Uggs is like putting your foot in a warm pot of butter, and I thought why not elevate that and immerse your full legs!" (Hell yeah!) The boots shown on Thursday pitched that slouchy silhouette up on stiletto heels, so that they had the gargantuan, pant-like proportions of waders, or the swarthy heft of a pirate boot, with the cuffs in sheepskin. They looked elegant and otherworldly with a fur stole top, and Princess Diana-worthy with a swing skirt and argyle sweater-cape. He also minimized the boot into a demure mule, the marabou slipper answer to that triple bathrobe.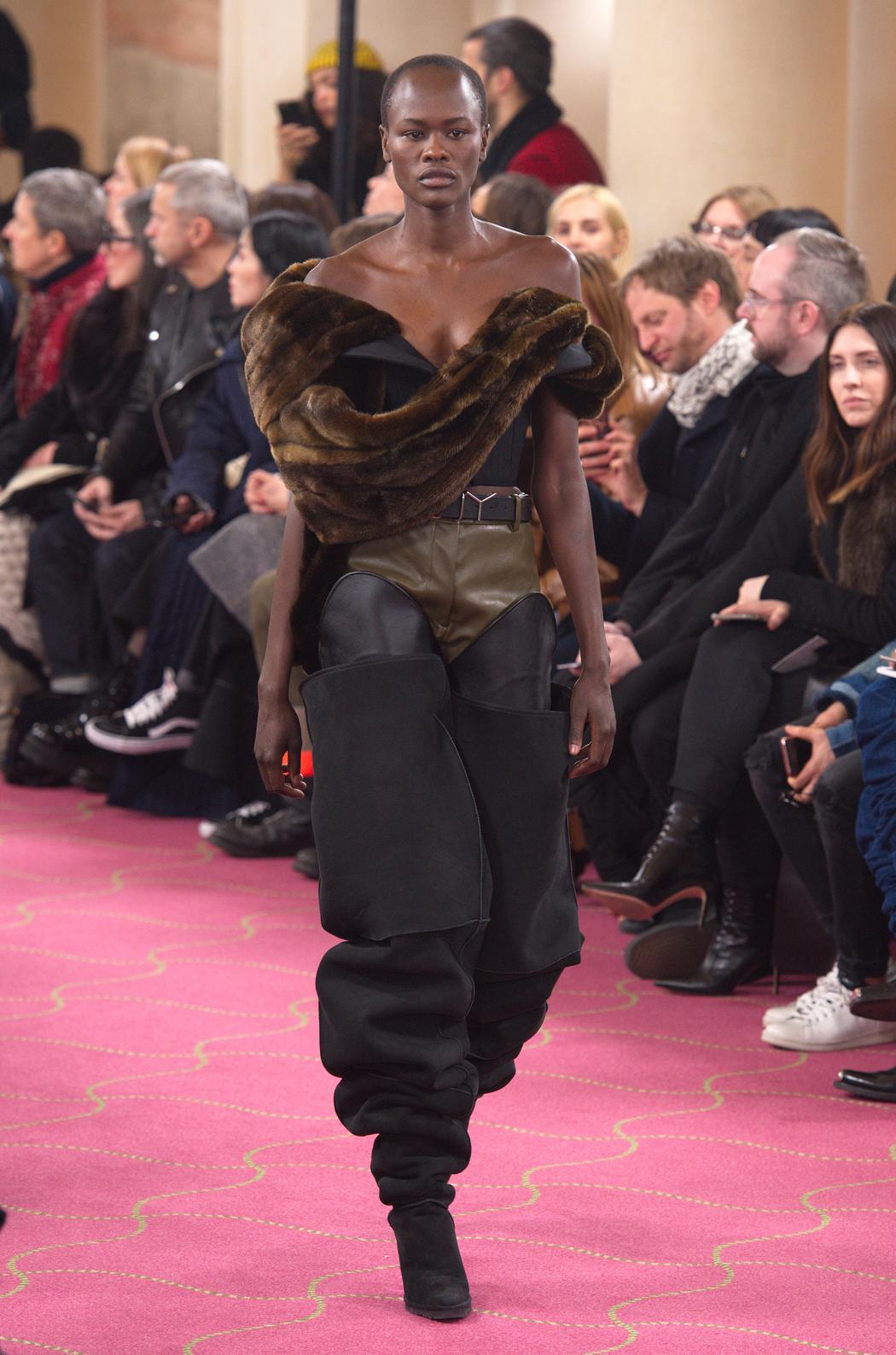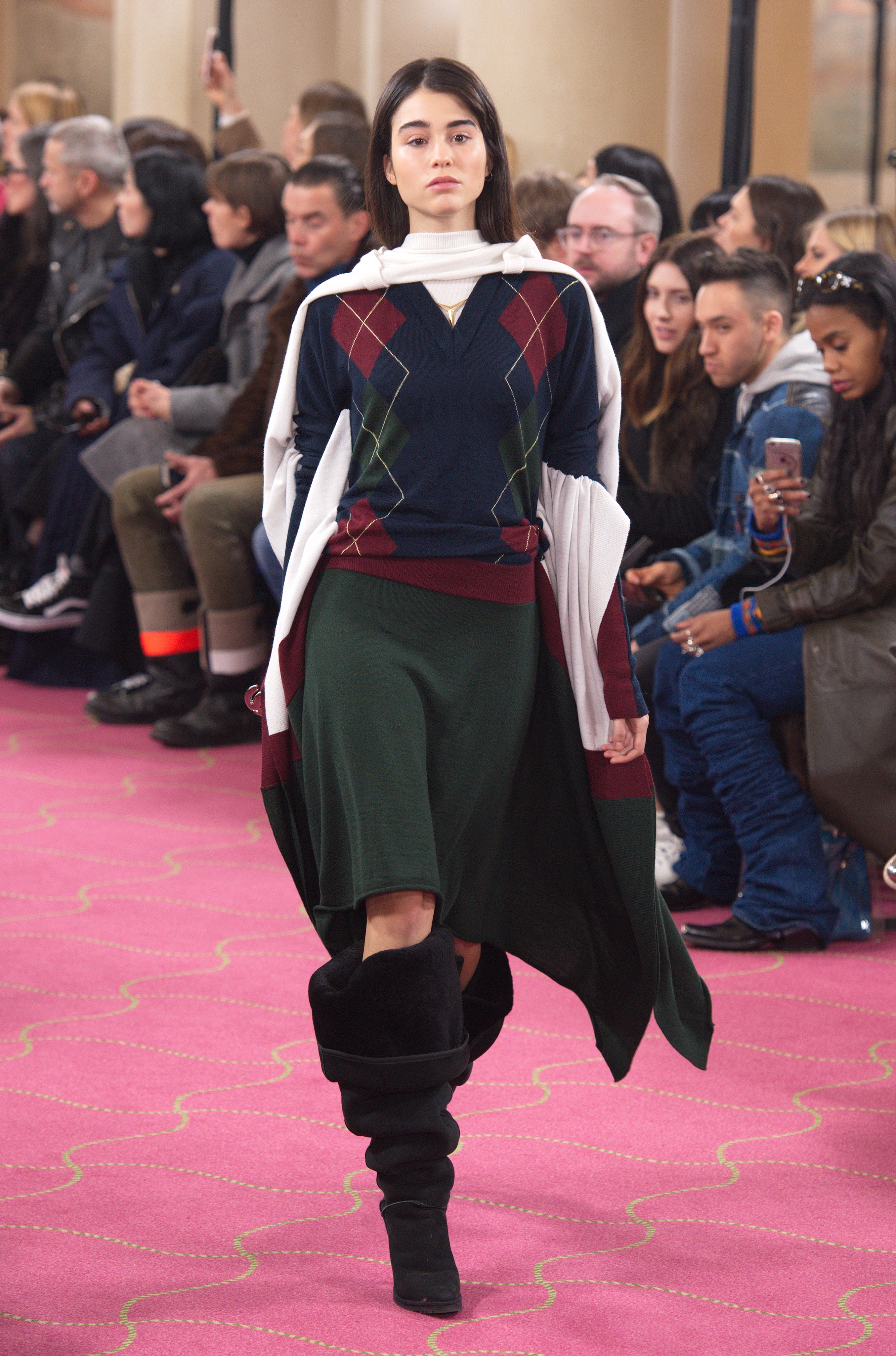 "The UGG Classic boot is one of the most recognizable shoes in history," said Martens in a press release. "Its timeless and challenging design made it a worldwide statement." "Most recognizable," "challenging"—these are gentle ways to say, "Everyone sees this boot and thinks: 'bad' or 'lazy dresser.'" And as the models wobbled down the runway in the Uggs paired with wild streetwear-inspired Elizabethan court garments, as the theme from Chariots of Fire played (again: hell yeah!), I wondered: is Glenn Martens a genius? Are Uggs the coolest shoes in the world?

Fashion is one of the few spaces right now in which we are asked to challenge our assumptions. The nature of dialogue and ideas at the moment is polarizing—you believe one thing or the other, vehemently. But in fashion, you can take something that's thought of in one way and make everyone watching see it differently. No other industry is functioning like that right now. Who will line up to buy these £195 (about $270) Uggs when they hit stores in September? Probably a lot of people. But many of them will likely visit the Ugg store before then, too. The Ugg is finally liberated.