Photo by Frazer Harrison/Getty Images
At NYFW: Men's, I Got Trapped in a Tailored Track Jacket Escape Room
Plus drugs, "Working Girl," and the wispy ghost of punk at Raf Simons, Landlord, Grungy Gentleman, Moon Choi and Palmiers du Mal.
Photo by Frazer Harrison/Getty Images
New York Fashion Week: Men's, which has been on life support almost continuously since its current iteration began in 2015, is one of the rare gendered institutions that has less cultural power than its female counterpart. (Editor's note: Not for long!) The CFDA pulled this season into February to better accommodate buyers coming off the European men's shows, as well as those already planning to be here for the more illustrious New York Fashion Week, which began yesterday and does not require a colon or modifier. Does anyone care about NYFW: Men's? There was plenty of talent but little excitement. With the exception of Tom Ford and Raf Simons, whose presence feels a bit like god reaching down from the heavens à la Creation of Adam, the last three days have been a mostly tepid, polite exercise in equal time.
Does Raf Simons like drugs? Probably not as much as he likes Joy Division, references to whom he managed to abstain from last night, instead opting for a Jan Brueghel the Elder still-life, if Brueghel painted still-lifes from the center of a Kreuzberg rave. What's good to wear to the rave? Sloping, elongated wool top coats lined in acidic satin, like a Red Dye 40 one with welted breast pockets like bellows, and matching trousers. These were paired with sweaters worn as scarves, so that their torso and sleeves hung off the neck like a luxurious knit parasite—a good styling trick, but not as good, it was pointed out, as other recent alternative sweater readings. Even better was the luridly colored cover ("bad cut" yellow and "prescriptive" orange) of a recent printing of the Glenn O'Brien and Cookie Mueller play Drugs, written in 1983 and never formally performed, reproduced on elbow patches, blown up to form the front of a sandwich board hoodie, or reworked with the names of other chemical combines like LSD and XTC. Elsewhere, images from the 1981 film Christiane F.—a bleak adaptation of a bleak memoir about teenage heroin addiction Simons first encountered in high school and has credited with keeping him away from drugs—were printed onto tees and sweatshirts.
Raf Simons is 50 years old and still talking to the youths! The references may have been very 80s and the music sounds different now but the prescription still applies: a subset of hip hop marked by depressives rapping about their use of Xanax and fentanyl has gained traction in the last year as the country grapples with an opiod crisis, and several, like Lil Peep, have already died of overdose. That's the surface reading, but there's also an argument that fashion itself is the narcotic. Simons evokes a rabidity and fierceness of devotion like few of his peers. His following inhales his every gesture like contraband. The PSA is that addiction takes many shapes, and overdoing it isn't as rad as moderation.
Punk has been dead for something like 98 years, yet still manages to die a new death every few weeks. Landlord, which blends global subcultures with compelling results, offered a lot of punk signifiers on Wednesday: red tartan pants, Sid Vicious sweaters, screaming (the soundtrack, but also my headache). Ryohei Kawanishi said he was inspired by his time at Central Saint Martins...in 2011. It's pretty bold to show a punk collection in New York and go on about how punk started in England, which it did not. Skinheads, rude boys, and disaffected glowering have been mined nearly as much as workwear, so the studded leather vests, Union Jack knits, and heavy strapping that made shirts look like straightjackets seemed nicely made, but also like a Hot Topic clearance rack. It's not easy to strike an anarchic pose in late capitalism.
Grungy Gentleman was the only show this week to have a merch table at the venue. There were also several beverage options, a considerate gesture which could have been enough to make it the best show all week. All they had to do was not lock everyone in a narrow room and show half an hour of t-shirts. They were so close. As the show was about to start, a roll-down gate was drawn, and there was a palpable fear among those in attendance (me) that this was all about to go pear-shaped and become an Oldboy scenario, or worse, an escape room… and I was not wrong. For the next 25 minutes, a deluge of clean-cut and inoffensive tailored sweatpants, track jackets, and blazers washed over those captured inside, only our quarter-water-sized matcha lemonades and orange-beet juices to sustain us and the strains of Lil Pump's "Gucci Gang" to remind of life in the before-times. Would those on the outside remember us, I wondered? Also, who is the grungy gentleman, and from where does his sadism stem? The clothes were monochromatic errand gear for the urban zaddy who doesn't like to stick his neck out too much, except for the heavily-tattooed neck of the model who lit a blunt as he walked (the second mid-show blunt this week—your move, Stuart Weitzman). Eventually, the torrent receded, the gate was rolled up, and we emerged, bleary-eyed and grateful.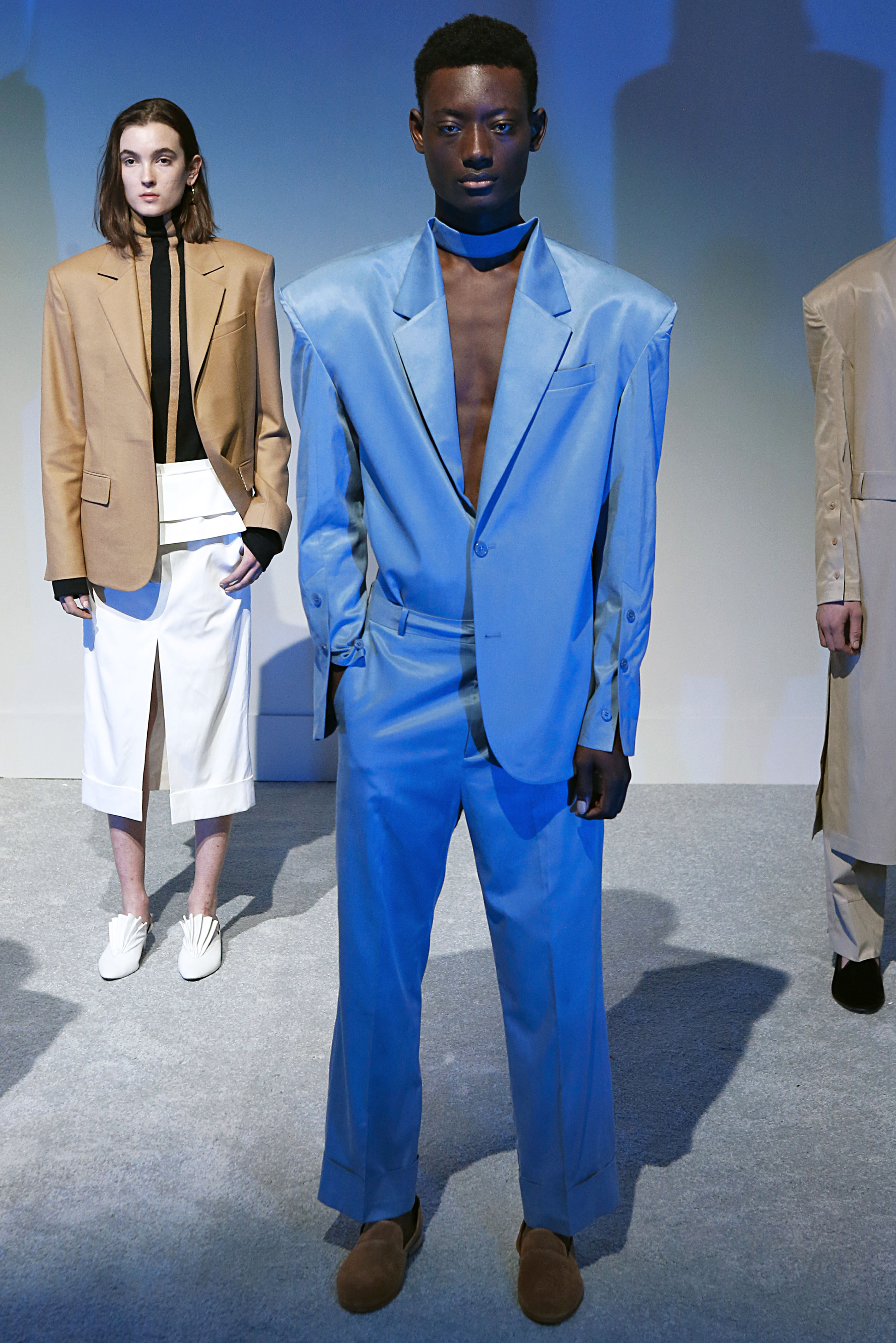 Moon Choi's Fall Winter 18 collection, which the designer said "blurs the boundary between feminine and masculine, as it gently shifts the notions of gender and identity," was a tasteful, tight selection of wide-shouldered tailoring in cupro or heavy wool with belted waists and deep necklines, in neutrals and soft nudes, more in line with menswear's ongoing journey in proportion than gender nonconformity. There was a bit of a Working Girl meets Grace Jones vibe. The takeaway: palazzo pants for boys are cool.
Shane Fonner was feeling seditious. He occupied the basement bar of a midtown hotel, which he had outfitted with palm fronds and models lazing around empty tea services on leather club chairs for Palmiers du Mal's opium den set piece. "I've been experiencing this increased urge to escape," Fronner said. "Especially from New York, and even, in a way, fighting the fashion industry. I keep calling this the 'anti-fashion show.'"
Still, he didn't escape too far; basketweave cashmere sweaters were knit in New York, and hard-brimmed hats were made in collaboration with a brand out of Brooklyn. Fronner too invoked "gender agnostic shapes": satin harem pants and a sari gathered at the waist, smoking jackets, and a kimono with tiger stripe detailing and a fringed shawl. These loose Silk Road collisions implied a bohemian indulgence, good for discussing the collapse of Western civilization in your Graham Greene book club, or, more likely, your ad campaign pitch meeting; a photographer zagged around the room with a bottle of the sponsoring vodka, trying to create artful compositions and shoving it into the models' hands. Another utopia spoiled.