Photograph by Ruslan Plakhteev, courtesy of Roma Uvarov.
​She May Create Some of Russia's Weirdest Feminist Art​—Just Don't Call Her a Feminist
Alice Hualice, 23, creates bizarrely beautiful textile sculptures in a small Russian city that explore the grotesque and the feminine.
Photograph by Ruslan Plakhteev, courtesy of Roma Uvarov.
Alice Hualice, 23, was born in the village of Yakshina, in Russia, and resides in Nizhny Tagil, a small city in the mountainous region of Ural. But on Instagram, where she has a modest following of 2500, she inhabits a much bigger world. There, she posts self-portraits in her beautifully bizarre creations, like this naked over-the-shoulder shot in a fur mask covered in embroidered eyeballs, or this one evoking Lana Del Rey wearing a crown of pruny, fleshy lumps resembling dried apple dolls. In another, she emerges from the chiaroscuro lighting of her bedroom wearing a nude bodysuit, draped in tulle collaged with photorealistic eyeballs. She wears a fabric mask that frowns at her sewing machine, with the puckered mouth and eyes and overly rouged cheeks of a cartoon babushka. Here is a life-sized doll with an embroidered vagina and nipples.
"I live in a harsh environment. Ural isn't a place for the weak," she said in an email, translated from Russian. "There are many factories and people work insanely hard. This isn't a place for delicacy and that is why my artwork plays on this contrast."
Her Instagram is like a haven; it's clear how her gregarious self-expression might be noticeably outsized in her hometown. "Here my artwork looks foreign and out of place," she said, but "every piece of my work is a piece of my life. I don't work with big global issues. I don't engage with issues that don't concern me. My work focuses on my inner issues, worries, and memories."
If you cannot read the Cyrillic captions under Hua's many self-portraits with her handmade textile art, don't let that deter you. (Despite my given name, I am 0% Russian, and it hasn't deterred me.) In videos and Instagram Stories, she performs for the camera so generously that, together with her works, her cohesive aesthetic speaks for itself. She dances around wearing her lumpy masks with tulle, lace, and matronly delicacies. She is unafraid of the feminine grotesque. In her own world, she is jubilant and free.
In February, the Russian fashion designer Roma Uvarov showed his Spring/Summer 2018 collection, featuring pieces made in collaboration with Hualice, whom he discovered on Instagram. The collection included a sweater was embellished at the chest with eyeballs intarsia-knit into sockets, creating the illusion of peekaboo nipples; a double-breasted blazer was adorned with beaded doll head appliqués; a structured overcoat had eyeball épaulets and pin-cushion lips on the lapels, taunting with stuck-out beaded tongues. One model wore a gag in the shape of pillowy lips embroidered with pearls for teeth, while another wore a choker with a life-sized human hand for a medallion. Another carried a life-sized doll, adorably lumpy, yet unsettlingly Uncanny Valley-esque in the way the tender curves resembled flesh.
This was a new medium for Hualice. "Sometimes I even sew my own clothing, but this was closer to ritual costumes than designer clothing," she said of her project with Uvarov. "I actually can't sew. The fact that I produce textile art may seem strange to some. For me, it was a way of testing myself. I realized that through this work, I could best communicate my feelings and my life. Every piece of work was a test, just like the rest of my life. I didn't have a very happy childhood and often express this in my art."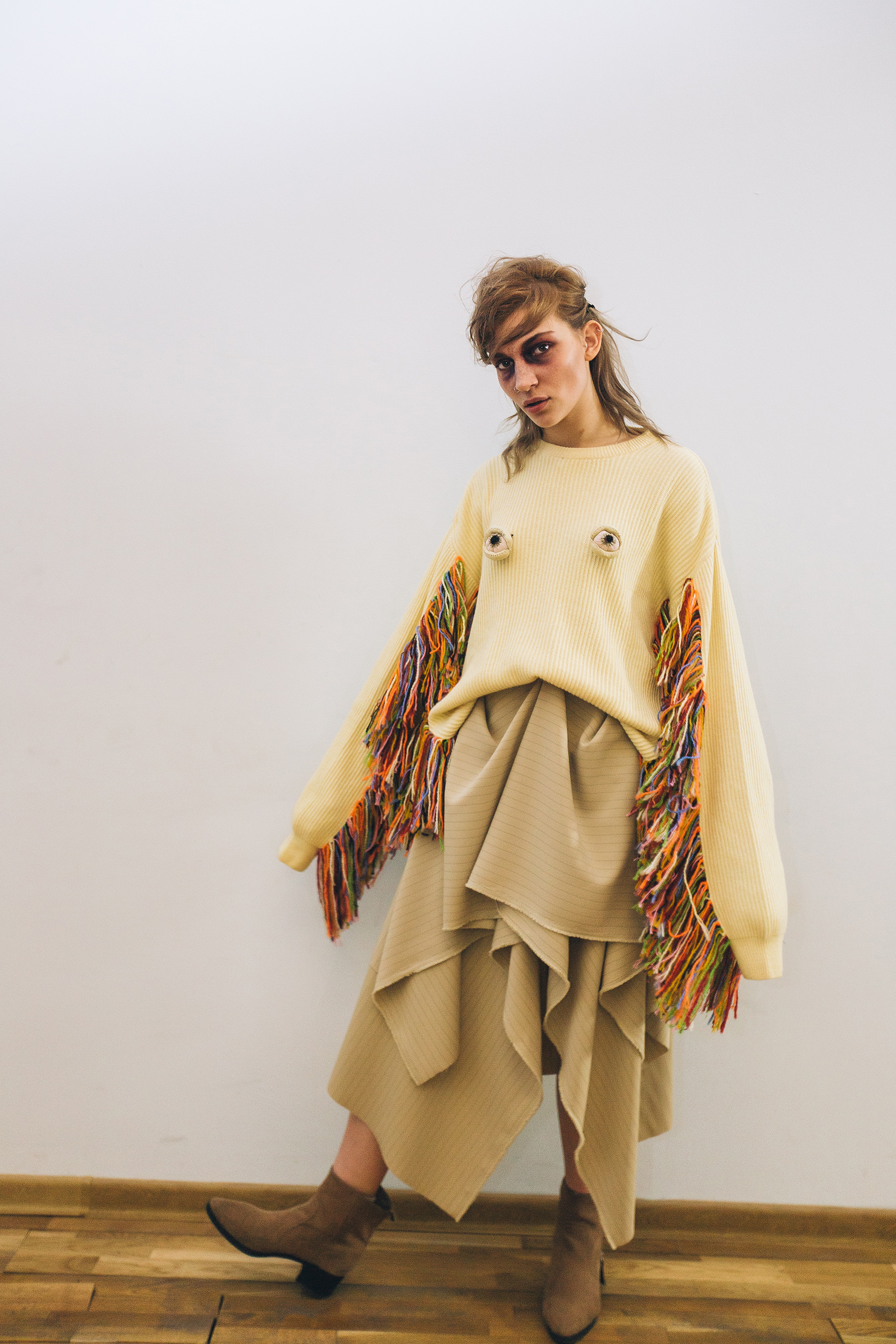 The comedy in her creation is made possible by a light-touch historical consciousness: the kind of arts and crafts a world-weary babushka may pass onto her granddaughter, in which objects of pleasure traditionally relegated to little girls–dresses and dolls–had to be handmade under the resource-scarce conditions of Soviet-era Russia. Earnestly handcrafted, imperfect, and a little creepy, the dolls and masks mirror the twisted play of a childhood spent making do with the lot one's family has been dealt; hence, the charm of her unapologetically freaky exploration of the garish side of femininity.

Much of her work portrays components of the female body with a liberating sense of humor, so I asked the question: Do you consider yourself a feminist? Her response: "Many people say that my work aligns with feminism but that isn't exactly true."
She continues, "Without saying, the goals of feminism are close to me and I find them justified. However, I am turned off by feminist methods of expression. I think that when you are a feminist you acknowledge a feeling of inequality and embark on a path to fight. I consider myself an equal person. No one ever spoke to me about societal roles and I consider myself equal to others around me. Because of this, I grew up with a sense of equality and freedom inside. It would be amazing if everyone would feel this same sense within themselves but unfortunately our society is far from this goal."
I understand her response to be either a critique on the confounding of aesthetics with ethos, or an informed, considered dismissal of politicized semantics. On the runway, her parodic representations of femme ugliness come across as satire, but the artist is onto something else entirely: Holding a subconscious funhouse mirror to her world, and taking the piss out of the stark, drab environment she is obliged to inhabit. Her defiant and jubilant self-expression subverts and defies the oppressive weather and working-class conditions, but that isn't the point.
Below, a selection of some of our favorite of Alice's Instagrams.