Photograph courtesy of Birkenstocks.
At a Birkenstock Party for Rick Owens, Worshipping Feet and Michéle Lamy
Rick Owens celebrates a new collaboration with Birkenstock in Los Angeles.
Photograph courtesy of Birkenstocks.
"I'm only doing what Michéle is telling me to do," a PR girl tells us after saying we can't go past a mysterious black curtain. Behind it, Dutch photographer Paul Kooiker is allegedly shooting foot worship photos, but it's only one at a time, and there's a list's worth of a line.

Michéle's last name is Lamy and she's the star of the party. She's max five feet tall, in brown Birkenstocks—the Boston clog model—that have been retooled by her partner, the fashion designer Rick Owens. This is ostensibly the reason for our gathering: another high/medium clothes brand collab, with an architect, Gonzalez Haase, mixed in. Owens, who isn't present, made a selection of classic Birkenstock shoes fuzzier: pony hair, fur, felt. Mammalian. He also added longer straps. They drag on the floor like many of his dresses and trousers, which many in attendance are wearing. There's more black fabric in this space than I've seen in my three years in LA. The PR girls, of course, are wearing it: nondescript black separates. The Rick Owens store staff are twisted, bound, draped, and strapped into it. And then there's the inner circle, circling around Lamy. They're chic, mature, makeup free, and radiant in black—Ladies in Waiting for the Cult of Lamy, in uniform. Like Gillian McLeod, a model/stylist with long platinum hair and Tilda Swinton serenity, who's known Lamy since the early '80s. "My dress has been stepped on by 90 people," McLeod says and shakes her silky Rick Owens column number free from another imposing foot.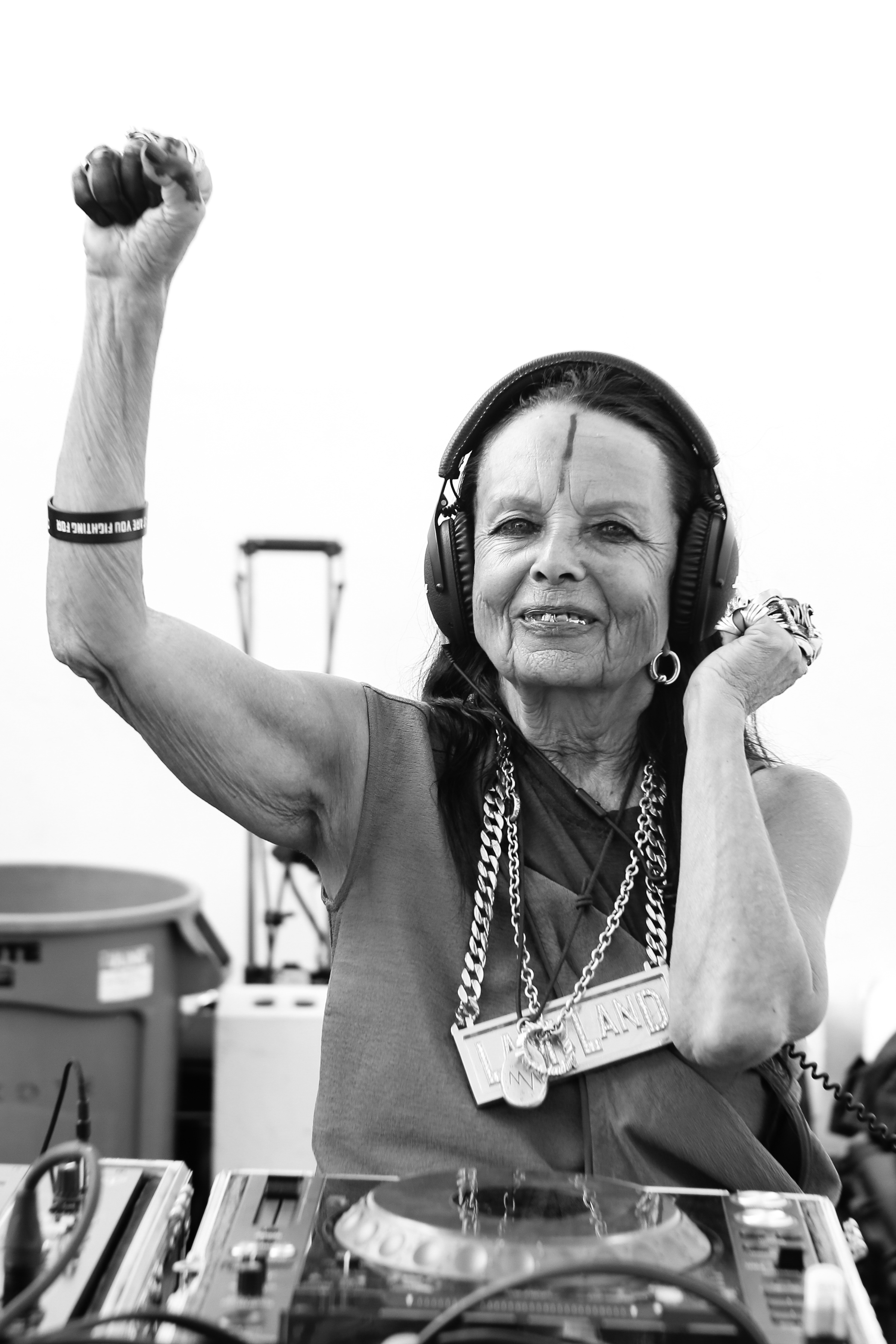 I tell McLeod's friend, the photographer Mark Hanauer, that I'm a terrible party reporter because I'm interested in all the wrong things. He asks me to clarify. "I'll get home and my notes will be all words for shapes and textures or observations on the body language of those PR girls standing in every corner." Hanauer asks what the right things to write may be. "The job," I say, "I think, is to find the most famous person in the room, and get them to say something salacious, funny, or unknown." Hanauer, who has shot Asia Argento, David Hockney, and Joni Mitchell, knows who the real celebrity is: "Of course, Michéle Lamy."
"How could she not know how cute she is?" a friend of Chelsea Fairless—one of the minds behind @everyoutfitonsatc, also of Female Trouble—says of Lamy.
Lamy does seem comfy. Come sundown, she's wearing some sorta bobbly brown vest dress, like a potato sack filled with baked potatoes. It's soft, looks great, and matches the banquet.
"Doesn't it look GOOP-esque?" Fairless deadpans, referring to Gwyneth Paltrow's health empire. "Couldn't we be at the GOOP Wellness Summit?"
Pillars, piles, and crates of fresh-ish produce are being used as props. On top of them are prepared foods: eggs with anchovies, fish-stuffed tomatoes, olives, oyster mushrooms, and avocados mushed in their skin. The food is a kind of "one-night revival" of Lamy's storied Hollywood restaurant, Les Deux Café, which she ran from the '90s to early the aughts.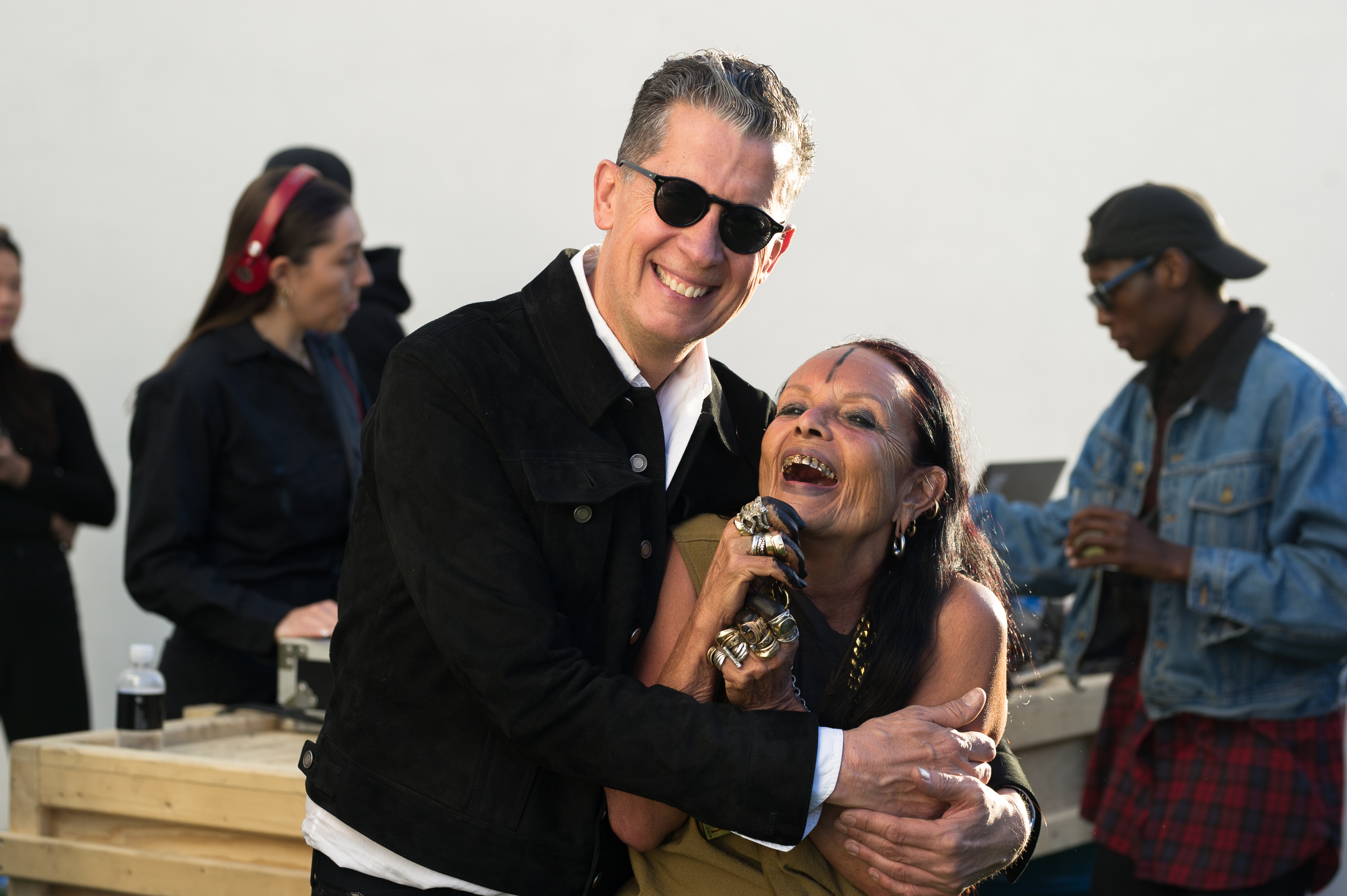 I learn from Gillian McLeod that Lamy used to run her own fashion label called Too Soon To Know—"well before she met Rick, in the early eighties"—and that then, Lamy lived in Downtown LA, where there was a scene of artists, and far fewer buildings than there are now. And then, finally, I get to meet Lamy. Her smile is full of gold and around her neck is more gold—she's wearing a rectangle of bling that says LAMYLAND in the style of the HOLLYWOOD sign. With hands iconically blackened and warm to the touch, she emits a contagious serenity. Unfortunately, Lamy tells me, she can't give formal interviews tonight. She gives me her email to follow up, spelling it in her first (and my second) tongue of French, and bops off. I hear someone say she looks like a beautiful party goblin.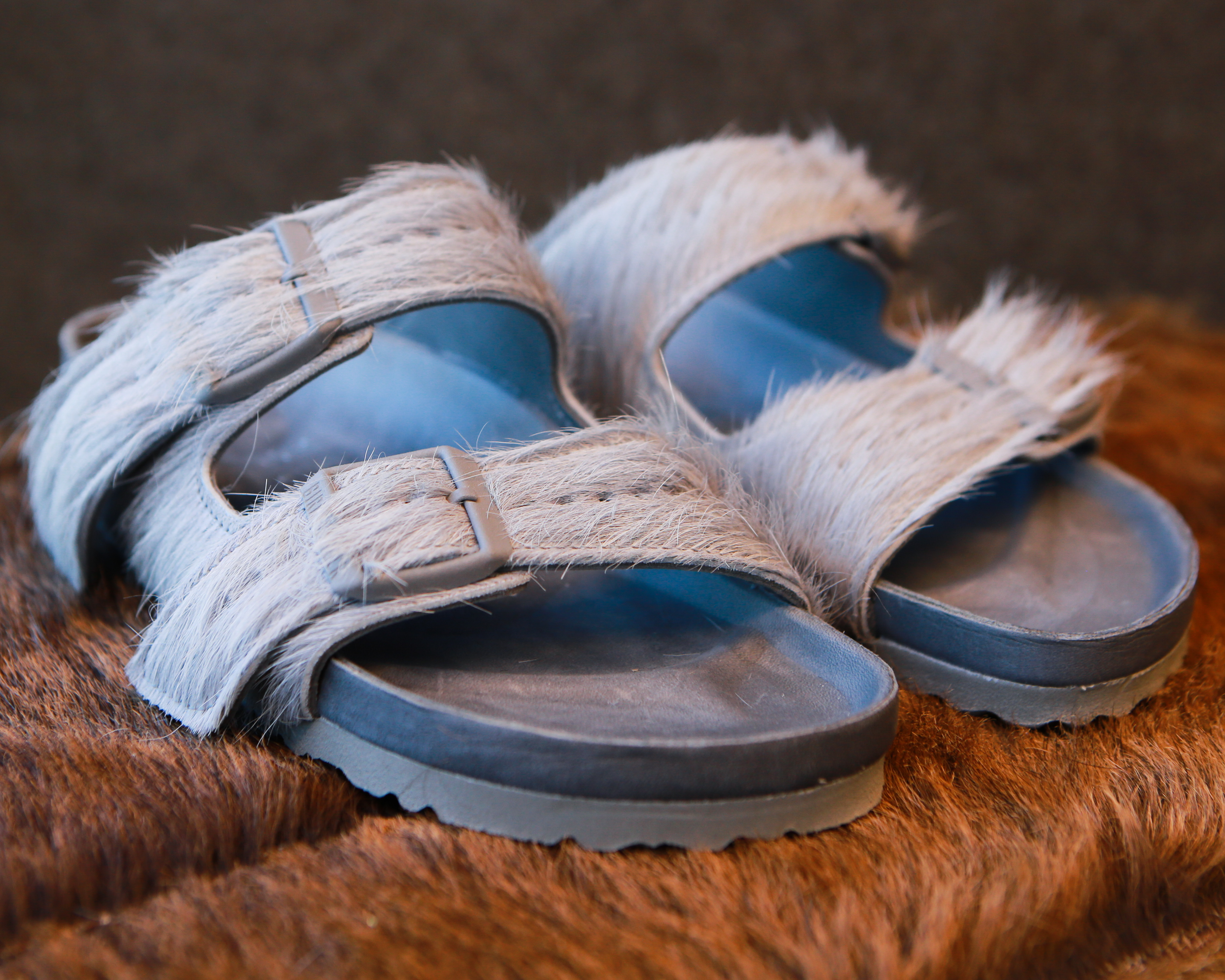 I spot Hari Nef, a former neighbor from New York. She's always open and clever. I ask Hari what she makes of the drape, the droop, the drag of Owens's long sandal straps and skirts that grace the ground. What does it mean?
Hari hums, then suggests: "A marking of territory, or…an accumulator of experiences? Shows where you've been."
I ask her what she thinks of the shoes: "Subdued but also...dramatic. We love Rick. What I really want," she says, "is some foot worship. I heard that was happening."
It's true. The men in suits were opting to have their hands tended to, but the concept was: guests get their feet washed, massaged, and moisturized in Birkenstock Natural Skin Care products then are escorted behind that black curtain to meet photographer Kooiker, who I bet captures a lewd toe—his most famous works look like BBW Hans Bellmer.
I want to go home with something, and I'm trying to be monogamous, so I settle for an eggplant. I slip the eggplant—Chinese, not Italian—into my Margiela purse, and go home and fry it with olive and coconut oil, smashing it on toast with aioli. Whenever I eat eggplant, my lips puff in a burn, and this reminds me of this girl I knew who worked at Gwyneth's GOOP for nine months, during which her complexion shifted from raw and drab to this ethereal glow. She said it was like a cult.