Parker Bright,
Confronting My Own Possible Death
, 2018. A mixed media work on paper depicting the artist's own protest in front of Dana Schutz's painting at the 2017 Whitney Biennial. Photo courtesy of the artist.
"Whitewalling" Is the New Term Describing Exclusion In the Art World
Aruna D'Souza's "Whitewalling : Art, Race & Protest in 3 Acts" addresses spectacle, appropriation, and exclusion in the white cube.
Parker Bright, Confronting My Own Possible Death, 2018. A mixed media work on paper depicting the artist's own protest in front of Dana Schutz's painting at the 2017 Whitney Biennial. Photo courtesy of the artist.
Last March the Brooklyn Museum announced the appointment of a white consulting curator for its African art collection, and a chorus of objection soon echoed across social media, even inspiring an organized response from the collective Decolonize This Place. Many, quite simply, were not having it. As I've listened to far too much Alanis Morissette in my lifetime, "ironic" was the first if not best word that came to mind when I heard that there would be a release event for Aruna D'Souza's book, Whitewalling : Art, Race & Protest in 3 Acts on Thursday, May 3rd at the museum, featuring a conversation between the author and artists Lorraine O'Grady and Devin Kenny.
Ironic or not, there I was on Eastern Parkway, involved in a "conversation" to which I hadn't exactly consented. Whatever museum professionals mean by this word, their definition doesn't depend on intimate or common exchange—people in last night's audience were required to phrase their questions in thirty seconds or less. In the posh-looking third-floor auditorium, amongst a mostly non-black crowd, I felt out of place. The Brooklyn Museum's own website spells out the institution's vision: "Where great art and courageous conversations are catalysts for a more connected, civic, and empathetic world." Emphasis mine. A conversation assumes, or at least dreams of, an exchange of equal parties. Controversy, no neutral term either, is like a scab that art-world devotees keep picking in order to show off blood. But institutions are not people, even if they have historically delimited humanity by way of a Euro-American universalism, and the material wounds of exclusion and violence are old, open secrets. As O'Grady said at the launch, the "substratum" of the events analyzed in Whitewalling was "the placement of a museum within a white supremacist structure. You can't get away from that."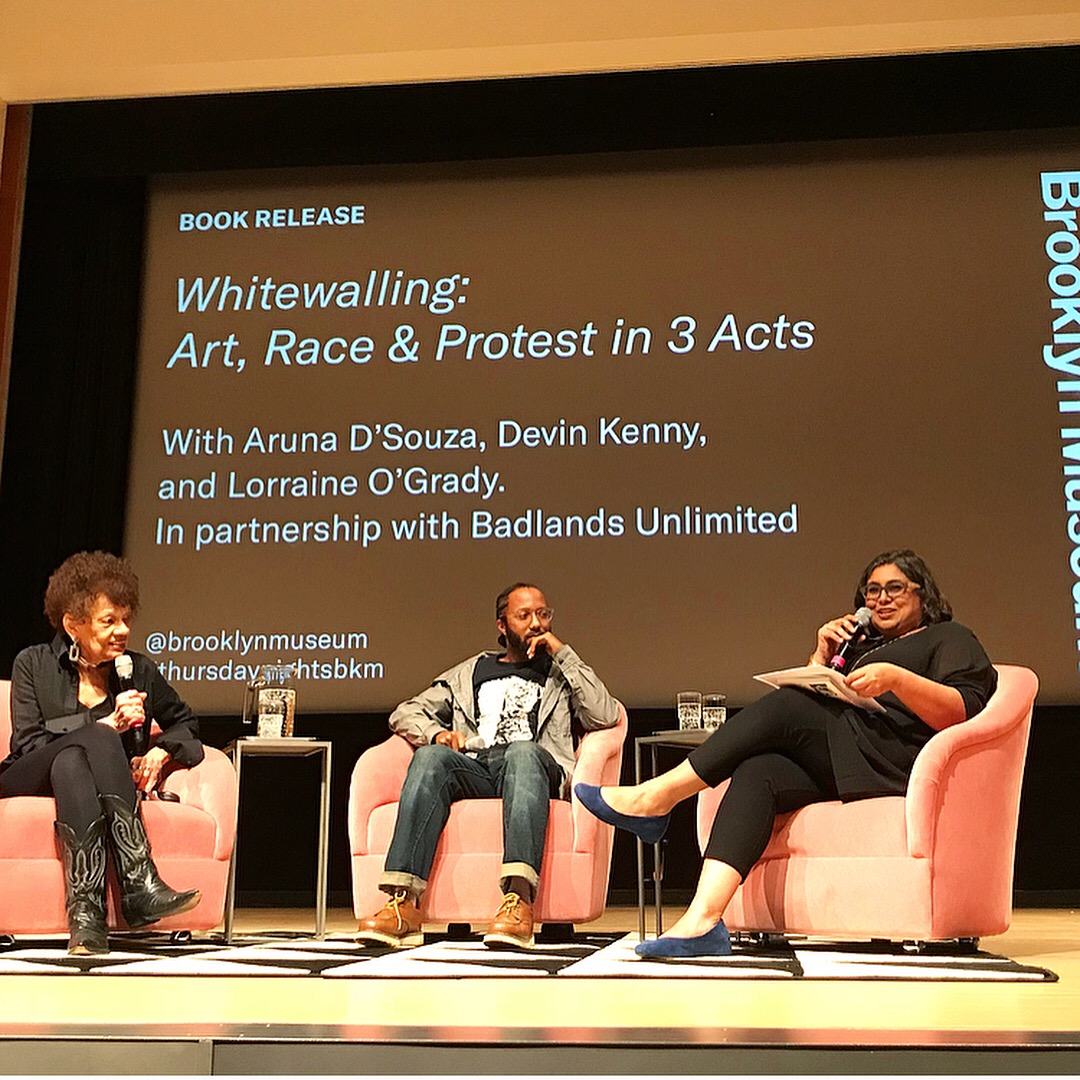 D'Souza's book examines three exhibitions in New York, with the earliest dating back to 1969, that spurred, as she writes, "black protest within the art world." Her most recent example is the 2017 Whitney Biennial, which included white artist Dana Schutz's painting of a photograph of Emmett Till's open casket; a series of charcoal and photographic triptychs called The Nigger Drawings (by a white artist simply credited as "Donald") shown at the so-called "alternative" art institution Artists Space in 1979; and the formation of the Black Emergency Cultural Coalition in 1969 after the Metropolitan Museum of Art excluded black artists from an exhibition called Harlem on My Mind: Cultural Capital of Black America, 1900-1968, the museum's first attempt to include black America as both subject and object. For D'Souza, these breaking points circle around the concept of "whitewalling," which she defines in her introduction as "a neologism that expands in many directions: the literal site of contention, i.e., the white walls of the gallery; the idea of 'blackballing' or excluding someone; the notion of 'whitewashing,' or covering over that which we prefer to ignore or suppress; the idea of putting a wall around whiteness, of fencing it off, of defending it against incursion."
In the opening remarks to the event, a staff member urged us to remember that central Brooklyn is at the heart of the museum's work. But another kind of incursion looms in the borough. Decolonize This Place, which currently shares an address with Artists Space, has emphasized the Brooklyn institution's role in gentrification, and just a few days ago organized an action in its lobby where people recited via call and response a list of demands they had for the museum and its staff. Their pamphlets were also offered for free on the same table where D'Souza's book was being sold. If resistance can be welcomed at all, this writer is clearly striving to do so, while the museum itself attempts to manage it. As the author pointed out at the launch, she is a non-black person writing about black art and protest, making this book, to borrow her language, an "experiment" about what it means to be a "good ally." To do good though, critical examination and restructuring of both the self and the system one works in are needed. In contemporary discussions of allyship, we rarely note the militaristic tenor of "ally": a formal union that acknowledges complicity, the way we are folded together—whether we like it or not.
Aruna D'Souza's Whitewalling: Art, Race, & Protest in 3 Acts will be released by Badlands Unlimited on May 22.