Photograph by Ashley Tyner
Theresa Chromati's New Growth
The Baltimore raised, Brooklyn-based artist speaks on her practice, and hooks us up with a playlist.
Photograph by Ashley Tyner
Theresa Chromati's art transcends typical boundaries; the Brooklyn-based artist puts everything from painting to photography to sound to to use in her work, which has been displayed at Jeffrey Deitch, the Untitled Art Fair, the Czech Center, and more. To mark the final days of her latest show, "Running in Place and Sometimes Walking: At Times I Feel Loved and Paralyzed" at the Kravets Wehby Gallery, Chromati spoke to GARAGE about iconography, spirituality, and her inspirations—from her family in Baltimore to her artistic peers.
Read the interview, listen to the show's soundscape below, and vibe out to Theresa's personal playlist right here.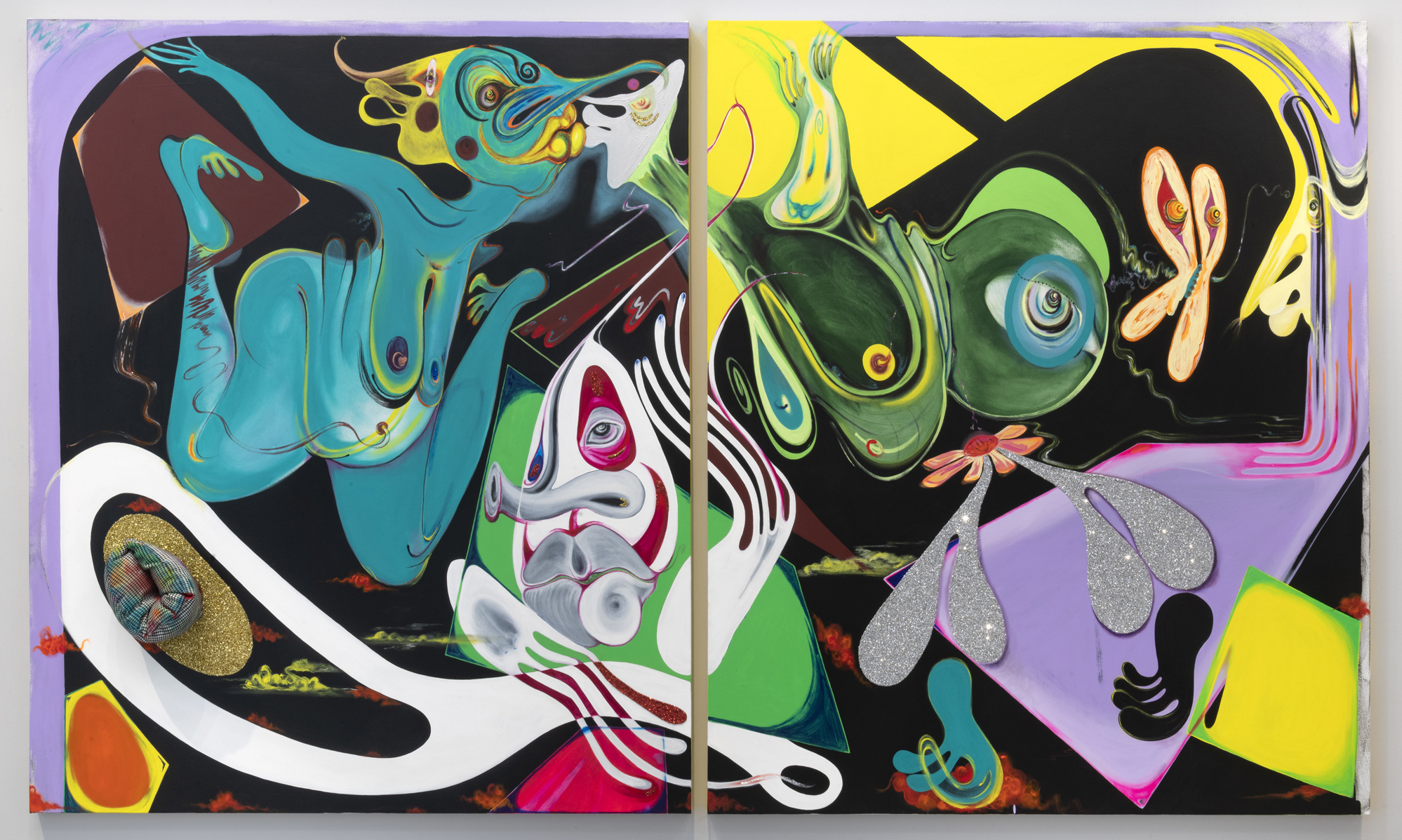 GARAGE: Tell me about your practice.
Theresa Chromati: So, in general my practice is centered around women, clearly. But over the past year-and-a-half, I started to realize, "Okay, this work is autobiographical." There are fragments of myself in the paintings. I feel like in the past perhaps I wasn't noticing that, or I wasn't really ready to lean into that, because it was a lot to lean into, and a lot to expose. It's definitely been a healing process of opening myself up, and allowing myself to have these thoughts, and then beam them onto the canvas and allow them to speak back to me in this really refreshing and healing process.
I was, like, "Okay, we need to see black women in moments of joy and pleasure," because that was important. Which it still is. But then I realized, I don't always just feel that. Or, you don't necessarily just feel one thing without feeling grief, or seduction, or rage, or confusion, or that you're being tied down, but still moving. I think it's just really important to show that you gave yourself permission to be in constant motion, because that's something to celebrate.

I've been working with these figures probably since 2010, but they've definitely grown in so many different ways. I have this vault of characters or motifs to pull from. Before, I had a design background, so everything was super-literal and opaque. But I still think in terms of iconography and design, so these motifs that are really important. I pack a lot of different emotions and feelings into it.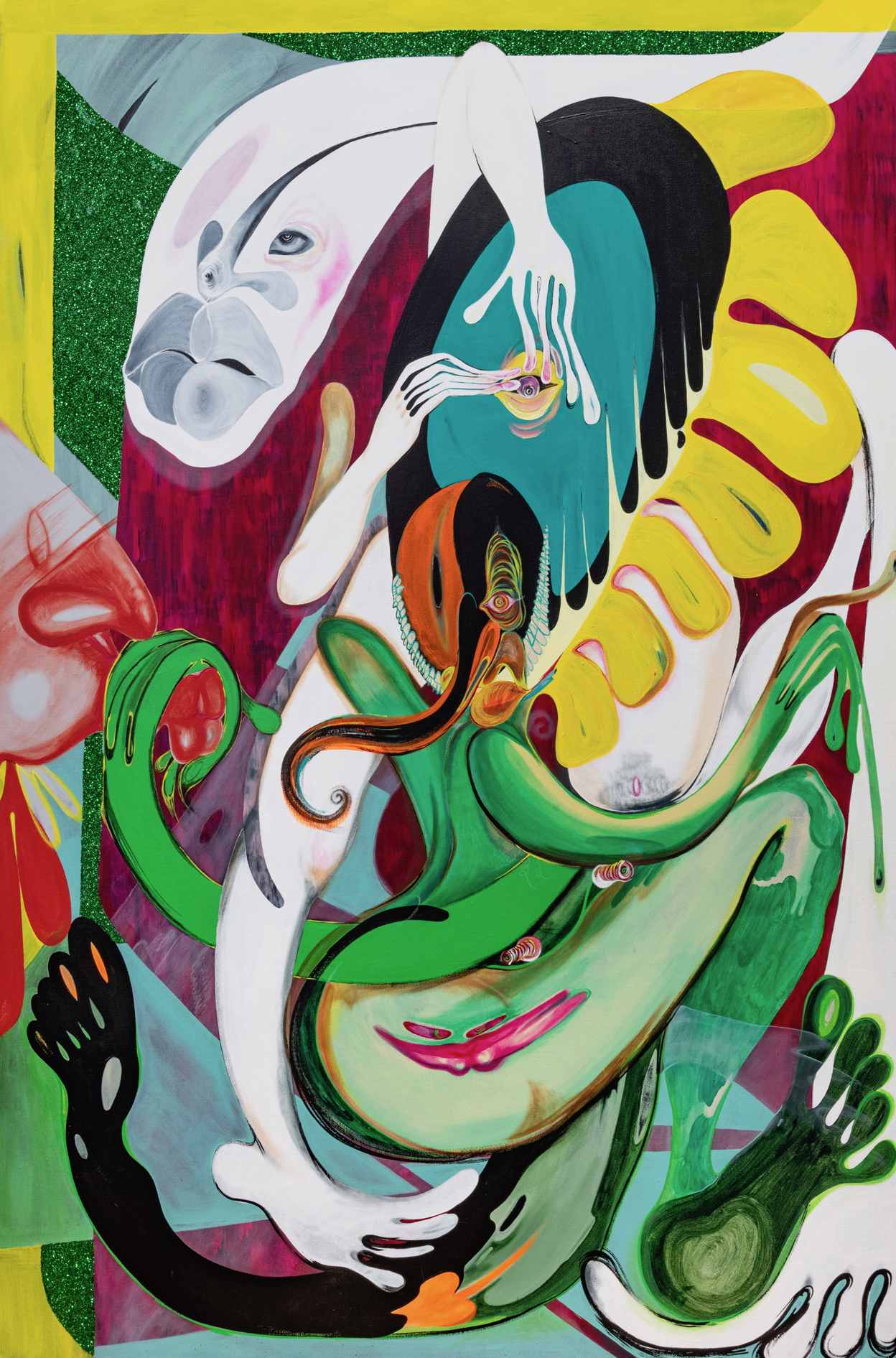 How does iconography play into your work?
Let's look at "Prepare: She's With Me." This was the last painting I did in the show, and it just kind of felt like this resolve of this figure. She's clenching the scrotum flower, which is another icon that I use. It's my way of accessing power. In this particular painting she's holding it above her head, she's charging forward, you don't necessarily know where she's going. But it definitely feels like she's not worried about what's next.
Are you present in your paintings?
I use myself and my upbringing, but I will say that the paintings definitely have a life of their own. There's elements of me in the work and it just kind of moves on. In general, everything in the work in my practice is becoming less literal because I feel that's dangerous.
I can separate myself from that but basically in this particular painting I feel it was the start of me really playing with these dimensions because I feel as though I've been using these archways and these checkerboard styles as a pathway to this alternate space and that the work is being activated through these archways and they act like these portals into this dimension that I'm speaking on.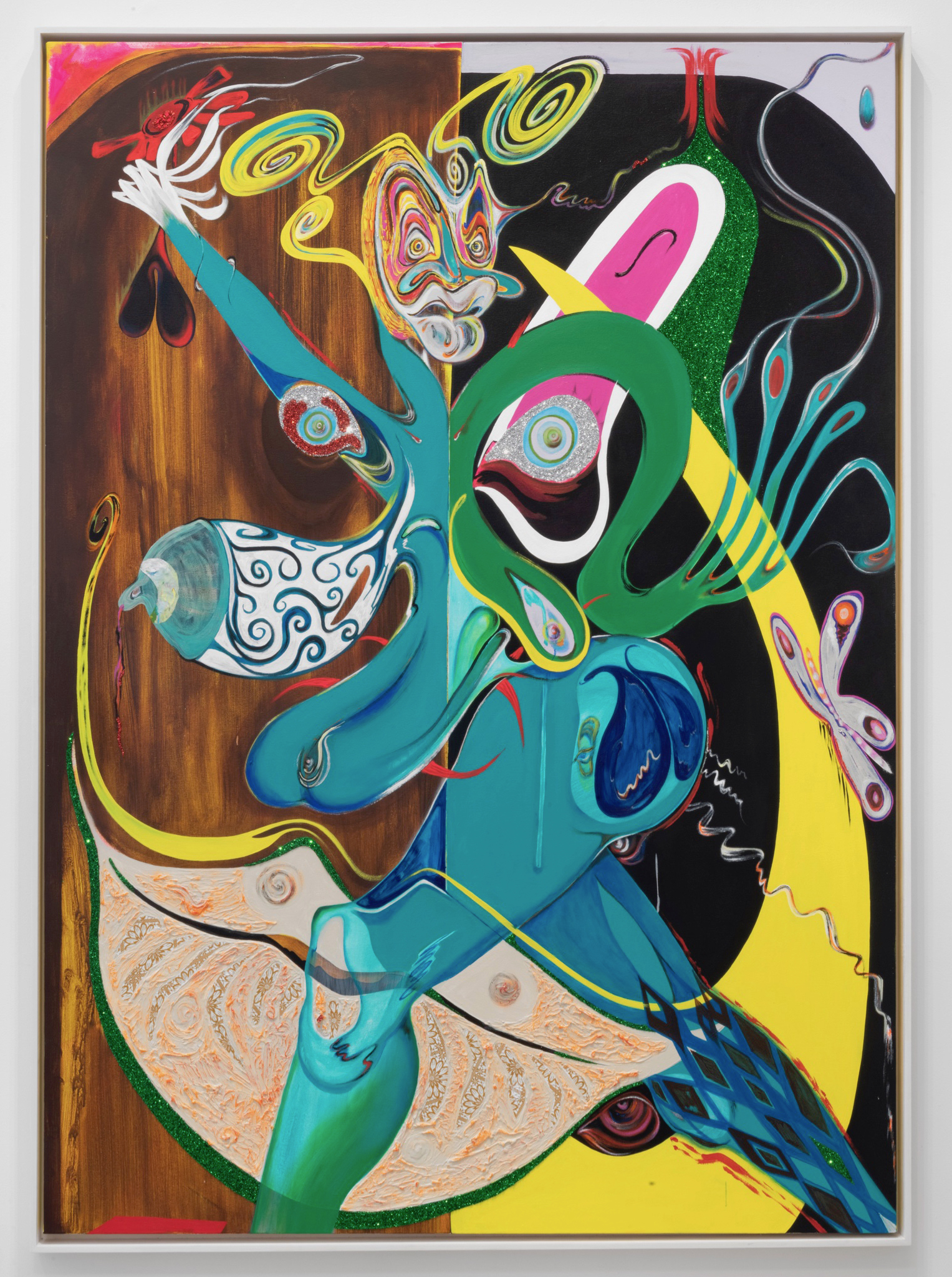 Do you feel your work speaks to women in particular?
I definitely feel if you are a woman you can connect with the work in a different way. I don't necessarily want to make the work about trauma or identity or the gaze. I want to talk about my feeling and things I think about on a daily basis. I want to talk about how I present versus how I feel. That's in the work. I can't help but make work that is about things that I'm thinking about. I feel through different conversations, people are like, "Oh this is you", and I'm like, "Yeah. It is," but it's kind of easy for me to separate myself from it. I made it, but it's a healing process.
Do you dance at all? There's just so much movement in your work, I'm like, "She must dance."
I love dancing. I don't have formal training, but I took classes when I was a kid but then my mom said, "you don't appreciate this, you're not going." I have a music background.
Yes you mentioned that you created a soundscape for this exhibition.
I worked with a producer from Baltimore, where I'm from. We went to high school together, and this is the third or fourth soundscape we've done together. We usually have these voice recordings and audio. I had an art director direct the piece. She usually starts when I'm still working on the words. I give her the vibe, like, 'This is the loose storyline,' and it's an opportunity for collaboration.
What are some of your other inspirations?

I come from this creative family, musicians, my mom was always making things and I come from like a DIY, off-the-grid type family in Baltimore. My family definitely had its inspiration for sure. I write random phrases on walls and basically just write my thoughts and I just read them constantly. I also really like a lot of ambient and experimental sound.
What about your artistic inspirations?
Jonathan Lyndon Chase, Diamond Stingily. I feel happy to be making work at the same time as these people. It feels like a moment. It hasn't fully even been tapped into or fully been explored. A lot of people are emerging and kind of finding their place in this career path and in this art world. It's basically like everyone is thinking the same thing at a party and no one ever said anything for 50 years and now it's like, "Well actually, this is what I've been thinking the whole time. So it's exciting. Because it's definitely a common thread in so many different ways. And what makes it exciting is that it shows up visually in completely different ways but you can find the overlap. And there's a lot of overlap."
You talk a lot about healing and I wonder if there is an explicit spiritual element to your experience or the way that you think, or maybe even—dare I ask—your work?
The work was more so about accessing joy and that was the thing I felt like we needed to see. Or I felt like that I needed to show. And I do honestly feel like experiencing sudden death, and literally watching someone die, my grandmother...after that, I've had all these great moments of traveling and exploring, but that was the first time I actually felt pain that I couldn't really escape. And then it was more so like, "Okay you can't escape. There's nothing you can do to change it." So if anything you just have to accept it and live with it. And it's kind of just like this centered feeling. So it was also kind of about finding comfort, which I feel like I'm still doing. Finding a kind of comfort and stability in loss and grief. And yeah, it's always going to be there, but so are all these other things.