(Photo by C Flanigan/FilmMagic)
What Do Actual Deadheads Think of the Tie-Dye Renaissance?
One writer investigates at a John Mayer-fronted (!) show at Citi Field.
(Photo by C Flanigan/FilmMagic)
This summer, the supergroup comprised of former Grateful Dead members and anchored by recent Deadhead proselyte John Mayer embarked on its sixth tour as Dead & Company.
Mayer's inclusion in the lineup may surprise those unfamiliar with jam bands' current configurations. Though the "Your Body is a Wonderland" singer's transformation from Duane Reade soundtrack soft rocker to Jerry Garcia reincarnate isn't as drastic as say, Kim Kardashian's evolution from closet organizer to prison abolitionist, both would deeply befuddle a time traveler from 2009. Mayer's journey also thematically resembles Kardashian's: they share a quest for authenticity, chance interactions with the internet, a rapidly changing relationship to sex symbol-hood.
After hearing "Althea," a Grateful Dead concert staple through internet radio provider Pandora, Mayer became an instant fan of The Dead. He then tuned into the Sirius XM Grateful Dead station and did not touch that dial for "years." Soon, according to an interview with Billboard, the Dead was the only music downloaded to his iPhone, describing the music as "for people who have homes, who every once in a while don't want homes."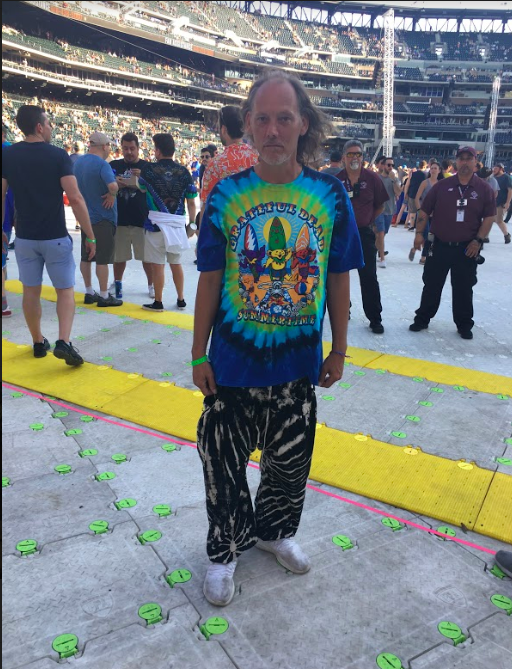 Later that year, Bob Weir and Mickey Hart invited Mayer to come jam. They've been touring together ever since. They're joined by Bill Kreutzmann, Jeff Chimenti, and bassist Oteil Burnbridge who has toured with the Allman Brothers as part of their revival.
Due in part to Mayer's presence—and also perhaps "heady" guitar music's capacity to drown out the anxieties of living in the Anthropocene—the Dead & Company tour seems to have amassed a following outside of typical Deadheads. The widespread popularity of Deadhead fashion, from Online Ceramics t-shirts to Prada tie dyed leather goods, has likewise reverberated throughout the mainstream.
I attended the Dead & Co show at Citi Field, my first, with the intention of investigating the scene, asking some established Deadheads what they thought about tie-dye being so trendy. My secondary objective was letting it all wash over me. I listened to the Grateful Dead in high school, but as much as I'd like it to be, my spirit has never been free. I wondered if I could "make [myself] easy," and adopt the same woo-woo insouciance as nouveau-Deadhead girls I see on Instagram; the ones with ropey hair, terriers, and jobs as graphic designers.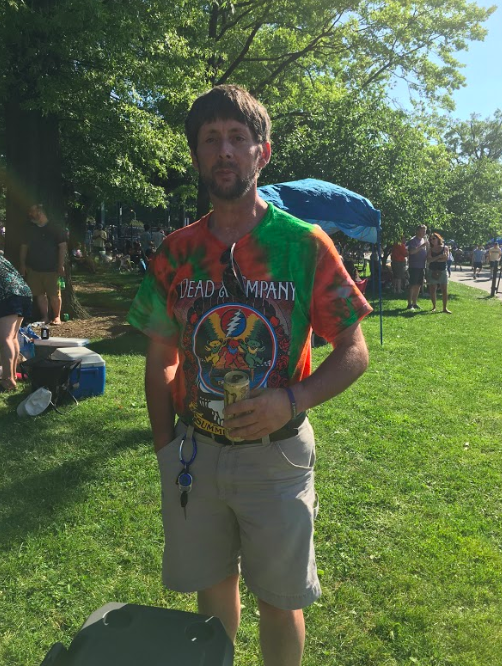 As I pull up to Citi Field, the scene on the lot—where Deadheads congregate before shows—resembles a University of Michigan tailgate or a particularly colorful Breugel painting. Groups of friends, all in tie-dye, sit in lawn chairs around kegs; teenagers with the beginnings of neckbeards play some kind of bean-bag based game; a tentful of wasted middle-aged professionals mill about a sign that advertises networking events for Deadheads who work on Wall Street.
I continue into Shakedown Street, the unauthorized Deadhead marketplace where patches, T-shirts, and margaritas proffered from 2-liter bottles of Squirt are on sale. Chloë Sevigny strolls in wearing socks and sandals, her billowing skirt cinched by a Prada (not tie-dye) fanny pack.
I ask a couple guys selling shirts on the lot what they think of a Prada tie-dye shirt.
"My ice dyes are nicer than those," he says, inspecting the Moda Operandi product images on my phone. "What are they going for?"
"Twelve hundred dollars," I reply.
"I'd make you two for thirty bucks."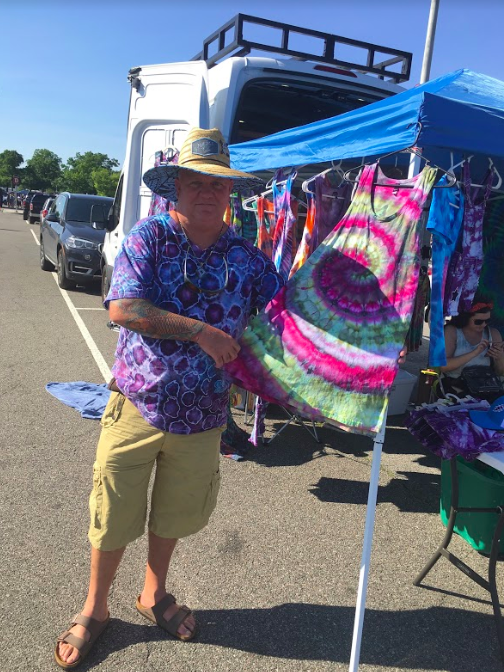 I ask another seasoned Deadhead what he thinks of that price point. I tell him my roommate says people who haven't taken acid shouldn't be allowed to wear the clothes.
"Hey man," he says, "anyone can wear tie dye. My five-year-old nephew wears tie-dye. He doesn't need any LSD." He pauses, taking a closer look at the Prada shirt. "Though, someone who's willing to pay 1,200 dollars for a dye might benefit from a dose. It'd probably be therapeutic."
The response follows what I've seen out on "The Lot." The Dead is inclusive by nature, and so is its fashion. There's none of the "do you even skate?" mentality that comes with wearing Thrasher, no demands to prove authenticity, because what could be the barrier to entry in a subculture that's mostly about takin' it easy?
Not that there's anything inherently apolitical in loving The Dead. In fact, entering the venue I'm stopped by a man from Head Count, Bob Weir's organization that registers Deadheads to vote using incentives like free pins and autographed guitars. I quickly fill out the form to change my voting address from my parents' on the Upper West Side (District 69) to Ridgewood, which I'd been meaning to do for quite some time, and am told that if I visit another two "political action stations" during the show I can enter for a free water bottle. I'm already toting around an Online Ceramics Nalgene, so I choose to forego the scavenger hunt and head straight to the field.
I see dozens of "Make America Grateful Again," T-shirts that convey the wishy-washy political message hippies are maligned for. What would a Grateful America look like? I will say, pretty white. Aside from Burbridge , the band's bassist, and football player Romeo Okwara of the Detroit lions who was chatting with a GQ writer during the brief intermission, literally every person I saw packed into a sold-out Citi Field was white.
A handsome man in his late forties wearing Tod's tells me I cannot take his picture. A woman in thousand-dollar Golden Goose sneakers mouths, "we can share the women; we can share the wine." A man standing not in, but on top of his flip-flops announces that his mushroom connect fell through. Wooks, crusties, teens, Park Slope moms all pass joints—some medical-grade, withdrawn from sleek packaging and others shittily handrolled, authentico style. Birkenstocks— in pristine lilac, classic brown suede, and metallic silver—abound.
A man holds an iPhone to the stage, he's Facetiming with his baby who is writhing around and giggling, as babies do.
"Sugaree's his favorite," the Deadhead father says to doting onlookers.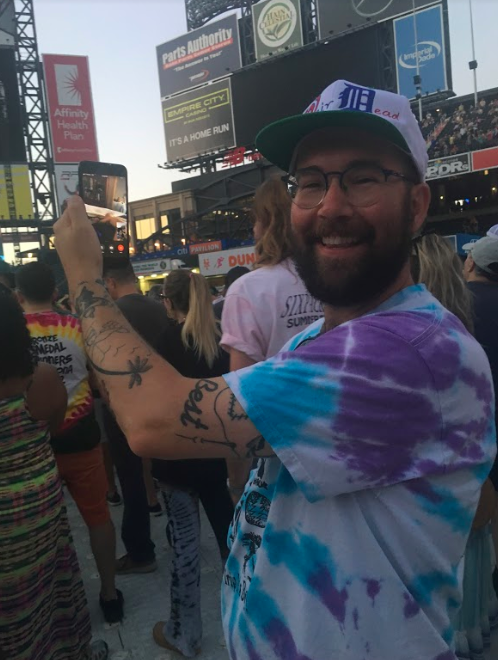 One of the minds behind Online Ceramics, Alix Ross, is shown on the Jumbotron twirling in black Dickies, his long hair and limbs extended in ecstasy. A group of guys with expensive watches push past me, all in Online Ceramics shirts. I wonder how Ross must feel at the center of a resurgence in a subculture he loves, suddenly overrun by people. I'm sure he's totally fine with it. As the Buddhist psychologist whose podcast I listen to during panic attacks says, "When we trust that we are the ocean, we are not afraid of the waves."
I decide to find someone authentic looking to ask how they feel about "Deadhead wave riding." I talk to a cool-looking Deadhead who turns out to be a photographer for the very media company you are reading this article on.
"That's all great, everyone's welcome," he contends, swaying to the music. "But if they go away, we're all still gonna be here and we're all gonna still be supporting each other."