Aquaria attends RuPaul's DragCon LA 2019 at Los Angeles Convention Center. Courtesy of Getty Images.
Aquaria Dishes On Being The First Drag Queen to Walk The Met Gala Carpet
Plus, get all the details about her new punk/noir-themed NYX cosmetics collab.
Aquaria attends RuPaul's DragCon LA 2019 at Los Angeles Convention Center. Courtesy of Getty Images.
"Hold on one second," Aquaria tells me, leading me into a pop-up enclave her team created behind her sprawling booth at RuPaul's DragCon, which comes complete with a metallic mirrored throne for the RuPaul's Drag Race Season 10 winner to sit atop while posing with fans. Moments later, the chaos of the con dissipates and Aquaria's wig is self-snatched as she takes a break from fans so that we can catch up.
"I don't know if I'm maintaining," she jokes about her fanbase when I mention the length of her line which is one on the convention floor. "I'd say I'm losing some, gaining others," she says wryly.
Below, we chat with the RuPaul's Drag Race Season 10 winner about stepping out—and making herstory—at the 2019 Met Gala, her new 10 shade collaboration with NYX Cosmetics (the brand's first ever celeb collab) and her favorite part of DragCon.
GARAGE: How does it feel to be the first drag queen to step foot at the Met Gala? And I fact checked that.
Aquaria: I understand the concept of 'yes we were all there.' But the fact of the false-atude and the truth-atude is that those articles [saying I was the first-ever drag queen at the Met Gala] were going up while Ms. Thing was still painting and that is fully no shade. You know what time we both arrived, and it doesn't make me better, but it certainly makes me first. And you can't deny that a fact is a fact... unless you're Donald Trump.
What was it like to be be an LGBTQ+ celeb at an event whose theme lent itself so well to queer people and drag performers alike?
The space was definitely friendly and queer-attempting this year which was really exciting. It's very surreal. It's awesome to be respected as a human at my age in general and then to be respected in my line of work and in my line of interest is even more incredible.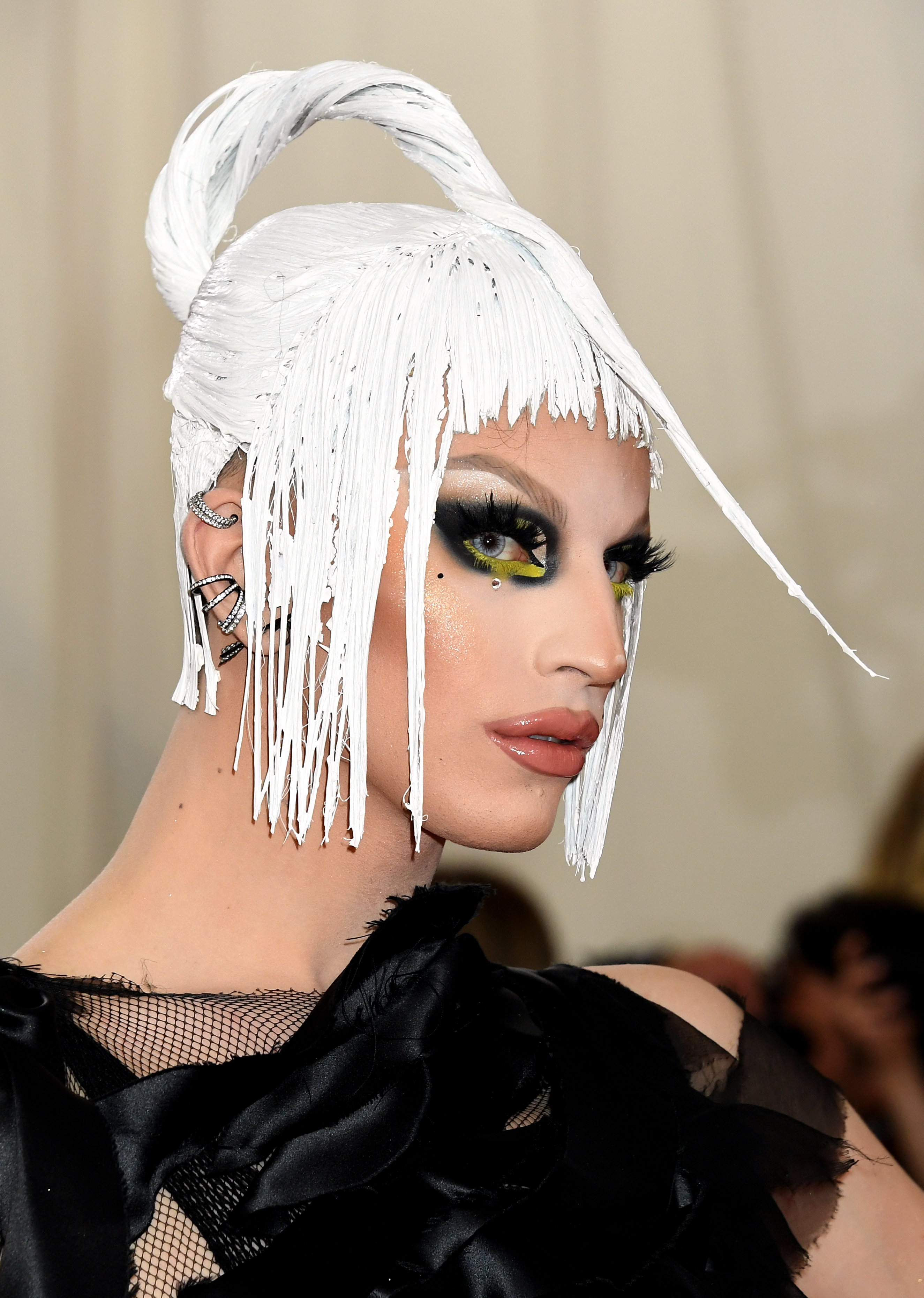 So this new collaboration with NYX... fans have been clamoring for this even before you ever stepped foot in the workroom on Drag Race. What took so long?
Girl, it takes a minute to put a palette together and take care of production and merchandising and promotion, so mostly time.
What's been the best part of working on this collab, which you describe as a "punk-noir"-themed palette? I know you are a perfectionist when it comes to your art.
I'm really grateful for how involved NYX Cosmetics allowed me to be in making this a true collaborative process. They've been great with surprising me with nice things like this booth, which is eight booths big, the biggest they've ever done here at DragCon. It's a massive booth, decorated to the nine's, to the ten's even. At this point, it's decorated to the elevens she says.
Among the range within this palette, which is your favorite color?
I love the red, it's definitely just as bright as it looks in the pan. I also love the mint color. It's pretty and soft and is versatile in creating lots of different makeup looks. I also love the light silver, which is really stunning all over the eye. I have a few super-faves and the other ones are just regular faves.
How mindful were you without the process of creating makeup that was viable for drag performers but accessible to anyone who loves to experiment with makeup?
I put in colors that I would use, but because my makeup goes from very simple and grunge-y masculine-y type things to my more traditional drag types of looks, I have lots of shades that work for drag queens and for tossing the eye real quick before you go out for work. It's only ten shades but because my interests are in so many different places, each shade hits on a different type of makeup look that you can do.
What's your favorite part of DragCon?
My favorite part about DragCon is getting to pose and meet with the fans. Once I get all the hectic craziness taken care of in regards to me and my outfits and my booth, etc. meeting the fans becomes, ironically, or perhaps conveniently, the easy part.
The Aquaria x NYX Professional Makeup Color Palette will be released on Thursday, May 30th.