Pulmão (Lung), 1985-1987. Folded cigarette soft packs, polyurethane cord replaced by steel cable.
Jac Leirner's Collecting Vices
The artist has the soul of a painter, but her medium is not paint and canvas—it's the detritus of everyday life.
Pulmão (Lung), 1985-1987. Folded cigarette soft packs, polyurethane cord replaced by steel cable.
In 1987, the Brazilian artist Jac Leirner began to collect the empty Marlboro Red packets produced by her hefty smoking habit. She first flattened them, then strung them up on a piece of tubing over 13ft in length. The resulting wall sculpture, titled Lung, can now be seen in the new Museum of Modern Art rehang in New York. That packaging most of us quickly throw away ended up in a museum collection is, in part, due to Leirner's self-confessed obsession with the refuse of consumerism, which has led to a three-decade career of finding a redemptive beauty in the ugly detritus of everyday life.
While she creates mostly sculptures and installations, she has, she says, "the head of a painter." Along with used cigarette packs, her works have incorporated accumulations of ashtrays, airline cutlery, plastic bags, old bank notes, business cards, biro pens, and spirit levels. These have been variously stacked, piled up, laid in parallel, threaded or collaged together into graphic and colorful compositions.
"The materials I use are more than just ugly. They are the worst of the worst," Leirner, 58, tells me at her home in São Paulo. "Which is why I want to take care of them. I bring cigarette packets respect by putting them in my art."
Success came early. In 1983, when she was in her early twenties, a series of her "object poems"—grids of typed symbols, letters, and words—was included in the Bienal de São Paulo. Forerunning the repetition present in her later sculpture, one of these early works consisted of the word ininterruptamente—"uninterrupted"—repeated over and over again. In 1990, Leirner was asked to take part in the Venice Biennale, where she showed Names, an installation covering the gallery wall, floor to ceiling, in plastic carrier bags branded with corporate logos. The following year, she had solo exhibitions in Britain and America. At Modern Art Oxford, she arranged travel brochures by color for a sculpture titled Precarious Chromatics. At the Walker Art Center in Minneapolis, she threaded together used envelopes to create a series of snaking floor works, called To and from (Walker).
The envelopes for the Walker show were collected by museum staff, who had gotten a memo telling them to open their mail carefully. For the most part, however, Leirner gathers her materials through acts of petty theft. She is interested in these small social transgressions, and acknowledges that punching holes in bank notes is definitely illegal, even if stealing the cutlery from airlines remains a gray area. This interest in rebellion perhaps comes from her privileged childhood—Leirner's parents are avid art patrons whose collection of mid-twentieth-century Brazilian conceptualism is one of the best in the world—and her love of punk music as a young woman.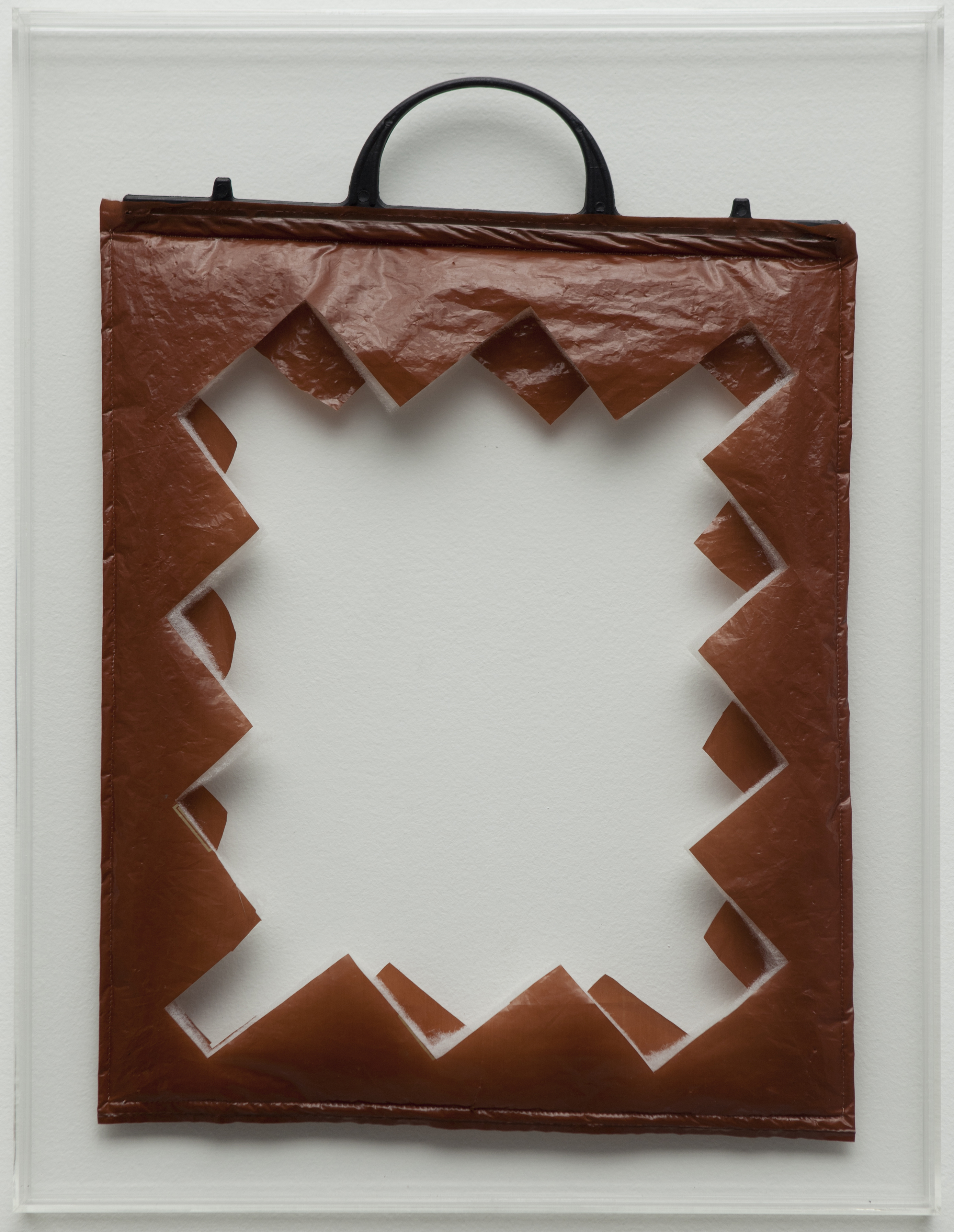 "Like the materials I use, punks are held in contempt," she says. "They came from the gutter, and they found each other because the rest of society despises them. Although I have pearls, although I come from this house, I felt I belonged better with them."
She shows me a collage of passport photographs, each featuring her with friends and lovers, all handsome skinny rockers. "I was wild, but I was educated. The men liked me—even Joey Ramone wanted me at one point!" she says. Leirner joined a couple of bands and says their anarchic spirit offered her a freedom and a level of political engagement that was missing from the São Paulo art scene in the 1980s. "My artist friends were older, and in Rio—figures such as Tunga and Cildo Meireles, who had emerged during the dictatorship. In São Paulo, it was all about painting, and it was all so safe because my generation had nothing to kick against."
She adds, "When I am making art, I am thinking about art, however, not politics. I have learned to accept that my work is also biographical. I have smoked the cigarettes; I have stolen the ashtrays."
Leirner has exhibited at institutions like the Hirshhorn Museum in Washington, DC, São Paulo Museum of Modern Art, and Museo Tamayo in Mexico City. There was a brief hiatus in the years 2009 and 2010. The reason for her absence was revealed when she showed Junkie at White Cube in London in 2016, and Addiction at Fortes D'Aloia & Gabriel in São Paulo in 2018. Both shows included joint stubs threaded on wire, assemblages of rolling paper and its packaging, and also a series of photographs featuring rocks of cocaine intricately carved with a nail file into heart and skull shapes.
"I was in a hell," Leirner confesses. "For almost three years I didn't go out—I was fully occupied smoking, snorting, and eating. There was no time to make art, but even amidst the binges I still had the urge to do something."
Leirner has moved on and finds her practice has a certain meditative quality. Last year she was awarded Germany's Wolfgang Hahn Prize. She works on several projects at a time, always inspired by materials that, as she describes it, "impose themselves on my thinking." She shows me a collection of used, heavy-duty staples that she became attracted to, and says she has also gotten obsessed with the numbered weights parking attendants place on the roof of a car when a driver drops their motor off. How these materials will become artworks Leirner has not yet worked out, but that is the beauty of her process. "I want the materials to challenge me. These pitiful things beg for an artwork. It is my job to make one. A good one."
Tagged: