At JW Anderson. Photo by Daisy Walker Courtesy JW Anderson
Eight Ways To Take Up Space This Fall
Courtesy of JW Anderson, The Row, Prada, and more.
At JW Anderson. Photo by Daisy Walker Courtesy JW Anderson
One pill makes you larger and one pill makes you small, but if you pick the pill that fashion designers are offering up for fall you'll end up with the former (a gentler fashion red-pilling?). The shapes have gotten bigger on the runway, it's true, but also the attitude. The energy of walking into a space wearing a giant coat, a bold monochromatic look, or even a variety of perfectly layered pieces is all similar. They all beg to steal a popular line from pop stars: This is me, unapologetic. And isn't it great to not apologize for yourself? To not apologize for your desires and your wishes? Free your head!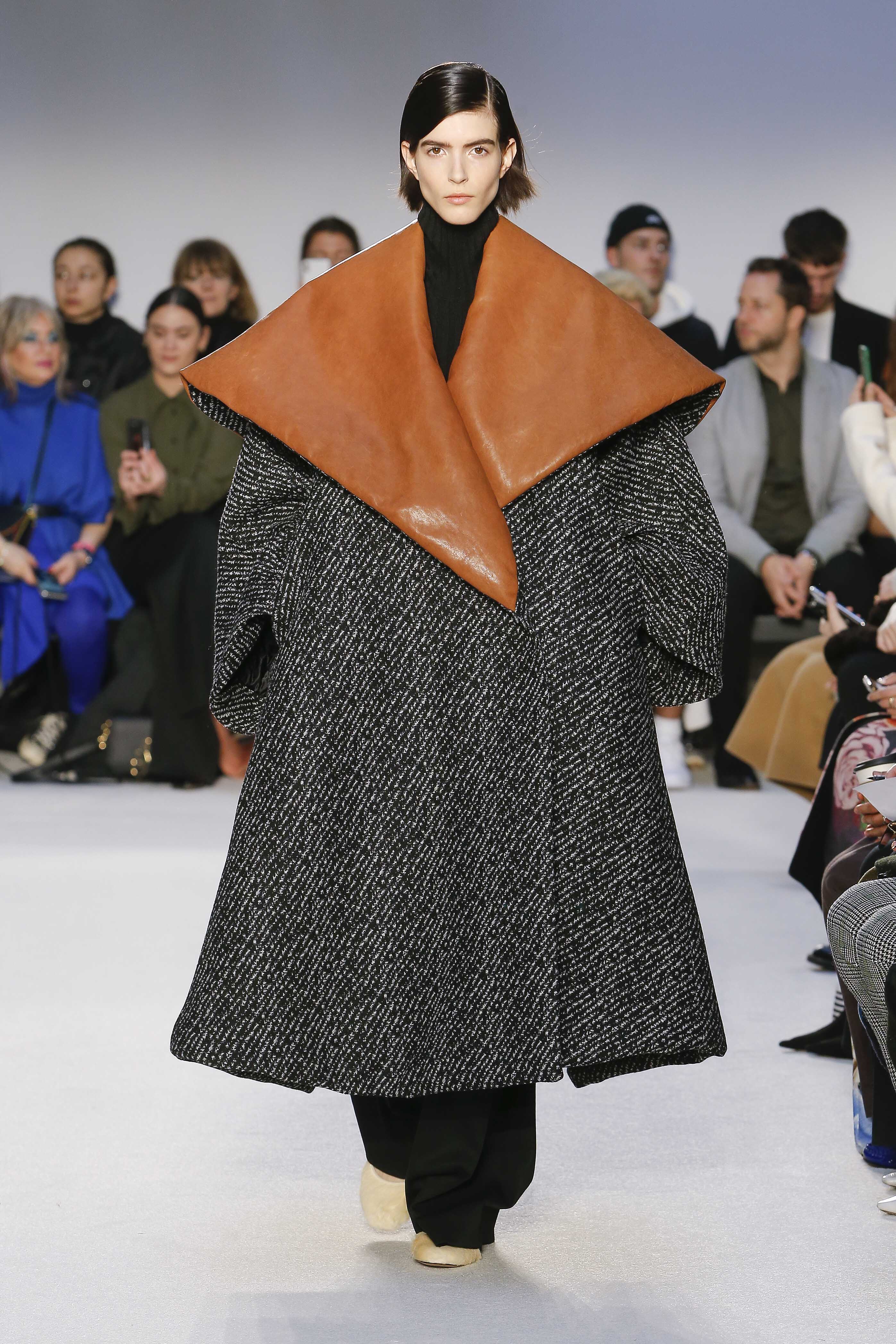 Jonathan Anderson is the pre-eminent absolute unit designer. At JW Anderson, his credo was go big, or go... bigger. For fall, he presented enormous textured dresses in earth tones that gently shook as the models walked down the runway, dresses with origami-like details that were both superhero capes and homage to the animal kindgom, and there was the collection's signature coat, an a-line coat wrap coat with a shawl lapel that appeared on the runway in several iterations, most notably this black and white tweed and cinnamon-brown leather version worn with a simple black turtleneck underneath. It's both sartorial splendor and a mobile home (because you're a woman on the go!) It may not fit in your car and it may garner you a couple side-eyes on the subway, but who the hell cares, this coat will keep you safe.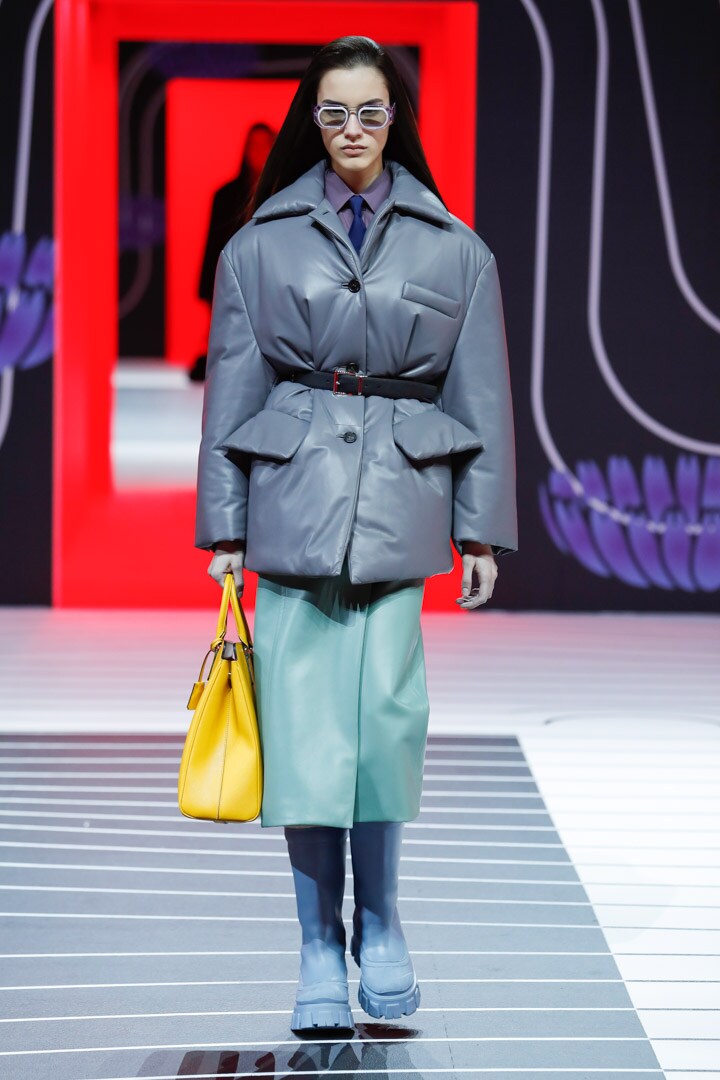 At Prada, Miuccia was in a decidedly sensual mood. The show opened with a model in a grey wool blazer, cinched at the waist with a belt, worn with nothing underneath and paired with a swishy skirt made entirely out of fringe. It was business and it was sex. The waist remained a focal point throughout the collection, the way it so often does when designers want to make reference to women's femininity as Mrs. Prada declared she was (a new, New Look). But it's this bulked-up version, with a puffy leather jacket mercilessly beaten into submission by a belt, and paired with a wrap leather skirt and extra-chunky boots all in mis-matching pastel colors that feels the most subversive in its execution. A purple shirt and blue tie peek through the jacket's collar, and we're not calling it "menswear inspired," because the men figure not in this train of thought, and that is a large proposition.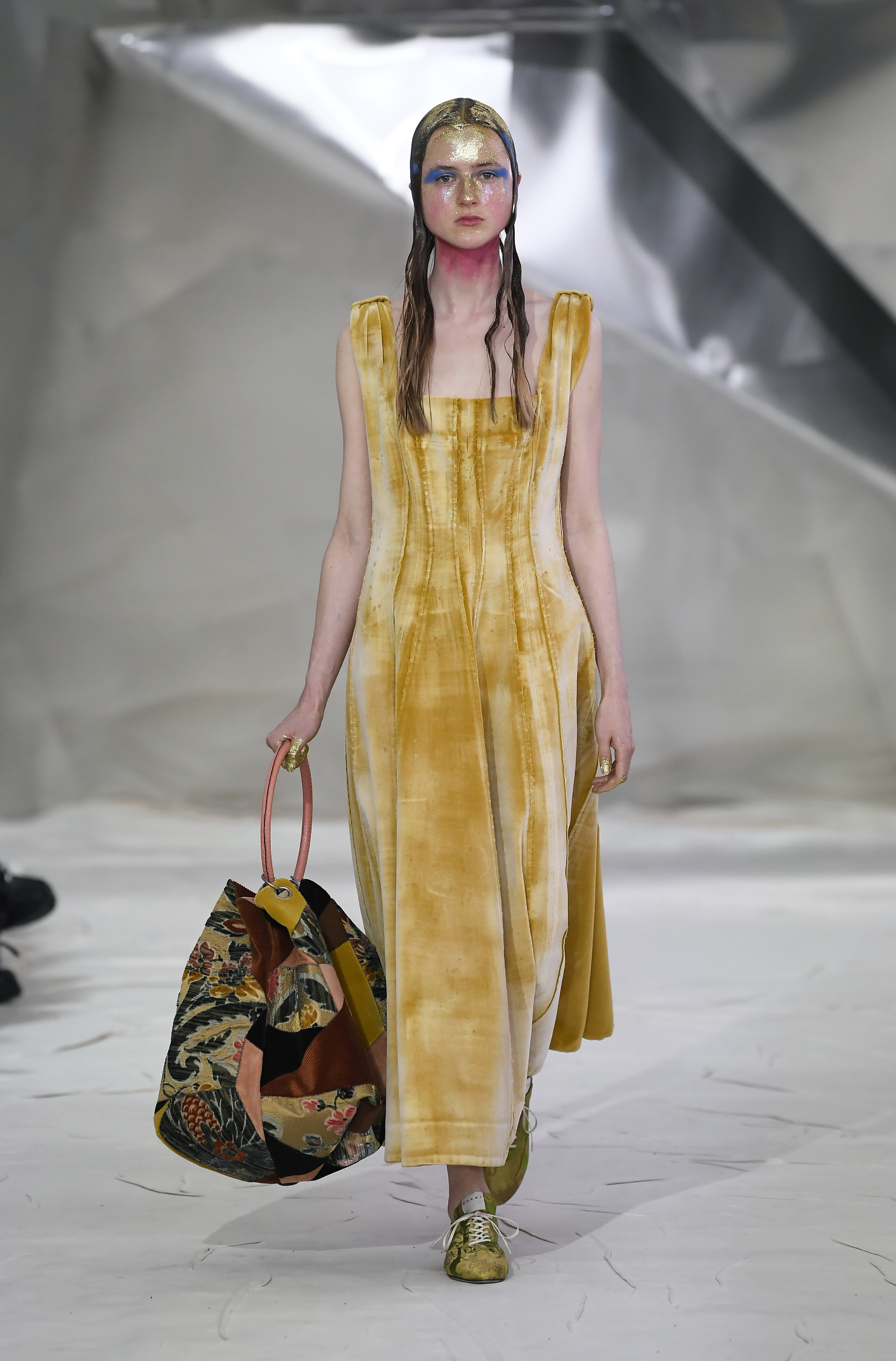 But you don't need an oversized shape to make a statement. Marni's Francesco Risso is a man who always sets forth big, bold ideas. For fall, that meant he covered the models' heads in paint, dipped their fingers in gold, painted their eyes blue, and dressed them in a cornucopia of patchwork dresses and coats. Yet it was a white pleated white dress, which looked to be roughly painted over with mustard paint, and worn with sneakers and a big velvet bag, that screamed the loudest at the show. Sometimes there's more power in simplicity.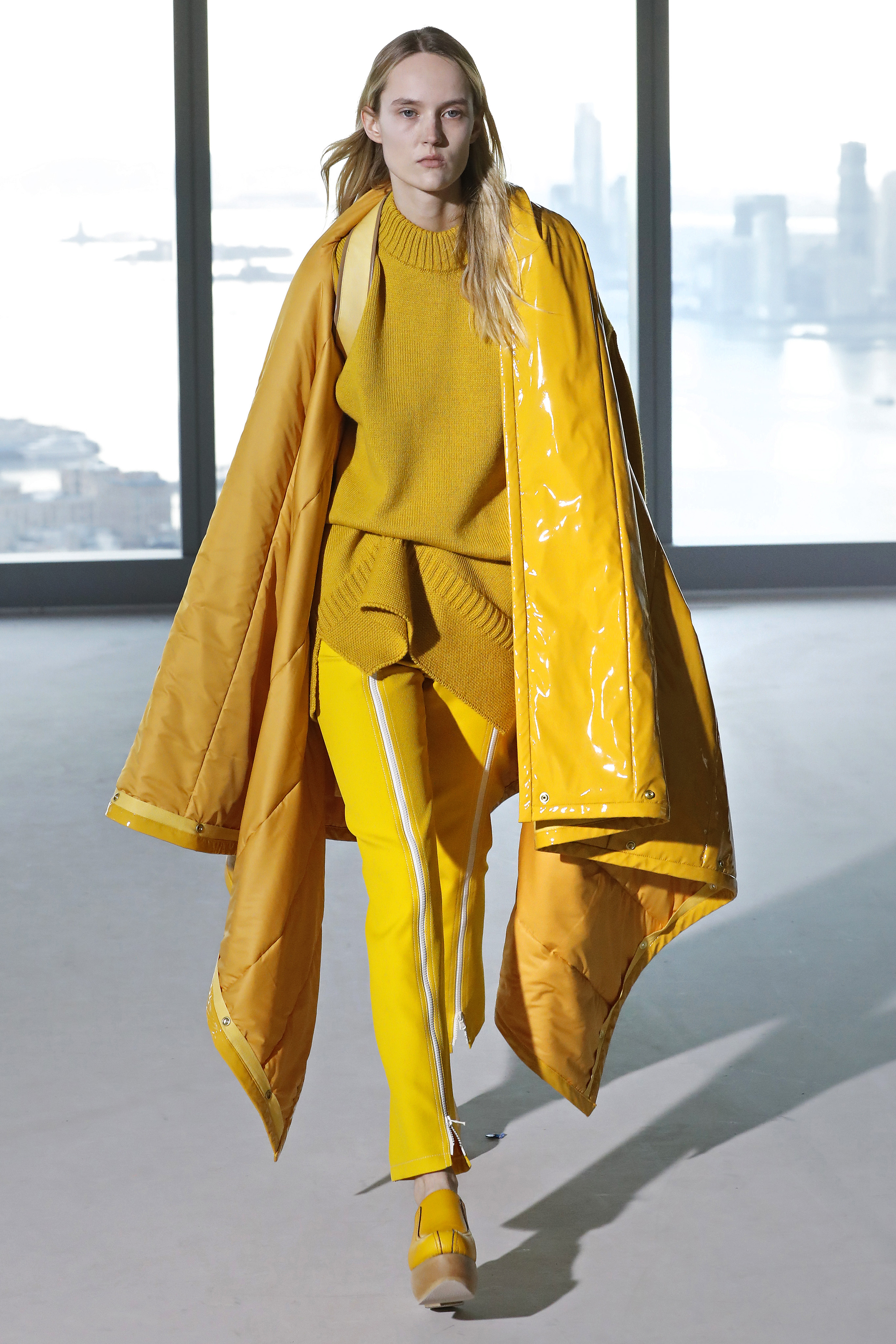 Sies Marjan's designer Sander Lak, has always been a designer whose main medium is color, but for fall, his vision materialized into a concrete version that seemed to perfectly capture the current mood. There were delicate florals and toile-de-jouys, gold-flecked dresses and coats, and gynormous bags that are most usually seen on the backs of bike messenger, all carrying an extremely energizing spirit. This monochromatic yellow look, with its oversized sweater half-tucked into the waistband of trousers with an exposed white zipper down the front of each leg, topped off with a patent leather coat draped around the shoulders like a blanket, and worn with clogs. Lak's collection was bold, not just because of the bright yellows, reds, terracottas, and gold foil colors that populated the runway, but because his highly conceptual vision (urban environments and the pastoral!) manifested itself in clothes real women want to wear and not just an idealized fantasy that's supposed to be great because it's padded with meaning.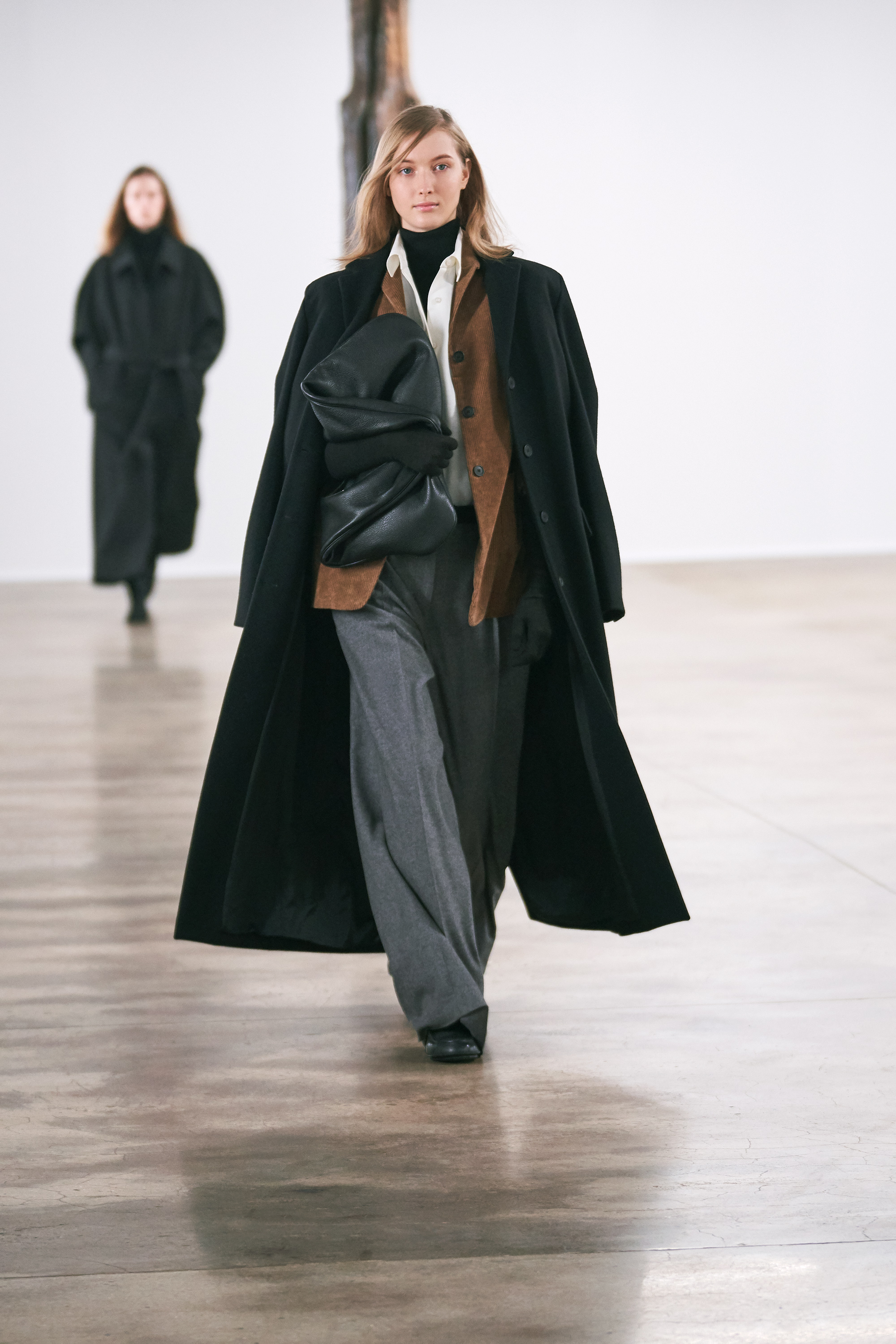 The Row's fall presentation lasted under three minutes give or take a few seconds. Models walked down their showroom in twos and threes, at dizzying speeds, where to look what to focus on? The women wore turtlenecks under button down shirts under blazers under coats under other coats. The women wore relaxed pleated pants with Ashley and Mary-Kate Olsen's signature non-shoe shoes—a black slipper with a square toe, a black gladiator sandal worn with grey (cashmere?) socks. Sometimes they wore gloves and sometimes they wore cashmere headpieces or balaclavas, and they hugged their amorphous soft leather bags against their bodies. There were no experimental shapes here, just really, really beautiful clothes, that yes, just let the wearer shine through. The experience was sort of like watching the opening sequence from a movie about working women in the 1980s. You see the women walking up and down 5th Avenue or maybe Broadway or maybe Wall Street, they carry their coffee and they carry the paper, sometimes they wear sneakers for their commute. (Yes, I just recently re-watched Working Woman.) You think about the crazy things they put up with, the sacrifices they made, they lives they must have led. You think about their lives. And that's what Mary-Kate and Ashley always do, think about women's lives.
At Jil Sander, the husband-and-wife duo of Luke and Lucie Meier are exploring the label's core minimalist aesthetic in a way that feels very modern and not at all ripped from the '90s. It was the carefully considered details of their clothes that spoke the loudest, like the way the hems of dresses and skirts seemed to architecturally undulate when the models walked, the careful quilted insets in a coat, the way they perfectly wrapped soft and cozy ponchos around models' bodies, in colors straight out of an Easter display that somehow never verged on the saccharine. There was a black and white silk fringed dress, dripping with signifiers of luxury courtesy perhaps of the careful fringe knot right at the neckline, that was paired with black trousers and what looked to be a pair of little black, practical flat boots. "Insouciant" is a word that fashion writers love to use, but how else to describe the energy of bringing something so polished so easily down to earth?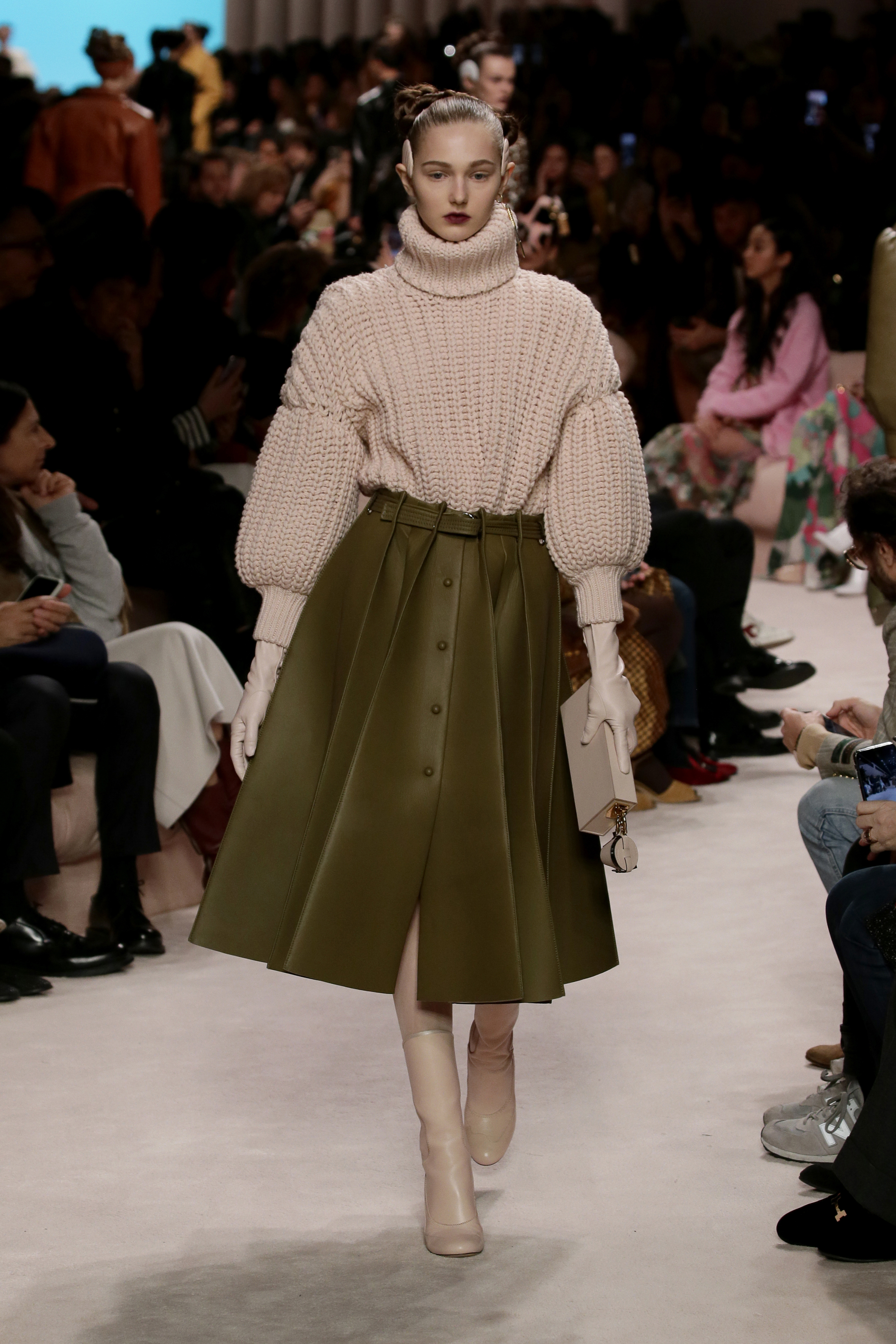 Silvia Fendi is having a lot of fun at Fendi, we're just gonna go ahead and say that. She pulled back a bit from the psychedelic retro-madness that she unleashed for spring, and went into a more ladylike and only slightly less unhinged territory than its predecessor. It was still retro—more references to the '40s and '50s, but there was something that felt slightly off about its materials and its proportions, oversized leopard and paisley prints, chunky headbands worn on the back of the models' heads, wrapping around their ears like so many sci-fi crowns, and especially the sort of dropped big balloon sleeves that featured in most of the looks. Sometimes it made the models look like they were drowning a bit in femininity, but on purpose. Like the model in the ballet pink chunky turtleneck sweater tucked into an army green pleated a-line leather skirt, with matching ballet pink leather boots and leather gloves, and a single gold earring dangling over the thick folded-down turtleneck collar hinting at the madness underneath all the prim and proper-ness.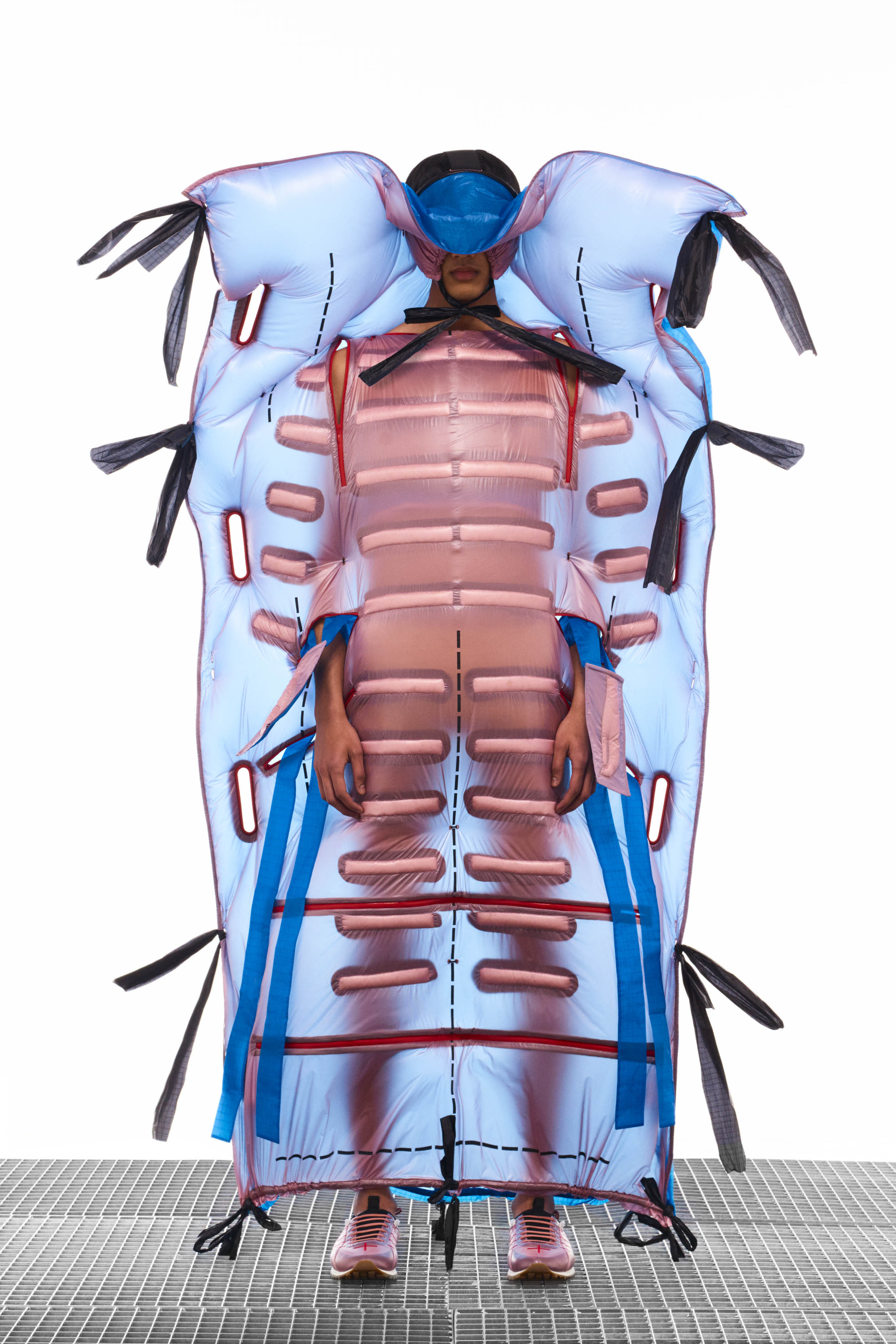 FREE YOUR HEAD!!!!!
FREE
YOUR
HEAD!!!!