Jumping into the Fire With Godcaster
The Philly- and New York-based punk rock band talk to GARAGE about their debut record, "Long Haired Locusts."
It is Sunday and once again I am trying to convince myself talking to a band on Zoom is "normal." Back before all of this happened I used to think taking bands to some Polish snack shop and trying not to get sour cream all over my face was "normal." I woke up like two hours ago and am chugging green tea and making sure I get on the call first so I can change my name on Zoom from "Edward Sophden" (long story) to just "Sophie." When guitarist Judson Kolk and flutist Von Lee of Godcaster hop on the call, I realize they probably would've thought this was funny. They're calling me from a bedroom that is full of clutter with drawings on the walls. We make small talk for a few minutes until keyboard player David McFaul hops on, speaking to us from a room in Philly with an easel in the background. Later in the call, drummer Sam Pickard joins from a car his dad is driving somewhere in upstate New York with weird cell phone reception. Missing from our chat are Lindsay Dobbs, who plays trombone and sings, and Bruce Ebersole, who plays bass. The five of us on the call blink a lot from our various bedrooms, and we start talking about the band's debut album, Long Haired Locusts.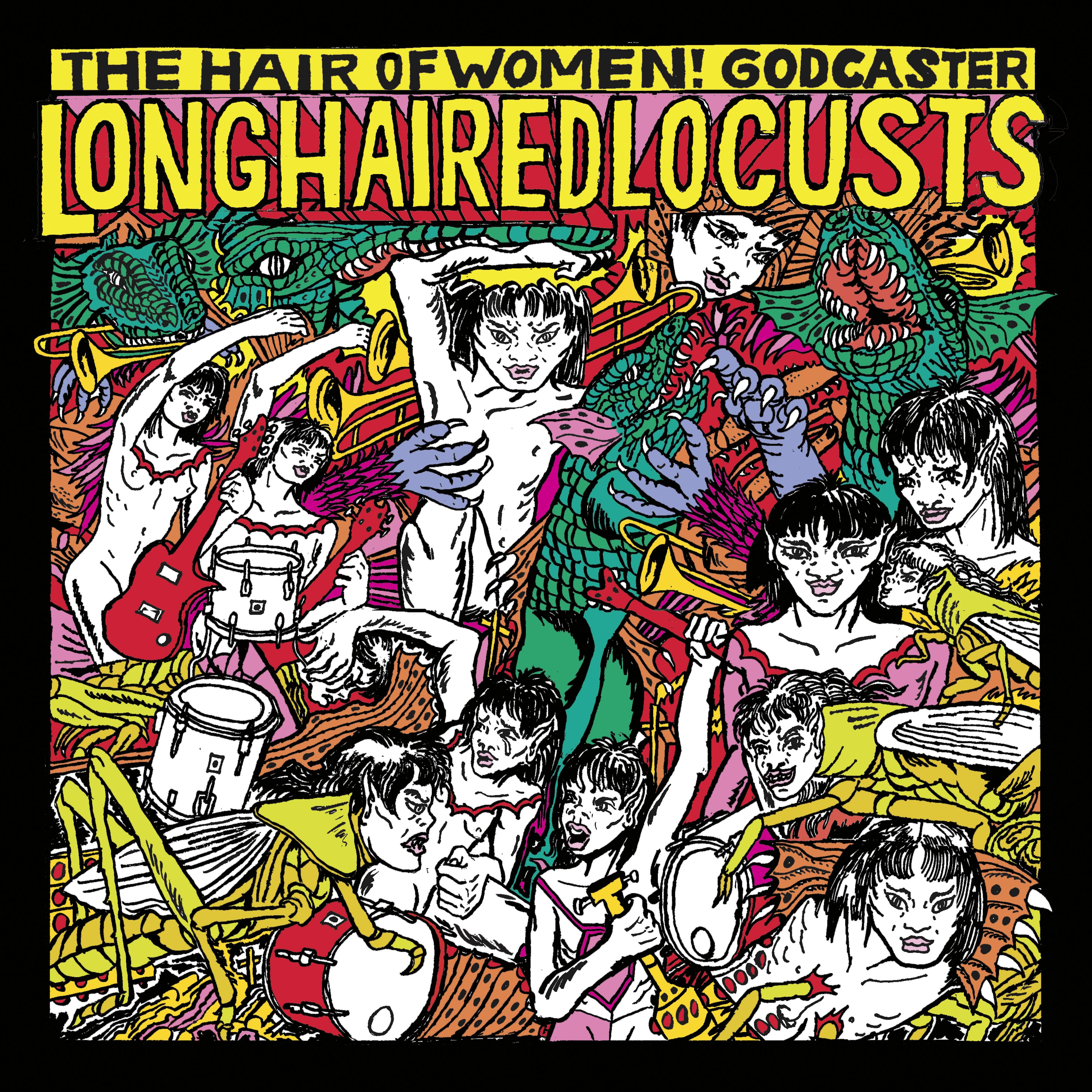 Based in both Philly and New York, Godcaster has been a band for about three years, but Kolk and Ebersole have been playing together since they were ten. Their first band was called "The Rockin' Homeslicers." "Bruce was literally banging two rocks together, We would go up in the woods and he would take one rock and hit the other rock and say that he's a drummer. Then we would sing. We didn't learn instruments until we were 15," says Kolk of his early days making music. Both Kolk and Ebersole have come a long way since then, and they no longer bang rocks together to make music. They are, however, a rock band.
Listening to their record—14 tracks, most clocking in at two minutes—is not unlike being tossed around in one of those teacup amusement rides. They make abrasive punk music that is more often than not very beautiful; sometimes there are flutes and jagged harmonies and spectral vocals. Recorded to tape in a Philly basement by DIY god Ryan Power, Long Haired Locusts is made up of songs the band has been playing for a few years. "It was like a long sleepover," says Lee of the recording process. "[Power] had to hunch over the entire time he was down there because the ceiling was so low and he's so tall. He's eight feet tall and the ceiling's five feet tall. So he lived as an ogre. But he's the best. He's like our uncle. Uncle Ryan," Kolk adds.
Godcaster is what you might call an art school band. McFaul, Lee, and Kolk share that they all have art practices separate from the band. Lee is a painter and a fashion designer, sometimes lending her talents to make costumes for the band's live shows and music videos. McFaul is a painter and a film student and edits the band's music videos. Kolk makes comics with watercolor, pen, and ink, and drew the band's maximalist album cover. When I ask him what inspired the album cover he says, "I just kind of found it I guess. Stumbled upon. Scrambled up to it, as usual." Can he elaborate? Lee jumps in, "There's a lot of locusts and bugs and sounds and guitars and drums and then he drew all of those." Then Kolk chimes in and lets me know that he drew "Big scrambling drum kits," not really going into detail as to what makes a drum kit scramble. Listening to everyone on the call try to explain their various artistic pursuits feels kind of charmingly awkward, like playing a getting to know you name game but instead we're talking about pens and paints.
You're really meant to see Godcaster live. Prior to quarantine, the band had booked a four week residency at Baby's All Right in Williamsburg, that never happened, but you can get a pretty good idea of what Godcaster is like as a live band from their music videos. Back in August, the band dropped a 16 minute video that shows them in all their in lo-fi glory. At one point in the set they light some fireworks in the basement. It comes up several times during our interview.
"Fireworks," says McFaul.
"Fireworks are in it," Kolk says in agreement.
"Was that safe?" I ask, concerned.
"No, it was not safe," Lee responds. "We did have a fire extinguisher, in case."
When the fireworks go off in the video everyone keeps playing their instruments and maintains the same level of kind of deliciously deranged energy. You can tell from watching the video, or really any Godcaster video, that they all love performing and treat it like an art form. It's exhilarating to watch, and Godcaster are an equally exhilarating band. They're punk as fuck and their music will transport you completely out of your skull.
Tagged: