Pierpaolo Piccioli and the Dream States of Couture
His latest couture collection for Valentino envisions angels doing acrobatics from heaven.
Pierpaolo Piccioli's Valentino couture collection is about dream states. In nightmares, we dream of falling from banisters into crowded parties and from cars off of bridges into navy blue water. In good dreams, the ones we don't want to wake up from, we grow so tall we touch the sky and the clouds feel decadent and soft like a plate of meringues. This season, Piccioli's work fell into the latter category; fifteen singular looks are made for celestial beings. Saint Theresas in Ecstasy beamed up into the heavens.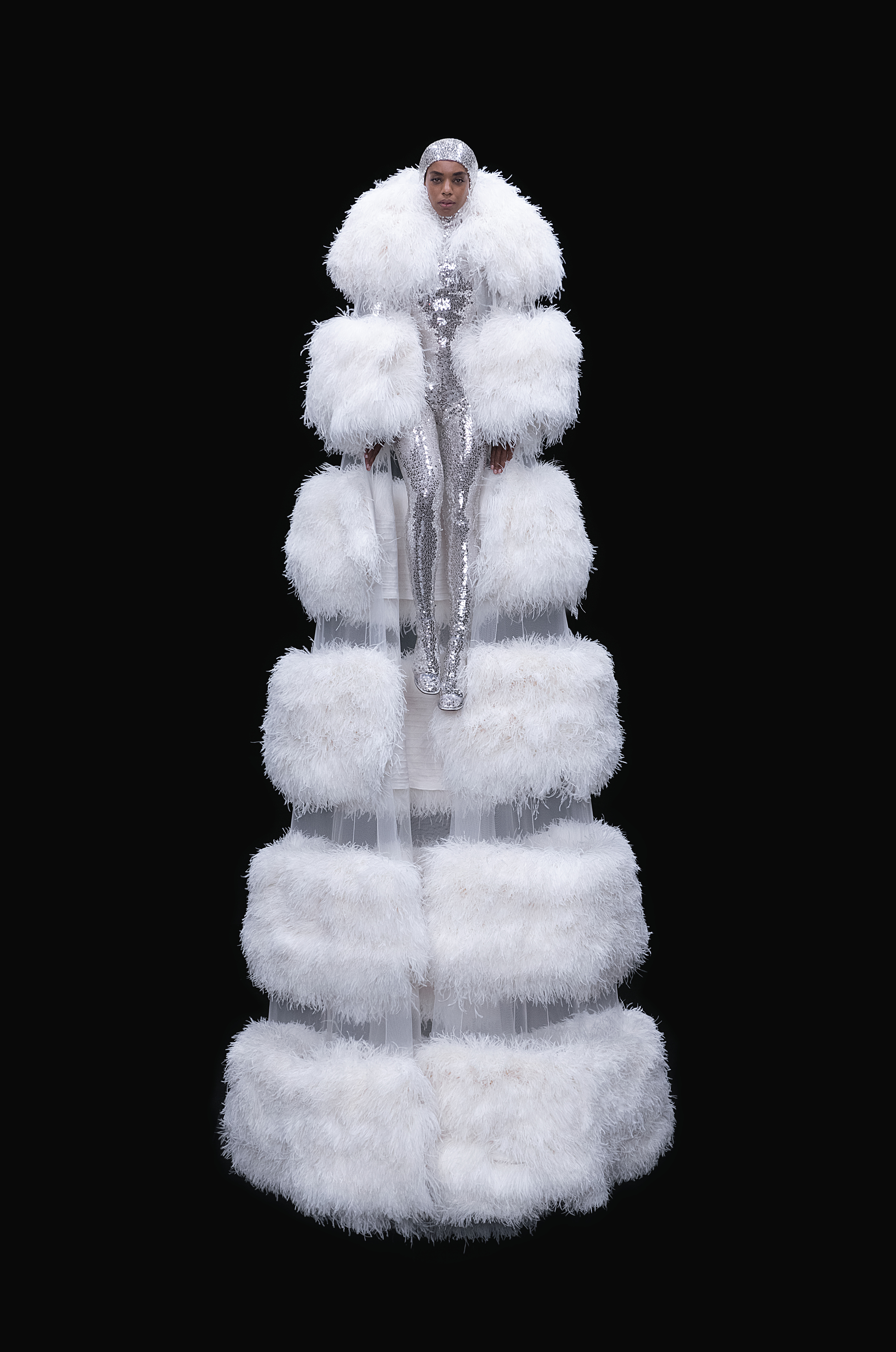 This is to say the models all wore cream and silver and hung on stilts and the dresses were surreally proportioned. Some of the dresses were over twelve feet long, making the models look like they were part of wedding cakes or climbing a ladder to the sky. The mood was of the first half of the 20th century, with girls dressed like Hedy Lamar and other assorted Ziegfeld girls draped in layers of tulle, organza, and various accoutrements plucked from the Milky Way. In the show's opening look, a model wears a headdress that looks positively Rococo and a low cut white dress with sleeves so big you could stuff entire basketballs into each ruffle. In another look a model wears a silver, sequined jumpsuit with a cap and an enormous white marabou jacket that ends far past the model's feet. She looks like a marionette suspended in midair, waiting for instructions on how to move next.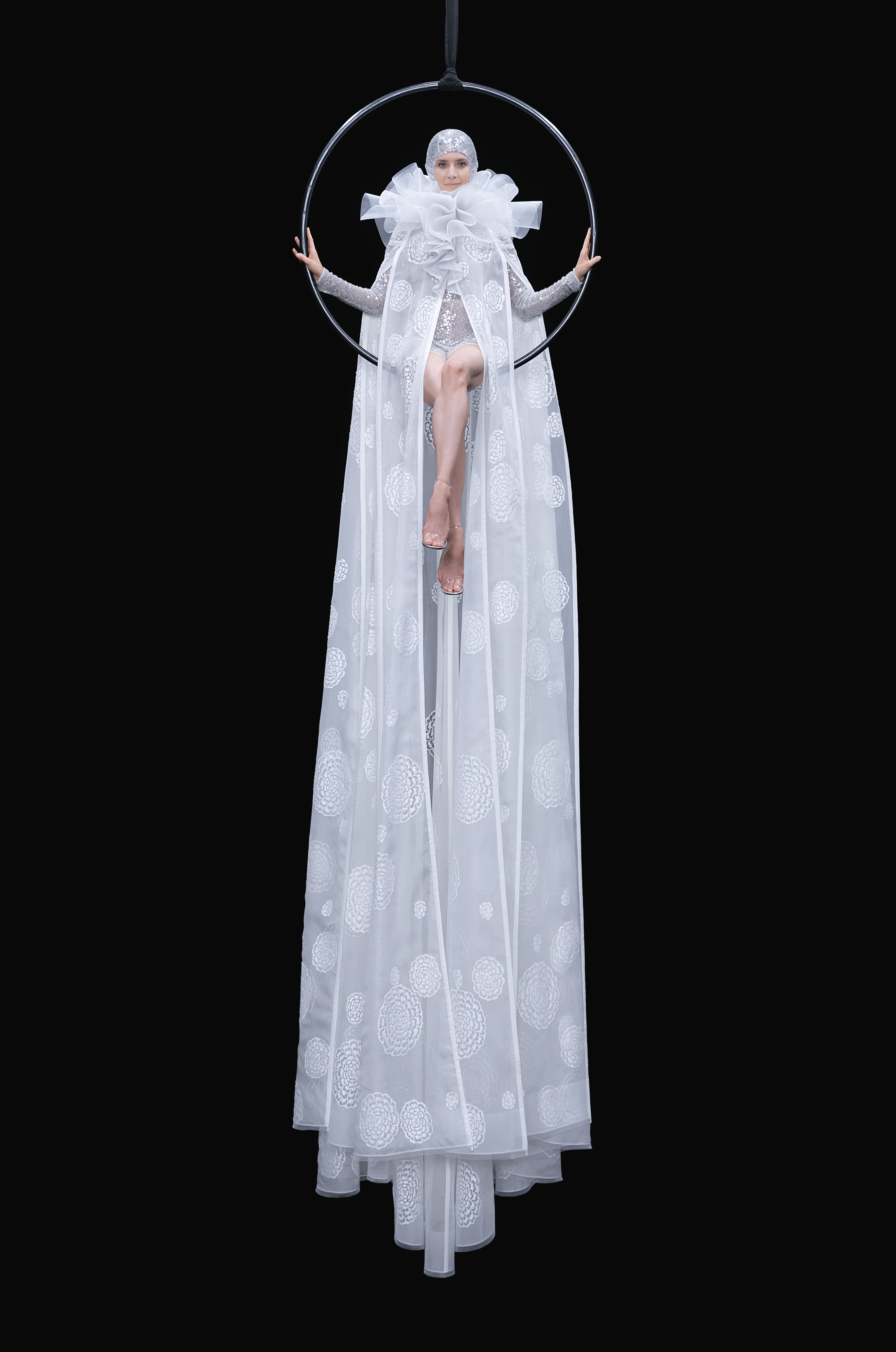 Acrobatics run through the entire show, but are most obvious in the looks where we actually see the apparatuses allowing the models to grow to these celestial heights. In one look, a model sits on a hoop with her feet dangling off the edge. She's wearing a silver sequined little cap again like a bather from the '20s, and a long see-thru white cape with a ruffled collar that looks like a curtain in an old farmhouse. In another look a bit later in the collection, a model wears an enormous marabou hat and a low-cut sleeveless dress with a never ending train. She stands stoically on a swing, impossible to make eye contact with the comically large hat completely covering her eyes. In these looks, it feels like Piccioli is peeling back the curtain and allowing us to see beyond the surface, reminding us the theatrics and engineering at work to fully realize these dreams.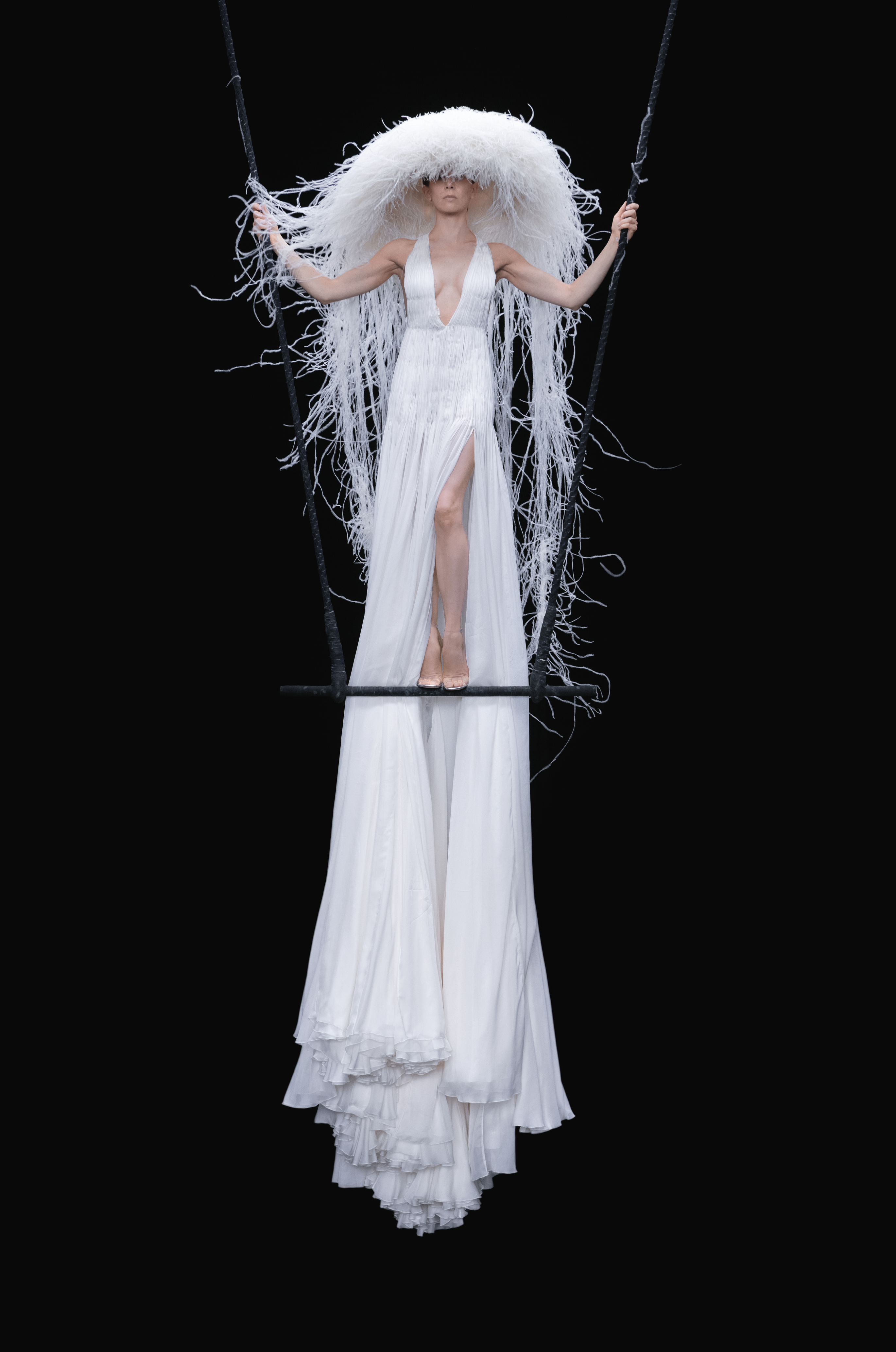 So many couture collections this season have been about dreams, attempting to construct a future after the pandemic through webs of fabric. What does it look like when you know that it will be eons before anyone wears your clothes? How do you design a collection for no one? The answer is more or less you design clothes for yourself, you access dreams, you try with all of your will to imagine what the world will look like when all of this ends, and try to dream up what we'll be wearing. "I didn't want to feel the limitations," Piccioli said in a press conference, "Couture is made for emotions, dreams." Will we all be standing on stilts looking down at the past in a few years time? Or at the world we left behind?