I Attended a Touching Party (Don't Worry It Was Art)
Faith Holland's multi-channel new show, "Hard/Soft," is on view now.
A friend recently told me that a light hug he had shared with a colleague in early March was his last physical contact with someone. Spoiled by quarantining with a boyfriend and a fluffy dog, I might be aloof to an urge for an all-consuming touch, one that once was trivial and generously shared but has abruptly become embodiment of a global pandemic. Yet I was enthusiastic to attend a "touching party" where each guest brought with them something to feel, en par with our current times. I clutched my dog, Bagel, who occasionally left me without a touching mate with each noise coming from the kitchen.
Between online exhibitions determinedly incubated by art galleries, and spoken-over Zoom happy hours with friends and colleagues, our relationship with digital realm has evolved from a longterm hook-up to an exclusive "moving-in-together" zone. This online party, however, was organized by Net artist Faith Holland for her three-part exhibition, Hard/Soft, with Los Angeles-based TRANSFER gallery. Instead of occupying the gallery's online viewing room, Holland's exhibition takes over three platforms we have increasingly visited during the pandemic (which sadly does not include a physical art gallery).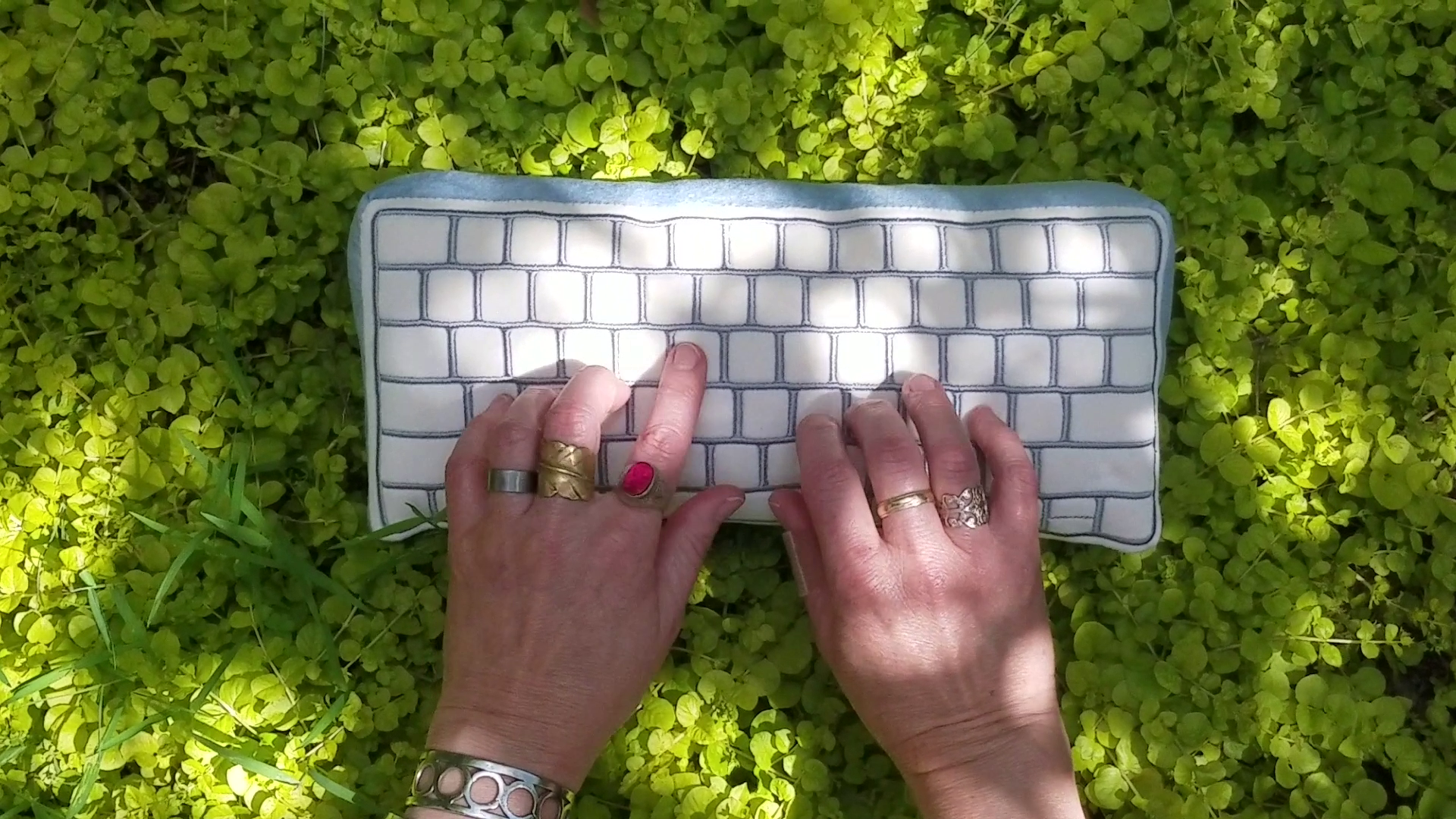 Pornhub hosts The Most Beautiful Dick Pics of All Time, eight GIFs, featuring penises (all circumcised) sourced from a model or porn and elaborately adorned with glitter or bubble effects. Andy shows a toweresque dick, finished with a purple ribbon around its shaft, jerked by animation of tiny flowers in an homage to Warhol's 1957-dated drawing Decorated Penis. My art viewing experience on the porn site was accompanied by ads catered to my taste—such as newest releases from Sean Cody and Bromo, as opposed to the usual gallery signage or visitors with checklists in hands.
Detumescence is an installation of flowers, plants and old electronic devices lavishly spread across a table alongside a host of plushy sculptures, titled Soft Computing Plushies. Installed in TRANSFER owner Kelani Nichole's living space, where she also has her gallery. The dramatic orchestration of slowly decaying still life and archaic devices reconsiders traditional Flemish art's vanitas paintings of rotting crops alongside gothic icons, such as skulls. "Everything in Detumescence rots (as does everything), but on very different timelines," Holland, who conceptualized the installation after the passing of her grandmother, told me.
Finally, on YouTube, you can visit Vicarious Touching, a series of videos documenting various participants' performances with Soft Computing Plushies. In a tone ranging from over enthusiasm of Amazon customer reviews to tingling in ASMR videos, users—who are other digital artists "familiar with online vernacular," according to Holland—interact with plushies of keyboards, computer screens, iPhones, or cords.
"I started with the computer and then extended from there—the computer needs a mouse and keyboard to operate and a wire to connect to the soft internet," says Holland about her selection of the plushies for which she also turned to the internet and connected with a manufacturer on the e-commerce site Alibaba.com after a relentless search for the maker of right softness.
On a Friday evening, drinks and touchables in hand, we gathered in group-socializing platform Video Lounges created by Nichole, who is also a technologist, to echo the vibe of a club with different offerings in adjacent rooms. "Faith selected an excellent fabric for my keyboard," said artist Erin Gee in ASMR whisper. Fellow participant Laura Hyunjhee Kim, who created a therapeutic ritual with her toy, added about her plushy's additional feature: "My iPhone lights up too!" After comparing her iMac G3 plushy with its original for a YouTube performance, Molly Soda stated, "I want a bed with this texture." In fact, Soda's could be more than a wish if COVID did not hit before the intended IRL exhibition. Holland previewed the work in New York during Spring Break art fair in March with a hugging station where people, including her one-year-old daughter, could play with the plushies. Next step was an exhibition with a plushy bed in the center to allow visitors immerse themselves into wormy soft wires. "But this suddenly sounded like the germiest thing imaginable!" sighs Holland. The show's current format, however, is a testimony on our current dependence on technology in every way imaginable, from porn to client meetings open on our screens in aligned tabs.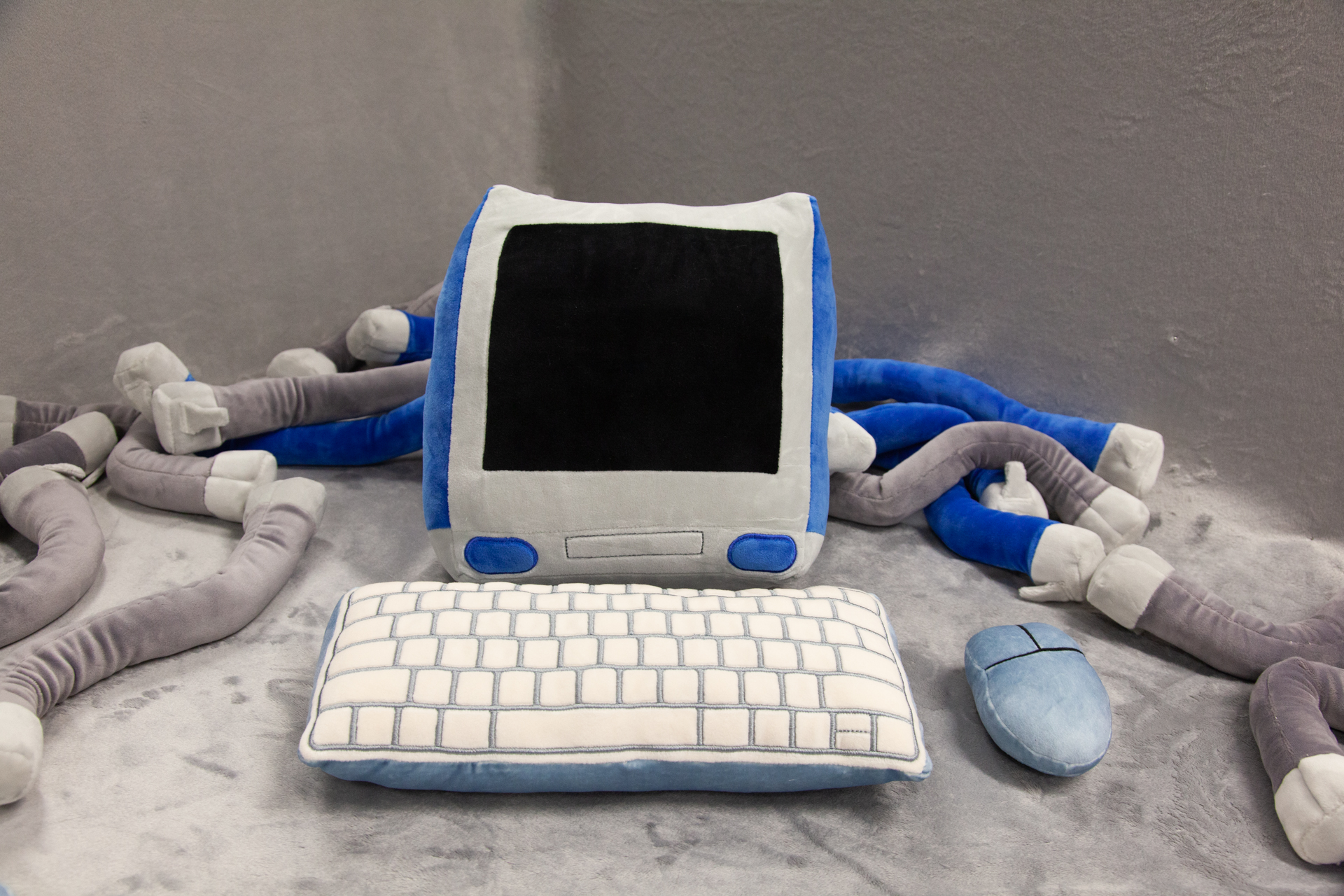 The art world might currently be in its most physically intimate phase with digital exhibitions, art fairs, and panels, but Holland's is a longterm relationship with software's carnality. The New York-based artist has been cruising oozy and messy corners of technology, with GIFs of fingers swiping hyper-zoomed porn stills or abstract expressionist digital paintings, à la Pollock, orchestrated with, not oil paint but, cum shots sent to the artist through an open call. She sculpts, paints and draws with a phenomena that has untouchability in its essence and renders technology a subversive seduction we have no choice to look away from. Before Pornhub had its art program or collaborated with L.A. gallery Maccarone for an exhibition on female pleasure last year, she attempted to exhibit on the platform, but her leg-shaving performance was deemed "self-harm" and faced rejection. "I don't think there were even any nicks!" says now Holland who then embedded her Porn Interventions on RedTube. The series included mini performances of her licking the computer camera or an anonymous man masturbating with clickbait tags, such as amateur or solo girl.
"It's about the intimate relationship we have with technology—sometimes that relationship is overtly sexual, like receiving dick pics in our DM's, or sometimes it's a different kind of closeness, like sleeping next to our phones," says Holland, donning her Queer Connections wire necklace sculpture connected (or penetrated) from their same-sex ends with nail polish while hosting her touching party. In one of handful of rooms where touching plushies or anything handy was in progress, one participant's poor connection yields imagery of glitch, a price possession in Net Art community for embodying the organic chaos within manmade precision. A pixelated sea of pinks, purples, blacks, and undefinable hues washes her part of the grid. We all pull our phones to capture the immaculately flawed stunner. My attempt, however, is crushed with a sudden blackout on my screen. My computer, also my sole window to the world outside since March, fails me after showing it still had 5% battery to survive.