Photograph via Getty Images.
Pyer Moss Deserves All Your Attention, Love, Money, and Brainpower
Working with Reebok and now the sole owner of his company, Pyer Moss is ready to take on the world.
Photograph via Getty Images.
If you pay attention to one brand from New York Fashion Week, make it Pyer Moss. Designed by 31-year-old Kerby Jean-Raymond, Pyer Moss has been on the calendar for several years now—in fact, Jean-Raymond said in a post-show interview Saturday night, this marks the fifth anniversary of his brand.

But in the past year, Pyer Moss has entered a partnership with Reebok, and Jean-Raymond bought out his business partners, making the brand one of the few black-owned fashion businesses in the United States. In August, Vogue's Anna Wintour and Virginia Smith met Jean-Raymond for a studio visit; he wore a T-shirt that read, "If you're just learning about Pyer Moss, we forgive you." (All of his team members wore them at Saturday's show, too.)
Last week, when country singers Big & Rich encouraged fans to boycott Nike over their Colin Kaepernick campaign, stating, "Reebok, here we come," Pyer Moss tweeted, "No, we're good. Go to New Balance."
Yowza! Is there anyone else so courageously showing how this bubble of an industry is actually powerfully enmeshed with the rest of the culture? This is clothing that responds to the moment, but it's a radical and nobler reimagining of what that means. What if the moment isn't merely changes in silhouettes and shapes and colors propelled by our insatiable desire for newness, but by a designer's conscience?

It's unclear whether the world has now caught up to Jean-Raymond or Jean-Raymond is now ready to take on the world; it's probably a bit of both. Pyer Moss has been Pyer Moss since the beginning: I recall seeing his 2016 shows at Milk Studios, where his choir, which has become a Pyer Moss signature, was singing gospel arrangements of Fetty Wap for a Black Lives Matter-themed show styled by Erykah Badu. That fall, he showed a Bernie Madoff-themed collection that included garments that said "GREED" in varsity letters, and a satin jacket that read, in fussy cursive, "Please speak only to my attorney."
Those shows felt just as potent, but this season felt like a turning point. Jean-Raymond held his show at the Weeksville Heritage Center, the site of one of the first free black communities in the country, and the audience was packed despite the distance from fashion's "center" (whatever that means) and rain. "I grew up five minutes away from here," he explained after the show, "and it was always a dream of mine to bring it back…[but] I was never big enough, and now I feel like I have the pull to get people here, so that's what I did." He added that "it's a really meaningful spot"—not simply because of its historical significance, but because it's situated in the midst of public housing: "It lets people know what they can do on their own."
The clothing was easy, cool, and sexy: expanses of fabric flowing across the body, with loose and sensual shapes, accordion pleating, bell sleeves, and bellbottoms. "I wanted to represent leisure," he said, adding that they had coined the phrase "spiritual sportswear." There was something kind of old school about it, the way you get nostalgic for another era, one that you know never really existed except in the clothes. Those caftan shapes, the pie-crust collars, those mustard yellows and cornflower blue—as Jean-Raymond said, "we've been riffing on how our auntie dresses, how our uncles dress, and we just wanted to make that modernized and simple and young."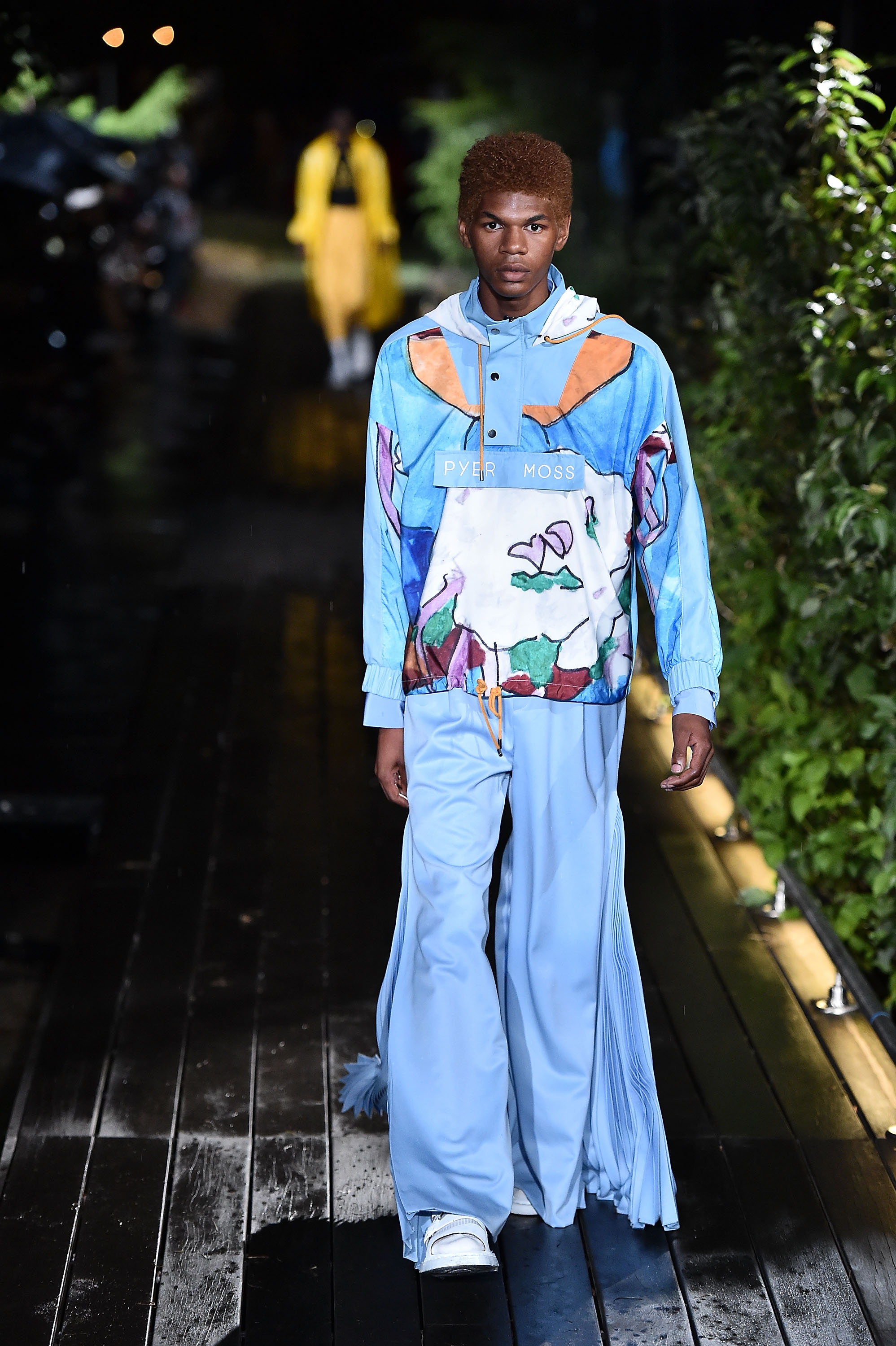 The prints added to this vibe: artist Derrick Adams made 10 portraits of his family, which the Pyer Moss team then blew up "and put them on organza, jacquard, pleated them," Jean-Raymond said, showing off a shift in which one of Adams's portraits was rendered in 200,000 Swarovski crystals.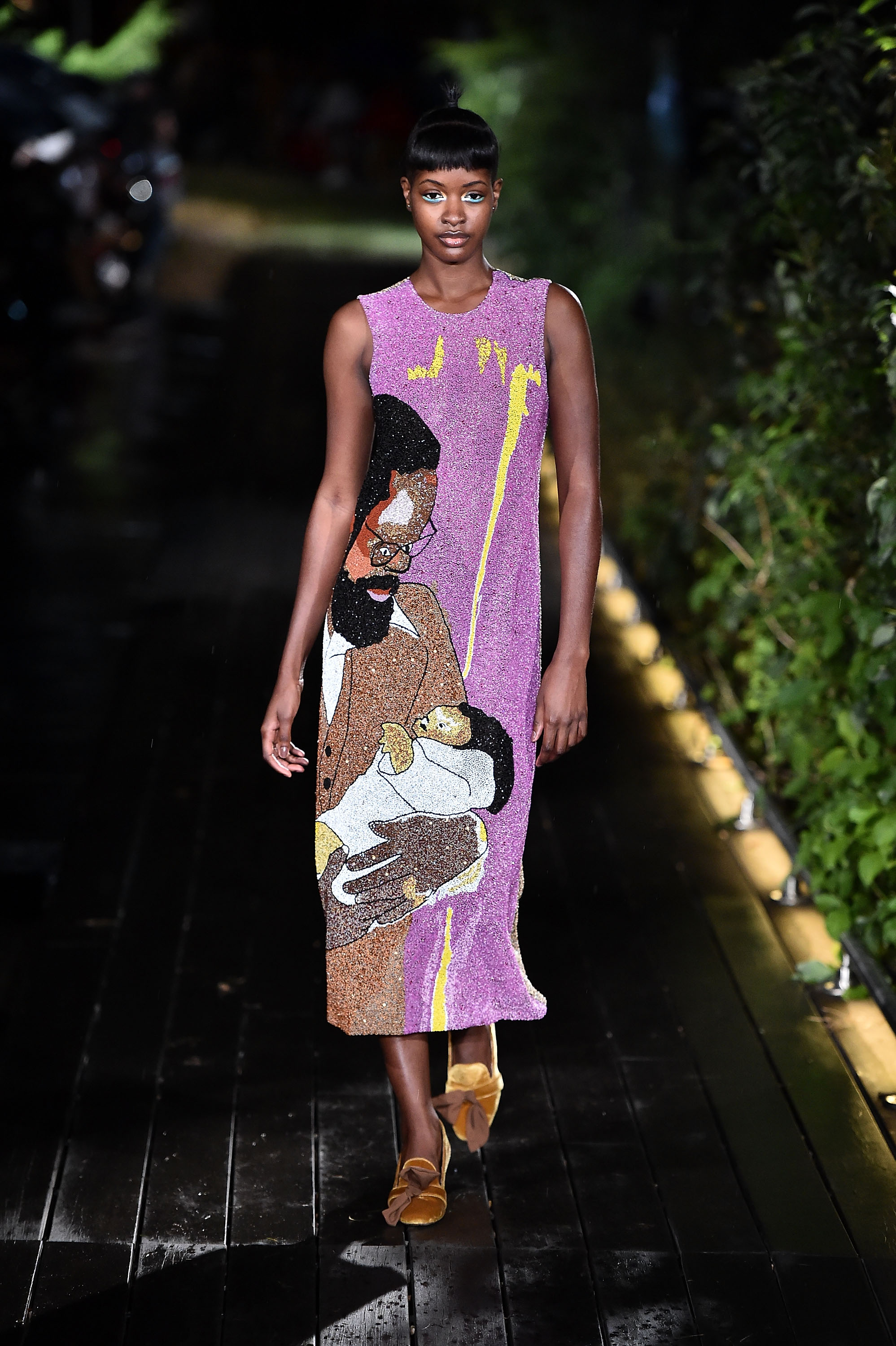 Too many collaborations are just two unrelated brands slapped together for "tension." But everything Jean-Raymond does is a choice, and part of an effort to reset the rules and standards. Like the models, which, he said, are "people that look like me, people that look like my friends. People that are overlooked in normal bookings." In addition to pieces from his ongoing collaboration with Reebook—incredible sneakers, especially in sand pink—the collection also included a capsule collaboration with FUBU. The back of the garments, and one crisp white cummerbund, read, "See us now?" Damn! "We want to highlight American designers who were not seen as American designers," Jean-Raymond explained, mentioning his collaboration with Cross Colors last season. Cross Colors, he pointed out, "was a business that was doing $280 million a year in its prime, similar to what Donna Karan and Calvin Klein were doing, but it was never considered in that same realm as American designers because they were considered 'urban.'"
It's an exciting time to see more Pyer Moss clothing in the world. "I want to show that black can be beautiful and not just sensationalized," he said. "Not always tragic, not always 'for your entertainment.' It can exist on the sole purpose of us being us, and that's what these kids represent."