Exhibition view of "The Black Image Corporation". Photo: Delfino Sisto Legnani and Marco Cappelletti
Theaster Gates Put On the Best Show at Milan Fashion Week
According to the artist, "The Black Image Corporation" at the Fondazione Prada is "not black aspirational; it's black truth."
Exhibition view of "The Black Image Corporation". Photo: Delfino Sisto Legnani and Marco Cappelletti
Fashion has a lot to say about archives. This season alone, archives have furnished designers with inspiration by way of never-produced samples (for Paul Andrew at Salvatore Ferragamo), 50 years of American dreaming (at Ralph Lauren's anniversary celebration in Central Park), and the reworking of a heritage megabrand (Riccardo Tisci's debut at Burberry). But the most ambitious archival project we've seen yet is not the work of a fashion designer, but rather the artist Theaster Gates, whose exhibition, The Black Image Corporation, at the Fondazione Prada was for me the most vibrant and revelatory thing in Milan last week.
The Black Image Corporation references the archives of the Johnson Publishing Company, amassed over decades of publishing, among other periodicals, the magazines Ebony and its weekly sister, Jet, both of which chronicled the African American experience in the second half of the twentieth century (Ebony remains in print circulation). The show, housed in Fondazione Prada's meticulously restored Osservatorio outpost in the rafters of the Galleria Vittorio Emanuele II, opens with dozens of photo contact sheets, mostly the remnants of 1960s fashion shoots, which viewers are invited to handle with white gloves and many of which have never been seen before.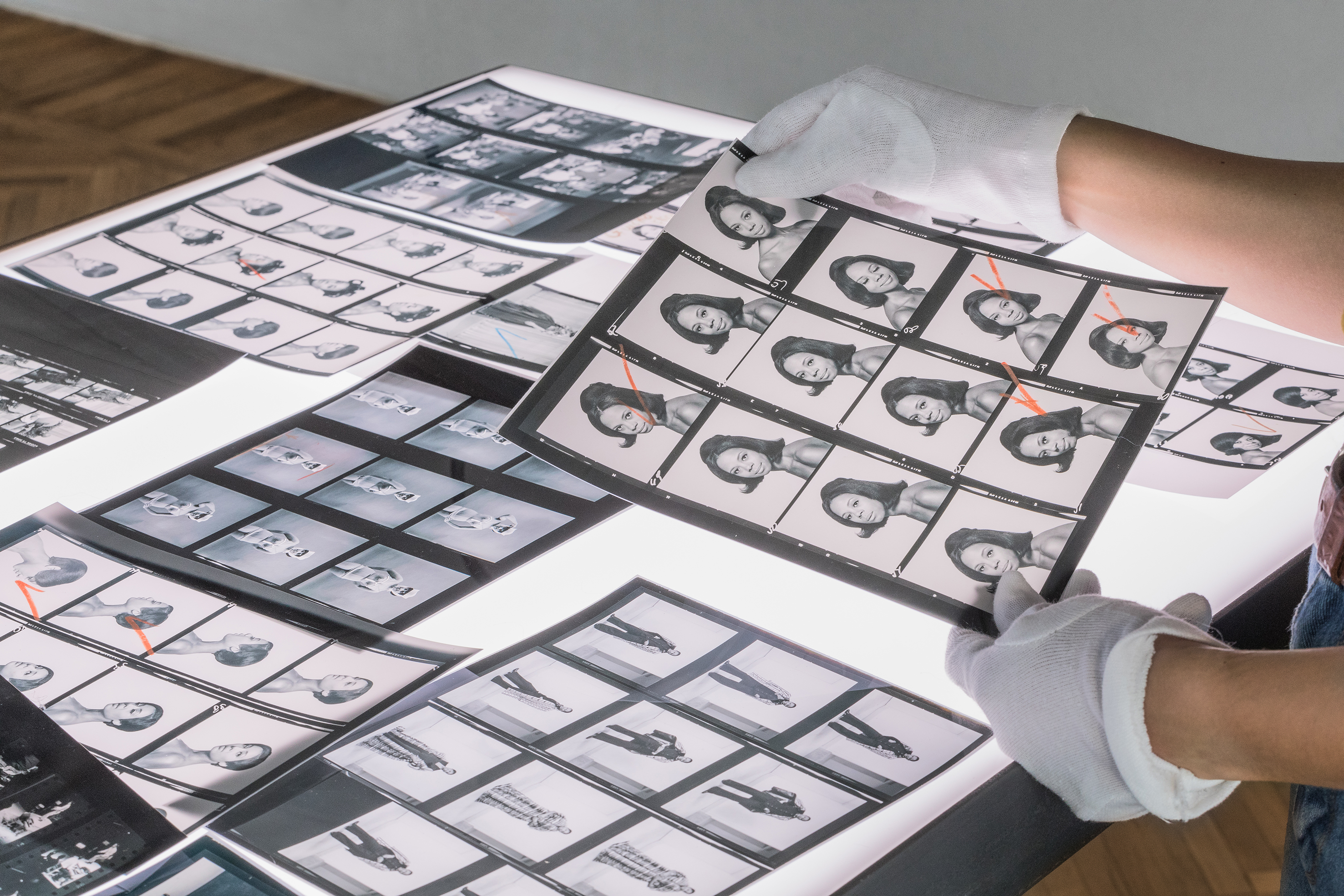 Featuring exclusively African American subjects, the images trade in all same glamorous visual codes as other fashion images of the era: one particularly striking bikini-clad model pulls off a bouffant that is out-sized only by the Great Dane with which she poses. That picture and many others could have easily appeared in the pages of Diana Vreeland's Vogue—but, to the point of the exhibition, they were never afforded that visibility. Viewers feel that they are just beginning a conversation with an enormous cache of unseen images that should have started a long time ago. (This viewer wondered how the fashion industry, especially, might be different if it had.)
The show continues with a furniture installation based on the fabulously decorated Chicago offices of the Johnson Publishing Company (the Jet floor was leopard print! The Ebony floor was serene creams!). A second floor of the exhibition concentrates on nearly life-size prints of portraits of black women by the photographers Isaac Sutton and Moneta Sleet Jr., who won a 1969 Pulitzer Prize for her picture of Coretta Scott King at the funeral of her husband, Martin Luther King Jr. Here, the installation reflects Gates's hand more heavily: it's clear he has chosen, printed, and framed the pictures that he wants to be seen on more impressive scale.
In working with an archive that has laid dormant for decades, Gates's project is twofold: he has given exposure and overdue credit to those involved in the creation of the original images and given a gift to the viewing public of 2018, who have, by and large, never seen most of these pictures. It's worth noting that Gates's medium here is not photography but curation, reframing work rather than making it from scratch (a practice that is not new but is currently in vogue). To shift the border between artist and curator is not surprising for Gates, whose Chicago-based Rebuild Foundation is itself a sweeping and interdisciplinary endeavor that is equal parts philanthropy, community development, and art practice.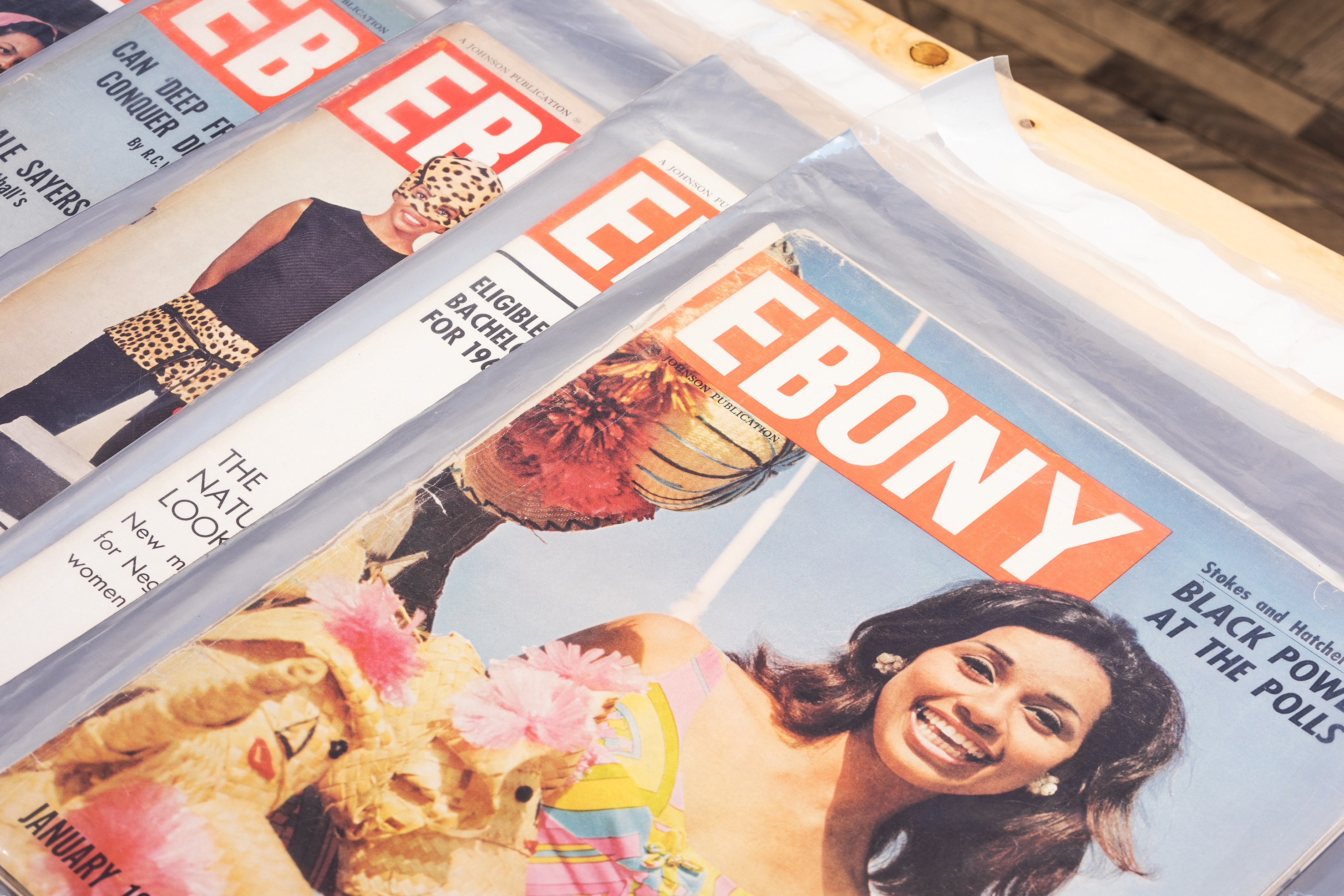 At a discussion organized by Prada last week with curator Okwui Enwezor and filmmakers Spike Lee and Dee Rees, Gates addressed the process of diving into the archive of more than four million images as "a magic ride." "It's not just the hooker and the crack whore, or the wealthy bitch who doesn't take any mess," Gates said of reveling in the images of middle class African American subjects. "There are teachers and doctors and lawyers and stay-at-home moms. We've never had the privilege of being imaged in proliferation." More succinctly, he described the exhibition subject matter this way: "It's not black aspirational. It's black truth."
But if context is everything, what does it mean that an American has to travel to Italy to finally be confronted with the beauty of these images? How is their power emboldened or altered when the primary audience is comprised of Europeans or Americans privileged enough to be in Milan in the first place, thousands of miles from the flawed nation that both bore this archive and then buried it? Perhaps in Italy it's easier to view the photos formally, compositionally, analytically. But I walked back into the historic shopping mall, into Italy, wishing that I could see the show again—at home.
Tagged: