Mommy Issues? Artists Have Those Too!
Three generations of artists examine the specter that is haunting American women: motherhood.
When Laurie Simmons created "The Early Doll House Interiors" (1976–1978), a series of Cibachrome photographs satirizing the postwar ideal of an American stay-at-home mom, she couldn't have predicted the coming "Mommy Wars" ushered in by a conservative backlash against feminism, career-driven women, and working mothers.
The influence of motherhood on how women see themselves, the world, and their work playing a role in it is the context of the group show MOTHER, organized by GARAGE Issue 14 photographer Laurel Nakadate, an artist and mother whose early video works were once condemned as anti-feminist. Featuring the nubile artist dancing to Britney Spears in the homes of lonely middle-aged men she met on the street (Oops! [2000]), or acting as a life drawing model, dressed only in her underwear, for random men solicited through a newspaper ad (Lessons 1-10 [2001]), they were brave and humorous trips into the nexus of fantasy and voyeurism.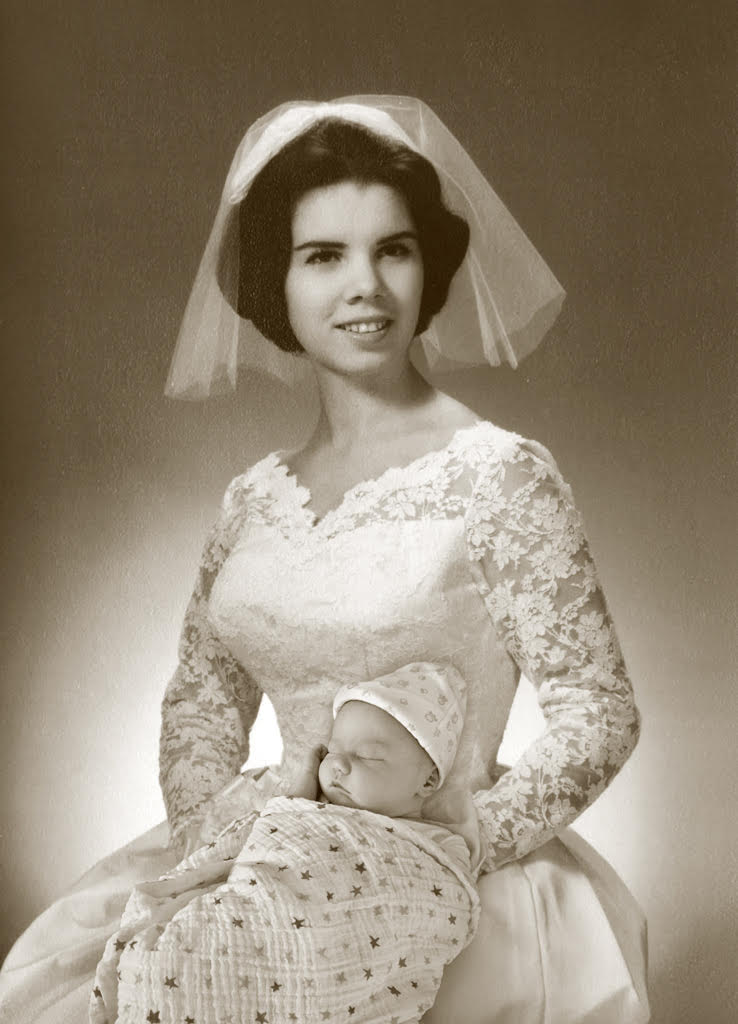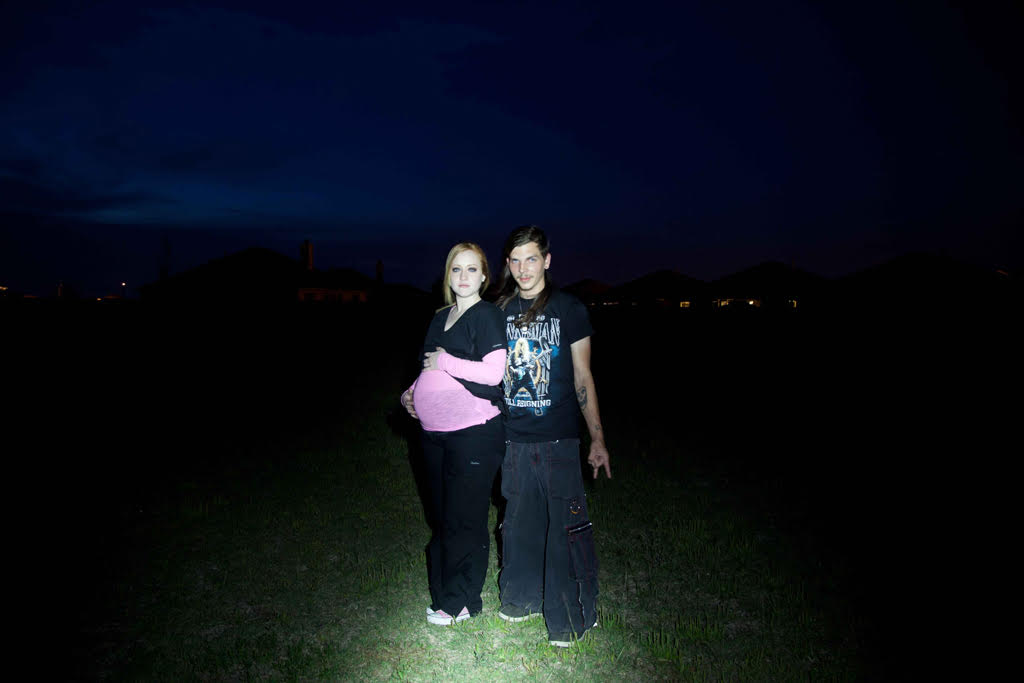 While Nakadate has moved on from that body of work, her interest in staged intimacy and tragicomic imagery continues, as is evident in the display here of photography and video work by three generations of female artists, most of whom are mothers. Pieces from a more recent series by Nakadate are shown: eerie night scene photographs of distant relatives she'd never met before shooting them. Several of Simmons's aforementioned Cibachromes are also included. Then there are Justine Kurland's circa 2006 photographs of nude, pregnant women in idyllic landscapes, including one of herself and her son; Mary Kelly's black and white video Antepartum (1973), a single close-up shot of the artist caressing her own abdomen at the full-term stage of her pregnancy; Tierney Gearon's absurdist portrait of her elderly mother laughing as she walks away from a desolate gas station with a lit cigarette (Untitled [2001]); and Malerie Marder's Untitled (Mother in Yellow Sweater with Peter) (2000), a photograph of the artist's then-boyfriend, the actor Peter Sarsgaard, standing nude as he peers out through the transparent glass of a shower door at Marder's own mother, who sits atop the nearby sink.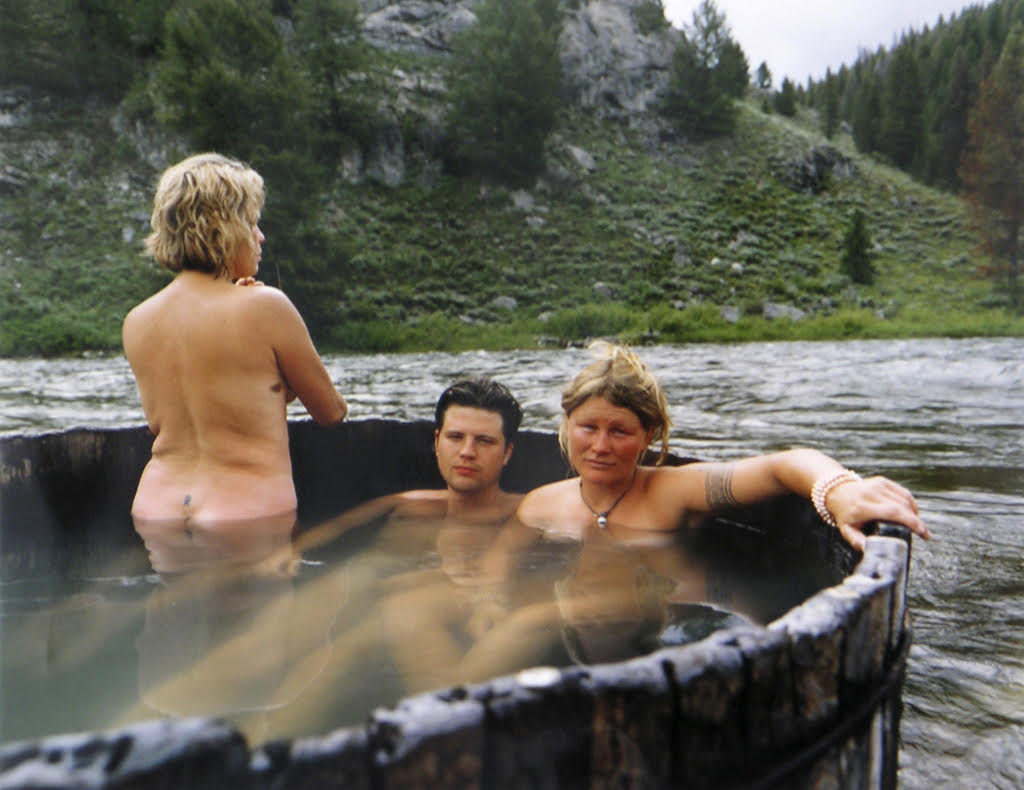 The overall effect of these works together is a dissection and expansion of the notion of motherhood through a mash-up of views that are by turns utopian, conceptual, theatrical, and ambiguous. The sentimental trope of the loving, self-sacrificing mother looms large (doesn't it always?) but comes undone in a photograph dated to 2003 by Tracey Baran—an artist who died at the age of 33 and whose parents often served as muses and subjects in her work—that might be the most compelling image here. Easily misunderstood without its title, Daren Meets His Birth Family For The First Time, it depicts the artist's boyfriend in a hot tub at the edge of a lake with his biological sister and mother, but the mother has her back to the viewer. There are no happy smiles of reunion here, just the awkward and melancholic intimation of hard decisions and a family not meant to be.
MOTHER is on view at Leslie Tonkonow Artworks + Projects through October 27, 2018.
For more of Justine Kurland's work, see GARAGE issue 15 for an exclusive editorial by the artist.