Agnès Varda and JR clowning around at the 2018 Academy Awards. Photo by VALERIE MACON/AFP/Getty Images.
Honorary Millennial Agnès Varda Is Gucci's Best Brand Ambassador
The French filmmaker is putting her spin on red carpet style, and it's utterly delightful.
Agnès Varda and JR clowning around at the 2018 Academy Awards. Photo by VALERIE MACON/AFP/Getty Images.
Agnès Varda is the special artist whose legend is matched by her pop culture fandom. Regarded as "the grandmother of French New Wave cinema" (her 1954 film La Pointe Courte is considered a forerunner of the movement), the 89-year-old filmmaker is a trailblazer—she invented the term "cinécriture" to describe her signature filmic style that uses essayistic pacing—and an Academy Award nominee and Independent Spirit Award winner for her 2017 documentary Faces Places (co-directed with artist JR). The celebrated documentary has raised her profile over the past year, and brought her a new and larger generation of fans—and she's also become an unexpected red carpet representative for Gucci. Recently described as a "style icon," she's become a kind of grand dame of joyful, don't-give-a-fuck red carpet style.

The ensemble that first drew attention was Varda's Oscars outfit: a three-piece Gucci silk suit—pants, cardigan, and robe—decorated with rows of plump pink roses; their sleeves and cuffs were striped in nautical red and navy. Gucci's stripes were complemented by Varda's hairstyle: the filmmaker wears her hair in a pageboy cut, a few inches of white roots grown in, the rest dyed her favorite color of burgundy. She wore sneakers and rose-tinted sunglasses, and managed to look both extremely cool and extremely comfortable.
Varda had sported Gucci the day before, at the Independent Spirit Awards—purple pants with a purple hooded dress, tracksuit stripes of hardware-embellished red, navy, and white running down its arms. And last Sunday, she appeared at the Kering dinner in Cannes wearing an update to her Oscar outfit: a silk cardigan and robe in a custom print of purple, fuchsia, and lemon-colored flowers over a black field. (If she wears the pajama-like suit a third time, it will qualify as a uniform, which is how you know you're a fashion icon.)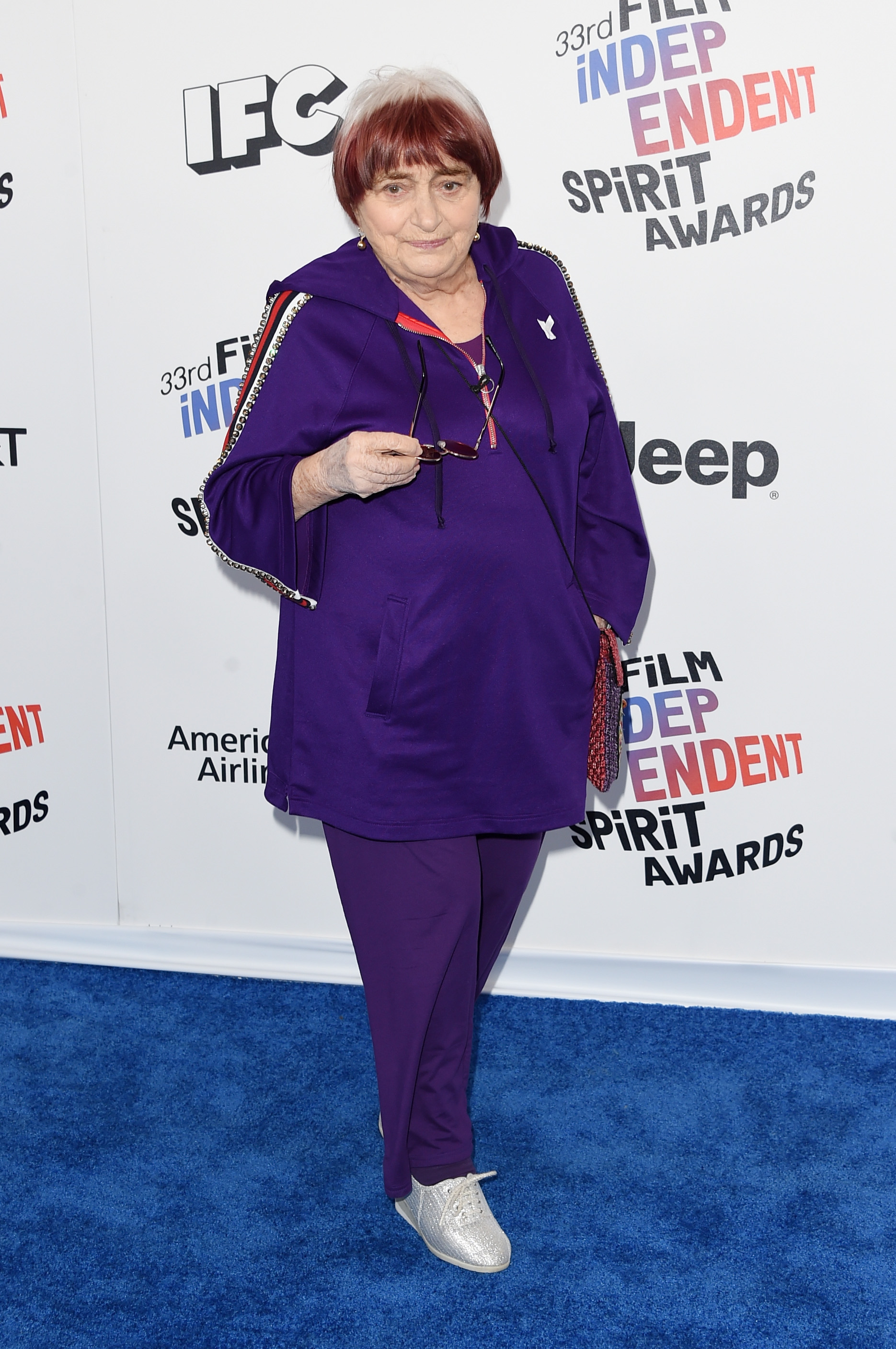 What does Varda's preference for Gucci—or Gucci's courting of Varda—mean in the age of red-carpet style more concerned with making a statement than pretty looks? Gucci has been repped by a cadre of celebrities who aren't necessarily household names, but enjoy the fierce loyalty of a devoted group of fans: musician Sufjan Stevens performed in Gucci at the Oscars; photographer Petra Collins has shot and appeared in campaigns for the brand; and, of course, Lil Pump, albeit not an official ambassador, dyed his hair red and green to shoot the video for "Gucci Gang." Gucci seems eager to align itself not only with celebrity, but with a singular devotion to craft: and inspire an obsessive commitment to the brand in return. More than wear the clothes, they lay claim to them—see the internet novella of Jared Leto falling in love with a green coat—and Varda's pajamas-on-the-red-carpet looks fit right in.
"I wore black until I was twenty-five, like many young people. Everybody did. It was crazy!" Varda told The New Yorker in March. "But now, getting older, I think color does me good." It's the only directive I need.