A photograph by Tony Ray-Jones, taken at 'Meat Joy', a performance art piece or 'happening' by Carolee Schneeman, performed in Judson Memorial Church in New York in November 1964. (Photo by SSPL/Getty Images)
Looking Back at the Singular Vision of Carolee Schneemann
The pioneering feminist artist died this week at age 79.
A photograph by Tony Ray-Jones, taken at 'Meat Joy', a performance art piece or 'happening' by Carolee Schneeman, performed in Judson Memorial Church in New York in November 1964. (Photo by SSPL/Getty Images)
Art that reckons with the living reality of the body is commonplace these days, but that might not be the case without the work of American visual artist Carolee Schneeman, who died this week at the age of 79, New York's Galerie Lelong confirmed to Artnews.
Schneemann's artistic career began with a suspension from Bard College for "painting herself with her legs open," a female pose that seems unremarkable in the post-Lena Dunham era, but proved too risque for the academic climate of the 1950s. From Bard, Schneemann went on to make waves in the New York art scene, spending time at Andy Warhol's Factory and posing nude for artists like Claes Oldenburg and Yoko Ono (Ono's film Four, which devotes itself to a study of nude posteriors, features Schneemann's bared rear end.)
Schneemann taught at NYU, Bard, Cal Arts and more and showed everywhere from the Whitney to MoMA to the Pompidou to the New Museum over the course of her career, which was devoted to challenging the conventional artistic framework of who, exactly, got to to look and be looked at. Schneemann's insistence on elevating her own nude body into artistic territory was plagued by accusations of "self-indulgence and narcissism" and "playing into male fantasies".
"Everybody was very taken with how I looked. I wasn't, but they were," Schneemann recalled in a 2009 interview with Judith Olch Richards; her work dared a primarily male artistic establishment to critique her, but also forced them to confront the truth of the physical form. It's impossible to tally up the sum total of Schneemann's works and collaborations, but we've put together a roundup of a few of her most significant artistic moments.
A Journey through the Disrupted Landscape, early 1960s.
Schneemann's first artistic endeavour was the organization of A Journey through the Disrupted Landscape, which she describes in an interview compiled in her 2002 essay/interview collection Imagining her Erotics: "I invited about ten people from the university and gave them little cards with instructions such as "crawl, climb, negotiate rocks, climb, walk, go through mud"; the field was flexible, trees down, so these participants crawled voer them and circled in the mud, and came to a pile of rocks, where I built a fire. I was really excited about this and had no idea what it really meant."
Meat Joy, 1964.
In the 1964 group performance "Meat Joy," eight people "crawl and roll about, playing with sausages, raw fish, raw poultry, wet paint, transparent plastic, ropes, scraps of paper, and one another." The film is one of the first examples of "kinetic theater," in which "performers engage in scored and improvised movements with a range of disparate materials"; Schneemann was partially inspired by the experience of working on a chicken farm as a teenager, and recorded the sounds of a Parisian fish market to help create Meat Joy's soundtrack.
Fuses, 1967.
This self-shot 16mm film captured Schneemann and her then-partner, composer James Tenney, having sex, as observed by her cat, Kitch. Schneemann said of the work, "It is different from any pornographic work that you've ever seen-- that's why people are still looking at it! And there's no objectification or fetishization of the woman."
Interior Scroll, 1975.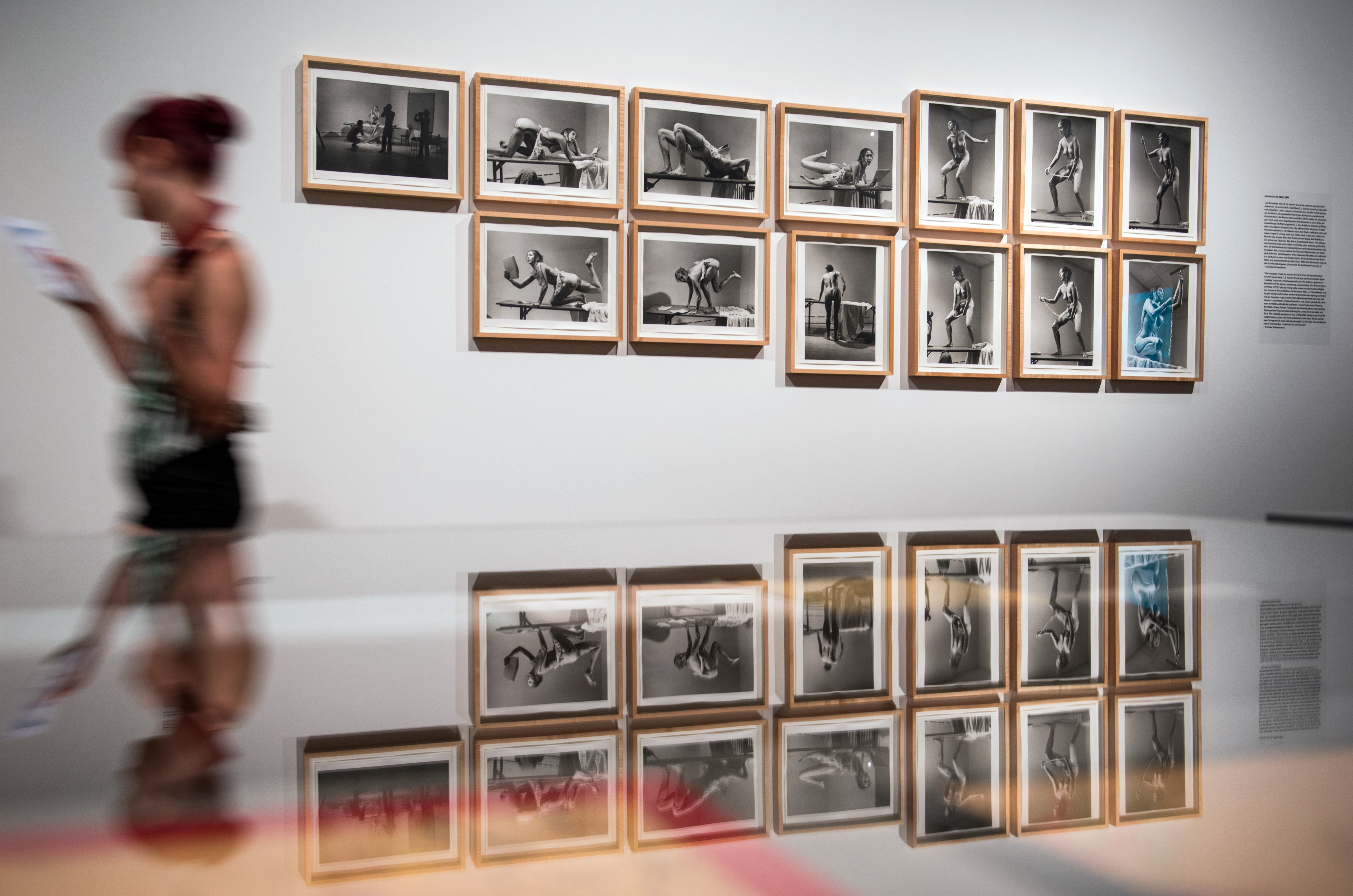 One of Schneemann's most visceral and confronting works, Interior Scroll featured Schneemann standing naked on a table, painting her body with mud and reading from a paper scroll that she extracted from her vagina. Said Schneemann of the work, "I thought of the vagina in many ways-- physically, conceptually: as a sculptural form, an architectural referent, the sources of sacred knowledge, ecstasy, birth passage, transformation. I saw the vagina as a translucent chamber of which the serpent was an outward model: enlivened by it's passage from the visible to the invisible, a spiraled coil ringed with the shape of desire and generative mysteries, attributes of both female and male sexual power. This source of interior knowledge would be symbolized as the primary index unifying spirit and flesh in Goddess worship."
Terminal Velocity, 2001.
For this 2001 work, Schneemann developed her fascination with the body to its logical—and horrifying—end point, scanning and enlarging images of people falling or jumping from the Twin Towers on 9/11 "to personalize nine people, who in their normal work day were thrown by impact into a gravitational plunge, or chose to escape incineration by leaping into space."