Fashion Horoscopes: The Signs as Carrie Bradshaw Outfits
A very happy Aries season to Sarah Jessica Parker only.
Screenshot via Amazon
Aries: Tripping on the runway of New York Fashion Week
"Oh my god, she's fashion roadkill!"
Alright, so let's start with how bold this outfit is. Carrie's walking for New York Fashion Week, and her outfit is effectively a black bra, gold, glittery underwear, royal blue trench coat, and heels. It's Victoria's Secret Angel meets Sherlock Holmes. Few signs would dare to wear this in public, and Aries is one of them. Then there's the content of this video: Carrie trips on the runway, eats shit, has Heidi Klum walk over her, has to get up and finish the walk, and in those thirty seconds overcomes insecurity. The qualities we're seeing here? Resilience, fearlessness, courage, daring, confidence! This outfit has Aries all over it.
Taurus: Manolo Blahnik proposal from the SATC Movie
Taurus is realistic and practical in making life choices, but with an artistic streak and a taste for quality. In this scene, Big proposes to Carrie with a royal blue pair of Manolo Blahnik Hangisi pumps. Discussions of longstanding commitment, accented by expensive shopping? Yes. Taurus, you have the refined taste that earns you Carrie's expensive ass, Swarovski-Crystal covered Manolo Blahnik from the final proposal scene of the Sex and the City movie. Taurus understands the meaning of lasting loyalty, and appreciates the value of high fashion footwear!

Gemini: Christian Dior newspaper dress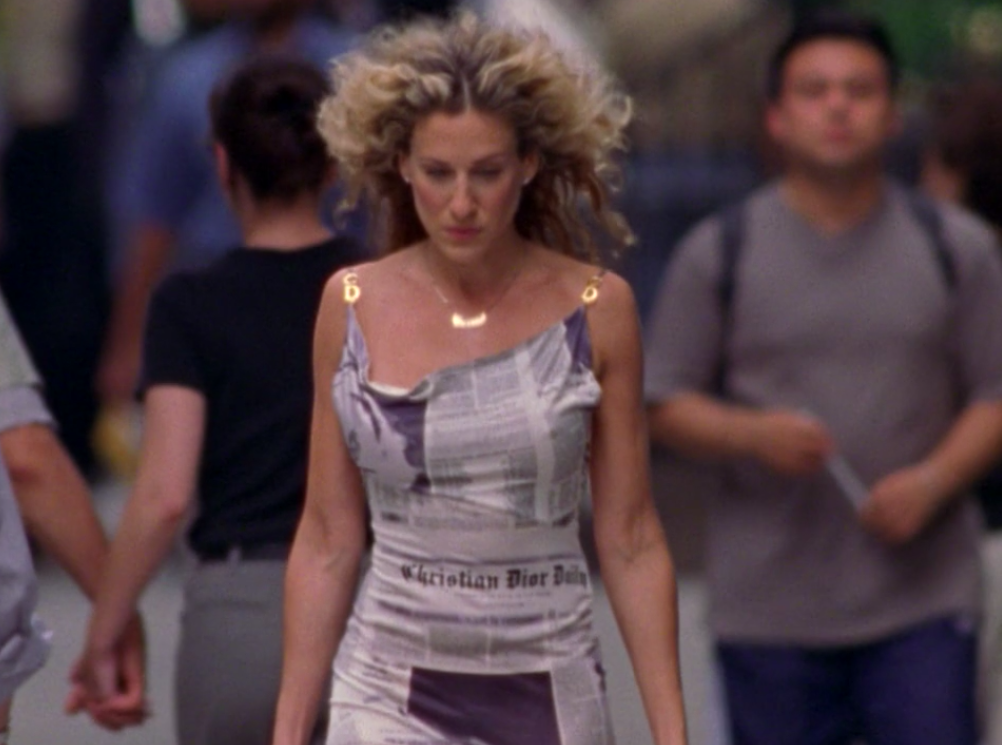 Gemini is astrology's communicator. At best, they find jobs that let them express themselves. At worst, they become gossipy as their curiosity thrives on chatting about what's happening in everyone else's life (and don't skip the scandals!). Carrie looks like a walking news story when she runs into Natasha after having slept with her then-husband Big. No sign can be condemned as a gang of cheaters, but change-loving Geminis aren't particularly known for their fidelity. Still, Carrie's a writer; words are her forte. Geminis share that need to talk it out, and at the end of the day, there's material here.
Cancer: Meeting Big at the Central Park Boathouse
Looking romantic, gorgeous, and flowery when showing up to see your ex? Okay, Cancer! In the season three finale, Carrie meets up with Big and tries to lean out of a kiss. Off balance, she ends up pulling them both into the duck pond, which they both laugh off. Cancer is a water sign (hello, duck pond) marked by their sentimentality and tenderness. This dress has the soft, fluttering-in-the-wind vibe of a Cancer in love.
Leo: Fur coat at a baseball game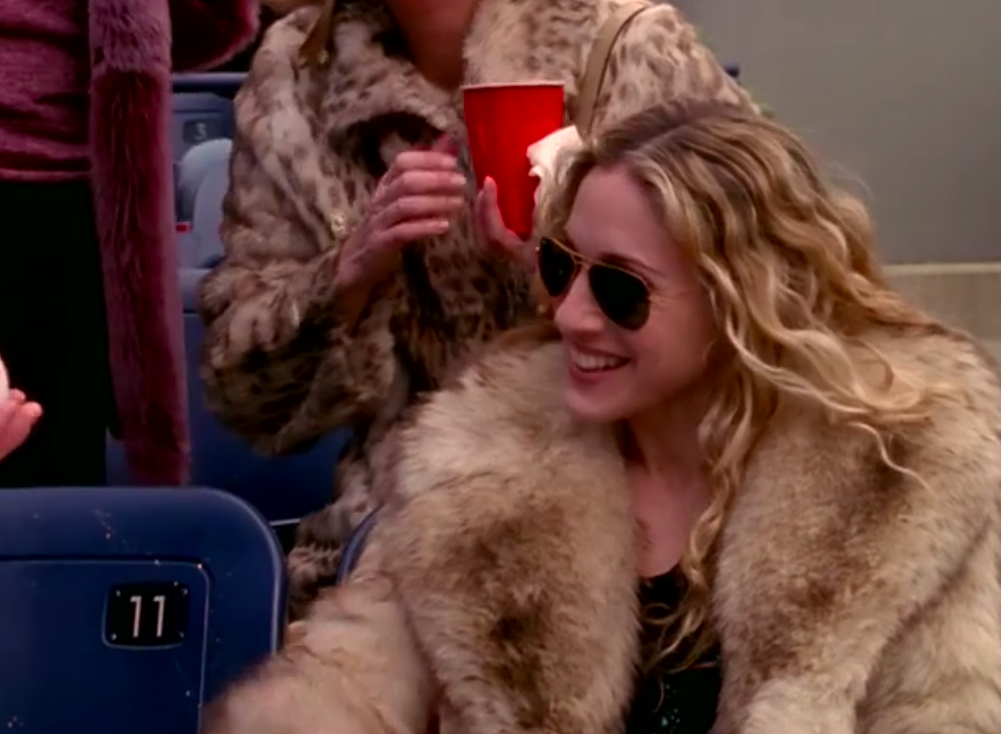 A Leo can make any event fun, and never shoots down an opportunity to dress up. Leos like living on a grand scale, and often find ways to display Looks ™ in daily life. So how does Carrie arrive at the baseball game? In a fan t-shirt? No. She channels Leo's assuredness and self-expression with this vintage fur coat, and completes the look with the signature Leo "I do what I want" attitude, as she chain smokes and day-drinks in the stadium.
Virgo: Stripes in Paris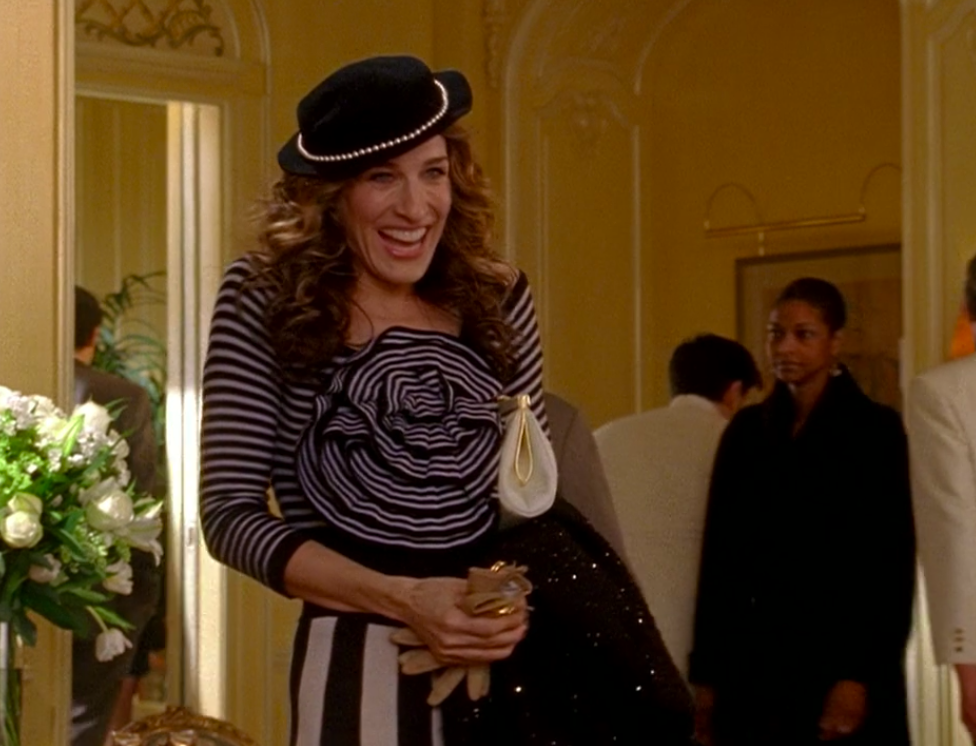 Carrie's Paris look is pristine. Familiar black and white stripes, but with a fresh spin and a giant flower! Reserved and sometimes modest from an outsider's perspective, Virgos can be shy and stick to muted tones and classic shapes. Grounded and down to earth, they're less likely to be found in the attention-grabbing attire Carrie typically dons. Yet, Virgos have the active, snappy minds to predict mixed stripes years before the rest of us would.
Libra: Tutu from the opening credits
Okay, the opening of this show has such Libra energy. In her tutu, Carrie is precious, friendly, strutting down the street in her fun outfit. One could argue that this whole show has Libra energy. It's lighthearted, quippy, and fun, mostly centered around romance, features a heavy focus on fashion, and emphasizes the power of female friendship. Much time is spent talking about feelings over brunch food. Air signs are talkers, and Libras are the aesthetic-loving romantics of the bunch. Therefore, they are the symbol of this show: the tutu.
Scorpio: Little black dress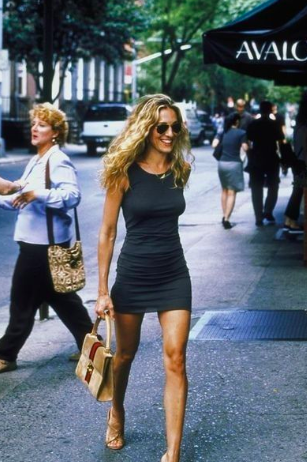 Sexy, but simple. Dark tones, natural attracting attention. A classic pair of sunglasses. This look has Scorpio energy. It's straightforward, without frills, statements, or anything particularly loud about it, and yet - it's magnetic! It's a true LBD! And no one knows how to harness the power of an LBD like a Scorpio!
Sagittarius: Naked dress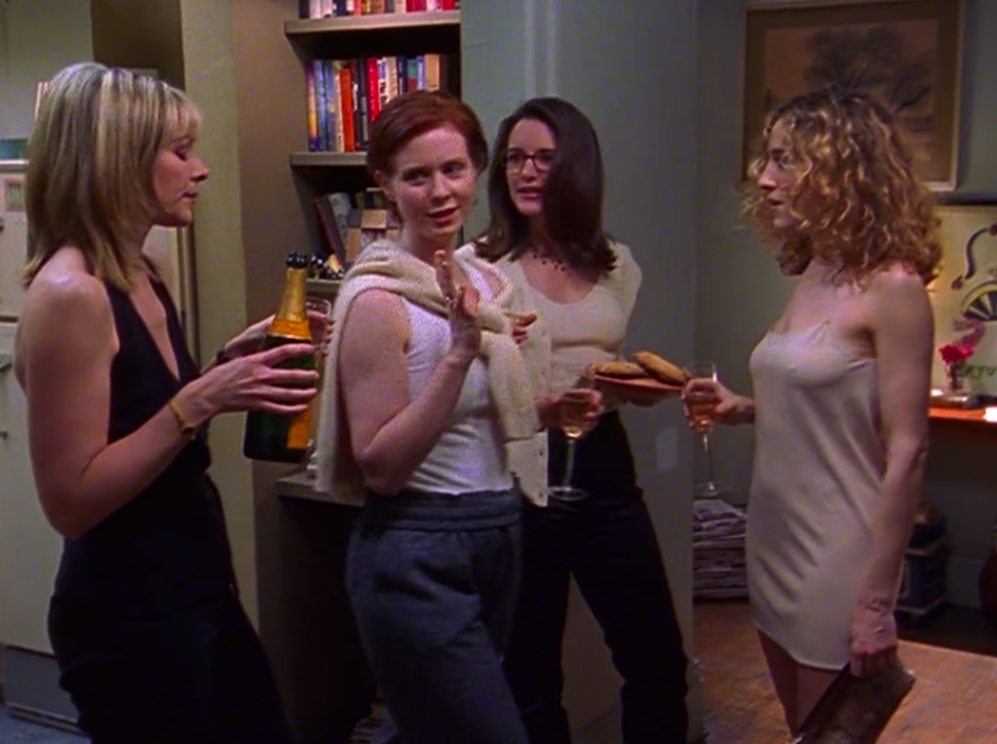 Sagittarius, you are the famed naked dress. Carrie wears this nude, basically see-through, highly nippley DKNY slip dress on her first date with Big. It's a bold move. She's dressed to make an impression, and in fact, start a lifelong love affair! This dress requires the self-confidence of a cocky Sagittarius. Sagittarians are loud in both their voices and their actions, and they're definitely one of the few signs brave enough to wear this flirty lil number!
Capricorn: Vintage beading and tassels fleeing the opera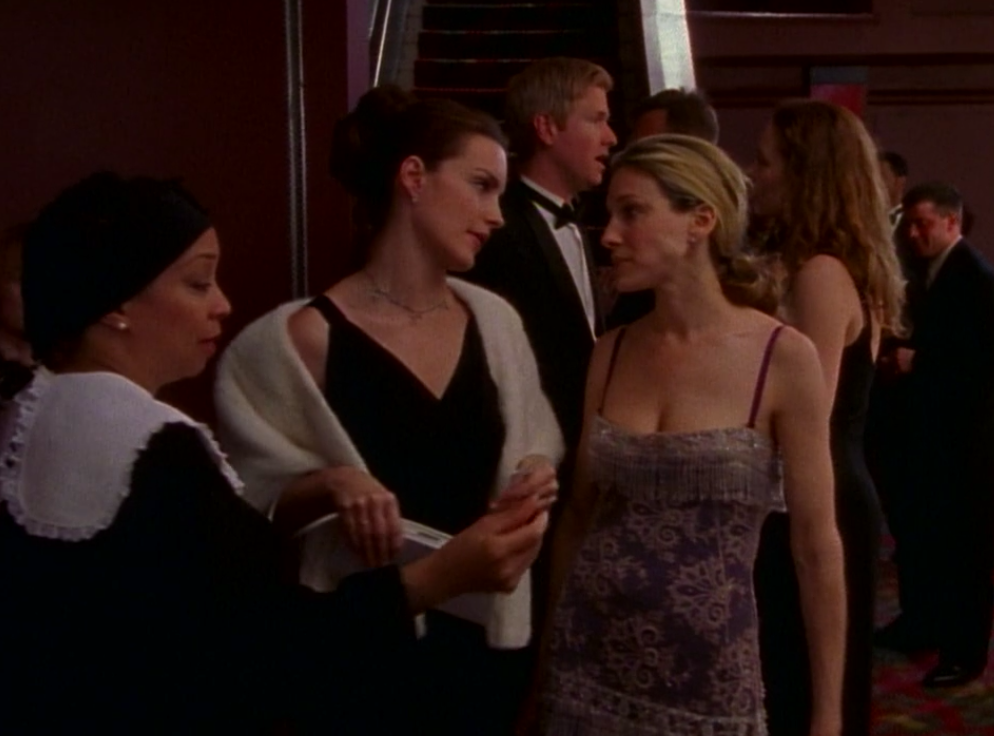 1920's vintage = Capricorn's adherence to tradition and your moral duty to recycle! Ornate beading = Capricorn's appreciation for fine attention to detail! Attending the opera = the kind of high caliber event that bougie Capricorns go all out for! Throughout the episode, Carrie wonders if something's wrong because her relationship with Aidan is going so easily that it's not making her nervous. Then, while wearing this outfit to the opera with Charlotte on the night she could be meeting his parents, she of course sees Big and runs from the scene. Would a Capricorn have handled the situation with more maturity? Yes.
Aquarius: Hamptons cowgirl
Lots to unpack here. Bandeau top with a long diagonally-striped skirt, topped with a red cowboy hat. Carrie is wearing this bizarre ensemble on a Hamptons retreat when she first runs into Big and meets Natasha for the first time. Why is this outfit Aquarius? I don't know. Because it's weird. Because it's so unique to Carrie that it feels like her younger assistant is just copying her when she wears a similar hat. Aquarians often deal with the same annoyance at their own trendsetting. They prefer to preserve their own personal touches - not only to their appearances, but to their speech, their mannerisms, their personhood. I'm sure many Aquarians will hate this outfit, but that's because the spirit of the look is markedly Carrie. Aquarians dress for themselves.
Pisces: Stood up by the Russian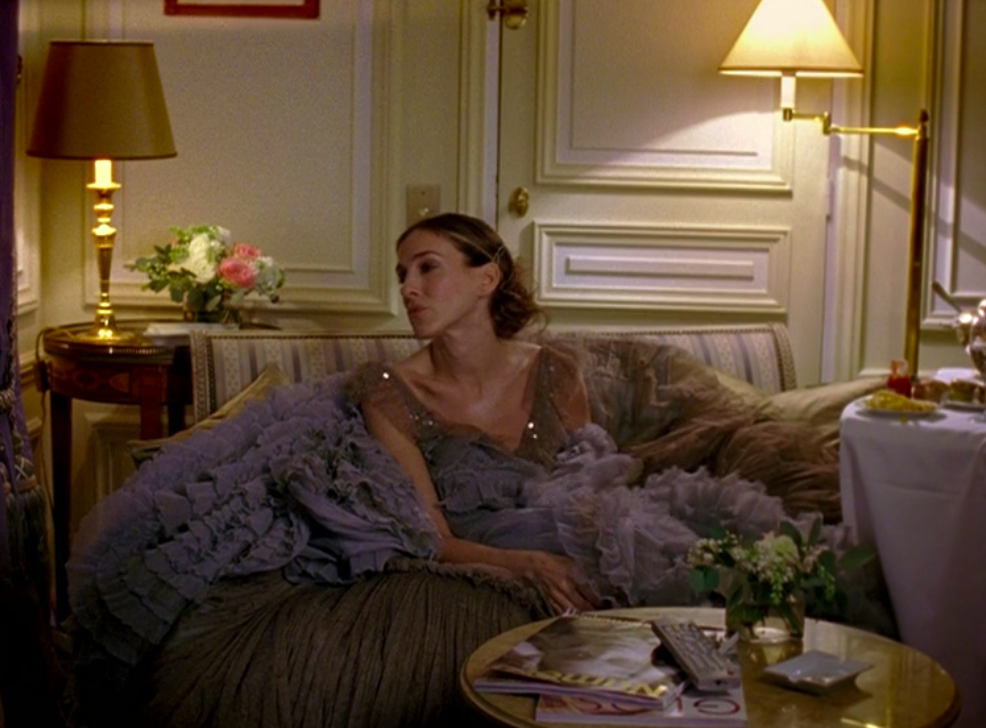 Pisces, you are the time Carrie flew to Paris to move in with the Russian and ended up waiting for him all night in this gorgeous fairytale of a dress. Pisces are romantics with giving hearts, and the perfect sign to fall asleep hopelessly awaiting a lover in this giant, $79,000 ball gown. When it comes to love, Pisces take chances, put faith into people, and believe in true romance! Few other signs could take on the weight of this over-the-top dress, as Pisces takes on the emotional weight of everyone around them.