One of Anthea Hamilton's Pumpkin Mermen Accosted My Boyfriend at the Tate
...And I wasn't even mad! The artist teamed up with Loewe's Jonathan Anderson for her 2018 Duveen commission, delivering an anarchic fairytale peopled with staid sculptures and squash-headed dancers.
Photo by Alice Bucknell.
Something strange and gourd-shaped is afoot at Tate Britain. The institution's pristine neoclassical halls have been transformed into a futuristic playground for sentient squash as part of artist Anthea Hamilton's 2018 Duveen commission, The Squash, produced in collaboration with British fashion designer Jonathan Anderson of Loewe (and, of course, his namesake label JW Anderson). On opening night, Hamilton and Anderson's pumpkin-headed dancers came to life in their surreal, sterile digs—and sought out human contact.
A psychedelically-patterned pumpkin straddled a plinth covered in grouted white tiles. Like liquid marble, it stretched and rolled languidly about its perch in movements surprisingly noiseless and supple for a dancer sporting a giant gourd on their head. Slowly, its ombré leather slippers—with cleft toes; there's a touch of Maison Margiela about them—hit the floor, and the gentle beast was off to accost an innocent Instagrammer who had lingered too long.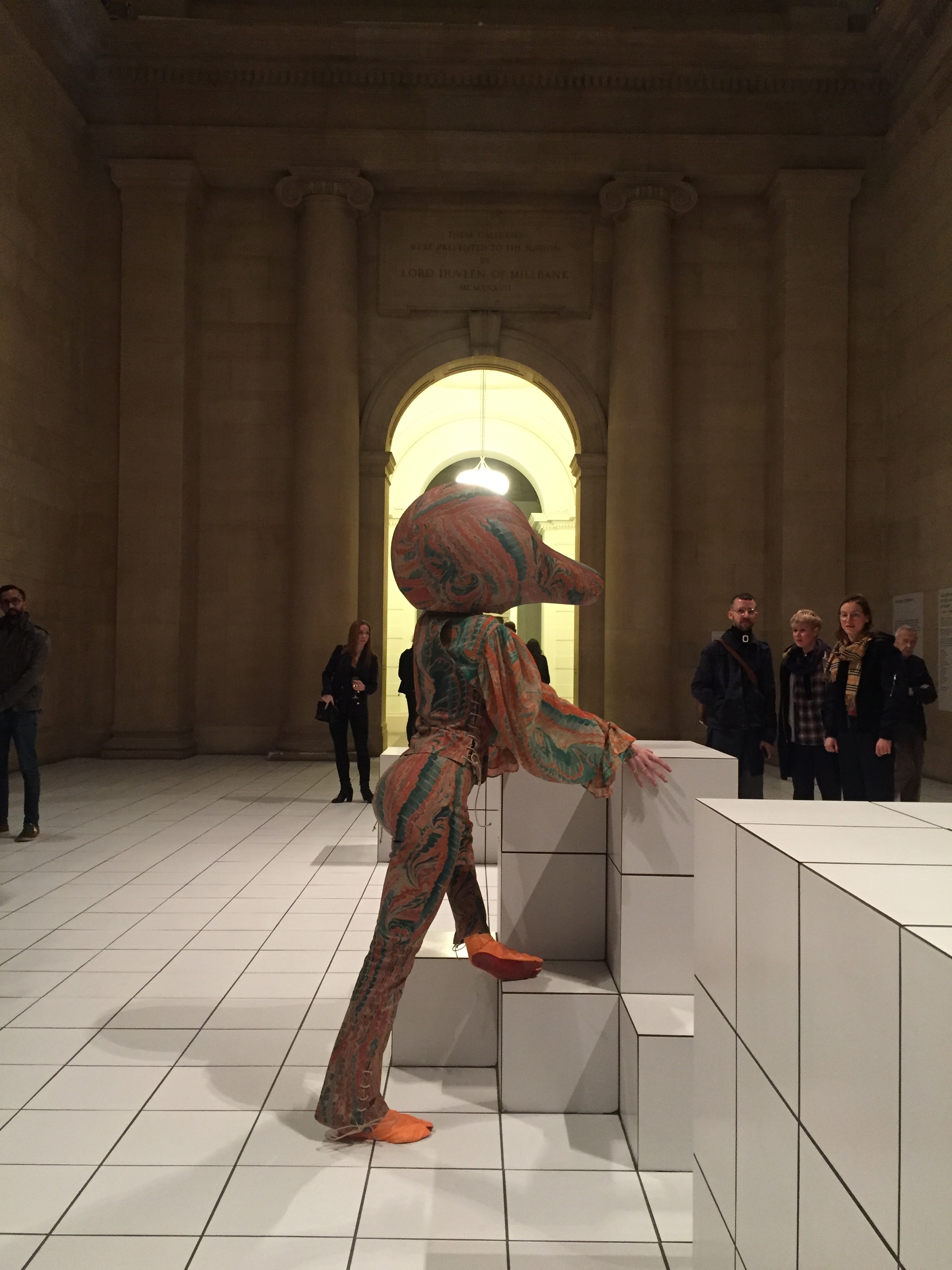 Hamilton had lined the space in 7,000 square white tiles, borrowed a roster of masterpieces from Tate Britain's sculpture collection, and peopled it with squash-headed graces, creating an otherworldly landscape. Inspired by a photograph that Hamilton has now lost, rolled together with the oeuvre of early 20th-century playwright Antonin Artaud, the result is a painstakingly clean, dreamlike stage set that harbors an aura of mysticism. It's something of a cross between a minimalist countryside kitchen and a materialization of the radical Italian designer group Superstudio's Continuous Monument.
For his part, Anderson contributed seven original costumes inspired by the textures and forms of various squash, gourds, and pumpkins: the dazzling outfits are rendered in ruffles, stripes, and sequins, with an array of silhouettes. The Squash will be on view in the Tate's austere Duveen Galleries for the next six months, with daily performances from one or two dancers, who will sport the squash outfit of their choosing; for last night's opening, all seven of the gourds came to life.
While it was impossible to sneak a drink through the comically oversized vegetable heads, as the night went on, the mutant squash became increasingly emboldened. They often convened among the plinths, arching and twisting their bodies in bizarre nonverbal communication before slinking off to join the humans. It was obvious that there was no real pattern to these cabals, but each pumpkin definitely had its own personality: The Badger-like gourd that seemed to be stuck in a slow-mo solo kickboxing match at the poolside-like podium toward the back of the hall had a tendency to freeze when you ogled too long, for example.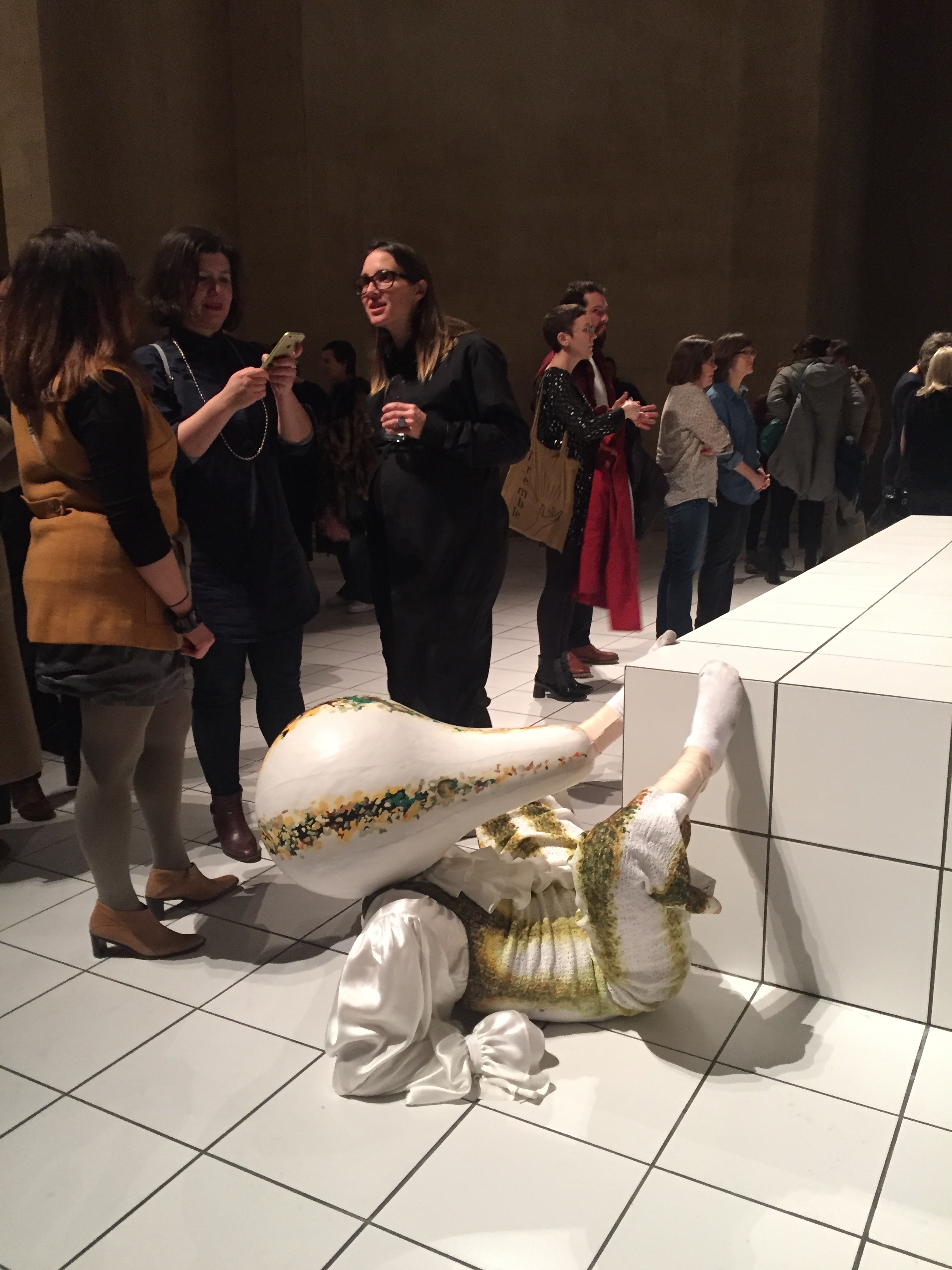 None of the statues that Hamilton has included are labeled, so unless you're intimately familiar with late 19th- and early 20th-century French sculpture, the most recognizable works are those of Modernist Henry Moore. The confusion is intentional here, and the juxtaposition between the accumulated wealth of artworks and performative recklessness is a very satisfying one. Perhaps it's this tension that goaded the gourds onwards. By the end of the night, their lazybones turned markedly predatorial, and all of a sudden, I got the feeling we're being hunted.
Skirting a squash sniffing its crotch next to a group of three women who were trying their best to look aloof, I turned around to snap a picture of a heavy-headed gourd curled up in the fetal position at the base of its plinth. It was nearing the end of its shift and was clearly exhausted, nursing its autumnal bounty with two sweaty palms.
When I turned back, a glittery merman squash had engulfed my boyfriend in its glamorous tendrils. "Loooooong… Sloooooooooow..." it whispered in his ear. I wasn't even mad. If anything, this moment was the perfect embodiment of Hamilton and Anderson's perverse fairytale, which has conjured its own world of timeless, incomprehensible, enchanting weirdness: a welcome intervention in the halls of the Tate.