Catch Peter performs at Black Monastic, part of Red Bull Music Festival in Chicago, Illinois on November 19, 2019. Courtesy Red Bull
Theaster Gates' Black Monastic in Chicago
The artist's experiment with the universality of black music was part of the Red Bull Music Festival this week.
Catch Peter performs at Black Monastic, part of Red Bull Music Festival in Chicago, Illinois on November 19, 2019. Courtesy Red Bull
The ecosystem of the artist Theaster Gates, who makes installations and objects from a locus of the black American experience, is centered in Chicago. It was where he was born and grew up and where, late on a Tuesday night earlier this week, in a verdant, glass-capped hall inside the Garfield Park Conservatory on the West Side, Gates's Black Monastic, his decade-long experiment in the universality of black music, unfolded a sprawling slipstream of sound.
Black Monastic, which has alternately gone by The Black Monks of Mississippi, is a band but also a proof of concept. As Gates tells it, it began as a dare. In 2009, the University of Chicago's Smart Museum presented an exhibition called "Heartland," a collaboration with the Dutch Van Abbemuseum that gathered contemporary artistic practices along the Mississippi River, a good part of which were those of white male artists. "I was like, How can you have an exhibition about the Mississippi River and not have black people in the fucking exhibition?" Gates recalled. Charles Esche, the Van Abbemuseum's director suggested Gates propose something that demonstrated an alternative. "So I said, I believe not only did black music migrate from the south to the north, it went from the south into the world, and I'm convinced that if you pick a city, I could find a musician who has been deeply influenced by black music—soul, gospel, funk, R&B—and that I could create an ensemble and find Mississippi wherever the fuck I go."

As an ensemble, The Black Monks synthesized early black American music—slave spirituals and work songs that evolved from diasporic West African and East African rituals—with more modern expressions, like jazz and funk, seasoned with a soupçon of Eastern monastic practices. "It became a practice of making this somewhat devotional thing, except the power was in the music, not in a religious intent, even though we were sometimes using religious music," Gates said. "There was no conversion moment at the end." The goal, instead, was meditative. "In order to try to get to this music, it requires a little bit of surrender. If you play jazz, and you play soul and you are R&B, are we willing to surrender those wills to each other to make a new music? We're not going to demonstrate how virtuosic we might be, we're going to demonstrate how in unison we might be, or how experimental, experimental like children."

The project's name suggests a level of asceticism, which may or may not be forefronted. "What if we never made music, but just practiced getting ready to make music?" Gates posed, very zenly. Previous performances, in New York and Porto and Miami, have leaned heavier on Buddhist Pali and Benedictine monastic chanting, but the tenor in Garfield Park, where the Black Monks convened as part of the Red Bull Music Festival taking place throughout the city, was more straightforward, closer to what Gates described as a refraction through a lens of black musical history: "There are black Buddhists that are coming out of Baptist traditions, Pentecostal traditions, then they get turned on to Buddhism, and the way that they understand the Buddha is a little bit different, and the way that they chant got some extra stank in it.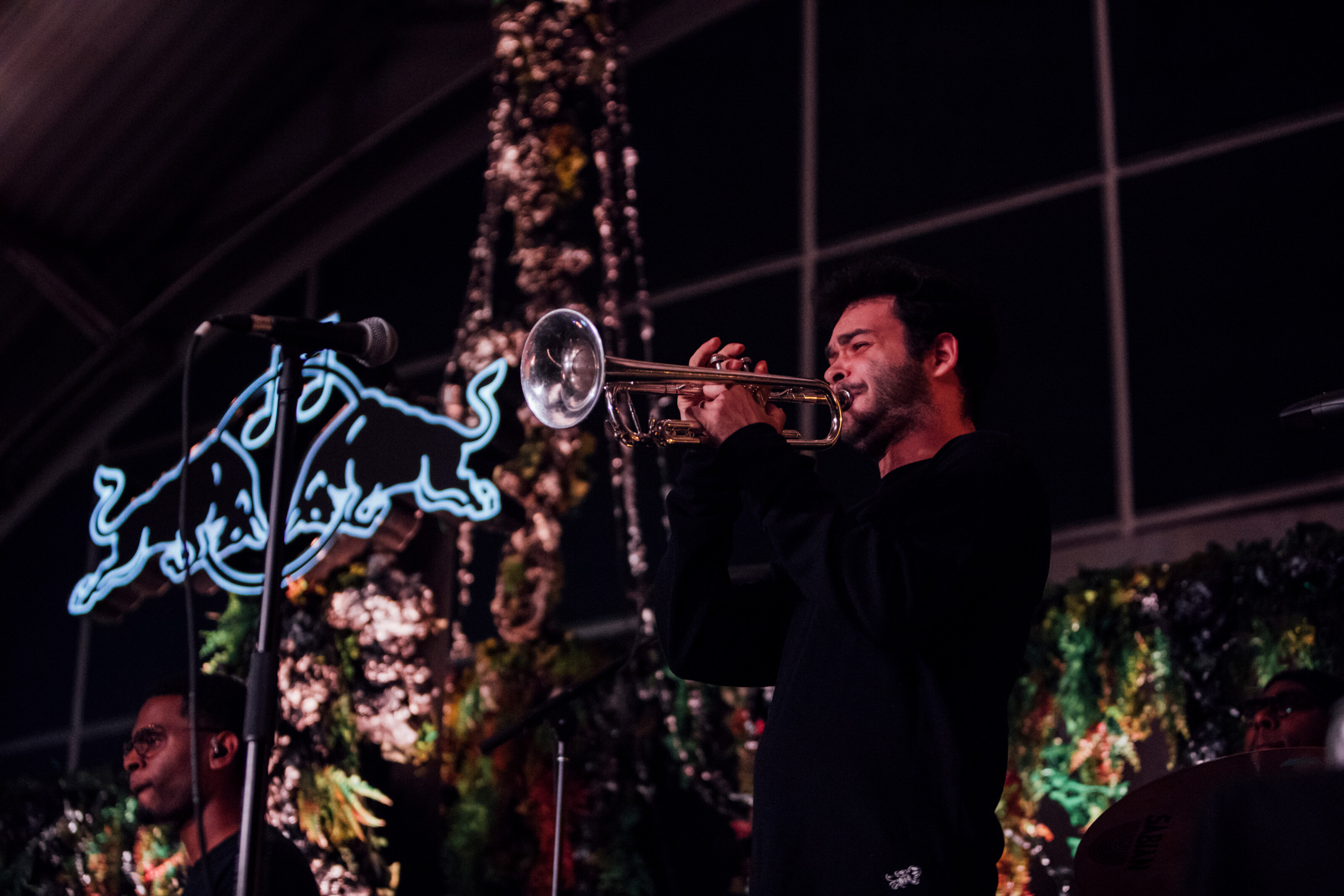 So lush curls of jazz bumped into knots of spoken word, which then veered into raga. Pockets of dulcet neo-soul, courtesy of Kiara Lanier, folded into a hip hop thrust. The lead vocalist, Yaw Agyeman, posed zen koans, phrases like "if color ceased to be," which he turned around in his mouth over and over again until it became an incantation. These were less songs than slowly blooming movements, with vocalists coming onto and leaving the stage, the Chicago rapper ADaD slinking onto the stepped platform to punch out a few verses before disappearing again. The mood was oracular—Sun Ra came to mind, as did Alice Coltrane. Reverb knocked around and eroded into cacophony before leveling out, expanding and ebbing this way for an hour, brushing up against the ecstatic. This being the seat of Frankie Knuckles, looped samples and repeated refrains conjured Chicago House, but also Judaic cantorial singing, Agyeman beating his breast. "I'm tired, I'm tired," he sang. "Amen.
Gates, who has a serviceable singing voice, kept his stage time to a minimum. In introducing his collaborators he explained that "we wanted to think about how music and sound not only makes you want to juke, but it makes you want to be reflective. How it makes you want to be quiet, how it makes you want to be a better person, and if we could take these vibrations and this energy and direct that energy we have the potential to disrupt some of the crazy shit that's happening in our country."
Lorraine O'Grady thought that "sometimes you have to tell your own stories, not just to understand yourself, but to understand the world." The strains of Gates' work—the visual art, the music, the social practice and urban redevelopment projects he shepherds on the city's South Side, tell a story that is at once granular and expansive, one which locates itself within physical and psychic ideas of black spaces and how those have been pocked with moments of trauma, but also grace. "There are some things that I want to say that I can't say through object making," he said backstage. "Or the best form isn't necessarily an object. Sometimes I just want to have a more direct encounter with my body, and I want to sing until I'm just exhausted. I used to think I was a visual artist. Now I think, 'What's the best form to deliver the thing I want to say?' And that's a lot of freedom."