Photograph by Pascal Le Segretain for Getty Images.
What's Fashion Without Streetwear? An Italian Countess Who Trusts Nothing But Family
Couture Week shows us what fashion is thinking about when it's not thinking about streetwear.
Photograph by Pascal Le Segretain for Getty Images.
For a certain rung of the world, sneakers and t-shirts might be covetable, but they aren't the rarest thing within reach. The ultimate grail might be an emerald green sequin Valentino cape, a rose-print silk-chiffon gown trimmed outrageously with white ostrich feathers dipped in rose pink and leaf green, or the iconic Chanel skirt suit in "painted organza imprisoning a sheet of embroidered aluminum," per the collection notes. That is just a sampling of the items that appeared on the runways for Paris Couture's Fall 2018 season, which wrapped this week. It's a fascinating barometer of fashion, taste, the economy, and the luxury industry's values—and it's also worth watching because it poses an aesthetic riddle: what does fashion look like without streetwear?

"With ready-to-wear, your vision of beauty relates to the times you are living in," Valentino designer Pierpaolo Piccioli told Vogue.com. "Couture involves a deeper and more intimate perspective, to go further into your own vision of beauty." Enter the Opulent Italian Countess. While couture is a French business—a French invention, in fact—and couture clients, of course, come primarily from Asia and the Middle East, the reigning aesthetic this season was a beautifully grand in emotion and proportion, like the best kind of opera, which is of course Italian: capes, gowns with endless trains of monumental volume, and electric, rather than subdued, hues. (It is also worth nothing that three of the season's most interesting shows—Valentino, Fendi, and Armani—came from Italian designers, though Fendi has Karl Lagerfeld working with Silvia Venturini Fendi.) Elegance may be refusal, but restraint can also be a form of opulence—a form of peacocking. Then, there is just peacocking, and this season, glorious peacocking was in full fashion, epitomized best, perhaps, by the Valentino girl in her expansive opera cape, her hair blown out and teased high by hairstylist Guido Palau—that perfect equilibrium of outlandish and pristine.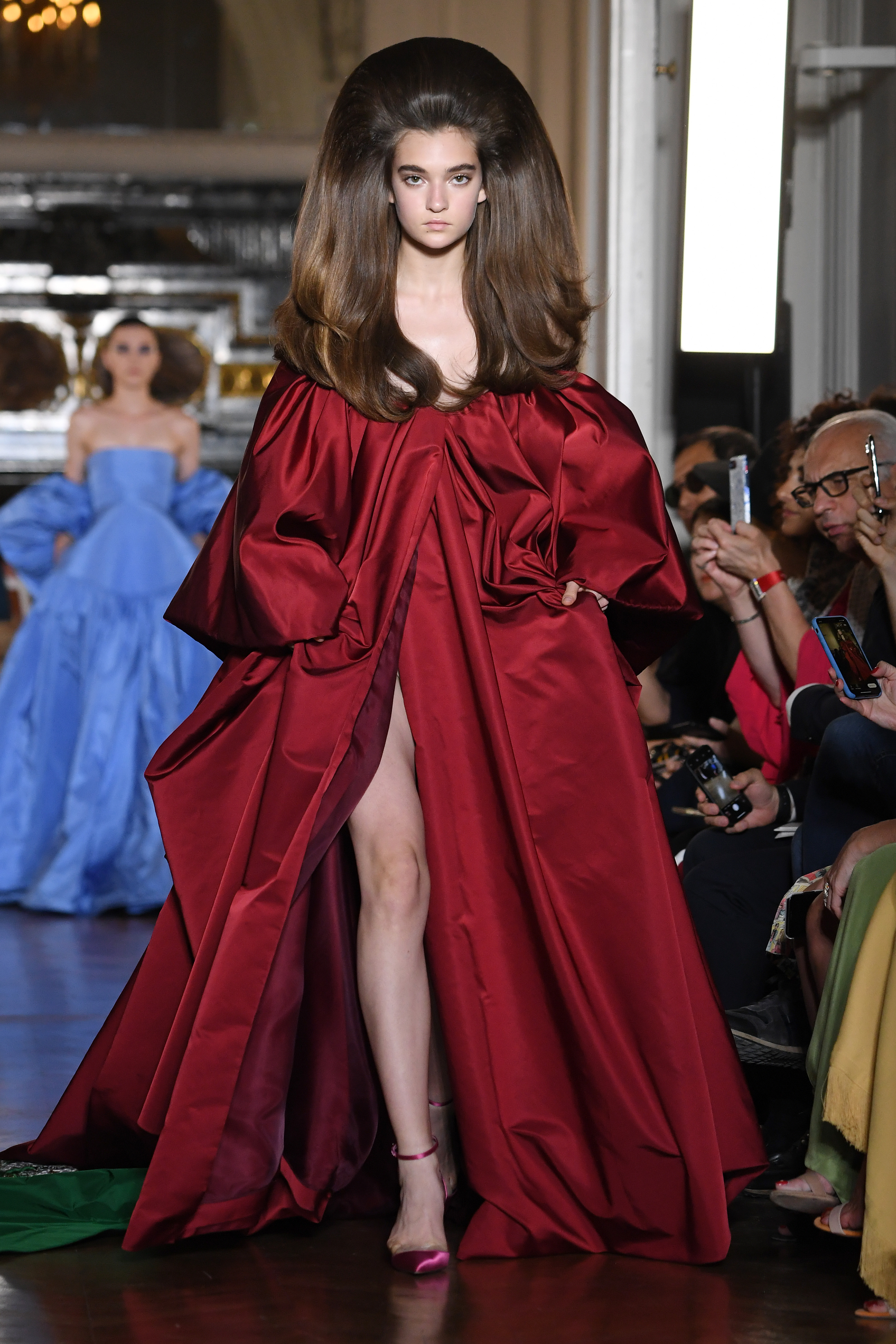 Like her palazzo in Venice, the Opulent Italian Countess's wardrobe possesses a riotous mish-mash of references. But unlike streetwear, which is a complex system of references that wearers are (at least ideally) meant to understand or unravel, couture is always greater than the sum of its parts. Does it really matter if the Fendi Couture customer sees the influence of Czech artist František Kupka in the skirt crafted from geometric swoops of chiffon and mink, or whether the woman placing her order at Valentino sees Ziggy Stardust, and James Joyce's Ulysses, and Maria Callas in Medea in her palm leaf-green drop-waist gown? Probably not (but also: she's probably seen it all, read it all, heard it all. Couture attendees are some of the best-informed seatmates you'll ever get at a fashion show. Like the woman at one show who told me "everyone" has "moved on" from healing crystals—now it's "all about water.")
The Opulent Italian Countess is regal. She is well read. She lets her clothing have a sense of humor—something we do not really see anymore. Clothes have gotten very serious: in the grand battle between the legacy of Coco (that's Chanel) and Elsa (that's Schiaparelli), the straight man clearly won out. But at Couture, that coy sensibility lives on: there were flamingo-pink feathers at Fendi, at Armani, and at Valentino—not to mention a Schiaparelli coat printed with flamingos with a Stephen Jones-designed flamingo mask to match. At Armani—Armani, cracking a joke!—there was a black velvet cape printed with a tromp l'œil of crossed arms in rhinestones. ("Is that so?" you could hear her saying to her husband, as he insists on some boneheaded thing.) Confidence comes in great expanses of fabric, and even giant hats. And you can't take yourself too seriously while wearing a giant hat.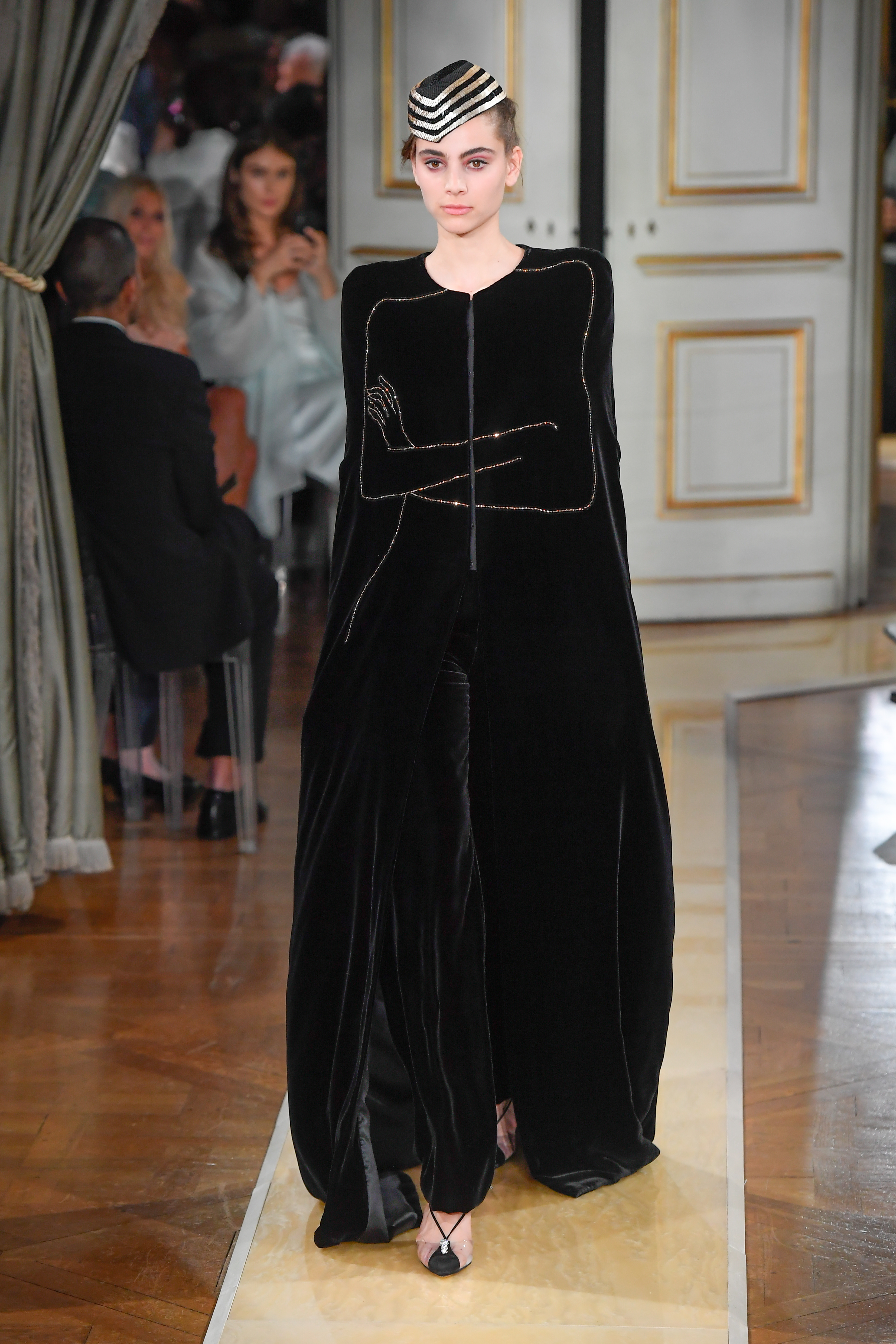 Perhaps it's a reflection of the stability felt among the world's one percent, but there is an avid interest in building a legacy. The collectability of the items—the promise of passing it down to a child or donating it to an archive—is mentioned constantly. When I visited Schiaparelli the day after the show, the woman showing me the collection told me she is always surprised by the durability of the materials. I put my hand up the sleeve of a delicate looking meshy top dyed all the colors of an exotic sunset, which was paired with an ostrich-feather skirt. I spread my hand, and the sleeve stretched like glue—like the world's finest, most breathtaking, pristine, beautiful glue—and then sprung back into shape. Resilience, darlings!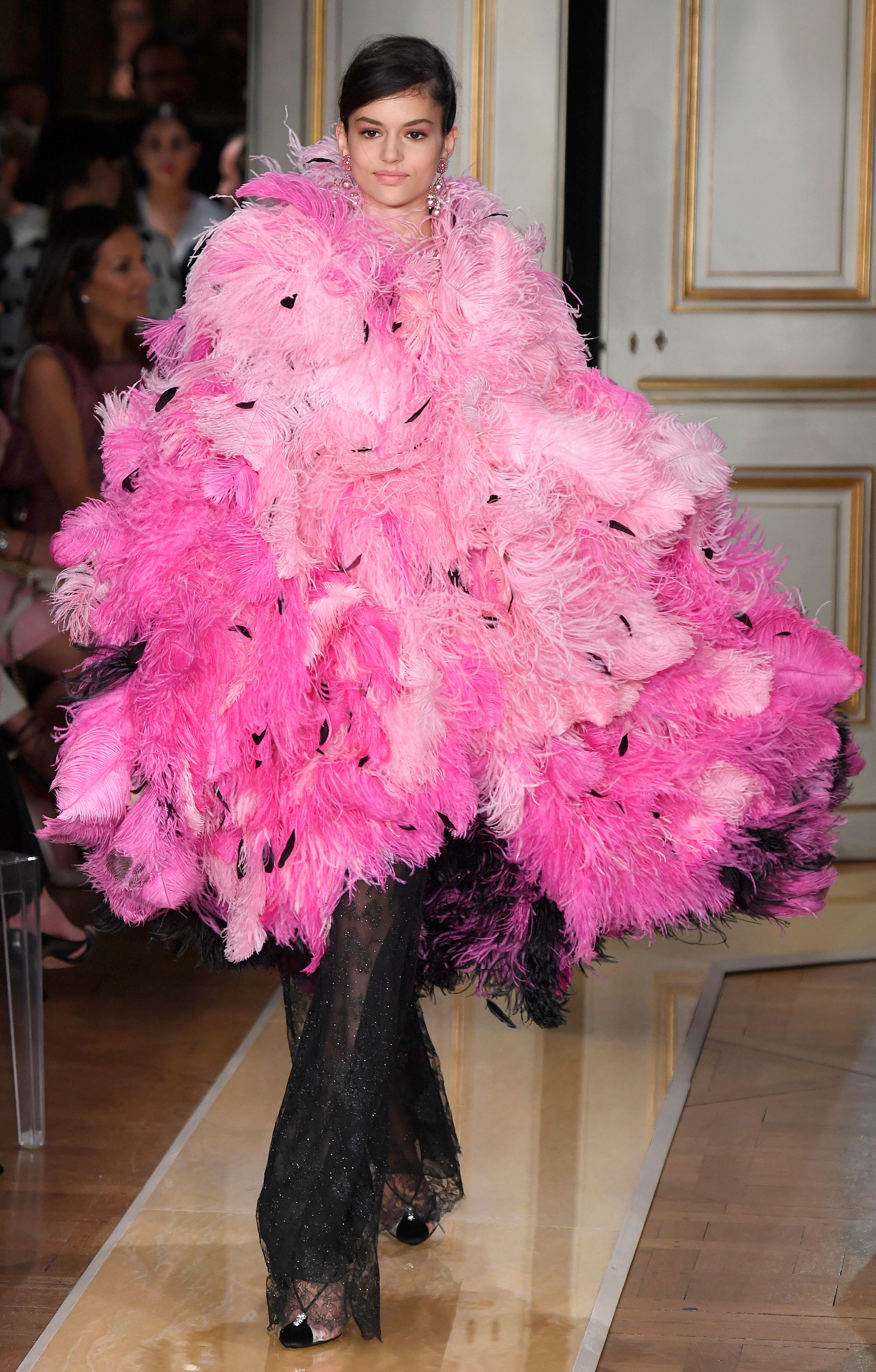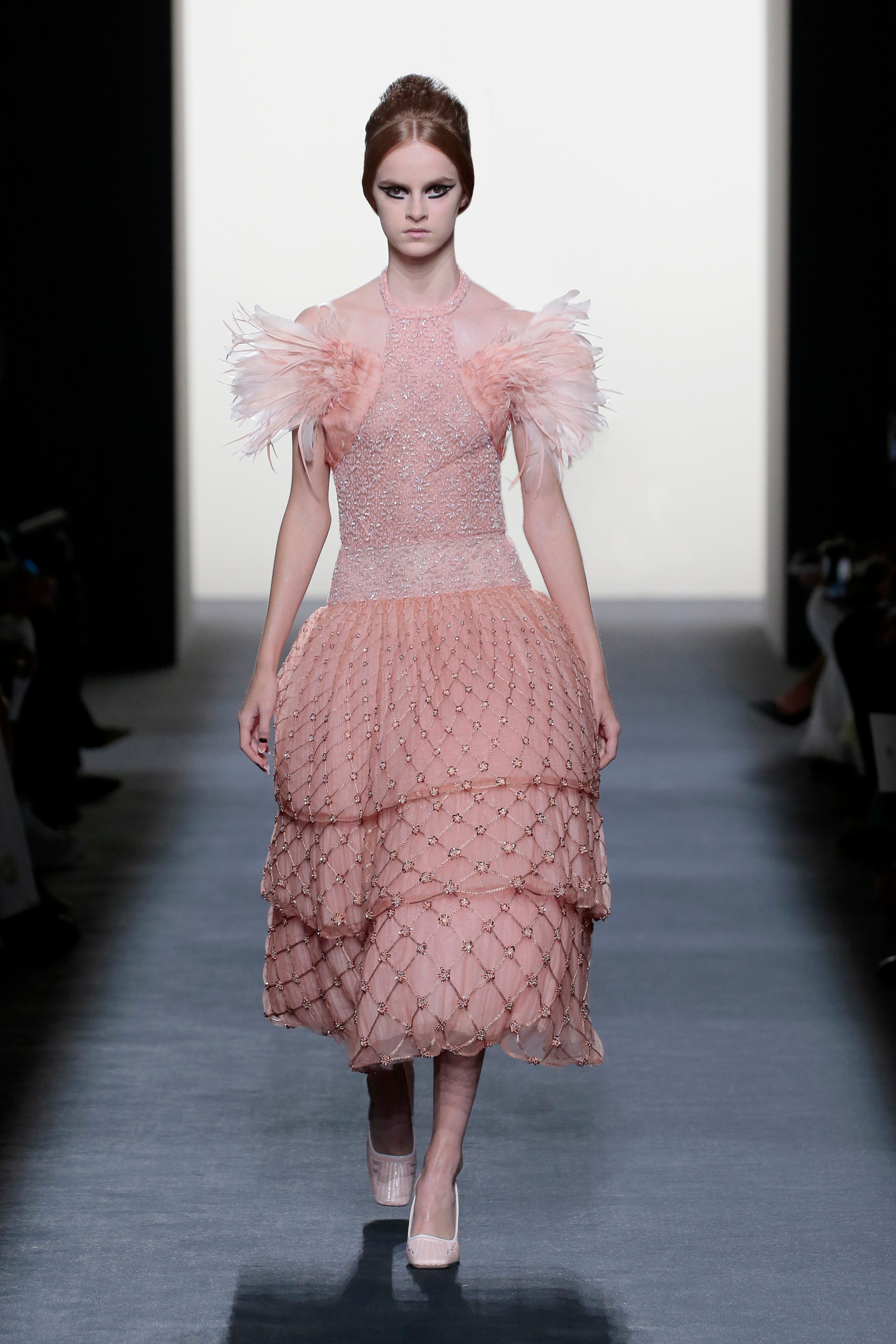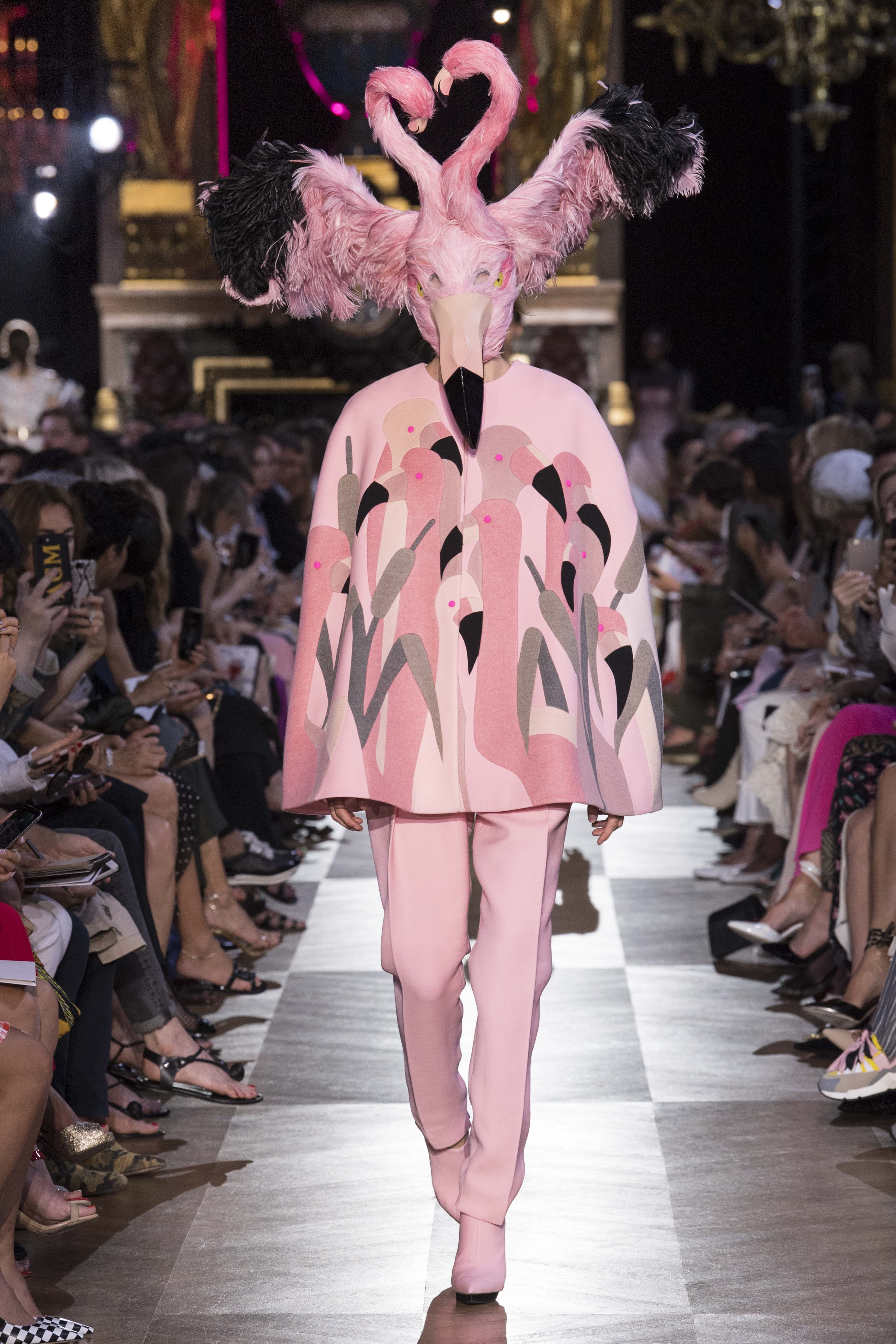 High Jewelry Week overlaps, conveniently, with the couture shows. At a press event for Louis Vuitton jewelry, the main even was a giant aquamarine stone on a chain of diamonds, kite-shaped ones alternating with circles. The design of the chain, it was explained, was like an infinity symbol—the concept being that you pass it on to your daughter, and she to her daughter, and so on. It goes on forever. To invest in couture and its universe is to invest in your eternal life. The fountain of youth is in the center of a one-of-a-kind aquamarine precious stone.
I thought about all this as I was reading about the John F. Kennedy Library's publication, earlier this week, of Jacqueline Kennedy's packing list for that horrible trip to Dallas in 1963. "Pink and navy Chanel suit," it noted. As the Times detailed the untangling of whether the library could even show the list—it stated first that the notes could not be shared because Caroline Kennedy had not given permission, then said this was a mistake and that the notes would be released "ASAP"—it also mentioned that the suit is owned by the National Archives and Records Administration in Washington, D.C., and cannot be viewed publicly until 2103. This was a provision made by Caroline Kennedy when she donated it in 2003. I thought it interesting that following a tragedy at the scale of John F. Kennedy's assassination, archivists believed that the United States would still be around in 2103. As the fate of the United States seems frighteningly fragile at the moment, that made me feel a little hopeful.
Or perhaps it was thought that, by then, the country might collapse, but the Kennedy family wouldn't. They would be there to ensure the clothing's legacy remained intact. That's one thing these devotees of couture fashion know: the only institution you can trust is family.