Smaller Brands Steal the Show at New York Fashion Week: Men's
"When it comes to fashion I think people are really rough on New York right now, and super quick to peace out," says Linder's Kirk Millar.
Like the progressively tinier dolls of a matryoshka, every successive season of men's shows in New York becomes more precious. What was but a few seasons ago heralded as New York Fashion Week: Men's, complete with Amazon money and a vague clutch of CFDA-appointed "celebrity ambassadors," is now quite literally a footnote, folded into three days of pre-spring appointments and denoted by a blot on a very abbreviated calendar. Perhaps most of the CFDA's energies were occupied by its award show, held Monday night at the Brooklyn Museum, a circumspect affair designed to keep morale high and appearances up. What does it say that the marquee awardees included fictional characters (hi, Barbie), and designers like Rick Owens, who hasn't lived or shown in this country in 20 years?
Earlier on that Monday, the men's shows opened in an industrial loft across the street from Hudson Yards, so close to the yawning maw of corporate luxury yet psychically so far. It was a bit on the nose, but also a welcome return to a period of fashion in New York that was less drowned out by sponsorship and more concerned with ideas.
There were certainly some of those; watercolor-printed gossamer house coats from Ka Wa Key acid-eaten to the point of impressionism, ideal for a day of obsessively painting water lilies; breezy warm-up suits from Todd Hessert made from recycled fabrics and sneakers with light-up side panels that were a slick update to the L.A. Gear versions of the 90s. There were handsomely roomy pinstripe trousers by David Hart, but the best pieces there were, appropriately, those that wrapped camp shirts and car coats in Weegee photographs, flashbulb-lit street shots from a grittier, long-gone version of New York.
One of the benefits of the CFDA's indifference is that it forces small brands to be creative. This suits LOROD just fine. Lauren Rodriguez's pre-spring show of men's and womenswear took the shape of a sunny lawn party in New York Marble Cemetery, a pastoral slip of green bound in by stone walls and the Bowery, which appears through an alley as if by mirage. Rodriguez designs thoughtfully and with a hand in her Southern California roots, which comes through in details of fit and color, like the dropped shoulders on a pleasingly slouchy sweater, or a camp shirt whose crinkled texture looked like cracked earth, or a chore coat and matching pant the color of sun-baked clay.
Daisuke Obana's N.Hoolywood is one of the more reliable shows, mostly for Obana's feel for proportions, and the absolutely insane things he does to tired shapes, like the men's suit. Obana has reworked the standard grey suit before, and it's a fruit he hasn't finished juicing yet. Here Obana spliced two ends of the British spectrum, Savile Row and punk, so that red tartan spilled from suit sleeves, as if Johnny Rotten took a C-suite job, or Hardy Amies was dropped in a Vitamix and set to "liquefy." And if you're going to do punk, you need to call the Johnny Rotten of Japan, Jun Takahashi, who lent Obana an archive black and red tartan Undercover fabric, which Obana cast into ankle-length pleated skirts and a military-style trench. Obana could show anywhere, but he continues to chose New York, he said backstage, because it affords him the most creative freedom. "Continuity is a power."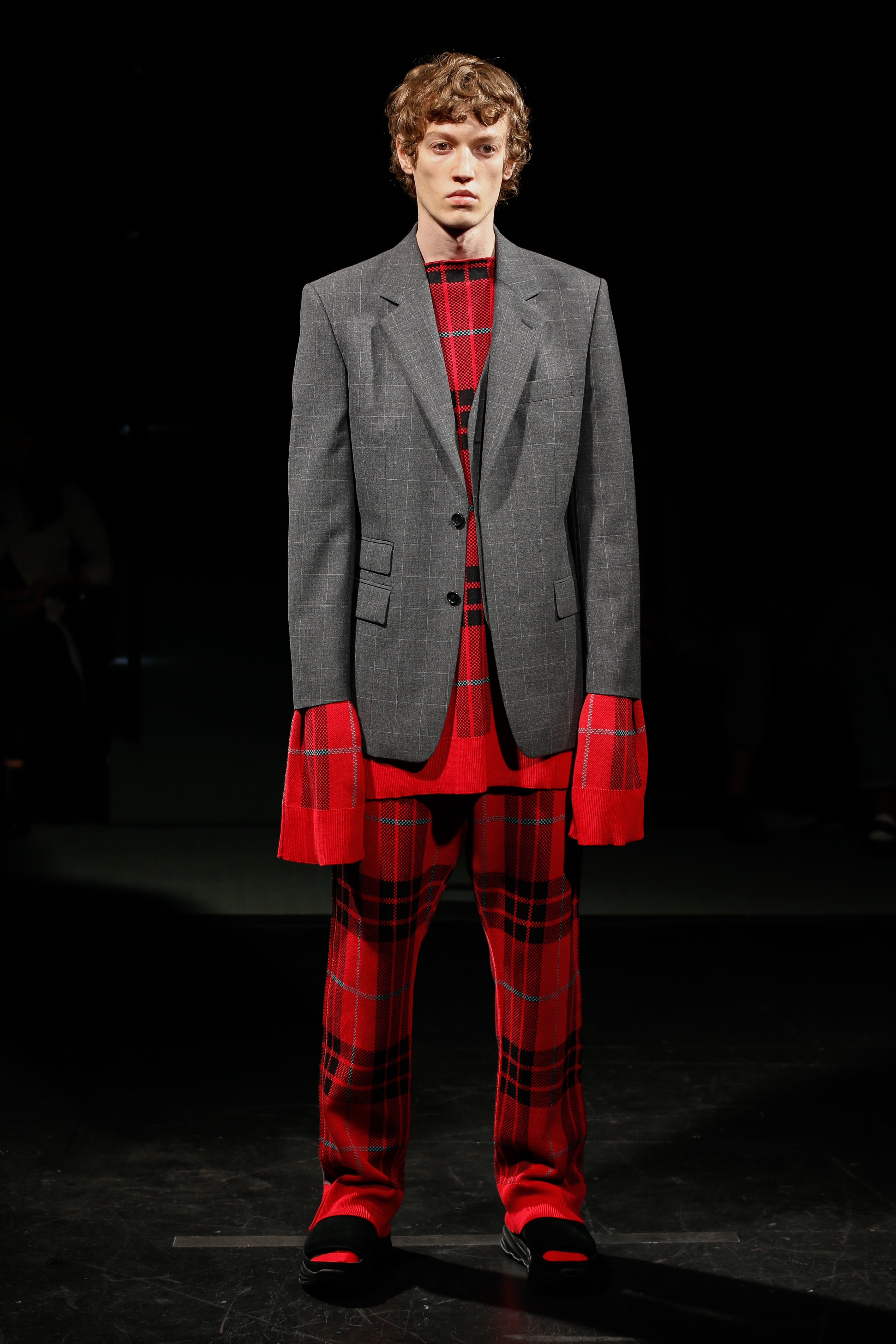 Four days after Walt Whitman's 200th birthday, Frère, Davidson Petit-Frère's new venture, crossed Brooklyn Ferry up to the roof at the 1 Hotel Brooklyn Bridge, an egregiously over-designed hotel on the Brooklyn waterfront with obscene views they should charge you extra for (and they do: it's a $20 cover). What would Whitman have made of the nipped periwinkle suiting and buttery suede bombers, clothes for the man who has definitely priced out a helicopter to Amagansett? He probably would have loved it. Whitman was an inveterate clotheshorse who was partial to cravats and was occasionally mocked in Harper's for his vanity. In any case, the show was hit, based on the number of guests loudly spelling the name of the brand to each other and stabbing it into their Instagram captions.
There was a moment in this city when the apex of nightlife included Freemans, a clubby restaurant whose taxidermy collection overflows from the end of a Lower East Side alley and once figured as the site of John Varvatos' birthday dinner in "How to Make it in America," an HBO show about starting a menswear brand in New York. We're all getting older, HBO never made another good thing, and the city has mostly moved on, but Freemans has remained durable: the brand includes clubby barbershops, and, yes, a line of menswear sold out of a clubby storefront. The clothes there are serviceable classics, made-to-measure suiting in smart, unflashy fabrics paired with ikat shirts and bucket hats, a la "Fear and Loathing," and flight jackets inspired by a road trip out west that may or may not have included psilocybin.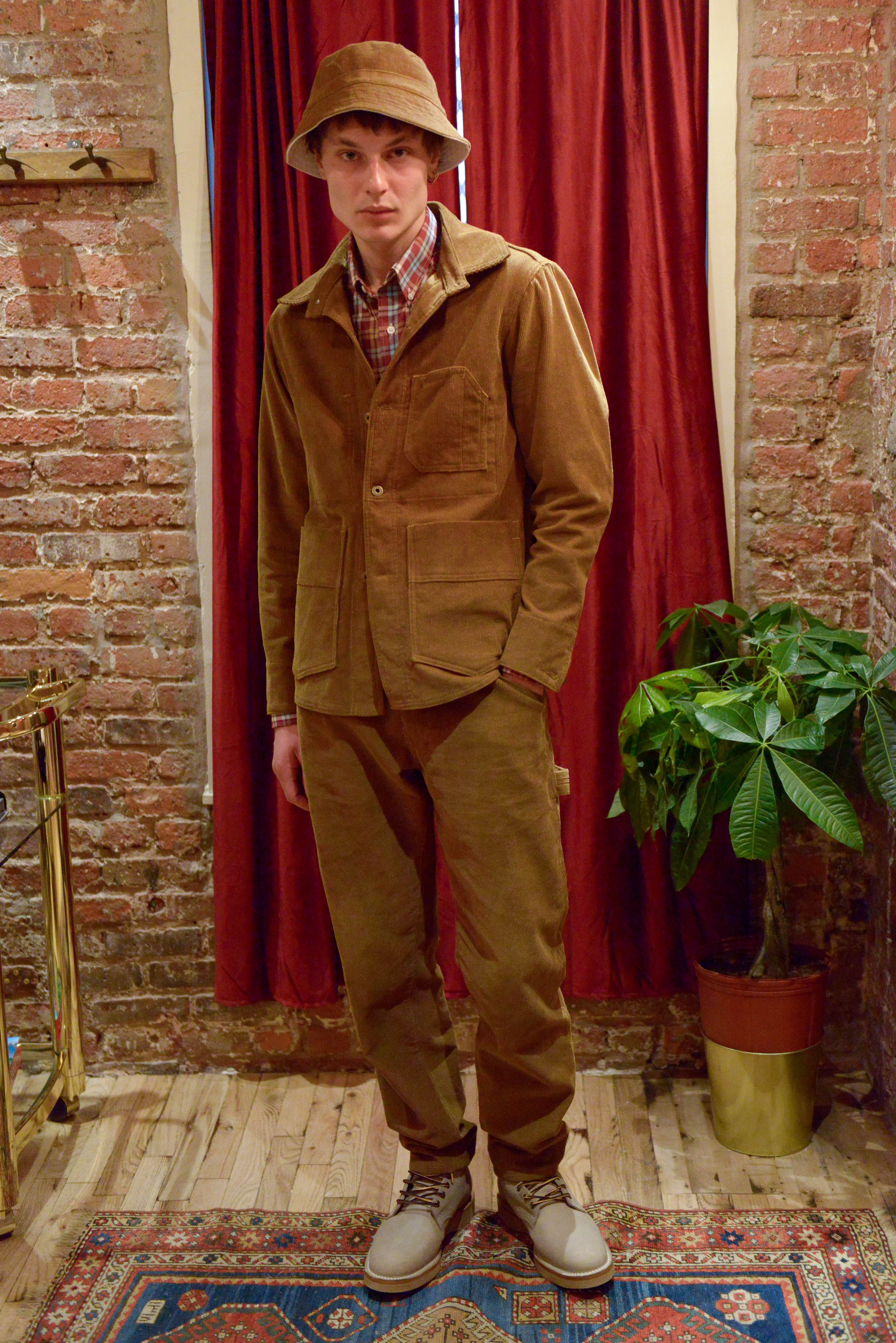 As is its wont, Linder showed a heady conceptual collection inspired by Tina Barney photos, staging a tableau of domesticity in its Gramercy townhouse HQ: delicate looking young men of privilege lounging on a shag pile carpet in the parlor room playing video games, or sat on the edge of a bed contemplating a withholding father. Kirk Millar took as his muse the scions of Manhattan's moneyed precincts, the young princes who stalk the halls of Dalton on their way to Yale before returning to New York to terrorize the gallery system, probably. So there were ample prep motifs, like school crests and allusions to equestrianism, but wryly skewed, so the crests read "Trophy Husband," and a silk scarf was a blown up aftercare label. This was something, by design, you probably couldn't have shown in Paris. "When it comes to fashion I think people are really rough on New York right now, and super quick to peace out," Millar said. "It's like, well yeah, Fashion Week is going to be tough to pull off once everyone has left. For me, this is the place I spend every day, this is my home, I care about this city. New York is a tough place in a lot of ways, but you get these pockets of beauty."