Was Garry Winogrand the First Street Style Photographer?
A new Brooklyn Museum retrospective finally puts his work in the spotlight.
Garry Winogrand pounded the pavement long before Bill Cunningham was graced the godfather of street photography. While Cunningham has been the subject of documentaries and retrospectives, Winogrand was hugely overlooked—until now.
Which may be why he's the subject of a retrospective at the Brooklyn Museum. Garry Winogrand: Color, which runs until December 8, features over 450 photos of his photos from the 1950s and 1960s.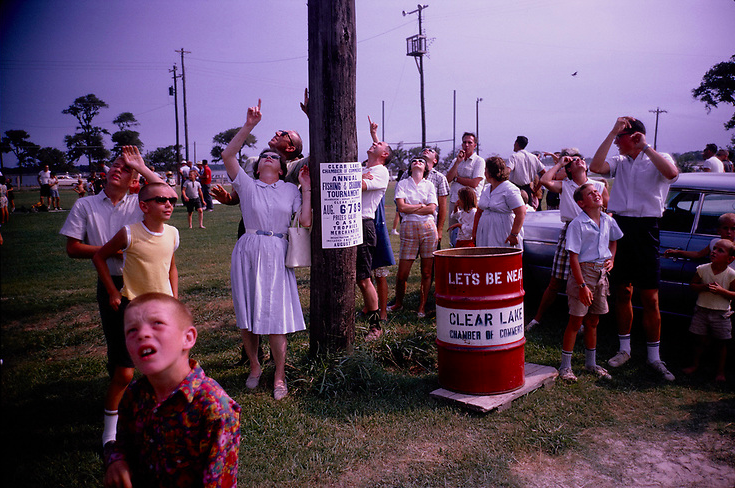 It's the first large-scale exhibit dedicated to the color photographs of the Bronx-born photographer, which are meant to shed "a new light on the career of this pivotal artist, as well as the development of color photography before 1970."
On 16 different projectors, hundreds of photos click through a series of projectors. Most of the color photos capture peak summer fun—from couples on Coney Island to chic crosswalks in midtown—reviving the magic of classic New York moments long before the city was ravaged by turbocapitalism.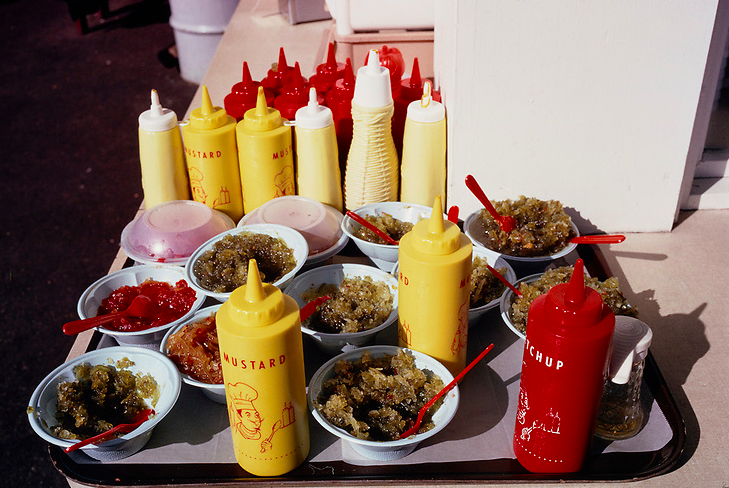 But walk into the fourth-floor exhibition (way before 5:40 p.m., when the galleries close, even though their Google listing says the museum closes at 6 p.m., which is a total lie) to see a misleading wall text about Winogrand. It says he's "one of the most influential photographers of the twentieth century, celebrated for his black-and-white images that pioneered a 'snapshot aesthetic' in contemporary art."
Winogrand is probably rolling over in his grave for that. There may be a reason, however, as he hated labels as a photographer.
"I think it's so stupid, I can't believe it, a 'street photographer,'" he scoffed in a television interview from 1981. "The 'snapshot aesthetic' is another stupidity. A lot of people don't even know the meaning of the term. The whole list of titles, I'm a still photographer."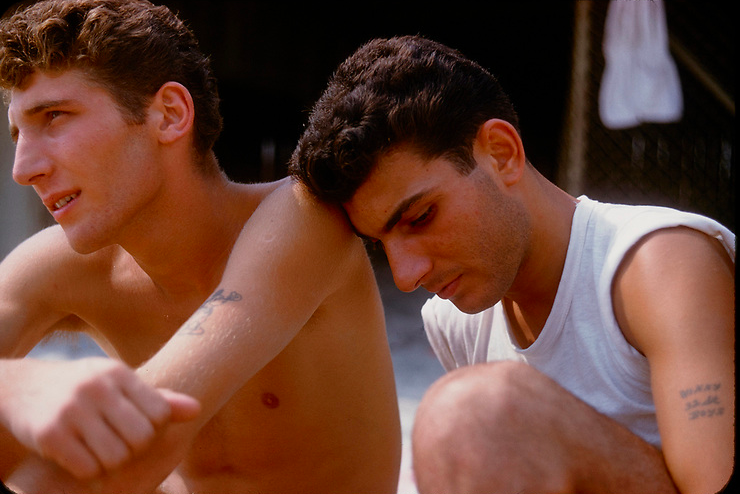 Granted, being an anti-street photographer, he still pioneered something. Though, this style of photography truly saw its rise in the 1970s with Cunningham snapping away with his Nikon for The New York Times. Street style photography found its new frontier in the mid-2000s with the rise of fashion blogs like The Sartorialist and photographers like Philip Oh and Yvan Rodic.
But it's strange because we live in a time when the tables have turned on street photography. The fashion-conscious elite hit the streets, what Suzy Menkes called "poseurs and peacocks" who, with their "so-called street style, have lost their individuality."
Street photography has lost its spirit. It has become so self-conscious that it has lost all spontaneity—blame it on tagging the brands you wear on Instagram, the searchable snaps on photo agency websites or on FaceTune. There is an entire glam squad and stylists behind even the most casual looking—or casual appearing—photo you might spot online today. It almost mimics what street photography used to be.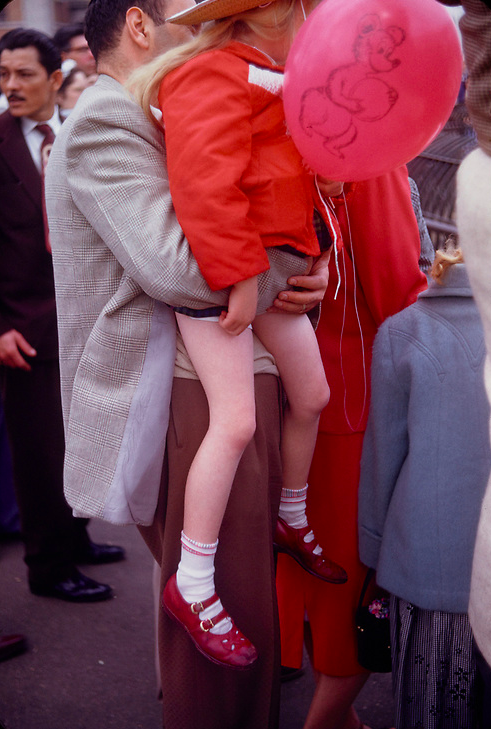 Whatever happened to spontaneous street style moments? Winogrand captured stylish women in pearls, men in suits, and remains uncredited as a trailblazing street style photographer—even by accident.
Among the images here, spot a black woman in a flower dress from 1960, set before a stunning blue backdrop. Winogrand captured men lounging by the beach on Coney Island in the 1950s, he shot children with balloons, girls with cat eye sunglasses, sailors in matching uniforms and women with chunky necklaces, wool coats and leather handbags. Men are spotted wearing fedoras, red ties and duffle coats, staring aimlessly into a sea of people. There was something real about it.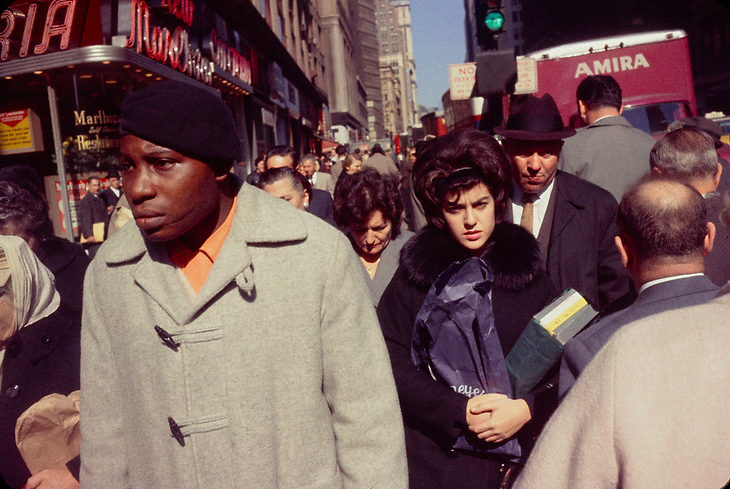 And yet, Winogrand was sneaky. He photographed people on the streets without their knowledge. He would hold his camera on a slant, and with a flick of the wrist, he would take photos as he plowed through crosswalks during rush-hour, walked through parks, beaches and parking lots. He didn't' always know what he was photographing, as he was taking random snapshots without looking through the viewfinder. This is was he called "the vertical edge."
He was creative, but also a practical realist—he never meant to show anything more than what he really saw. "Making the photo more theatrical than the actual event is a helluva problem," he once said. "It's a way to illustrate the place, an interesting problem. I learned a long time ago to trust my instincts."
He would cross street corners to intentionally shoot people who weren't posing. "I keep trying to make it uncertain," said Winogrand.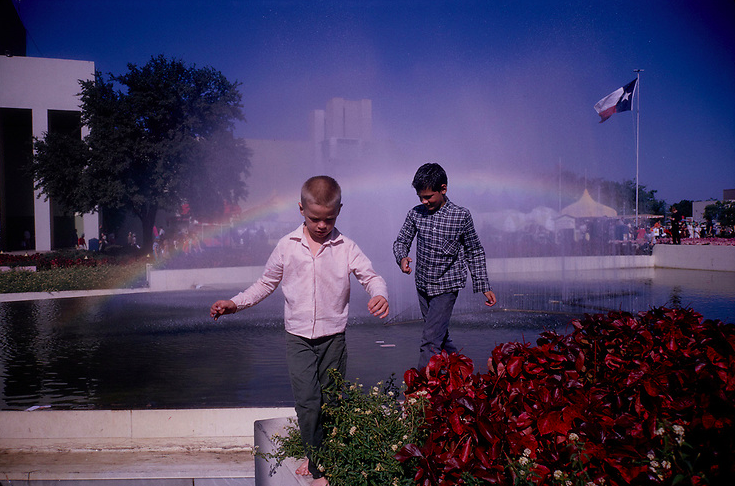 His photos are peak Kodachrome, the Kodak film that professional and nonprofessional photographers used alike, long before it was discontinued in 2009—you know, the real aesthetic of the grainy photo app that makes Instagram photos look like they're from 1998? Yeah, that original film. The real deal.
But why was Winogrand so overlooked as a street, or street style, photographer? Some don't think he has been. "I don't think he's been overlooked, his mode of photography has perhaps gone out of fashion over the years, as trends in contemporary practices have shifted," said Drew Sawyer, co-curator of the exhibit.
"I think this is partially due to a very restricted interpretation of Winogrand's art, which has spawned an entire genre of street photography. However, which I've always seen his work as more aligned with pop artists of the 1960s like Andy Warhol."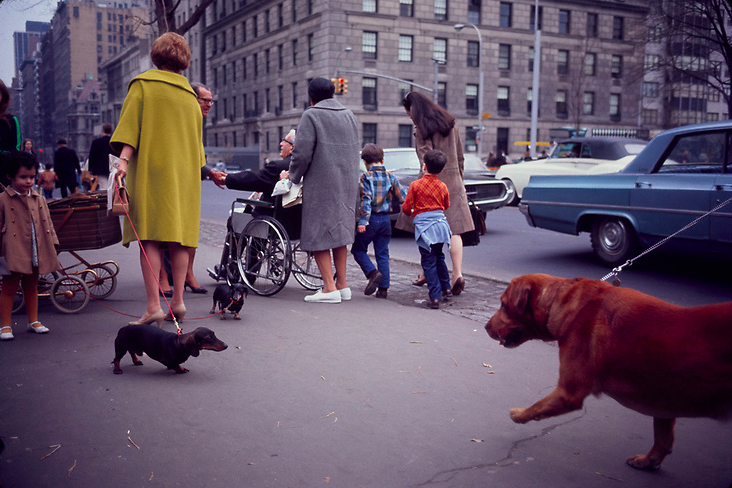 Sawyer continues: "Like many artists of his generation, Winogrand grew upon the amateur snapshot. While many of his photographs appear to be casually or even thoughtlessly produced—just point and shoot—he had a very cultivated, intentional aesthetic. This includes his seemingly banal subject matter and resistance to narrative or meaning."
Winogrand saw himself as a photographer, not an artist. He once said he saw himself more of a mechanic than a photographer: "The world isn't tidy; it's a mess, I don't try to make it neat," he said. "When I'm photographing, I see life."