Virgil Abloh and Chicago mentees. Courtesy of Nike.
Virgil Abloh Teams Up With Nike Lab Chicago to Launch Re-Creation Center
This is the community center Abloh says he wishes he had had growing up.
Virgil Abloh and Chicago mentees. Courtesy of Nike.
"This is Michigan Avenue," designer Virgil Abloh tells a handful of young minds sitting backs straight, ears perked, at Nike Lab Chicago on Thursday. "On one hand it's just a street with a bunch of cool stores, but on the other hand, for kids like us that grew up here, this was our gateway to the world. You could go from a store like Louis Vuitton to Nike to Ralph Lauren or the Apple store and be like, 'Hey I want to participate in that.' So to come back and doing it in a meaningful way by creating a space where kids can come and learn to design through the lens of Nike was more fulfilling than what you can just physically see."
What you can see, though—and there's quite a feast—might best be described as Willy Wonka's chocolate factory... if instead of chocolate there were shoes. There's a conveyor belt snaking throughout the store that recycles worn-out athletic shoes to produce new products as well as stations equipped with materials for youth throughout the community to use to help bring their ideas to life. In many senses, in talking to Abloh, this is an effort to remove the exchange process; to get without the expectation of having to give anything besides ones creative expression. It's also an opportunity for Abloh to create his version of the Boys & Girls Club he went to growing up in Rockford.
"Half this space, quite honestly 80% of the floor plate is not used for retail," Abloh tells GARAGE during a break in the day which would later see him join a panel of other esteemed Chicagoans including Common and Keke Palmer. "It's just this one wall and the rest is the Re-Creation Center for kids or even adults to come in and sketch a shoe, draw. Creating a community center was the motivation."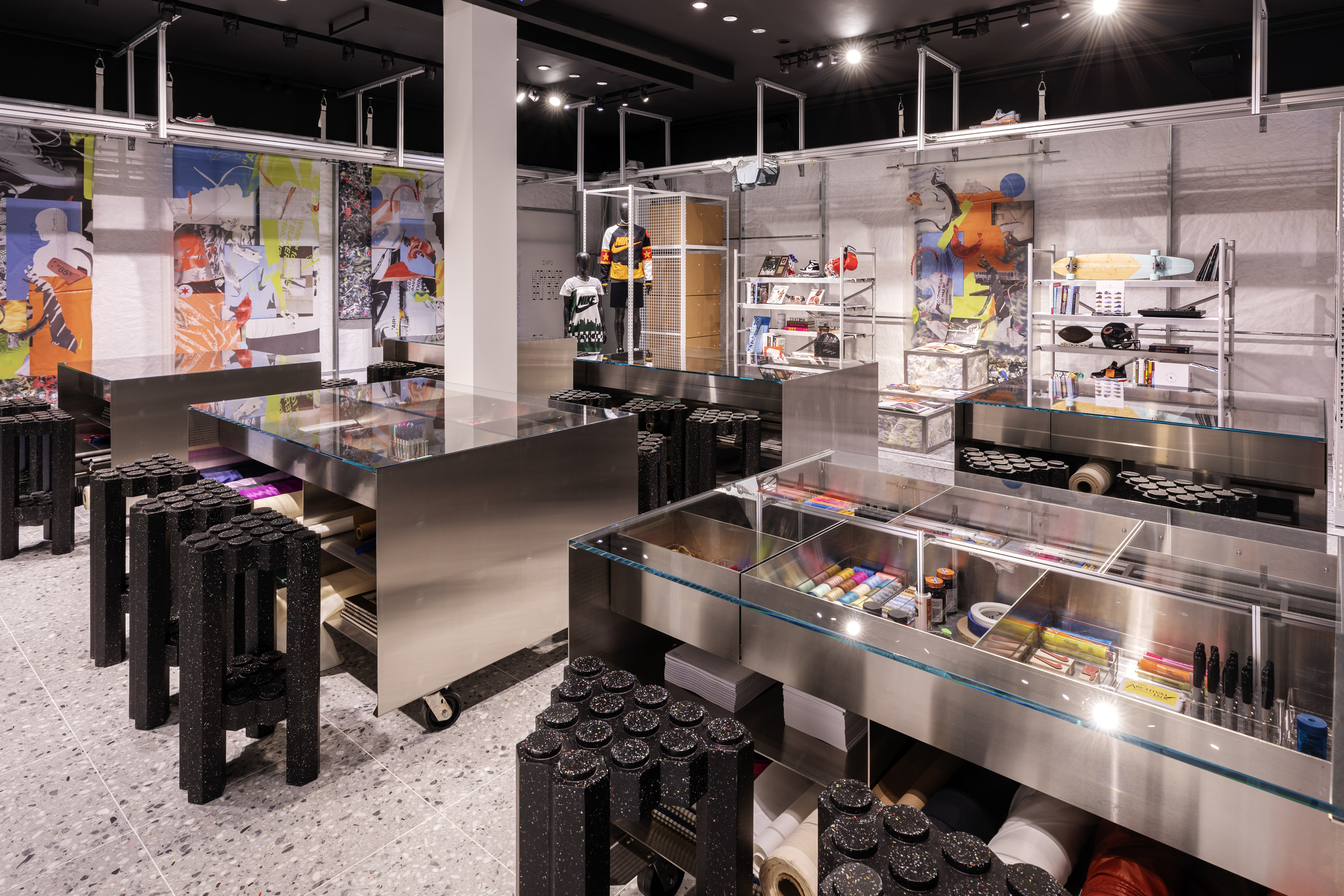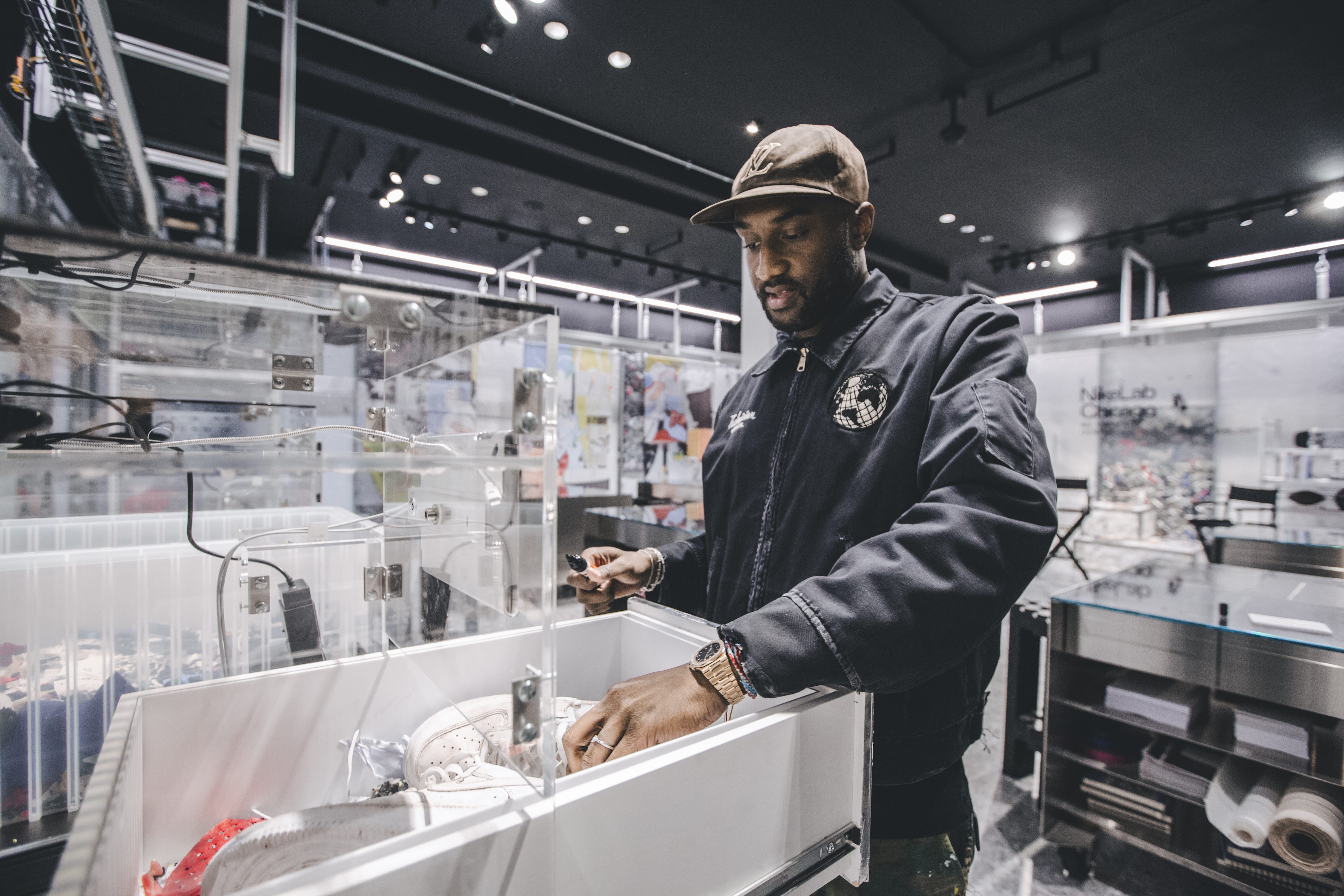 To help actualize the experience are a half dozen of mentors, hand-selected by Abloh. These Chicago-based mentors, each specializing in a discipline including graphic design, visual arts, etc., will mentor a small group of Chicago youth in a program designed to help hone their craft and provide them with access to the most creative minds in the city. Best of all, the center is open to the public now through July 28 when it will close, giving access to any local creatives looking for tools to assist their process.
Perhaps most interesting in Abloh's opening statements was this comment: "I'm not that into shoes. I'm not that info fashion. I'm not that into clothes." A pretty surprising admission from the Artistic Director of Louis Vuitton Men's and the CEO of Off-White. I ask Abloh about this during our sit-down.
"What scares me about a specific industry is that... so if you walk outside there's someone having a crappy day at work that's more concerned about the welfare of their family. But when you're inside here it becomes the salesperson telling you 'hey, this thing is amazing,' almost like selling you on it. And what I mean here is the invisible divide between life and these things that we make. So I make a specific point to not be obsessed, like 'this thing is as important as what is happening outside.' I could get in here and be like, 'Look at the latest greatest model of a shoe,' but I like more about what a shoe represents and I like more about what art represents and how it can transform and transcend over that line more than the objects themselves."
The Nike Lab Chicago Re-Creation Center is open now through July 28.
Tagged: