Photograph courtesy of The Row.
Mary-Kate and Ashley Olsen May Be the Most Radical Designers Working Today
The Row's fall show was also a world-class Noguchi exhibition.
Photograph courtesy of The Row.
This morning, The Row's Mary-Kate and Ashley Olsen presented their Fall 2018 collection at their showroom in the West Village, where the Isamu Noguchi Foundation and Garden Museum had created a special exhibition of the Japanese sculptor's works for the show. In a slim and delicate white booklet, the Museum's Senior Curator, Dakin Hart, wrote of Noguchi's tradition of working with "some of the most brilliant, nonconformist women of the twentieth century," including Martha Graham, Frida Kahlo, Dorothy Miller, and Ginger Rogers. "They all had one thing in common: a disinclination to stay in designated lanes that made them sympathetic to Noguchi's analogous elective status as a permanent voluntary exile form the dominant culture."

The models wove in and out of the sculptor's works, which created a holy cohesion: a sage green wrap coat, with a front sash that tucked into itself, mirrored "Chinese Sleeve #2." A boxy black jacket, pleated with a level of wondrous intricacy that whispered at Cristobal Balenciaga's famed mantle coat, harmonized with "Rain Mountain." As Hart wrote in the show notes, "The environment we have made for them here—a surreal, serene, somewhat apocalyptic landscape—is intended to provide a charged space in which to look, walk, and watch walking." A bell sleeve silk blouse under a black velvet smock; a honeycomb pleat sack dress; the hourglass suit jackets—they were in intimate conversation with the works, neither overpowering the other, or using each other for cheap reference.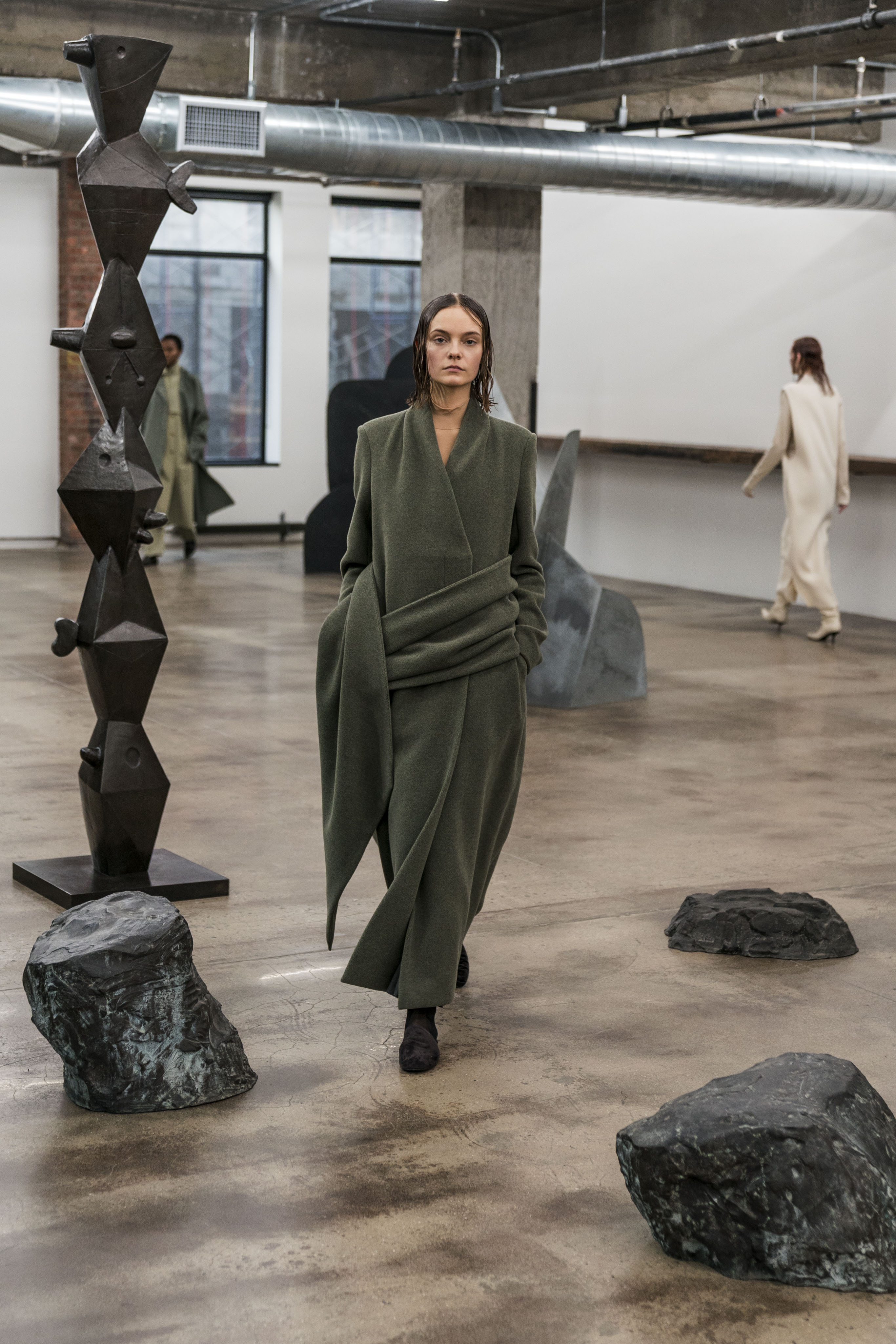 The Olsens are designers of extreme creative integrity, which is demonstrated in both the gentle sobriety of their garments and the self-sufficiency of their universe. They're rebellious, but it's never anarchic: they rarely give interviews, their clothing does not shift greatly from season to season, and their garments do not steer trends or determine shifts in how women dress. They watch their own shows, hovering in the audience, which is a humanizing idiosyncrasy in contrast to the typical designer's mix of shy-wave-and-cosseted ego. (In fact, they wander around before the show starts, warmly greeting their guests, who are mostly clients, and directing them to where they might have the best view.) And yet this elusiveness manifests not as a ritual in the cult of celebrity, but as a part of their artistic virtue.
The Row has a rebellious streak, even if the clothing itself is calm.
As I watched the show, which was small enough to be at wow's length from the quietly exquisite clothing, I wondered: are the Olsens the most radical designers working right now? Many designers seem almost paranoid about making clothing that responds to vague notions of "how women live" (hence, sneakers and sweatshirts that hover near the $1,000 mark), or what people want to "stand for" (hence, printing slogans in place of saying something with silhouettes and fabrics). The Olsens are seemingly not interested in these questions. Instead, they have managed to balance the commercial realities of running a successful fashion brand in New York—clothing that is flattering and easy to wear; covetable accessories—with an investment in dressing a woman of power and depth.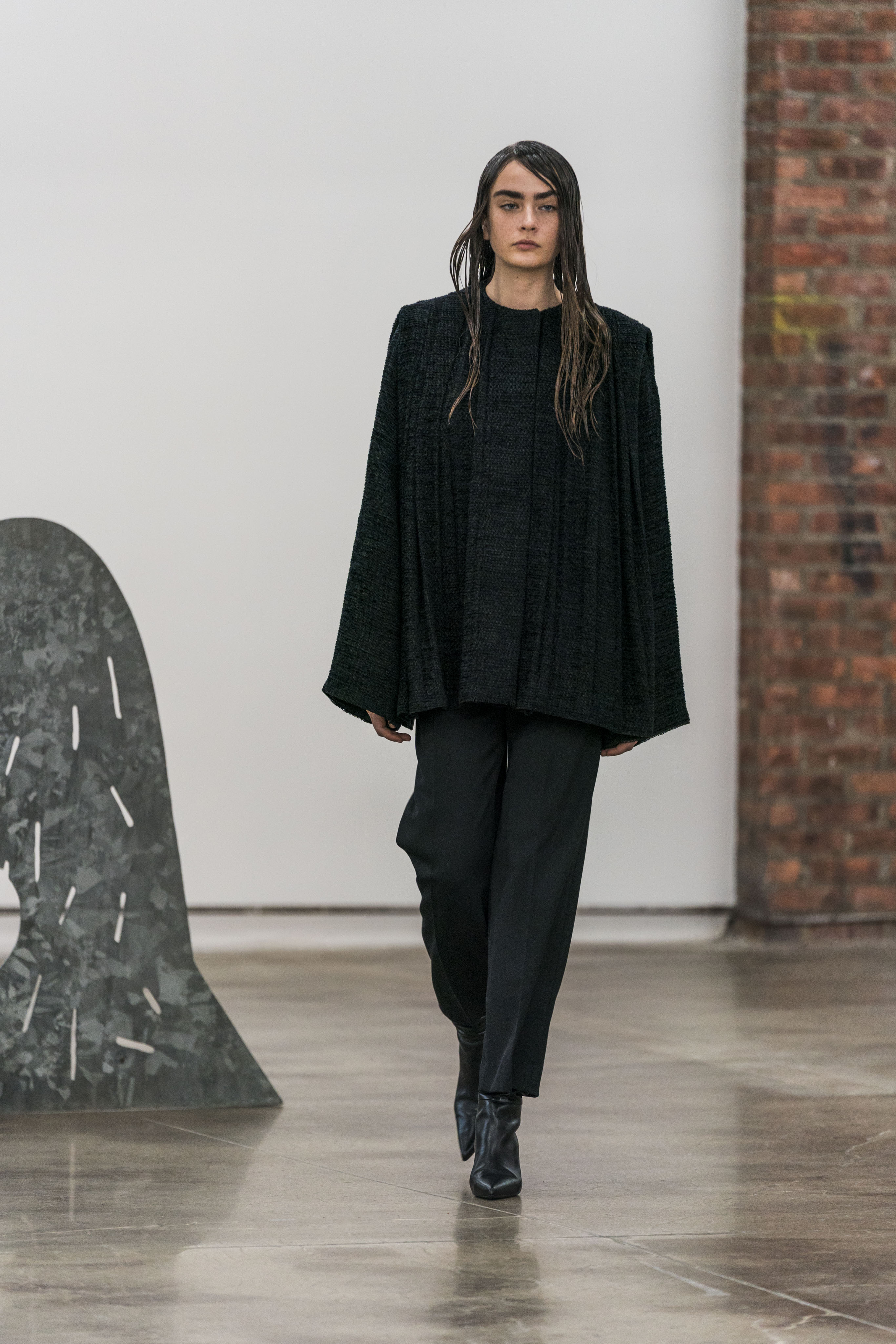 At the moment, to disagree, protest, or be an outsider is a loud and furious act. And yet here are two women, at once innovative and business-savvy, who are insisting on a different path, in a different voice. This is another rebellious streak, even if the clothing itself is calm.
Everything the Olsens do feels vaguely spiritual, from the Noguchi booklets; to the music, which included avant-garde psychedelic rock from Can and Love; to the scent of incense that subtly filled the room. The clothing is monastic but not self-serious. They even gave out black crystals at the end of the show, "a protective stone which repels and blocks negative energies." Noguchi's sculptures also have a spiritual connotation, like religious grails asking for contemplation. But it's not about gaining blind followers, something we often associate with both spirituality and fashion. "The Row's principles' scorn for the balkanization of creativity into narrow silos mirrors Noguchi's own," Hart wrote. Religion, of course, is a form of rebellion, with every sect born from a new iconoclast. The Olsens have their own system of beliefs in fashion, and that, in and of itself, is worth following.