Photograph by Ian West for Getty Images.
Meet the Designer Who Showed an Inflatable Pool at London Fashion Week
Edwin Mohney is as interested in brash runway statements as much as he is in rethinking the way we produce (and waste) clothing.
Photograph by Ian West for Getty Images.
The Central Saint Martin's graduate show is always a special fashion month treat—the locus of boundary-pushing sartorial weirdness, it's the school that produced Alexander McQueen, John Galliano, and Jonathan Anderson.
But perhaps nothing prepared the world for a perfectly fitted, pristine, streamlined….inflatable pool! The image of designer Edwin Mohney's show-stopping look—literally, a model with her head popped through the middle of the floor of a five-foot rectangular plastic pool with a serene blue frame, her hands gripping its edges—was all over social media this past weekend. A British public relations agency even sent out a press release promoting a client's similar product (hole for your head obviously not included), encouraging people to get the look.
So was it custom couture plastic?
"No, it's straight-off Amazon," Mohney says. He recalls that it was about £17 (about $24). "And that was really the idea of a lot of this. That one in particular is super brash, but it's the idea of something super instant and over the top. How far can we push those two ideas?" It's a cunning nod to the fact that the runway is as much about shock value as it is about design talent—and a canny admission that designers do this because it works.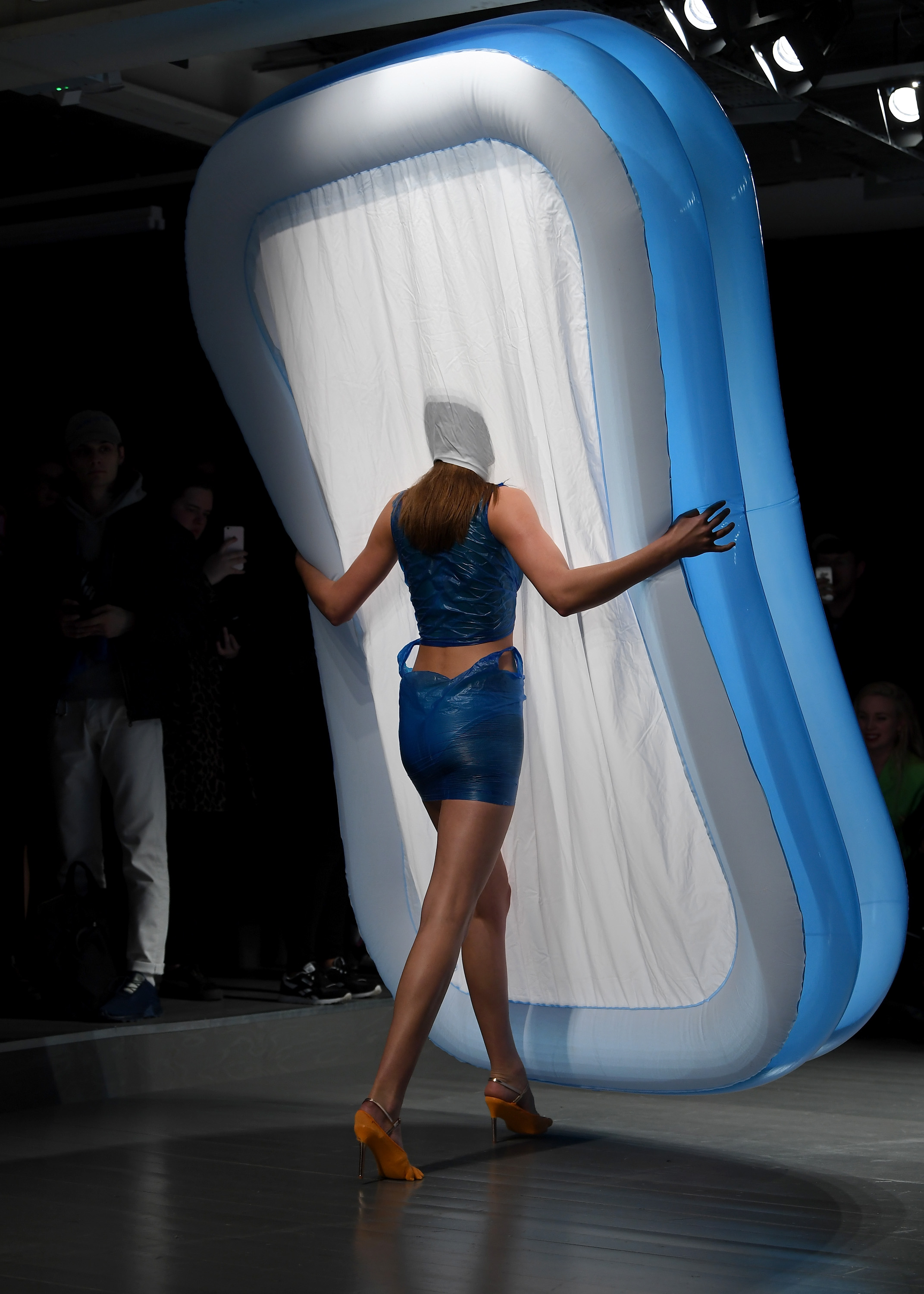 The combination of pieces in Mohney's collection—a pair of bulbous, condom-like sculpture dresses; two women in expertly tailored jackets with Mugler-esque shoulders and a plunging neckline; pink and red mosquito nets with shoes made from rubber masks of pigs and Donald Trump—created a sense of irreverent chaos, a refreshing feeling when designers tend to labor over carefully constructed themes. "I think for my own personal development, I needed to make those jackets," he says, reminding us that this is his graduate collection, after all. But, "for my own sanity and fun, creatively, I wanted to have a mix of both" technically complex and wacky stuff. Mohney says that post-graduation, "I start my own line and art practice. A new type of business that integrates both. That's the dream."
Speaking of dreams: how much will one of his pieces go for? "For the pool, I would charge a crazy amount for it. That's the idea: just making it something even more obscene."

But for pieces like a simple white ruched dress, that has the weird sexiness of a Jacquemus dress but is made from polypropylene, the plastic material used to make hospital garments, Mohney imagines the cost will be far more reasonable—in fact, that's the whole point. "That I would happily sell as a new proposition for ready to wear outfits—like $15—something that you wear once or twice and recycle, so it has a sort of circular production to it."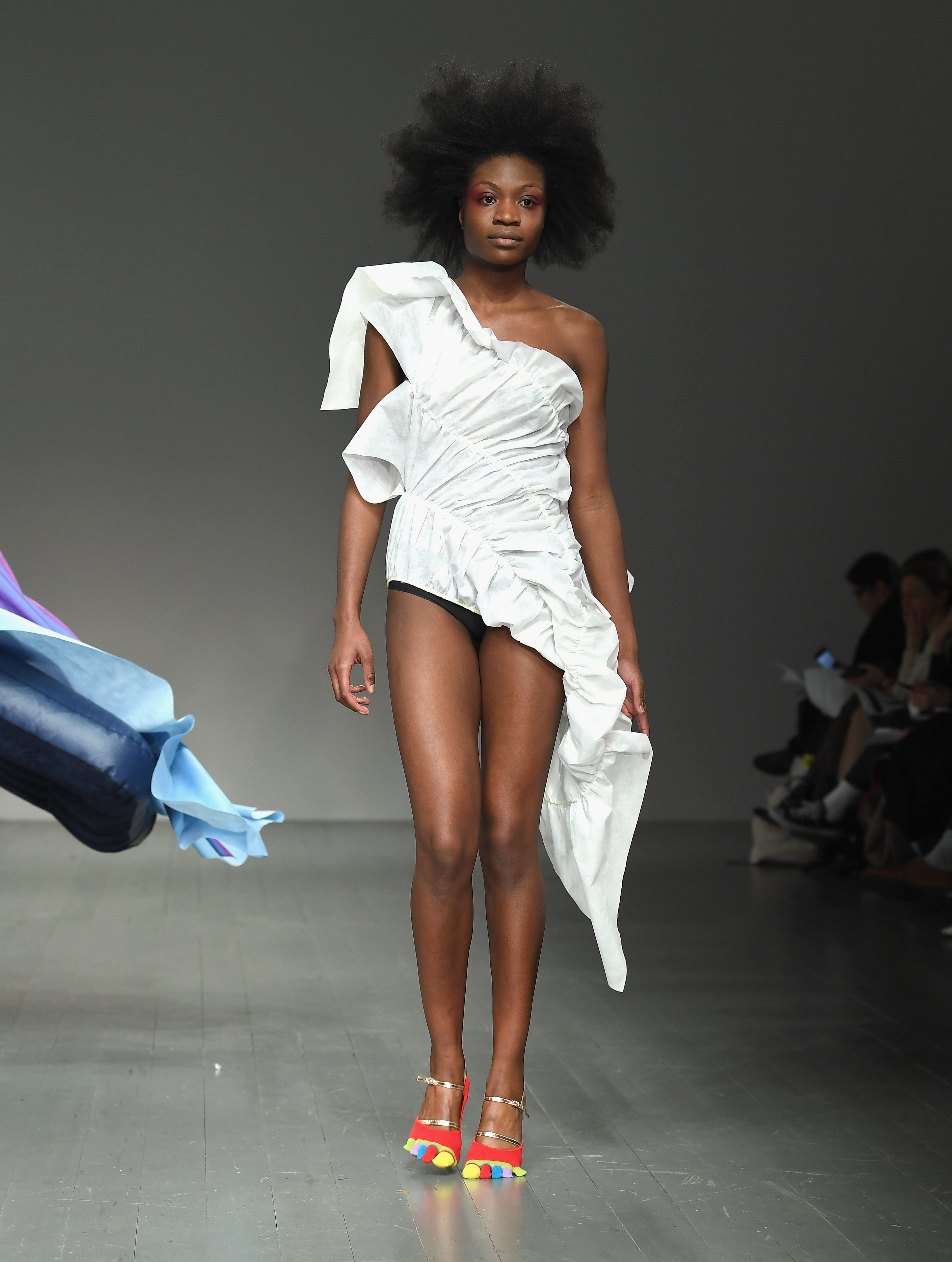 The horsepower of Mohney's work isn't merely that he put an inflatable pool on the runway—although that is fantastically, delightfully punk—but that he's also thinking consciously about how garments are produced and used, as well as how clothing is now expected, like anything else in pop culture, to "go viral." He says he loves this mix of "really high and really low," adding that he wants to "crash the system, in way." The fashion industry is obsessed lately with how to address the looming sense that the industry is "broken"—designers like Mohney may have found the reboot button.