Mika Rottenberg's Whimsical Late Capitalist Dystopias
The artist's new show at the Bass in Miami sees the artist continuing to meditate, in absurdist style, on the forms and functions of menial labor.
Walls, floors, ceilings, circular holes, and spheres figure prominently in Mika Rottenberg's videos and sculptures. Handy compositional elements, they also form physical barriers and portals, imposing separation or emphasizing interconnectedness. The New York-based artist's current show at Miami's Bass museum consists of work made over the past two years and addresses her usual concerns of labor and survival in the late capitalist age and the sometimes darkly funny cultural collisions that play out against a backdrop of globalization.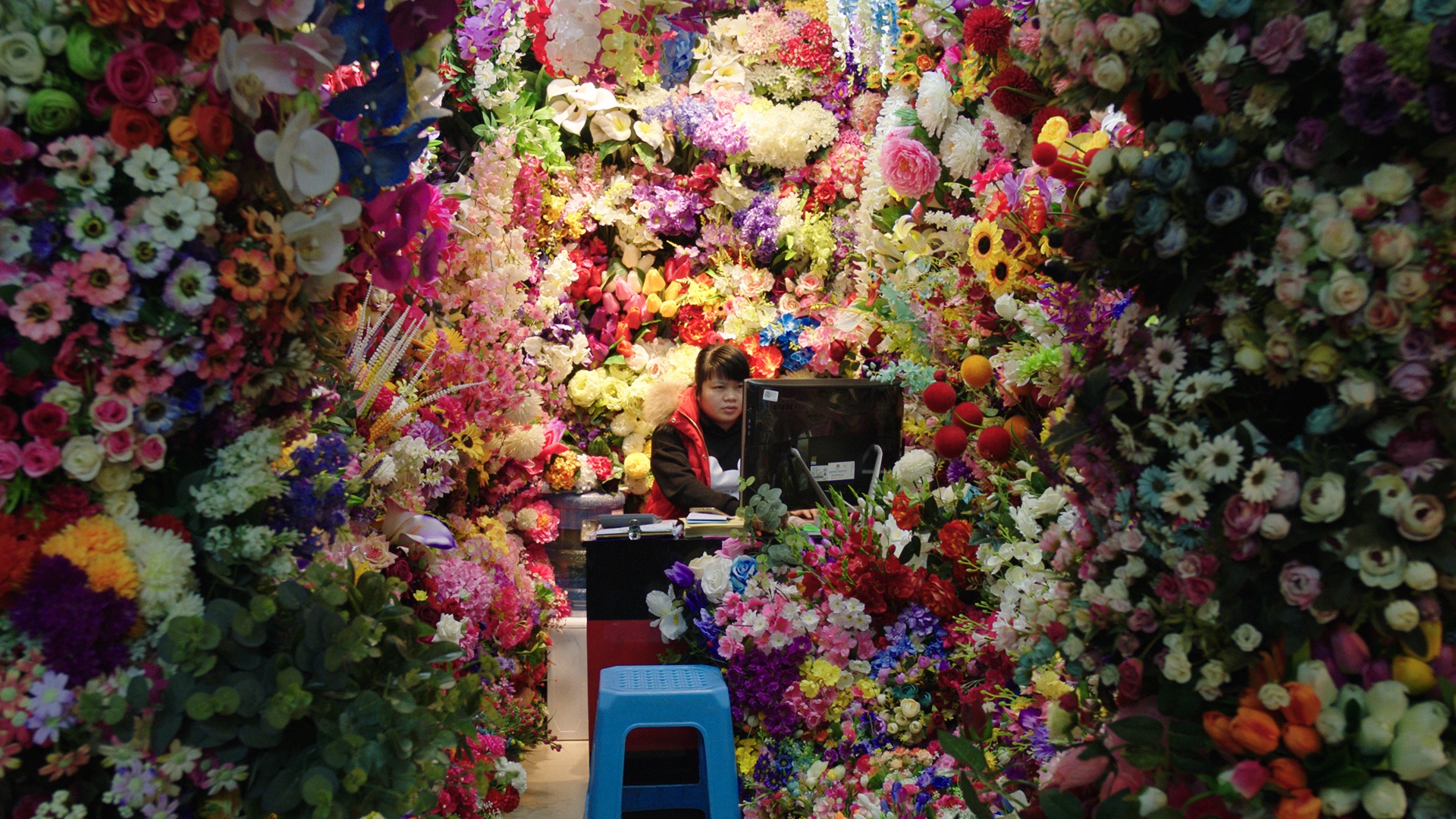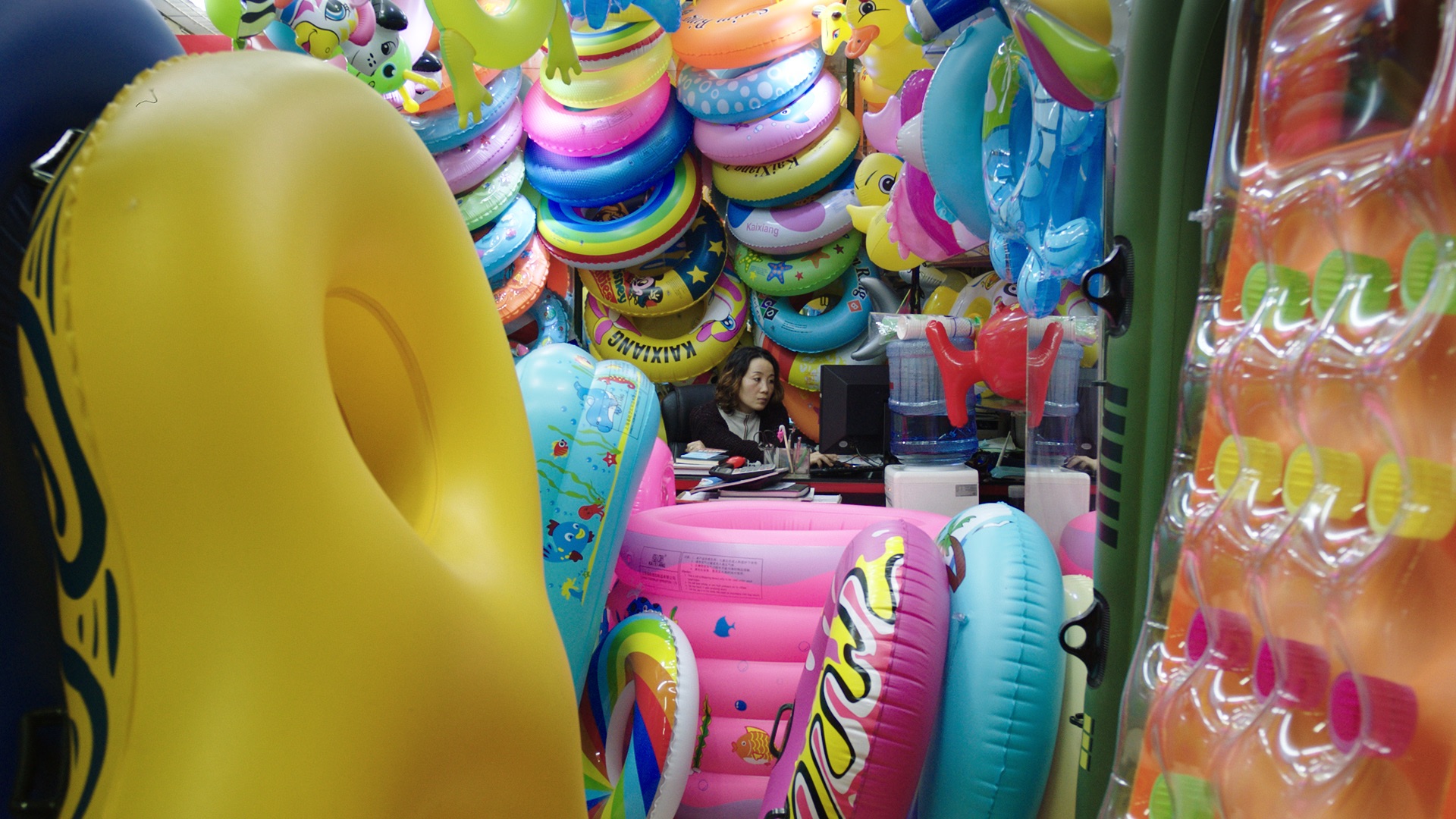 The show occupies multiple galleries in the newly renovated, city-owned Bass; it also marks the US debut of several works, including Cosmic Generator. This beguiling video unfolds as a surreal dream sequence; it begins with an ornate Chinese plate fading into a tunnel bearing parallel train tracks. Scale is lost as the camera meanders through a tubular passageway illuminated by pink, blue, green, and purple bulbs, evoking James Turrell. It's both claustrophobic and ethereal. Eventually, the tunnel emerges onto a multicolored pile of bulbs being crushed by a hammer. The pile seems to bubble like a cauldron of golden liquid, eye-like circles emerging from beneath the surface.
In Cosmic Generator, events don't follow a linear sequence; instead, Rottenberg present a series of disconnected scenes. The camera pans horizontally from one windowless rectangular workstation to another, showing Asian women stationed at computers surrounded by vast quantities of pretty or shimmering things: fake flowers and trees, strands of blinking lights, spools of ribbon, plastic toys, and reams of glittery garland, all stocked floor to ceiling, nothing individuated. A couple of the workers snooze. Water coolers crop up here and there. It recalls Jean-Luc Godard's 1972 capitalist satire Tous Va Bien, which depicts workers partitioned in a multilevel, glass-walled factory talking at length about their menial jobs.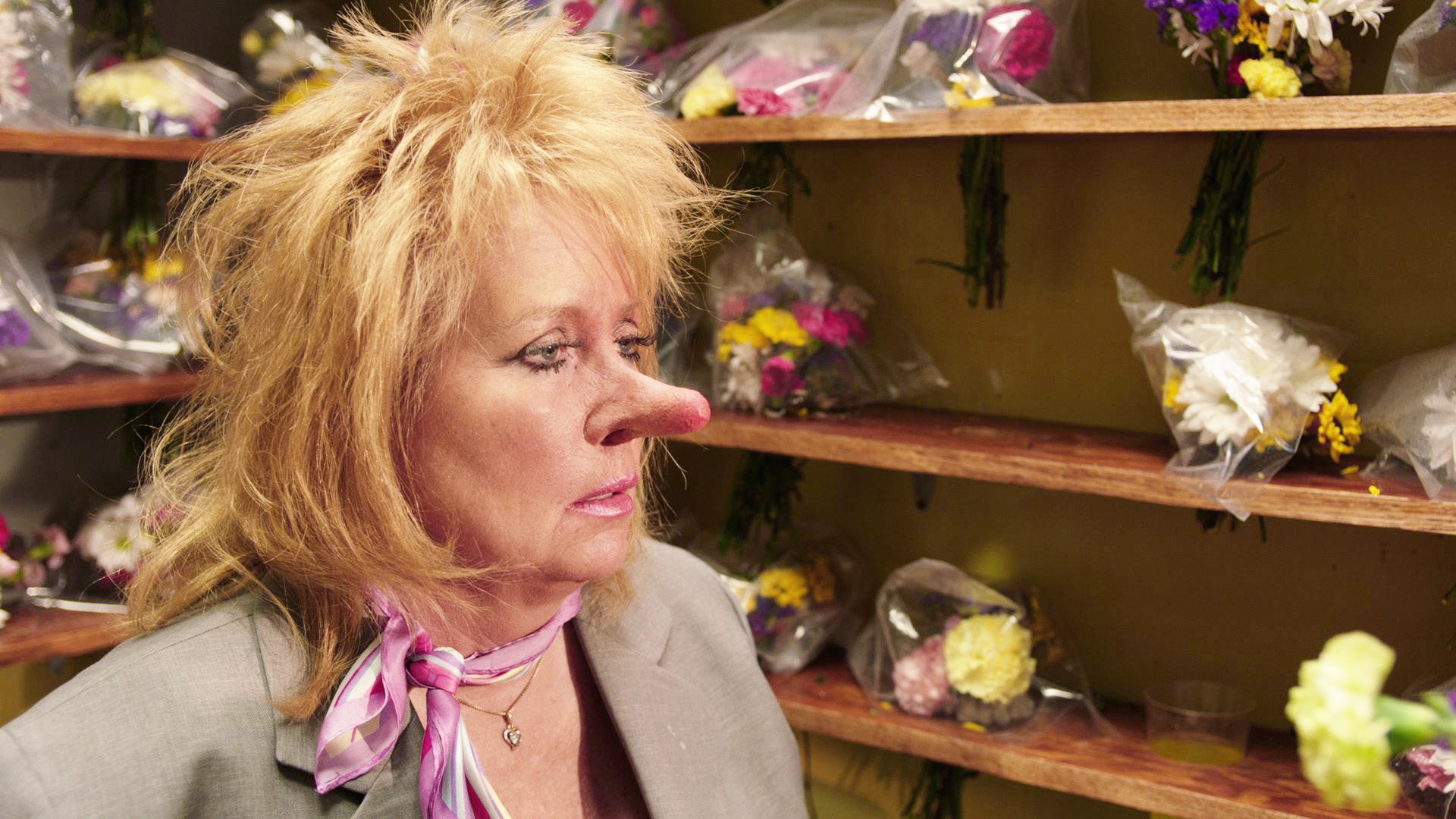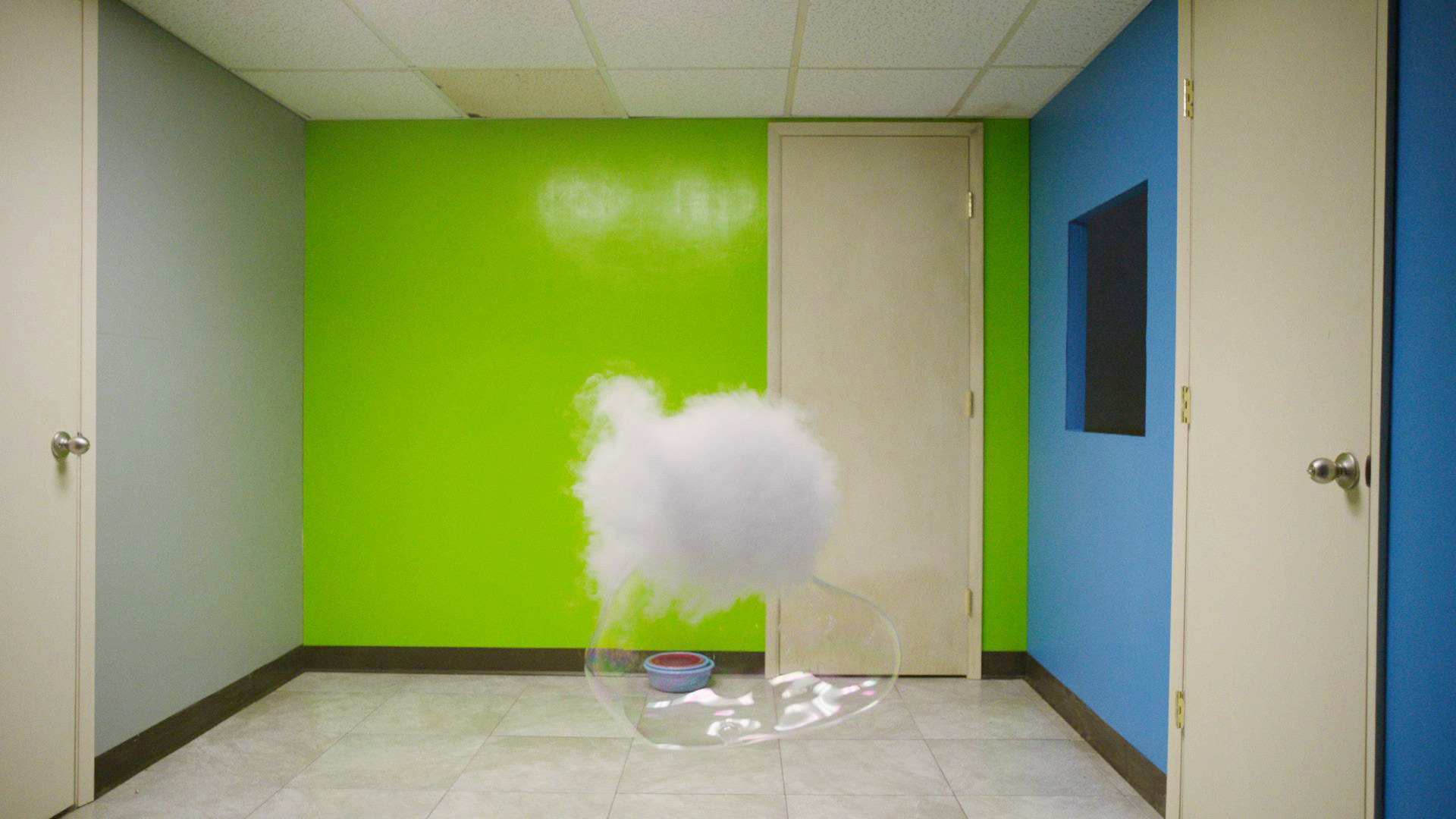 With her focus on the aesthetics of work, it's no surprise that Rottenberg has cited Marx as an influence, and her scenarios seem to arrive loaded with the Marxian distinction between use and exchange value, as well as with the assertion that people become alienated not only from one another, but fundamentally from their own humanity through becoming cogs in an industrial system. But Rottenberg's wry humor offsets the innate pathos of such thinking.
2015's NoNoseKnows is another complex video and sculptural installation that seems to merge fact and fiction, documenting laborers harvesting pearls in Zhuji, China; empty high-rises near Shanghai; and the artist's New York studio. Again, there's no explicit narrative, though there is something like a protagonist; a middle-aged woman rides a red scooter to her job, which seems to consist of sniffing flowers until her nose turns red and grows long like Pinnochio's, finally sneezing noodles onto plates stacked on a table near her sad, lonely desk. She seems to be working upstairs from a factory in which Asian women sort pearls by rolling them along a table like miniature pool balls, meting them into bags for transport. Other women are shown meticulously extracting strips of slimy membrane from oyster shells, which they cut into tiny squares on glass slides.

None of these workers speak, or even register their neighbors' existence. Specialized beyond imagining, they're unable to imagine an alternative to the crazed, claustrophobic worlds that the artist has constructed for them.
Mika Rottenberg is on view at the Bass, Miami, through April 30, 2018.