Zoe Paul. Photo by George Labro
In Athens, Zoë Paul Salvages Art from Crisis
Athens-based sculptor Zoë Paul applies age-old techniques to industrial materials, examining the values of community and craft against the backdrop of a damaged economy.
Zoe Paul. Photo by George Labro
The floor and sofa are covered with balls of wool and yarn of various texture and colors, from grey and scratchy to neon green, purple, and gold. Two weavings are propped against the wall, bold abstract patterns soft to the touch. The shapes look strangely familiar, and at a closer look it's apparent that the yarn is threaded through old fridge grills. Zoë Paul's studio is on the top floor of a two-story house in the Athenian neighborhood of Keramikos, above a defunct storefront. She's been weaving for a few days, making works for her show Occupations of Uninhabited Space at Gianni Manhattan in Vienna.
Combining traditional craft techniques with products of industrial waste is one of Paul's key techniques. This time, instead of fridge grills, she's working with coarse, heavy nets. These are patched with wire, using almost the same technique she applies to thread soft yarn through the corroded metal. "The exhibition is based on the science fiction classic The Dispossessed by Ursula K. Le Guin, and I thought these would be more suitable. The setting in the book is very industrial, it's the desert-like future where all the resources have been drained," Paul explains.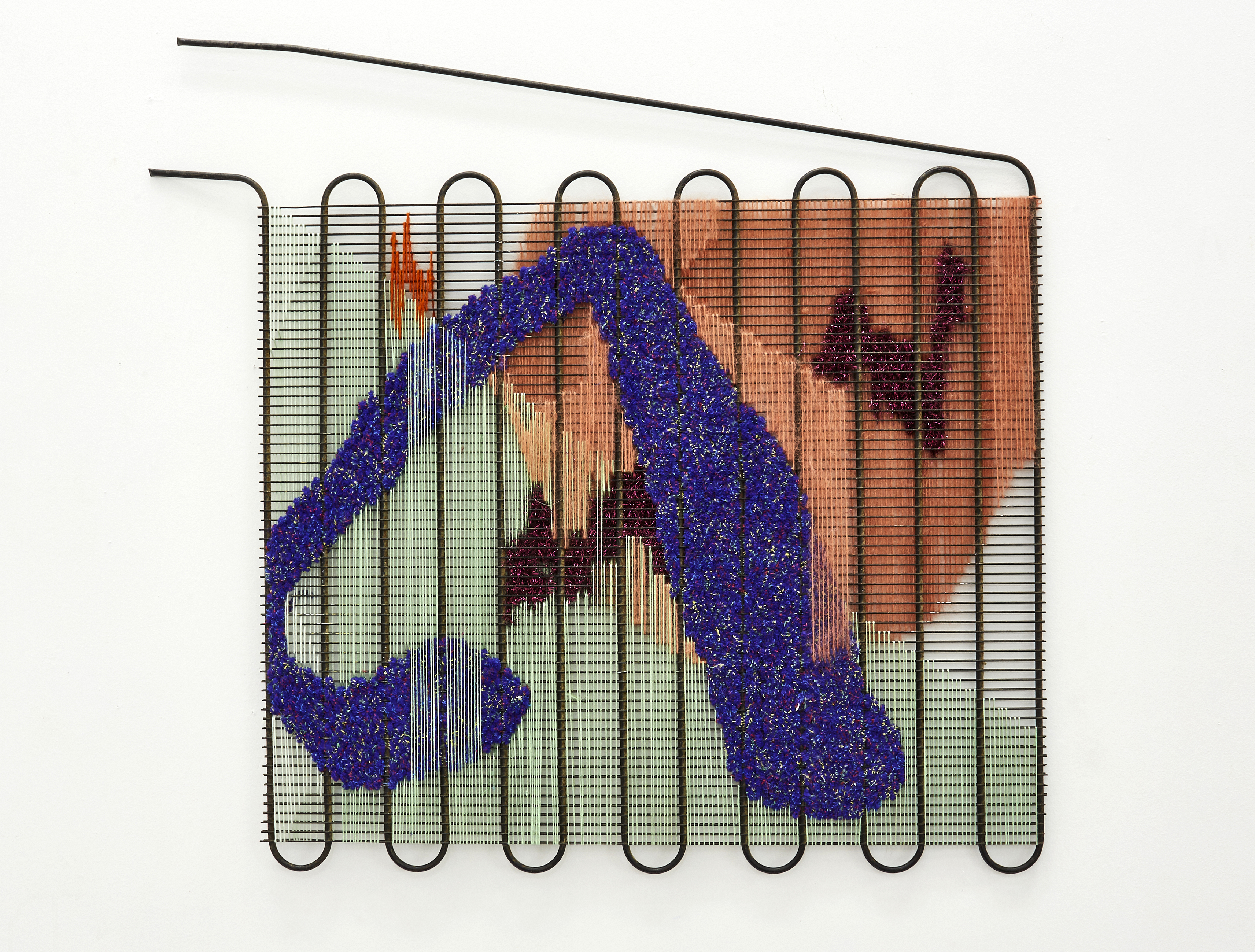 Perfectly in line with this dystopian narrative, Paul's rusted grills come from a scrapyard on the island of Giali, close to the more famous Nisyros. The small courtyard of the studio is filled with discarded by-products of the mining industry. Greek industrial waste looks strangely beautiful: there are chunks of black obsidian, black porous volcanic rock, sheets of back rubber, and stacks of the rusted grills. "Giali looks like paradise with white sand and black obsidian cliffs," Paul recalls. "But the whole island is mines owned by a Swiss company. They cut the whole mountain down, to make a quarry, and now this mountain is probably in Switzerland being used to build something." The complex relationships between remote communities in the Mediterranean and industrial-technological progress has interested the artist for a long time.
Paul is of South African descent and studied in London, but she grew up in a very different setting, between Oxford and the Greek island of Kythira. It was on the island that she discovered weaving. "Our neighbor in Kythira was always weaving, just like most old people at the time. When in the 1980s and '90s people started to get a bit more money, they wanted to get away from that past. So when that neighbor died, her family threw away all these blankets that she'd made. My mum kept them, so I grew up sleeping under these amazing big scratchy woolen blankets," Paul remembers. "I used the fridge grills to highlight how the arrival of the refrigerator changed life in these remote communities overnight. Before the fridge, if you killed an animal you'd either cure it or you'd share it. The fridge meant that you could keep all the food for yourself, and people were no longer so communal."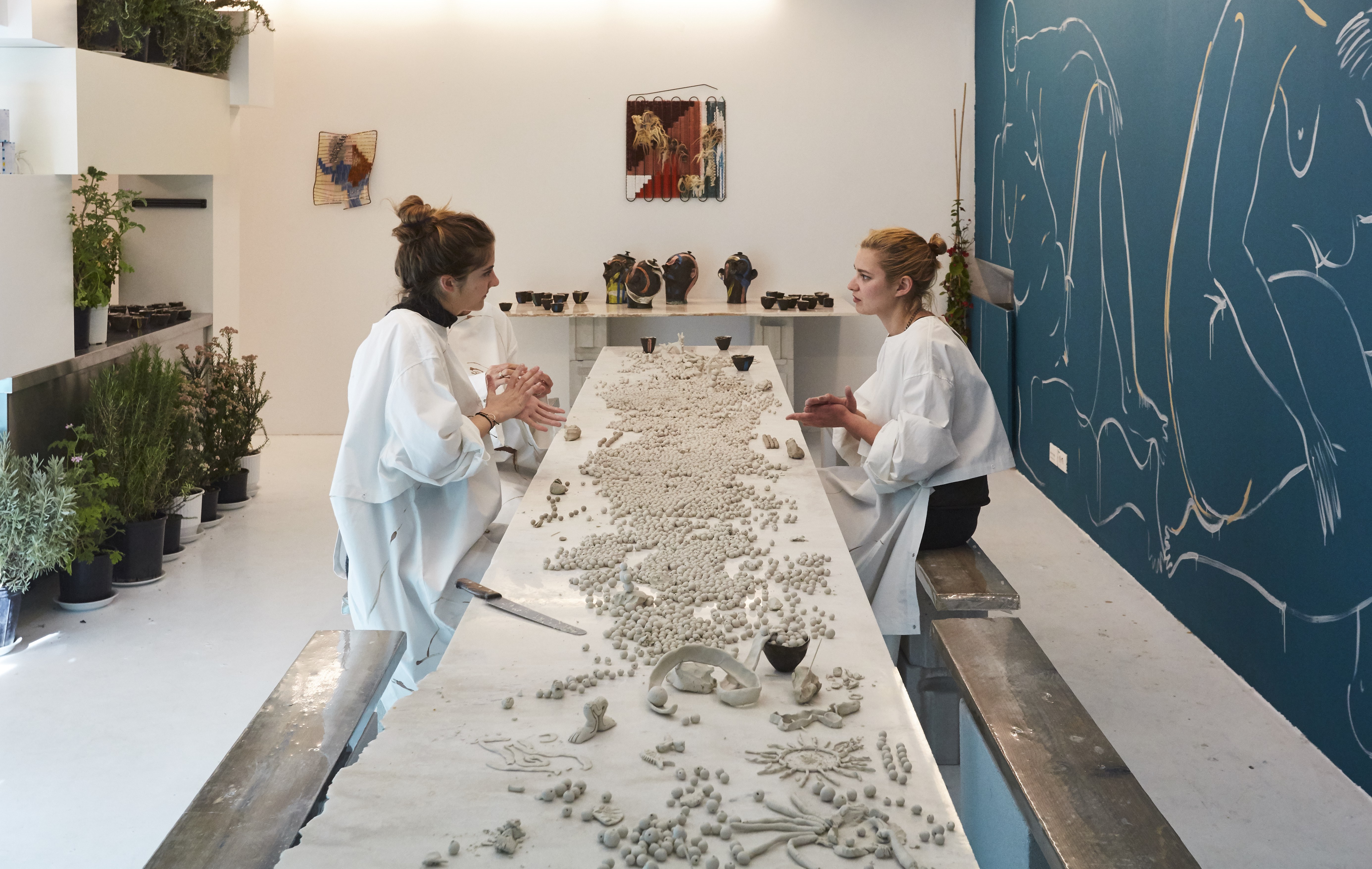 If the weavings are meant to explore the division of communities, Paul's clay-bead curtains are aimed at curing these wounds by bringing people together. Around the studio are pots filled with pea-sized clay beads, and in another room a bead curtain spread carefully across the floor forms a depiction of an athlete. "At the project I did during Documenta 14 at The Breeder gallery, La Perma-Perla Kraal Emporium, there was a big marble table with lumps of clay, and everyone was rolling beads, which I eventually made into a curtain. The process of rolling beads is very communal, it's like having a meal together, you just naturally start talking," Paul adds.
An aim of La Perma-Perla Kraal Emporium was to mimic certain elements of the domestic environment. With this in mind, Paul turned some of the head sculptures she'd been working on into large pots to serve herbal tea. With an elongated neck, protruding ears, and a mouth seemingly caught mid-whistle, one of the unfinished pots rests on her studio table, looking uncannily animated. In October, Paul took a number of these pots to the Frieze Art Fair in London. "I did a performance when I'd serve people wild sage and honey tea, using the herbs with medicinal qualities. These pots are sculptures but they need to be activated through being used; it was amazing, as you're standing there at an art fair serving people tea, you talk to them on a different level, not as a gallerist selling art, and people open up a lot more."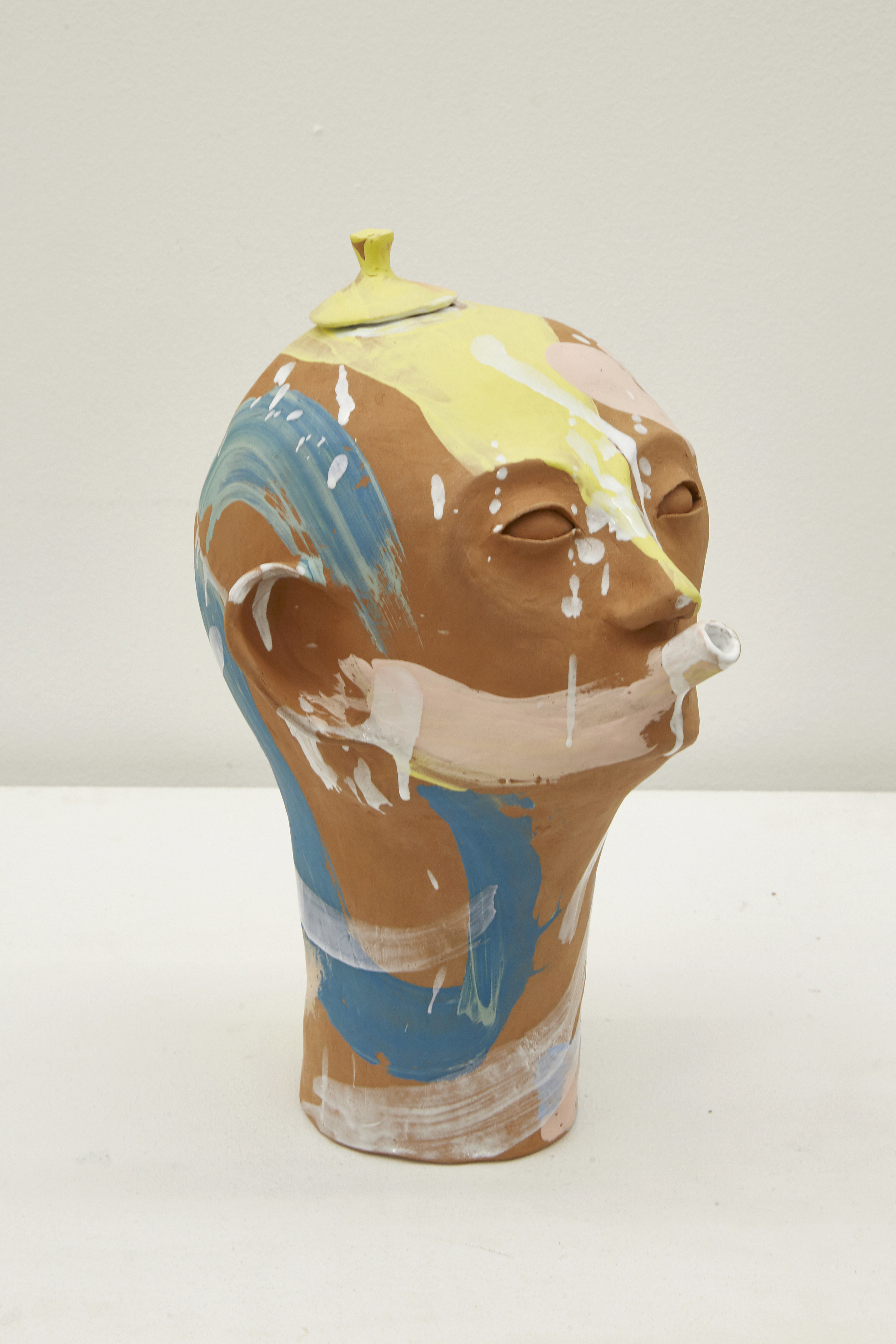 Paul has lived in Athens since 2013, when Greece was already suffering through economic crisis. The rooftop of her studio overlooks an empty block and a building housing a youth center for refugees. Throughout the city, the sidewalks are cracked, walls are graffiti-covered, and disused buildings are being turned into squats. The city is engulfed in the new patterns of global migration, populated with refugees coming to Europe through the Mediterranean from Syria and Iran, and art professionals opting to make the city their home having been priced out of Berlin or London. But in spite of sometimes-challenging circumstances, Athens still feels welcoming. Although the idea of community is often used in contemporary politics to prompt an us-and-them opposition, in Greece, which sits on the frontier between East and West, it retains a more genuine—and fluid—character.
Amid the historical and political shifts, crafts and objects play a special part. At first they're jettisoned, but at least they function to strengthen and unite. "We need to rethink the way we value objects. Making things and touching materials makes you aware of that relationship of objects to yourself, and of your place in the world," Paul says. "In my practice, the whole lengthy effort is incredibly important, and the work is just a talisman of the process. If we don't keep revisiting these things, all we'll have is just devalued mass-produced things."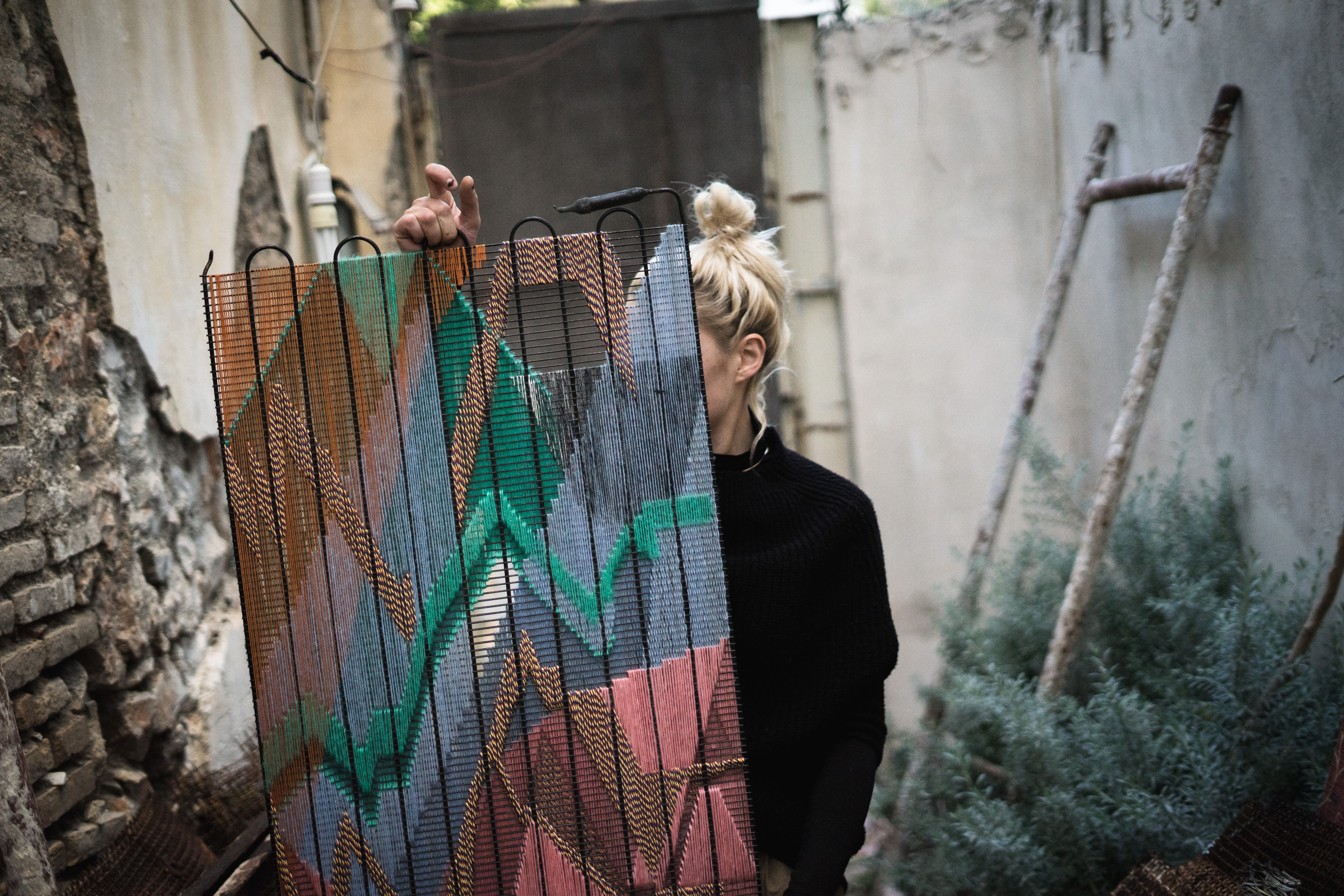 Occupations of Uninhabited Space is on view at Gianni Manhattan, Vienna, from November 11 to December 22.